On October 10th, 2013, my friend and mentor Jay Conrad Levinson, Father of Guerrilla Marketing, left the physical world at the young age of 80. I know I'm posting late, and I seldom get blogger's block, but when it comes to someone like Jay, words do a poor job of describing the magnitude of my feelings.
Jay was best known for his contribution to create titanic brands: The Marlboro Man, Tony the Tiger, Charlie the Tuna, The Pillsbury Doughboy, Green Giant, Morris the Cat, United's Friendly Skies, Allstate's Good Hands, the Sears Diehard battery, and many more.
As a Guerrilla Marketing Master Trainer, taught and certified personally by Jay, I'm sure you know I am fully aware that many authors, marketers, and entrepreneurs have lost an icon, a legend of true marketing and leadership.
Because Jay was a brilliant business man and author, you have heard of his Guerrilla Marketing books. During my college days in the Dominican Republic, where Guerrilla Marketing was textbook, I never thought I would meet the legendary Jay Conrad Levinson, let alone visit, teach, and stay at his home.
As years go by, I have learned that my knowledge of Guerrilla Marketing was crucial in getting back on my feet and starting my business after becoming a single mom. I feel moved when I think about the millions of people around the world that have been impacted by Jay and attribute their success to the systems, lists, and books he created.
At his Guerrilla Marketing Intensive Bootcamps, he would tell fascinating stories about his time at Leo Burnett Advertising, teaching at Berkeley and having long-haired, Levi-jeans-wearing Bill Gates, Michael Dell, and Steve Jobs as students.
These luminaries of the business world started their empires with Jay's guidance and wisdom.
He would talk about memories of skiing with his daughter Amy, getting on AOL with Seth Godin, or marrying his lovely wife, Jeannie, several times – the first time being the same day they met.
I first met Jay and Jeannie, at Steve Olsher's Internet Prophets event. Steve sent me a recording of his keynote on YouTube, where you could see me in awe on the first row.
Jay and Jeannie were the sweetest love birds: pet names, public displays of affection, and an infectious child-like laugh when he credited her for something awesome or wanted to get away with something. Their relationship inspired me so much… their love and devotion is an essential part of our history.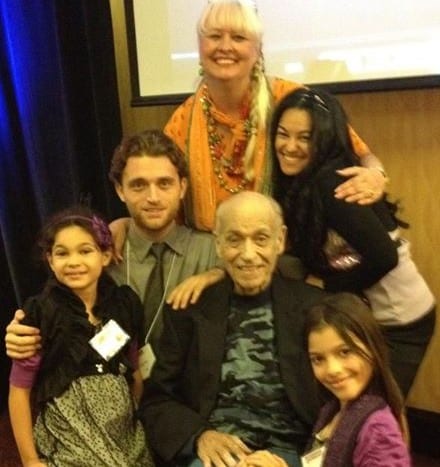 I love Jay and Jeannie like family. We all miss Jay very much and will never forget our road trip to Florida, and the girls becoming certified in Guerrilla Marketing for their business. Jay's generously offered marketing expertise and life-lessons will live on through us, and through them.
So many people talk about balance or work-life integration, and having met many world leaders, I assure you most don't walk their talk.
Jay was the epitome of balance and true success: he worked 3 days a week for several decades, traveled all over the United States, and the world. He lived a full life, loved much, and changed lives.
I admire Jay's ability to trust anyone, to see the good in what seemed bad, to find an honest heartfelt compliment for anyone, and to find a lesson in everything. Jay understood people. He spoke in a language that could teach and inspire anyone, and shared his knowledge and love freely and openly.
Through his work, you would develop a deep connection with him and this admiration motivated you not just to do guerrilla things, but to BE a guerrilla. His work was devoted to life values, not just marketing. Marketing was just the beginning.
Seth Godin said it well:
"The point of his many, many books wasn't that there was a formula to follow, but that there was an attitude, an attitude that could help just about anyone make a difference."
Jay has touched millions of lives, and in the short time I knew him he touched mine in several ways. More than The Father Of Guerrilla Marketing, Jay was like the father of everyone he came in contact with.
David Hancock described it well in his tribute to Jay:
"Of all the talents Jay had, and this is so true, his most endearing talent was his ability to make you feel like it was more of an honor for him to be with you than the other way around. He was a very gracious, loving man."
Thank you, Jay, for being YOU… I am glad you came and I'm happy you became a Christian and were baptized, so I know where you are.
I celebrate your life, I celebrate your love, I celebrate your legacy… and as long as we do that… [and we have mama Jeannie], it's not good-bye: you're still with us.
Thank you for being in my life!
Do you have any mentors you know personally who have been instrumental in your life? Share who they are and your gratitude for them in the comments below.
[ela]