Welcome to August… back to school prep time!
My daughters and I like going to the library, reading real paper books, and taking notes on binded notebooks with the old fashioned pen and paper. We also love workbooks, worksheets, and checklists to keep organized, just like any "normal" homeschool family.
However, we also take advantage of technology to do research, access our online homeschool curriculum, and work on homeschool assignments.
Today's kids are wired to be wired, so having school on a laptop makes school more fun for them and they feel more equipped to succeed when they study because they can use skills they naturally have. This is a mystery to me why they are digital natives but you can use this in a way that helps and benefits everyone. While I agree that you can run a successful hands-on homeschool classroom without a homeschool laptop, it is just better when you have one.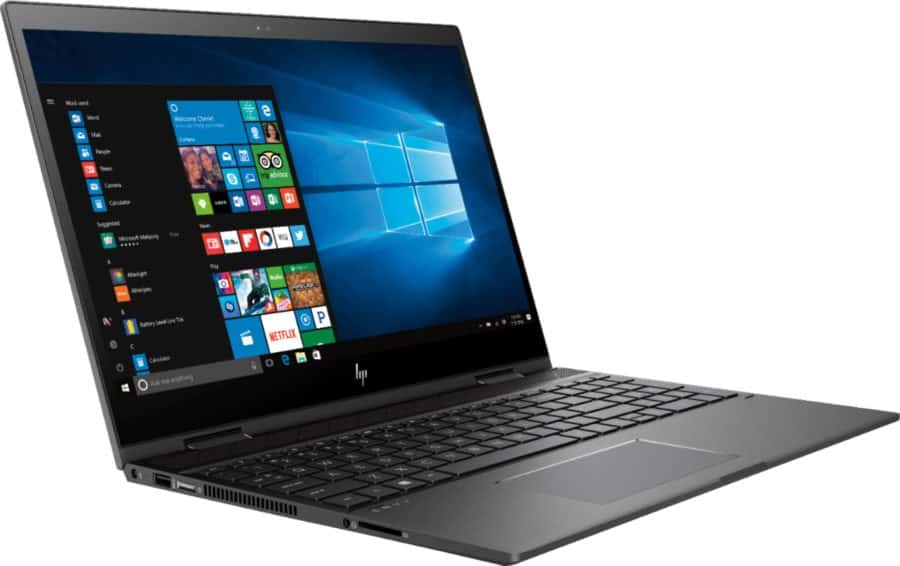 A laptop computer is the best option when it comes to homeschool, because we love to travel and world-school and it's very convenient to stay on-track and cost-effective to take your laptop everywhere you go without taking so much space and carrying heavy books or binders. A laptop is better than a desktop computer because part of the homeschool appeal in the first place is that you don't have to sit in the same spot, staring at wall, in a constrictive position.
You can use your homeschool laptop around the house for a change of scenery or convenience, while you keep everything accessible in one single place. Our learning room is upstairs but sometimes one of us is cooking or working on something downstairs and the homeschool student can bring their work with them.
One of my favorite things about notebook computers is that they help the kids have a cleaner and more organized workstation, especially since they want the freedom to use their homeschool desk to work on their art projects and other interests.
Since I am homeschooling high school students now, there is a lot they need to know about online safety and time management. I get it, trust me. When they have a computer, they are tempted to waste time and to consume inappropriate content, visit morally offensive websites, and download highly addictive games without your consent . All this access comes with a price and can lead to idle habits and even exposure to online predators.
The laptop has the advantage that you can monitor its use while it's being used (since it's portable and you don't have to leave your child alone at their desk) and you can easily take it away when privileges have been abused – it happens!
And speaking of price, a laptop computer can be quite an investment, so even though you can show documentation that qualifies you for a discount when you purchase a laptop for your homeschool student, don't just buy on impulse or whatever is on sale. You must research what the right laptop is for your specific needs to help your homeschool student thrive and be productive.
My top advice on how to choose laptop computers for homeschool, is to decide on exactly what you need before you go shopping.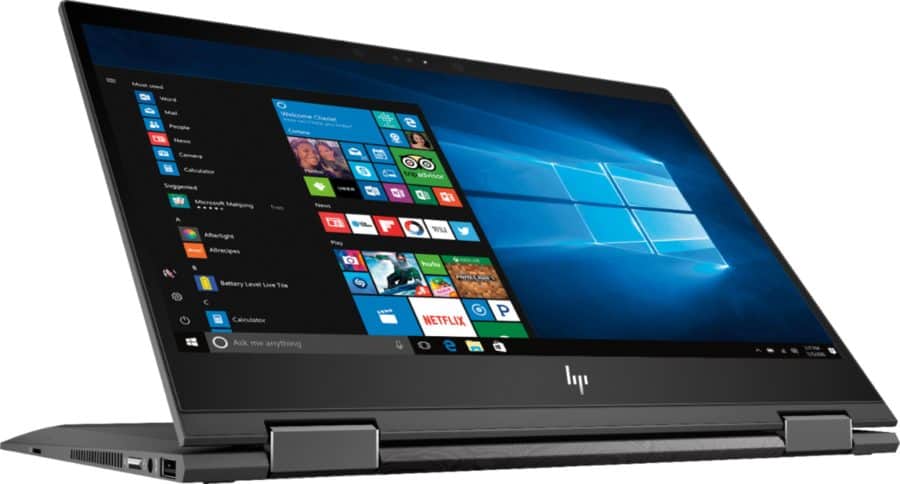 There are so many options out there, but I'll recommend the HP Envy x360 laptops, which are 2-in-1 devices that can transfer from a laptop to a tablet in seconds. These touch-screen laptops come with Windows Ink capabilities and a Windows operating system so you can write on the screen with your stylus. AMD processors make them fast and thin so you can take them with you anywhere you go!
Windows 10 operating system
Windows 10 brings back the Start Menu from Windows 7 and introduces new features, like the Edge Web browser that lets you markup Web pages on your screen.
Built for Windows Ink
Quickly jot down notes and ideas with ease.
Full HD touch screen
The 1920 x 1080 resolution boasts impressive color and clarity. Natural finger-touch navigation makes the most of Windows 10. IPS technology for wide viewing angles. Energy-efficient WLED backlight.
8GB system memory for advanced multitasking
Substantial high-bandwidth RAM to smoothly run your games and photo- and video-editing applications, as well as multiple programs and browser tabs all at once.
360° flip-and-fold design
Offers versatile functionality with laptop, audience, tabletop, presentation and tablet modes.
2 in 1 devices are great for homeschooling because it's versatile and can be used for other interests (such as drawing), and it can be carried around for pen-based note taking on field trips even as the homeschool student is standing up, or on road trips. Your 2-in-1 device can handle all the necessary homeschool work while while giving you the flexibility of a tablet.
I bought Elisha her first computer when she was 7. It was an HP Mini, and since then, we've been relying on HP for our homeschool computers. She tells me she cherished that little computer: "It was my favorite and I learned how to use the basic functions with that one, and then I was able to teach my sister."
10 Things To Consider When Buying Your Homeschool Computer
Battery life:

What's the point in being a world-schooler if you gotta be a slave to an outlet? LOL Get 8+ hours of battery life, 6+ minimum, if your school budget is tight.

Durability:

You can plan on your homeschool student using the homeschool computer all year round, so warranty and access to support are key. Remember that you won't be in a traditional classroom and that spills will be more frequent, too!

Keyboard and touchpad

: Look for responsive keys and practice handwriting is a plus.

Monitor/screen:

A large screen is awesome and touchscreens are fabulous!

Operating system:

Windows is the best OS for productivity, which is why my daughters use it. Windows 10 is also the most popular operating system and most versatile today.

Portability:

For field trips, road trips, conference attendance, or just from room to room, you can get something you can carry in your bag (or backpack). The HP Envy 13in provides the best usability and portability and the HP Envy 15in is the most popular size if you travel with your notebook less often.
Programs You'll Run: Most homeschool computers won't require sophisticated systems. Since we don't do gaming at all, it saves up a huge amount of dollars (and headache-inducing conflict with my daughters). But if you do allow gaming, it's good to have a console separately so they understand the computer is a work tool (for accessing curriculum and perform tasks like spreadsheets and document creation) and so you can save some money while buying your homeschool laptop.

Speed:

You want make sure to get a fast processor and the most memory you can. But do teach your littles that life does not mimic the online world when it comes to instant gratification.

Storage:

You don't need a lot of storage if you're using the laptop strictly for homeschool purposes because you won't store a lot of documents and files, but you want to think long-term here and not just for the current school year.

Connectivity:

Make sure you get great access to Wi-Fi networks and USB ports!
I am a big fan of the homeschool laptop. We live in a digital age where kids grasp technology almost instantly, and I've taught them to be creators, not consumers. Whether it's writing, coding, or graphic design, just to name a few things, I know that my kids can benefit from technology – even from the mistakes they make – and I make sure they have offline activities to balance it out.
Having an online curriculum saves me lots of planning time and makes homeschooling easier, while teaching my children personal responsibility and the benefits of working independently. The interactive environment of online homeschooling is wonderful (videos, colorful illustrations, audio, and other multimedia) and still allows you to print what you choose or want to work on the "old-fashioned" way, as some would say. Homeschool allows you to have the best of both worlds so you can do your digital thing and also work on real-world projects, writing assignments, and other tasks.
There are many free learning opportunities and free online classes my daughters can take advantage of right from home, which is a huge perk of having the extra time when you're not part of the regular school system. It's also wonderful to have supplemental classes available when I have work deadlines or work travel or when I don't feel confident enough to teach a certain subject.
Do you use a laptop for homeschooling or supplemental school work? What are your tips for buying the best laptop on a student budget? Share in the comments below and on social by using #Windows and tagging @HP and @BestBuy!
[ela]