Earlier this month, Elisha, Elyssa, and I were invited to speak at WordCamp Sydney – yeah, in Australia! I was so excited and, who wouldn't be? I love speaking, I love using WordPress as a web designer, I love traveling, and I love koalas!
But not only there was not a lot of time for planning, so I sadly declined the invitation this time. Besides this unusual feeling of overwhelm, I was also experiencing a bit of social withdrawal. I know isolation is the very opposite of what I need when I fall into a state of depression, but it's hard to resist the urge to pull away from people, shut down, and stay in my little corner of the forest.
This is not a conscious choice. It creeps in so slowly and then I find myself crying nonstop and asking for prayers on Facebook. Social Media helps me stay connected even when I don't leave my house for days and my eyes are swollen from crying non-stop "for no reason."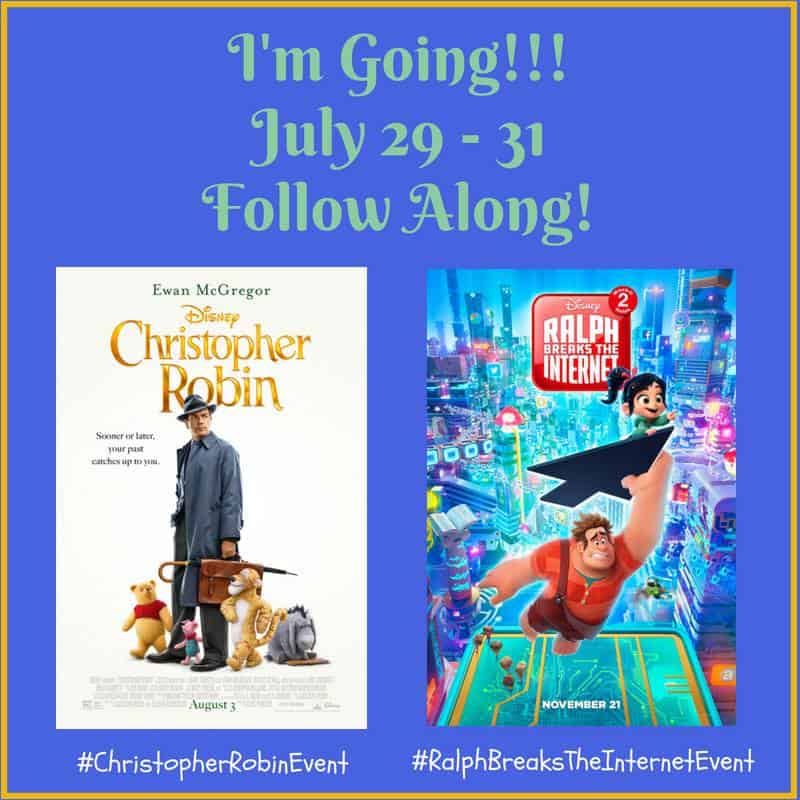 I was in the middle of a crying spell when my friend (and Disney Publicist) Marshall reached out and sprinkled pixie dust in my inbox. I knew in my heart that this was an invitation I could not decline… it was not only amazing like Australia, it also felt safe.
So I said YES!
I now had something so many things to look forward to: seeing Marshall and some of my favorite blogger friends (some whom I've never met in person), walking the Hollywood Red Carpet at the Christopher Robin premiere (, a sneak preview of Ralph Breaks the Internet (opening in theaters on 11/21), and the in home release of Avengers: Infinity War (on BluRay August 14)!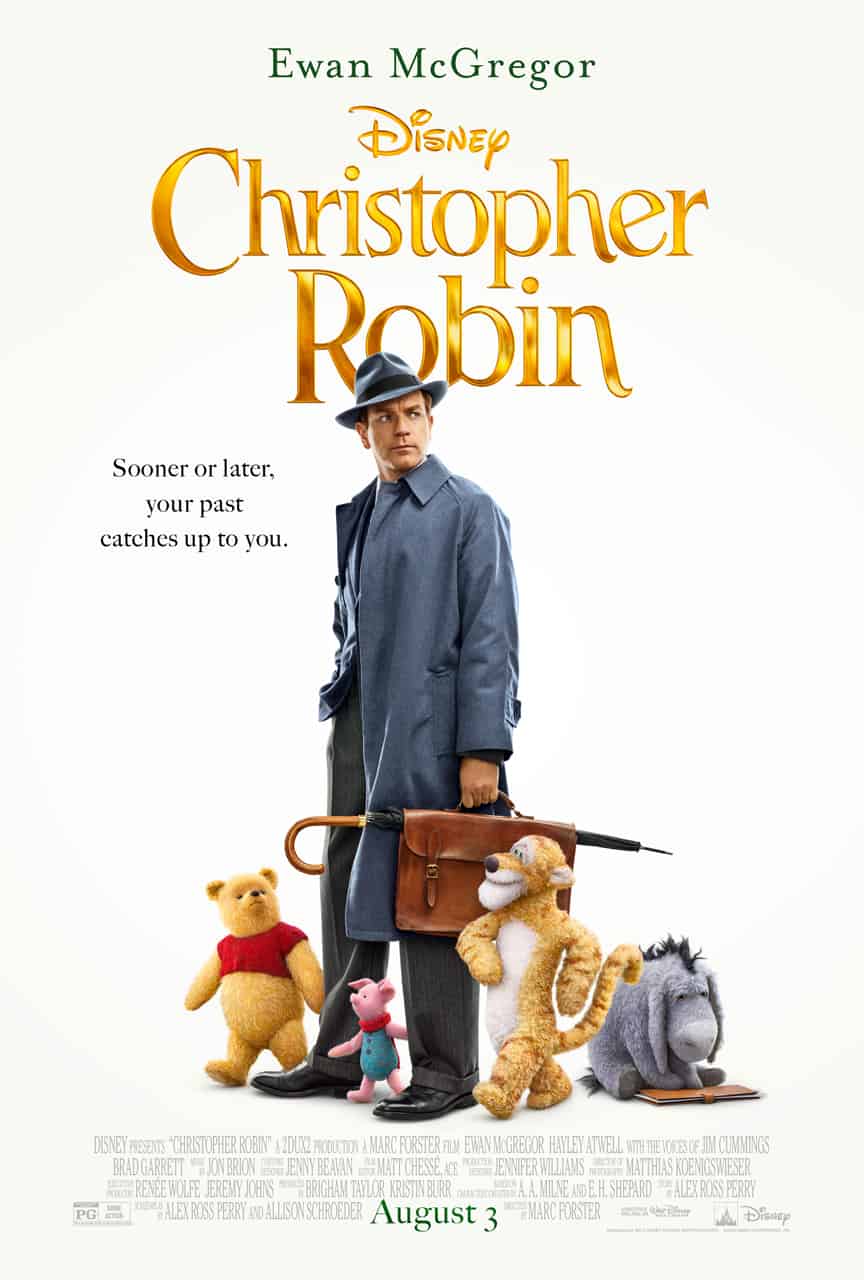 I got to see a first look of Disney's CHRISTOPHER ROBIN at the Disney Social Media Moms Celebration, along with a Q & A with producer Kristin Burr. I got really emotional and I knew CHRISTOPHER ROBIN would become one of my favorites.
When Elisha was born, I bought her every Disney book I could get my hands on and discovered Winnie The Pooh quite by accident and became fascinated with the heart, wisdom, and diversity in the series. I bought her a Disney's My Very First Winnie The Pooh collection set, along with a little Pooh stuffed animal.
I have fond memories reading with Elisha and Elyssa and teaching them about kindness, patience, persistence, contemplation, and so many other wise principles CHRISTOPHER ROBIN, Pooh and the gang illustrate in their adventures through The Hundred Acre Wood. I'm continuing the tradition with Eliana, and she's sharing these Pooh stories with the world in her YouTube Channel: "Love, Eliana."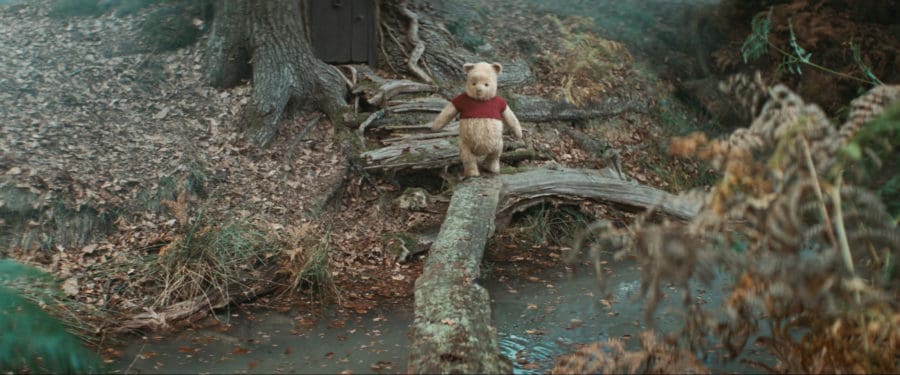 In Disney's live action, CHRISTOPHER ROBIN, the young boy we so dearly love, who shared countless adventures with his stuffed animal friends in the Hundred Acre Wood has grown up and lost sight of what's important in life.
Now it is up to his childhood friends to venture into our world and help Christopher Robin rediscover the joys of family life, the value of friendship and to appreciate the simple pleasure in life once again.
CHRISTOPHER ROBIN arrives in theaters everywhere Friday, August 3rd., so SAVE THE DATE and get advanced tickets!
I'll be flying into Los Angeles on Sunday, July 27th, where a driver will meet me at the baggage claim and take me to the Sheraton Universal Hotel, which has been my home for other red carpet premiere events and will be my home til Tuesday, July 31st. You can FOLLOW ALONG with these hashtags:
#ChristopherRobinEvent
#RalphBreaksTheInternet
#InfinityWarBluRay
Sunday night, we will visit the Walt Disney Studios lot to screen CHRISTOPHER ROBIN (104 minutes) for the first time and eat some snacks together. Stay tuned for my reaction – zero spoilers, of course!
On Monday, we'll go to Hollywood Boulevard to eat breakfast at Madame Tussauds Hollywood, enjoy an AVENGERS: INFINITY WAR bonus showcase, an interview with AVENGERS: INFINITY WAR Executive Producer Trinh Tran, and experience the Marvel Super Heroes exhibit.
I think we will finally get some explanations and I wonder whether there will be some hints about AVENGERS IV, since she is producing it also! We're all looking for answers from MARVEL since the AVENGERS 3 premiere.
I hear I will get to make my wax Infinity Gauntlet, so you won't want to miss that one!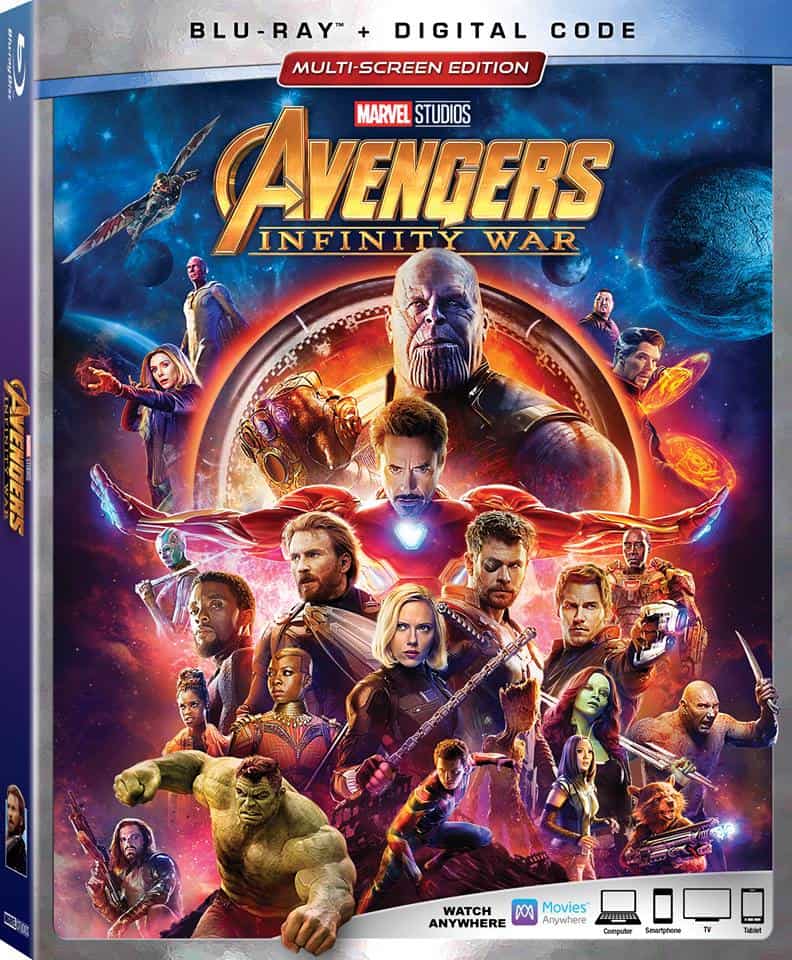 Before the CHRISTOPHER ROBIN premiere, we will attend a press junket where we will interview the cast. Here's the order of the interviews so you can look for my tweets:
interview with Ewan McGregor ("Christopher Robin")
interview with Hayley Atwell ("Evelyn Robin")
interview with Bronte Carmichael ("Madeline Robin")
interview with Jim Cummings (voice of "Winnie the Pooh" & "Tigger")
interview with CHRISTOPHER ROBIN Director Marc Forster
I'll be wearing YELLOW on the red carpet this time, which is a first for me. I'm going for summery chic so I am excited for you to see it. You know, I had no idea things would get worse and I'd be dealing with even more heartbreak and anxiety between the invitation and the trip, but even shopping for a new outfit, sexy high heels, and packing up my favorite Spider-Man dress would be highlights of my day.
Just like we did for the Coco premiere, there will be a CHRISTOPHER ROBIN Premiere pre-party, where foods and drinks will be provided (there are always non-alcoholic beverages and vegan options available) and we will get to mingle with the cast and crew before we all watch the premiere screening and eat popcorn together.
CHRISTOPHER ROBIN is directed by Marc Forster from a screenplay by Alex Ross Perry and Allison Schroeder and a story by Perry based on characters created by A.A. Milne and E.H. Shepard. The producers are Brigham Taylor and Kristin Burr, with Renée Wolfe and Jeremy Johns serving as executive producers. The film stars Ewan McGregor as Christopher Robin; Hayley Atwell as his wife Evelyn; Bronte Carmichael as his daughter Madeline; and Mark Gatiss as Keith Winslow, Robin's boss. The film also features the voices of: Jim Cummings as Winnie the Pooh and Tigger; Brad Garrett as Eeyore; Toby Jones as Owl; Nick Mohammed as Piglet; Peter Capaldi as Rabbit; and Sophie Okonedo as Kanga.
On Tuesday, we'll have breakfast at the Walt Disney Studios lot and see a RALPH BREAKS THE INTERNET footage presentation with an introduction and Q&A by Director Rich Moore, Director/Writer Phil Johnston and Producer Clark Spencer.
I met these guys during the DVD release of Zootopia and I am so excited to see them again. We'll get to see other RALPH BREAKS THE INTERNET (WRECK IT RALPH 2) presentations with the crew, lunch, photo opportunities, and other surprises.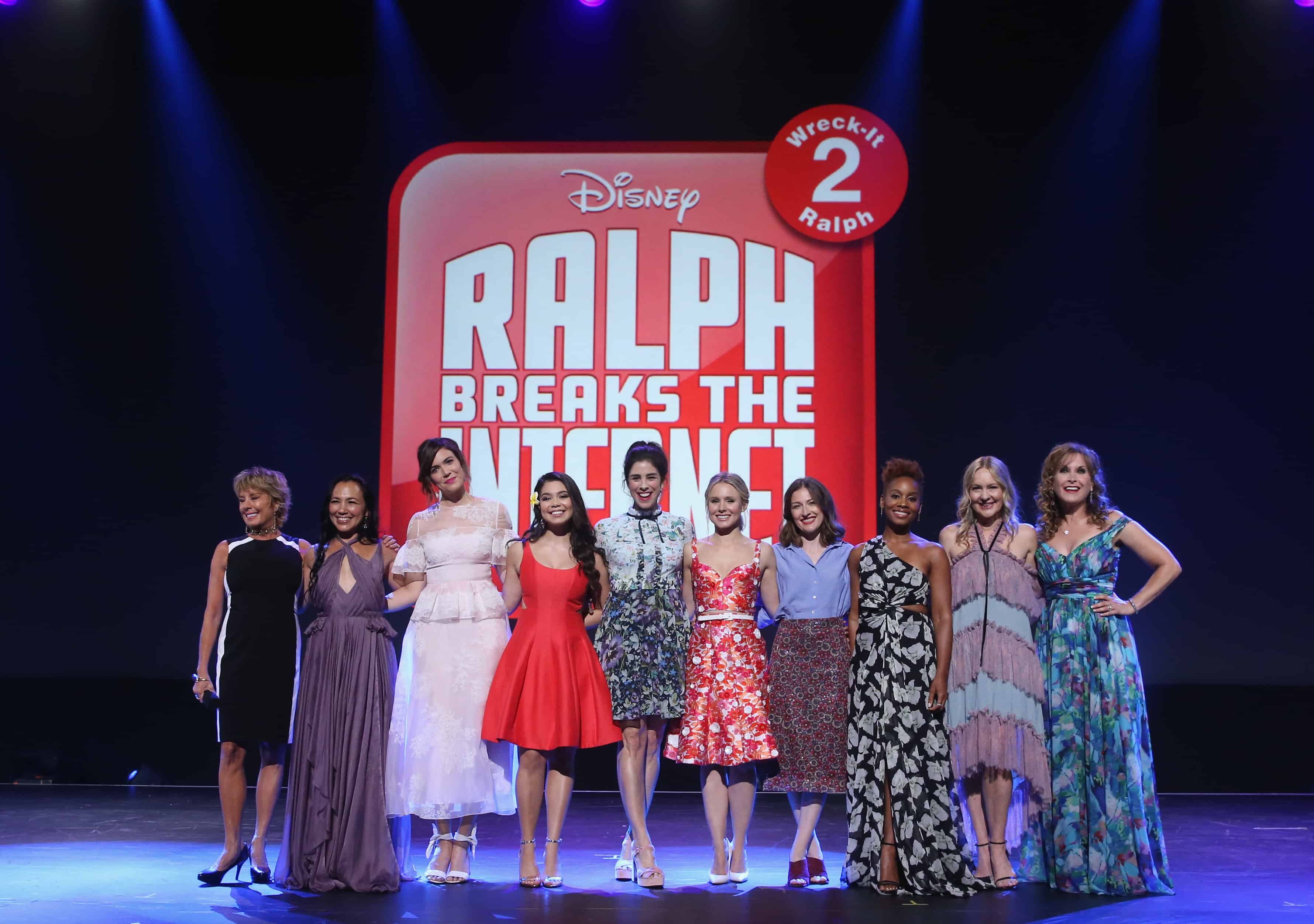 I've been waiting for this movie since I saw advanced footage at D23 Expo. It's so hard to keep these kind of secrets for a whole year!
Vanellope von Schweetz is one of my Disney Four and I can't wait to see what's in store for her in RALPH BREAKS THE INTERNET.
These events are exclusive, glamorous, and fun and so many people would sell a limb just to be a fly on the wall, but for me it's so much more than that.
Many times, I have had no desire to even get out of bed, let alone write, and these experiences inspire me to create content for you. Plus, writing is healing for me, so it helps ease the brokenness.
Many times, I don't want to say YES because it sometimes paints the picture that my life is perfect, which is NOT the case for anyone anywhere, but the truth is that I do experience joy and happiness when I experience love, acceptance, and that elusive sense of belonging. It's like living in my own imaginary world like Chistopher Robin and his friends Piglet, Pooh, Rabbit, Roo, Kanga, Owl, Tigger and Eeyore.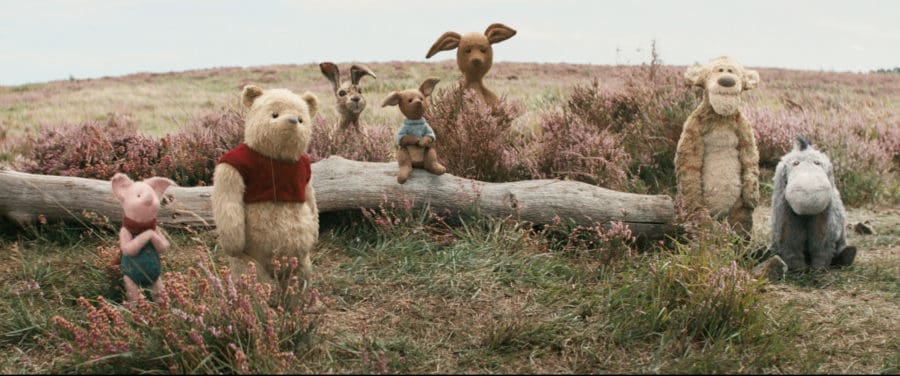 Many times, I feel so alone because my only friends are either far away or across the screens of the world, and going on these events helps me give and get the hugs I so desperately need. I probably seem obnoxious, but even the friend who's not much of a hugger makes a difference in my life and my desire to stay *here.* Yeah, it's like that.
So although doing life has been HARD, I'm off to Los Angeles and I'm going to have the time of my life and I want you to follow me along (Jul 27-Jul 31) as I follow the Silly Old Bear's advice:
You can't stay in your corner of the Forest waiting for others to come to you. You have to go to them sometimes.
Being a positive mom doesn't mean you don't experience negative emotions; it means you have the courage to say NO and the courage to say YES so you can find the positive once more.
I'm so grateful to be one of the top 25 Disney bloggers who will be covering the CHRISTOPHER ROBIN red carpet event. Here's a list so you can follow along:
Amiyrah of 4 Hats and Frugal, Rachel of Acadianas Thrifty Mom, Kathy of A Mom's Impression, Dawn of A New Dawnn, Laura of Celebrate Woman Today, Andrew of Ben Spark, Elle of Cleverly Changing, Myrah of Coupon Mamacita, Karen of Desert Chica, Amanda of Dude Mom, Leanette of Funtastic Life, Mitch of Gay NYC Dad, Kate of Highlights Along The Way, Meg of Meg For It, Louise of Mom Start, Becca of My Crazy Good Life, Kerri of Raising Three Savvy Ladies, Jill of Ripped Jeans and Bifocals, Sarah of Savoring The Good, Vanessa of See Vanessa Craft, Winona of Southern Family Lifestyle, James of The Rock Father, Mariah of The Simple Parent, Chrissy of The Taylor House, and Britni of Play Party Plan.
You can also connect with Disney Christopher Robin on Facebook, Disney Studios on Twitter, and Disney Studios on Instagram, and visit the Christopher Robin movie web page for more CHRISTOPHER ROBIN updates! The official hashtag for the film is #ChristopherRobin.
Do you have any questions for the CHRISTOPHER ROBIN cast? Share them with me in the comments below! CHRISTOPHER ROBIN arrives in theaters everywhere Friday, August 3rd!
[ela]