For some reason, in today's day and age women are not encouraged to be BFFs: breast friends forever – as a matter of fact, we have a battle of the breasts going on!
First and foremost, I'll pick a side: I love breastfeeding! It was indeed a magical experience that came really natural to me, and it is probably the number one activity I am looking forward to when my new baby girl comes to the world.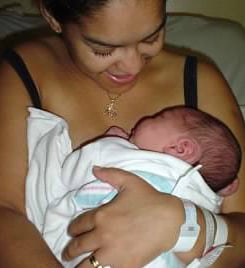 It didn't hurt at all, it felt like my body was made to do it, and besides choosing the best source of nutrition for my babies, it was the time we bonded most intimately. Because Elisha and Elyssa are so close in age, I actually nursed both at the same time for a few months. It was such a joy!
In August, many moms celebrate "breastfeeding month"… although in some instances, I must confess it feels a bit too uncomfortable to join the celebration. I recently saw an image of a woman who celebrated by immodestly feeding her baby in front of an exhibiting table for a formula brand as "protest to women who choose to not breastfeed."
Respect goes a long way and the obvious truth is that every woman carries their "set" on their own chest. Breastfeeding is a personal choice.
I think many breastfeeding fanatics also fail to acknowledge the gray areas. Some moms are willing to breastfeed and have planned – and even dreamed – about it, yet engorgement, poor milk supply, or latching issues got the best of them. For such women, breastfeeding can be (and has often been) challenging to say the least, and while some are blessed to have the support of a loving partner or a lactation consultant, others can only choose between suffering painfully and stop altogether. I refuse to ignore these truths just because it's been effortless for me!
I promote many mommy practices, such as natural birth and breastfeeding for at least a year… in fact, you would be amazed at my very demanding specific unique birth plan! Because I appreciate when my choices are respected, I assume others feel the same way about theirs.
C'mon ladies, let's be Breast Friends! Let's acknowledge that what works for one woman doesn't necessarily work for another. What comes easy for someone, it may require hard work for someone else. No matter where we may stand on these issues, let's refrain from judging, protesting, and disempowering each other. Let's decide to support each other through empowering messages, positive education, and understanding based on realistic expectations, instead.
Happy Breastfeeding Month positive moms!
[ela]