We all need positive parenting solutions. Don't we?
Temper tantrums, sibling rivalry, stressful situations, negative behaviors from an explosive child, loud cries of sensitive children, mealtime madness, chore wars, homework hassles, bedtime battles, the rolling of the eyes, the slamming of the doors, and ultimately losing control – and your marbles – during a misbehaving episode.
Motherhood can be the most triggering thing we will ever do.
It all feels like it's too much, especially when you feel like you're doing all this with little or no support, and when you didn't have good or any positive parenting models growing up.
And we try to do it right.
We spend hundreds – or even thousands – of hours studying books on positive discipline, searching for positive parenting practices, and praying for a success system that guarantees good behavior in our kids.
Questions as Positive Parenting Solutions
One of the most timely topics today is "how to raise a well-behaved kid." Many parents are looking for positive parenting strategies to help them in achieving this goal.
We ask ourselves:
How do I make my child do the household chores?
How do I talk my child into doing homework instead of playing that video game?
How do I get my child to follow the family rules?
What do I do to stop our toddler from throwing tantrums?
My teenager won't clean up their room. How do I fix it?
The million-dollar two-part question we all want the answer to in regard to our child's behavior is:
How do I get my kids to obey and what do I do when my kids' behavior is wrong?
We search the web and the library, we ask our friends and our parenting coach, and we even consult mental health professionals. And it seems that there are as many differing answers as there are kids.
Nowadays it's harder to know where to turn for sound advice. And sometimes it feels so defeating because it really seems like we've tried everything already and nothing seems to work.
A few years ago, I read a book called The Anatomy of Peace by The Arbinger Institute, which was founded by Dr. C. Terry Warner.
The Arbinger Institute (1998) explained a concept they developed called The Parenting Pyramid, in which they ask a different question:
"How do I help things go right?"
The Parenting Pyramid demonstrates that spending more time and energy on the "How do I help things go right" type of questions about our children's behavior is one of the best positive parenting solutions available to us as parents.
Shifting to this question will help us have less stress, avoid harsh punishment, and create a stronger emotional connection with our child.
The Parenting Pyramid
The Parenting Pyramid is focused on helping things go right at home and being proactive rather than reactive in our parenting, no matter what the given situation.
The pyramid levels top to down are:
Correction
Teaching
Parent/Child Relationship
Husband/Wife Relationship
Personal Way of Being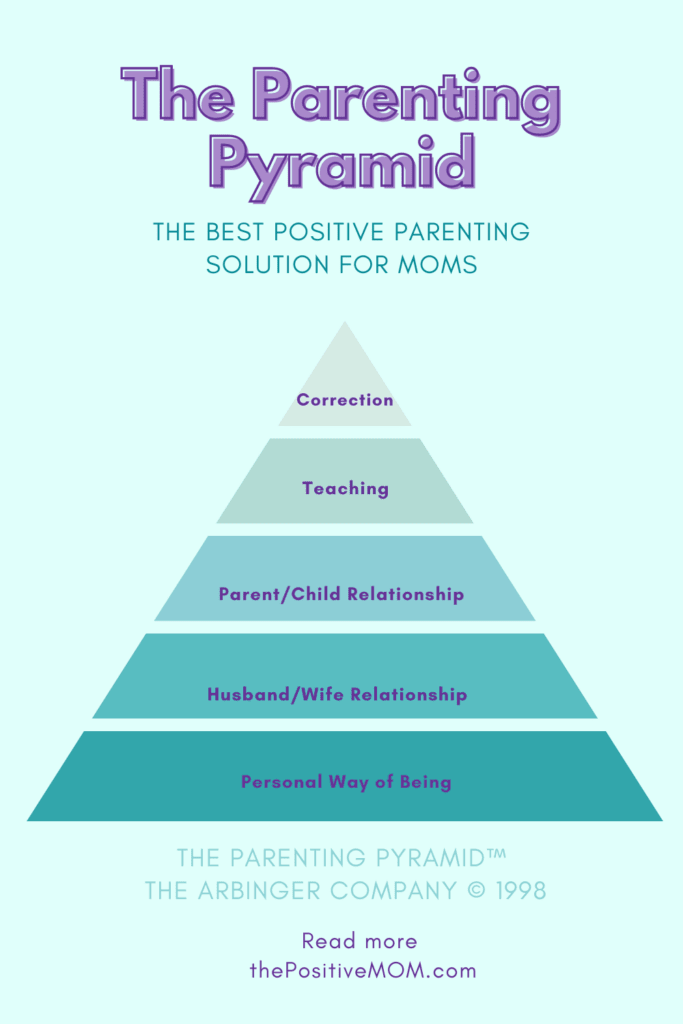 The Parenting Pyramid tells us that in order to help things go right, we must start at the bottom of the pyramid and work our way up. This is exactly what being a positive mom is all about.
The 5 Sections of the Parenting Pyramid
Let's talk about each section of the Parenting Pyramid and how to apply it to our parenting.
Correction.
Yes, correcting a child, setting limits, and setting boundaries are positive ways to help a child grow to be independent, healthy, and happy. And there are many ways to correct our children, and that's not the topic at hand this time.
Many of us struggle with finding a balance with correction: Is it too soft? Or maybe too harsh? Too little? Or perhaps too much?
This section of Arbinger's Parenting Pyramid demonstrates that no matter what battle-tested techniques you've found, the effectiveness of our correction is going to depend upon how much we've taught our children about what we are correcting in the first place.
Teaching.
This area of the Parenting Pyramid challenges us to see our children in the context of whether they have learned to behave or not in a particular area. It tells us that the more we teach our children, the less correction we will need. We let them know what is acceptable and what is unacceptable, what is appropriate and what is inappropriate, what our boundaries, expectations, and rules are, and what happens when they are broken. When correction is necessary, it becomes a natural extension of our teaching. There's less resistance and resentment.
Teaching requires patience and time in providing instruction, guidance, and direction to our children on a daily basis.
Parent/Child Relationship
In this layer of the Parenting Pyramid, we learn that our connection to our children is the determining factor in whether our teaching will be effective or not. Our children will not be open to our teaching when we don't have a close relationship with them. If our children don't trust us and don't believe that we have their best interest at heart, then our teachings will fall on deaf ears. This is true for anyone, really.
Even though this seems like common sense, in reality, it's eye-opening: We must invest the most time connecting with our children, cultivating mutual respect, and building a relationship with them so that they can be influenced by us.
Husband/Wife Relationship
This level of the Parenting Pyramid does not apply to me directly right now because I do not co-parent and I am a single mom. However, for married moms, moms with a partner, or even moms who are separated or divorced, the quality of the couple's relationship or co-parenting relationship is essential.
We've all heard how when there is a high level of conflict in the marital relationship, children have higher levels of toxic stress and parents are more on edge and less available for their children. It is natural that
As we seek peace and understanding in all our adult relationships, we can definitely have a more stable connection with our children, be more effective teachers, and find more effective consequences in times of correction.
Personal Way of Being
The bottom, most foundational, and deepest level of the Parenting Pyramid is our own personal way of being. This is the foundation of positive parenting.
The bottom line is, we cannot be positive parents unless we are positive beings, first. Our way of being is "who we are as people." It's about the lens through which we see and how we treat them.
We are bombarded with information that tells us that the best positive parenting solutions involve:
Knowing what to do
Having access to the best practices in family life
Understanding natural consequences
Knowing the difference between positive attention and negative attention
Learning all about child development…
These are all great. However, it is ultimately how we are and not only what we do that makes us the positive moms we want to be.
The Positive Parenting Solutions and Principles of Arbinger's Parenting Pyramid:
So to summarize, the most important takeaway from Arbinger's Parenting Pyramid is that if you are facing a problem in one section of the pyramid, the solution is going to likely be found by working on the area below it.
Although correction is a part of parenthood, it is the smallest part.
The key to effective correction is effective teaching.
The key to effective teaching is a good parent/child relationship.
The key to a good parent/child relationship is a good husband/wife relationship.
The key to a good husband/wife relationship is our personal way of being. Indeed, this quality affects every other aspect of the pyramid; that is why it is the deepest foundation.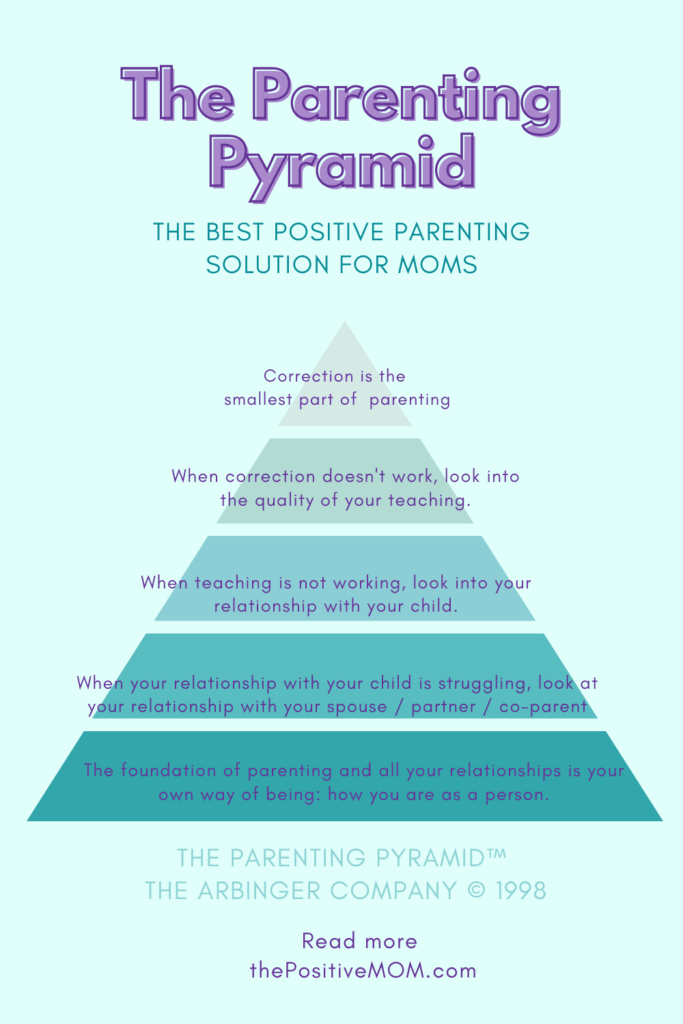 The four bottom layers of the Parenting Pyramid are all about helping things go right in our relationship with ourselves, with the other adults in our children's lives, and with them. It tells us to focus on loving our children and teaching them, rather than blaming them for what they do wrong.
Lord, is it I?
So of course, we are human, and as we learn about this pyramid, many of us realize we haven't quite been parenting in this way.
The parts of us that show up may be feeling guilt, shame, and regret.
"Don't do that"
"Stop that right now"
"Don't you dare…"
If these phrases have been part of your parenting style, you're not alone, darling.
We've all been there and learning something is not like taking a magic pill. We're all going to continue to inevitably struggle and fall flat on our faces from time to time.
Loving parents are not perfect parents. It's all about finding more effective ways to BE and implementing them "next time" there's an opportunity. We cannot change the past, but we can feel "godly sorrow," which is a fervent desire and strategic plan to do better in the future. We do better when we find a better way. That's the real test.
As long as we resolve to move forward with humility and to reflect on our way of being as we parent our children, we are on our way.
We read in the Bible that Jesus sat with His disciples as he declared that one of them would betray him. Rather than pointing at the others and blaming each other, they became sorrowful and asked him:
"Lord, is it I?" (Matthew 26:21–22)
In the same sense, all positive parenting solutions will only be effective when our questions focus on "I".
Parenting Pyramid questions:
Am I Correcting My Children Without Teaching Them?
What is the Quality of My Relationship with My Children?
What is the Quality of My Relationship with My Spouse?
How Pure is My "Way of Being?"
Having things go right questions:
How can I help them?
How can I teach them?
Motherhood can be the most transformational thing we ever do.
Indeed, in order to be positive moms, we must go through remarkable changes within ourselves.
There's no easy way to do this and it's a lifelong journey.
The most effective of all positive parenting solutions is to invest in our personal transformation. It allows us to make sure we are always working on our way of being – not only with our kids but with everyone. And if you are a married mom, this is especially true when it comes to your spouse.
Basically, when we engage in self-reflection, we can not only improve but also provide a good example for our children.
I will continue to strive to be as loving, understanding, and humble, as I can.
I continue to work on my communication skills. Additionally, I continue to work on healing my trauma so my way of being can be purer each day.
I know I have a limited time on Earth and my hope is that I can model healthy relationships for my daughters before I die. It was impossible for me to know how to set boundaries and I put up with the type of behavior that I don't want them to ever tolerate from others. I will continue to work on that, too.
Ultimately, over the years, I have learned that the only person I can really and truly influence is myself. And that's the Gospel truth!
Give the Parenting Pyramid a try:

The Parenting Pyramid will not solve all our parenting problems and it won't fix our children's bad behavior. However, this model can definitely transform the way we parent, as well as our relationships, and ourselves.
By using the Parenting Pyramid, we have a prevention plan in place that can help us create a positive environment in the home. This positive parenting solution can also help us make a better choice when it's time for correction.
What new questions can you ask yourself to help things go right with your child? I invite you to share your thoughts about the Parenting Pyramid and its 5 layers in the comments below.
References:
The Arbinger Institute, & Institute, T. A. (2006). The Anatomy of Peace. Berrett – Koehler Publishers, Inc.
Kouros et al. (2008). Marital Conflict and Children's Emotional Security in the Context of Parental Depression. Journal of Marriage and Family, 70(3): 684–697. doi: 10.1111/j.1741-3737.2008.00514.x