The room was full, all eyes on me, and I was in the middle of telling my story. The audience was silent, fully engaged, listening attentively the words that described the hardship of my childhood in the Dominican Republic. She stood up, made an abrupt hand gesture, and interrupted:
"Are you living in the past? Why does the past matter?"
I thanked her for her question and paused to collect my thoughts. I was caught off guard, yet at the same time, I was quite excited at the opportunity to express the great significance of my past, of my culture, and my roots. My past has undeniably brought me to where I am today… I am the sum of all my choices, actions, and experiences. They say that those who do not know the past are doomed to repeat it, and though I understand why the past may seem irrelevant and of little practical value, I believe it is indeed the foundation for our identity as individuals.
I am a Dominican. Hispana. Latina. My heritage is at the heart of all I am and all I do. It has influenced the way I love, the way I parent… the way I live.
For many, the only culture that matters is the one you practice. Culture refers to the way of life, and we live in a global society where many cultures are interwoven. So what makes one embrace ONE in particular?
I was born and raised in the Dominican Republic, my first language is Spanish; my entire family and my best friends still live there. I'm petite in size, olive-colored skin, dark curly hair, English with an accent, and I kept my grandma's family name.. the Latin factor is really obvious. But… what about my daughters? I'm raising them with a different language, values, beliefs, religion, parenting style, traditions, and even food choices than those of my parents and the ancestors that came before them.
I have been a naturalized American citizen for a few years now, I write in English and speak it on a daily basis, and people tell me I don't sound like other Dominicans they know when I speak Spanish. In my home we don't drink coffee in the morning (or ever), we don't drink cerveza (or any type of alcohol), we don't eat meat, we are LDS, and we've created our own philosophy of life. We are bilingual and bicultural. We have blended the traditions that most resonate with us from each culture: we celebrate a turkey-less Thanksgiving, and still do Reyes Magos on January 6.
Being Latina is not about what I do or don't do, how I look, or what I do for a living. Being a Latina mom is not about racial characteristics or everyday rituals… Latinas come in all shapes, sizes and colors. Being Latina is an attitude, a mindset, a collection of values… a way of life.
Latina moms know the balance between working hard and letting loose
Latina moms believe in respecting their elders and honor the efforts of their parents to give them a good life
Latina moms are strong, brave warriors, and overcomers of the great hardships and struggles

Latina moms smile as they bear heavy burdens
Latina moms are loud, talk with their hands, scream with joy
Latina moms fight for what they believe in and stand up for their values and what matters to them
Latinas put their familia first and make time for family togetherness
Latina moms are affectionate. They are great huggers and kissers!
Latina moms cheer and celebrate each others' success
Latina moms love musica. They sing and dance even when their heart is breaking
Latina moms want to make the world a better place for their children
Latina moms go out of their way to let you know you matter
Latina moms tell you the truth when it's uncomfortable and when no one else will
Latina moms have tremendous purchasing power in the USA and influence brands
Latina moms are sisters, daughters, wives, and friends
Latina moms bring joy, hope and love to each room they enter, creating a happy atmosphere
Latina moms take pride in their heritage yet innovation excites them
Latina moms have a voice and they use it to inspire others, and support our communities
Latina moms are stubborn, strong, determined, dedicated, and hard working
Latina moms are entrepreneurial success seekers and want to fulfill the dream that our parents imagined for us
Latina moms cook delicious food and like to feed everyone
Latina moms have giving hands and they use them support their community
Latina moms encourage their kids to follow their dreams
Latina moms appreciate diversity, open-mindedness, and see the value of different perspectives
Latina moms know our voices and our culture matter
Latina moms are powerful, inspiring, proud of who they are and where they come from
Latina moms have a deep desire to preserve the language and the culture in future generations
[Tweet "Being Latina is an attitude, a mindset, a collection of values… a way of life. #elaynaquotes #thepositivemom"]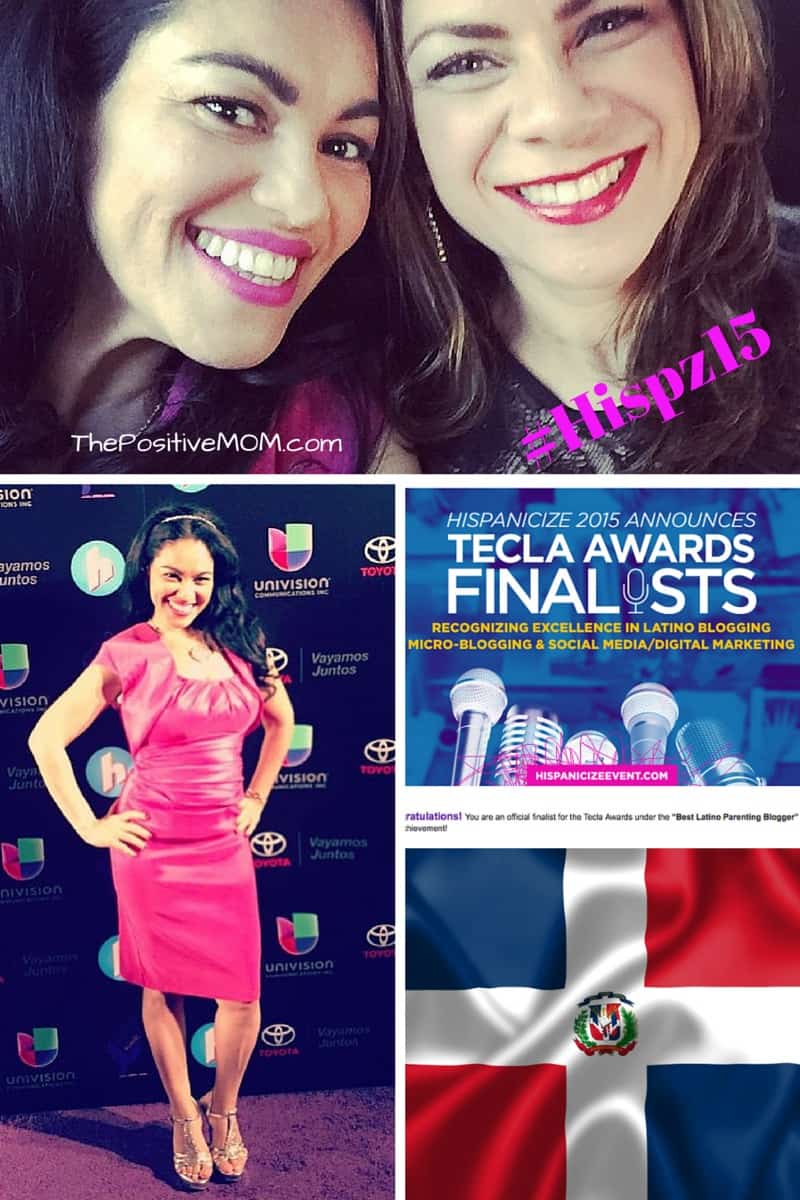 Being Latina motivates me because it is part of my identity wherever I live and wherever I go. There are endless reasons why I feel very proud and connected to my fascinating culture and I pray I can pass on the positive values it promotes to my daughters.
Growing up in the Dominican Republic has influenced everything in my life, and sharing those pieces with authenticity, owning my voice, and being real about where I came from is what makes the Hand of God so evident in my life. Without the ashes, there would be NO Cinderella. The past is where we look for strength and motivation to build a better future.
[Tweet "Without the ashes, there would be NO Cinderella. #elaynaquotes #thepositivemom"]
As I write to you from my hotel room in Miami, from Hispanicize, I am excited to celebrate my culture with thousands of Latino trendsetters, newsmakers, and digital influencers from all walks of life… and I am honored to have been selected as one of the Tecla Awards top three finalists for Best Latino Parenting Blog. As I reflect on my past and the blessings that my ancestors left behind, I am ready to leave my own personal mark in the world, and teach my kids to do the same. After all, my dream has always been to be "the great-great-grandmother everyone quotes and wants to be like."
I'm not living in the past. I am learning from the past, living in the present, and impacting the future. The past does matter. My culture does matter. My heritage does matter. And whatever your culture, it matters as well and it has a rich history that can impact you and future generations.
[Tweet "I am learning from the past, living in the present, and impacting the future. #elaynaquotes #thepositivemom"]
I'm proud to be a Latina mom. What makes you proud of your culture? How does your past matter today?
[ela]