As a mompreneur mentor, publishing is a big part of my work, and with my daughters publishing their own book, it is part of my homeschool curriculum and my life as a mom. Worlds collide, I know.
This week we are gathering endorsements for their book and the smooth process reminded me what a wonderful skill is to know how to prepare a successful book endorsement… and this blog post was born.
Endorsements appear on the book's back cover jacket or on the first couple of pages of the book, and they are a great tool to attract buyers at book stores.
They are great to showcase on the book's website, in printed flyers advertising the book, and in email announcements of the book for the official launch or release.
Writing an endorsement is a win-win opportunity that will give you exposure and will increase your book sales!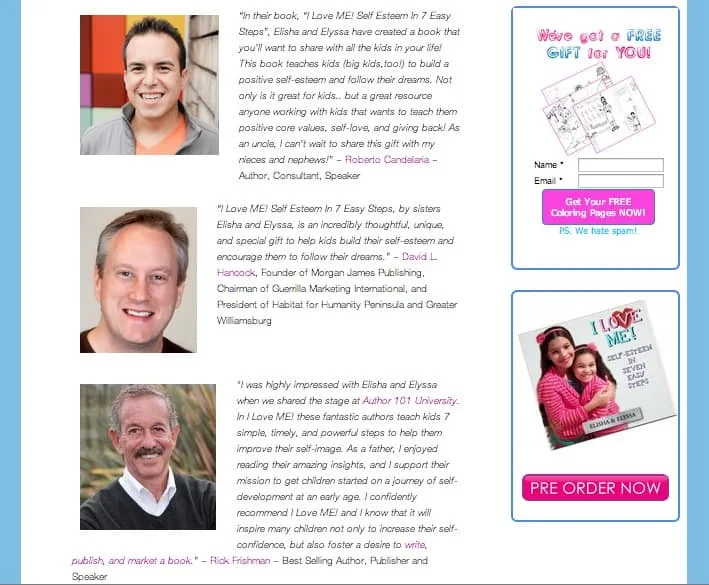 How To Write A Compelling Book Endorsement ~ The Top 5 Rules

Concise.
Keep it short, succinct, and simple, unless the author encouraged you to write something longer. 50 to 100 juicy powerful words are ideal for the author to use on his/her marketing materials or book launch copy.

Friendly.
The best endorsements sound relaxed and informal. Big words are cool (I'm a nerd!) but the best way is to be authentic and write from your heart, describing your experience in reading the book…like you're talking to a friend!

Specific.
In your endorsement, briefly explain the specific elements of the book that affected you and how. Be colorful in your language by using adjectives or feeling words. Also, make sure you share the details of how you or someone you know benefited exactly from reading the book.

Targeted.
It's a great idea to talk directly to the intended audience, addressing their industry, their problems, interests, or desires. The book title and subtitle should have done this, but remember that endorsements are searchable when posted online.

Signed.
Write your name exactly as you wish it to appear, and include your official title or credentials, your URL (in case they decide to link back), and if you have a published title, you can add that too, just don't go overboard in shameless self-promotion. Remember this is a time to spotlight them, not to draw attention to you as the main goal.
Top 3 Questions To Ask An Author Before You Write A Book Endorsement
What's the deadline? Timing is huge, especially if it's going on print!
May I see existing endorsements? Study them well so you can say something unique yet consistent, to create curiosity for the reader.
What's your main focus? Book publishing is not just about sales, it's a strategic positioning move.
Ok, that's that!
Next time you are asked by an author or publisher to write an endorsement, be flattered LOL, and be strategic!
It means you are recognized as an expert on the subject matter or genre, and they consider you a GIVER. 🙂
Elayna is a homeschool educator, single mom of 4, founder of the Positive MOM Community, award-winning Storyteller, Story Strategist, and Student of Pain. She's a bestselling author, internationally acclaimed keynote speaker, and 3x TEDx speaker. To receive a gift from Elayna, click HERE.

Want to support the Positive MOM blog?
The mission of the Positive MOM blog is to help moms break trauma cycles, find peace, and feel emotionally whole, so they can practice supportive parenting and create a positive and healthy environment for their children. If you found Elayna's content valuable, please consider donating a love offering to enable her to keep creating content and helping more moms worldwide. Donate HERE.