I was talking to a friend recently about how we sometimes let other people define our success. We let society dictate what makes us successful, we let our family decide whether we are good parents or not, we let the perception of other couples define what a happy relationship is… and don't get me started on all the molds we must fit to be "normal."
Well, I'm not the one to teach you how to belong. I've always been a weirdo… not modified by the status quo. I believe that you are truly happy only when you decide to be unapologetic about who you are.
Word-nerd Alert: Apologetic comes from the Latin apologeticus meaning "regretfully acknowledging failure."
As you see, I'm not talking about being disrespectful and rebellious. As a daughter of God, I refuse to believe [or acknowledge] I was created a failure. Take a deep breath and believe that every particular thing about you serves a higher purpose than anyone -perhaps including YOU- can comprehend. We are counseled to lean not in our own understanding. That also means everyone's understanding around you.
Okay, I realize I may be raising some eyebrows. That's fine. It's time to realize there is no mold. You are your own you and you decide your own success – what makes YOU happy.
"Today you are You, that is truer than true. There is no one alive who is Youer than You." ~ Dr. Seuss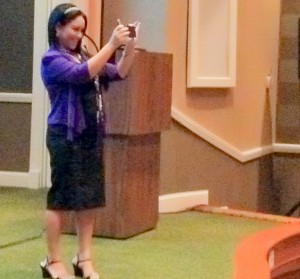 There are so many lies -and liars- out there! If society and the media, and your parents, and the neighbor and her brother and their in-laws' cousins know the recipe for everlasting happiness, how come they don't invest their time in cooking it up and instead, they're coming to take YOUR time to listing the ingredients, and each step of the preparation? I'm going to be bold here and say: cook up your own recipe! What you think of me is just none of my business. And your definition of what success looks like to me it's highly inaccurate, because, um, err, how do I say this? You are NOT me!
HAVE YOU NOTICED….usually BROKE people want to give you advice about MONEY… people who are ALONE and UNHAPPY… and QUARRELING, want to offer their RELATIONSHIP advice… and people who are FAILING in the matters of PERSONAL or PROFESSIONAL RESPONSIBILITY want to provide their guidance about how YOU should "run things"…? and IT'S UNSOLICITED!!! and IT'S GUILT BASED… and YOU MUST IGNORE IT!!! [End of positive rant]
Sure there are people that tell you what you must do, what you must have, and how you must be because of their concern for you. Newsflash… they're still NOT you.
I'm not going to tell you what SUCCESS looks like for you because I'm NOT you, but I'll tell you what has worked for me so you can find what works for you:
I define my own success and I make rules that are possible, and set goals that are attainable, and I don't compare my journey with someone else's… but most importantly, I am not willing to wait until I have a certain look, live in a certain place, drive a certain car, make a certain amount of money, or anything else to be happy. And I am enough, I have enough, I do enough… and I am grateful!
This may sound familiar: HAPPY is a choice… and so is SUCCESSFUL.I'm claiming my success… are YOU? Be unapologetic about who you are… who God created you to be!
[ela]