While we may not incorporate frogs into our menus, we all procrastinate. Yes… /procrastination/ "putting off or delaying or defering an action to a later time", mainly because of Fear, Overwhelm, Perfectionism, or an interesting combination of two or all three of these factors.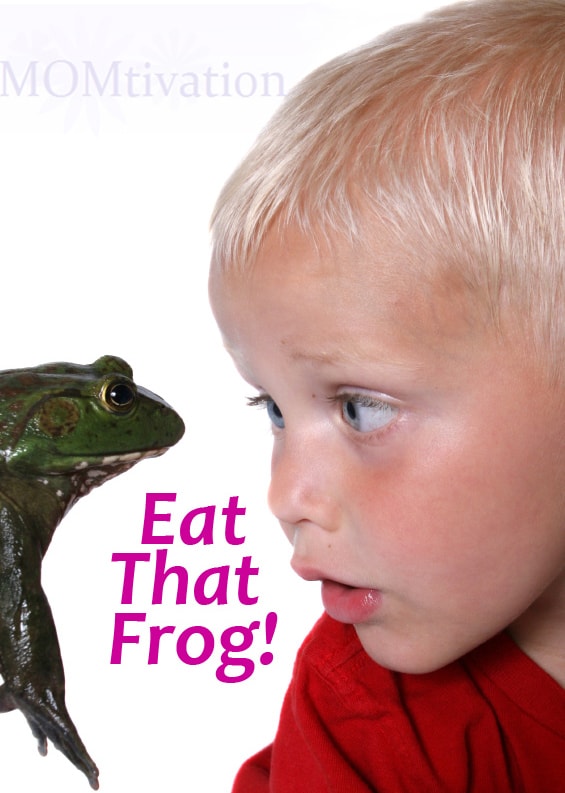 I am a recovered perfectionist. In 2002, my best friend introduced me to the ultimate procrastination-fighting manual: Eat That Frog!: 21 Great Ways to Stop Procrastinating and Get More Done in Less Time!
I've been grateful AND paying it forward ever since.
What Is The Frog Eating Philosophy?
"If the first thing you do each morning is to eat a live frog, you can go through the day with the satisfaction of knowing that that is probably the worst thing that is going to happen to you all day long!"
"If you have to eat two frogs, eat the ugliest one first!"
"If you have to eat a live frog, it does not pay to sit and look at it for a very long time!"
Our frogs are our biggest, hardest, most tedious, frightful, yet most important task of the day.
How To Eat A Frog
Make a list ~check it twice ~ What are the most important issues you must take care of ?

Prioritize

your tasks based upon what brings you closer to your goals. Find your personal frogs first, then focus on career frogs.

Eat The FROG

by getting right to the task representing the MOST valuable use of your time.
As moms, we sometimes have overwhelming servings of giant scary looking frogs. We can overcome procrastination by prioritizing and placing value on what we do with our time.
Why Eat A Frog?
Procrastination is "attitude's natural assassin" (William James, American psychologist and philosopher). Eating our frog is essential to keeping motivated because uncompleted tasks make us feel defeated and drain our energy. Sound familiar?
By developing a habit of intentionally eating our daily frog, we feel stronger, more productive, more confident, more successful, and HAPPIER!
Enough writing…I'm off to eat my frog – while assuring my Vegan daughter that no frogs were harmed in the process.
Enjoy! * Bon Appetit! * Buen Provecho!
[ela]