Well loves, I did it! I finally went to Toy Story Land, and it was everything I thought it would be – and beyond!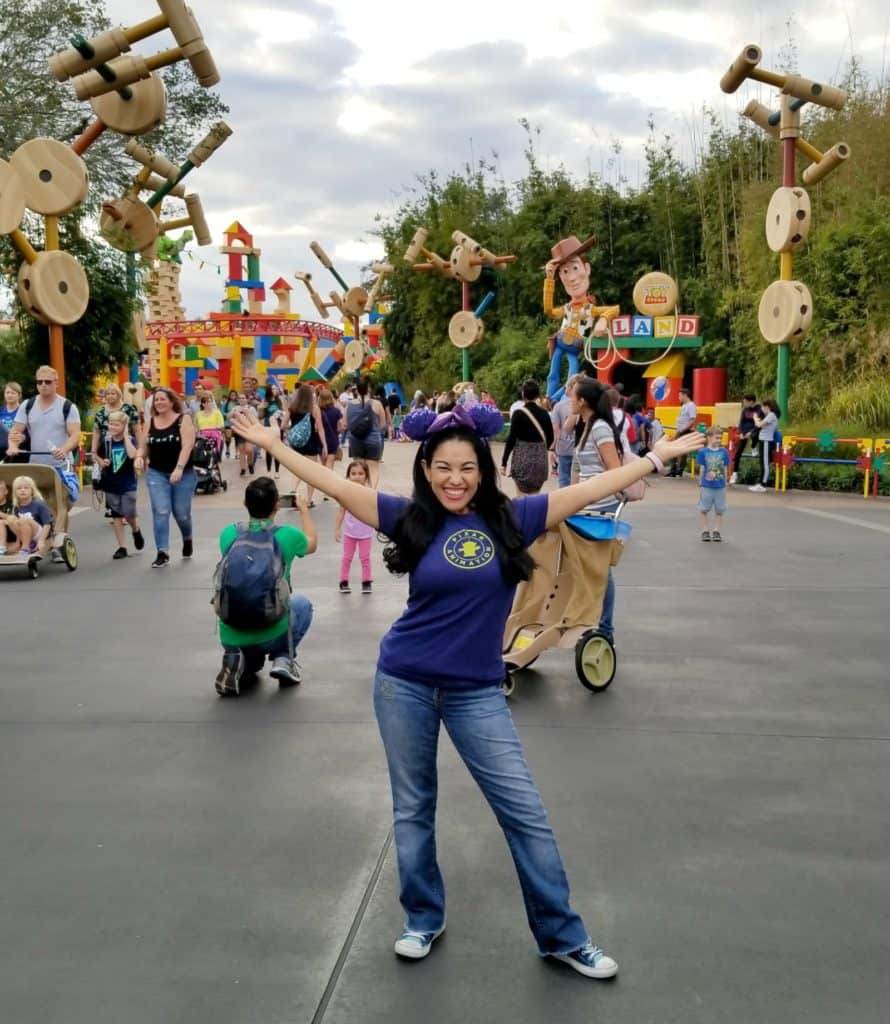 I got a sneak peek at Toy Story Land when Bob Chapek spoke at D23 Expo in 2017 and that's when I started to dream of this magical playground that would combine the magic of Walt Disney Imagineers and the power of Pixar Animation Studios' storytelling!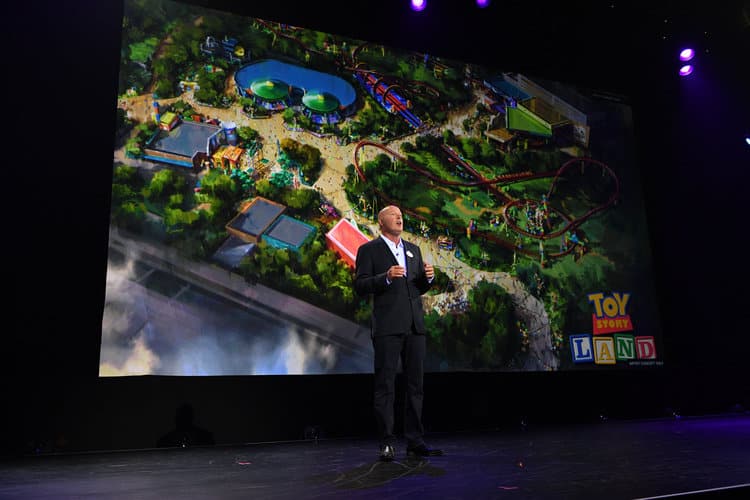 Toy Story Land finally opened to the public in June of 2018 and spans 11 acres, located in Hollywood Studios at Walt Disney World Resort and I'm so grateful the Disney Mom Team provided me with park hopper tickets so I could visit this exciting addition the the Most Magical Place On Earth.
Since Toy Story Land is inspired by Pixar Animation Studios' Toy Story films, let's not forget that Toy Story 4 comes out this Summer, too!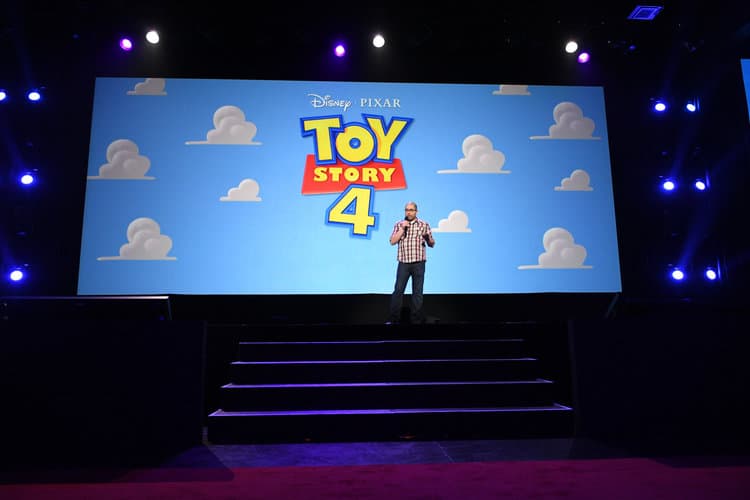 In Toy Story Land at Disney's Hollywood Studios, our friends Woody, Jessie, Buzz Lightyear, Slinky Dog, Green Army Men and other Toy Story characters come to life in Andy's backyard.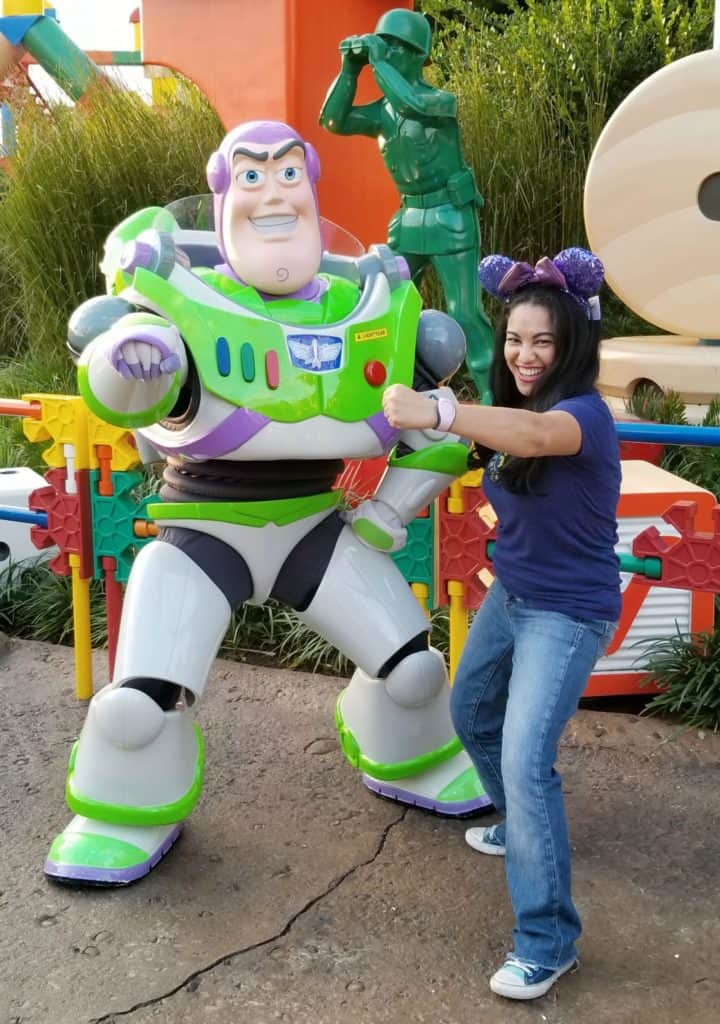 I had a blast flirting ahem chatting with Buzz Lightyear and I needed to have a picture with the 20-foot-tall Sheriff Woody, tipping his hat in all his cowboy glory.
Luckily, my friend Carol is the sweetest and she made me feel like a model and a princess and she took like a 1000 pictures to document my first trip to Toy Story Land – without my children!!!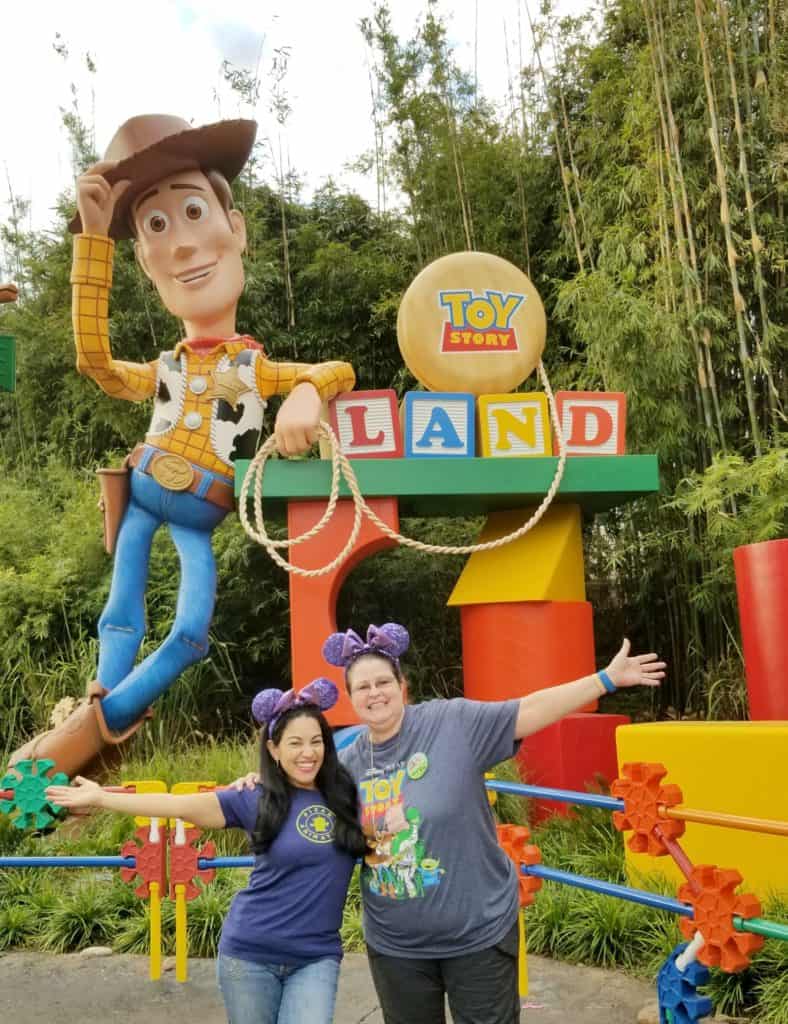 Woody, Jessie, Buzz and their pals appear throughout the land and love to meet boys and girls of all ages, sign autograph books, and pose for pics and selfies.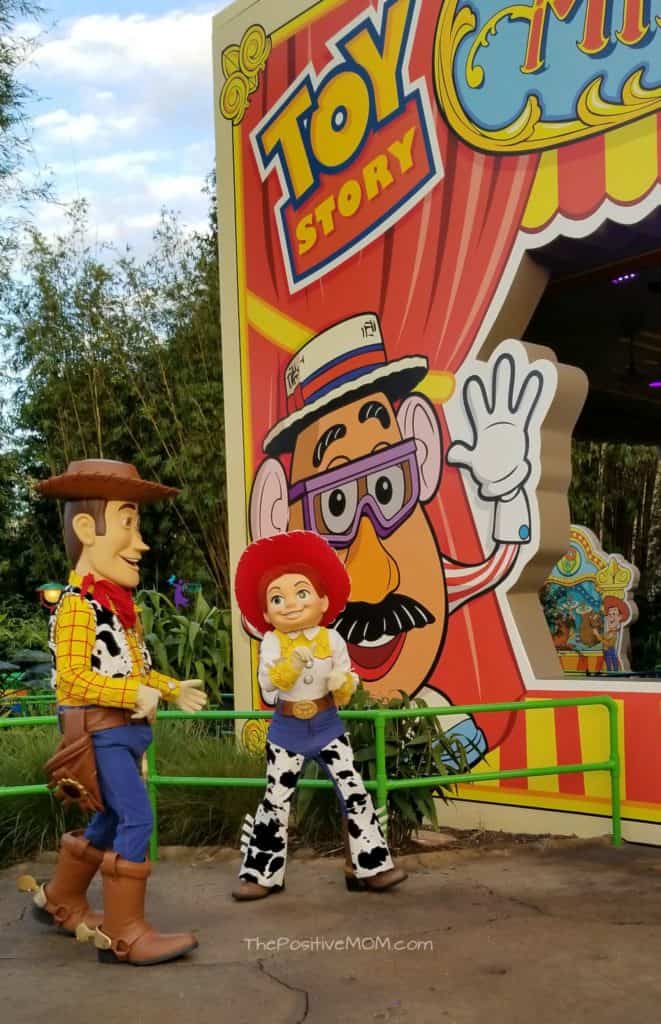 Sarge and the Green Army Patrol march through Toy Story Land and play games with you in an interactive boot camp – ten-hut! I've got footage to prove it!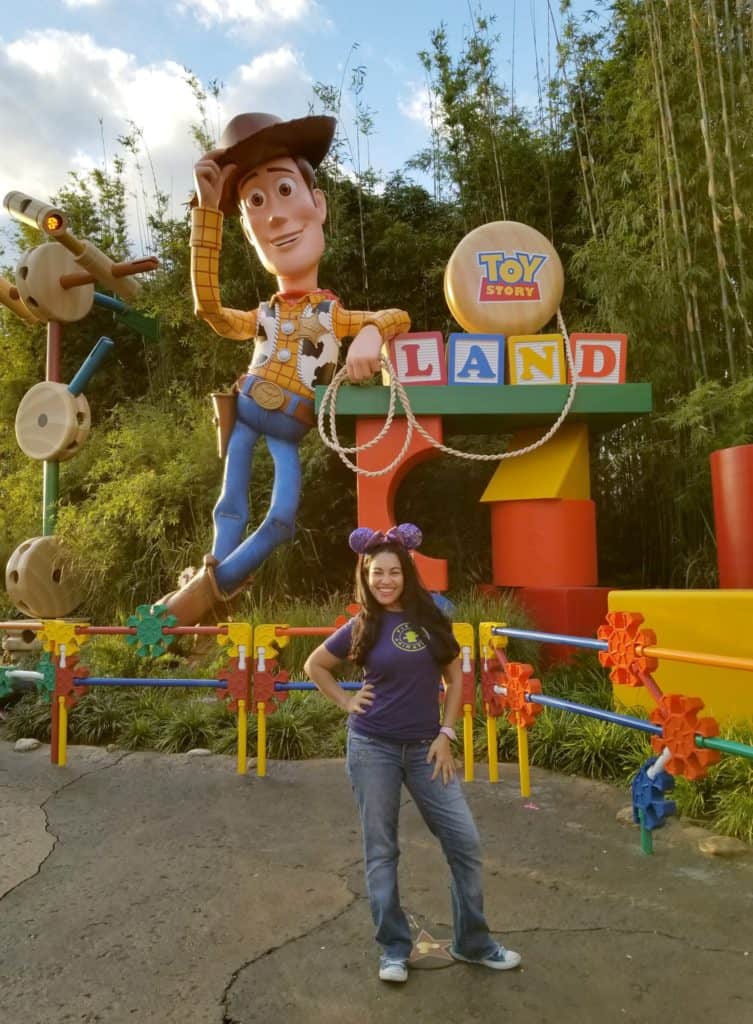 It's so exciting to be surrounded by a world of toys and experience the best time ever as you feel the joy of being an "honorary toy." You have the sensation that you shrunk to the size of a toy and immerse in their world. I found that I'm still 1-2 feet shorter than the average toy height, though – some things don't change. LOL
Toy Story Land is "a large world, after all!" You would need a backpack the size of a school bus to carry the Buzz and Woody figures that tower over Toy Story Land!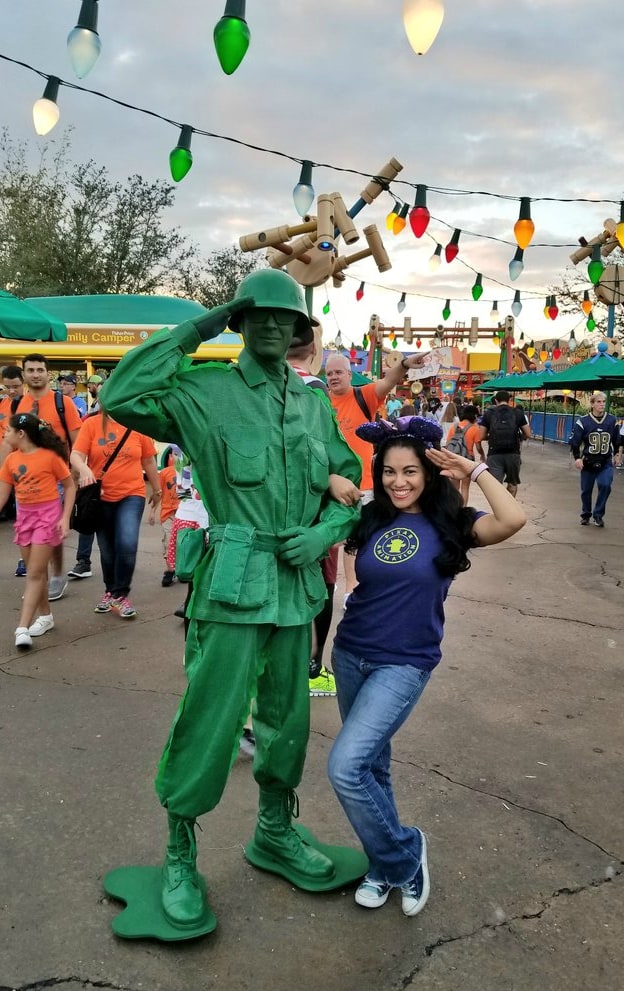 Everywhere you go in Andy's backyard, you see something fun: more than 400 giant building blocks, Tinkertoys, Crayola crayons, yo-yos, board-game pieces, a Rubik's Cube, giant playing cards, lampposts shaped like Tinkertoys, benches built from Lincoln Logs and K'nex pieces, a Barrel of Monkeys, a Balsa wood glider, and a giant roller coaster set, of course.
The dominoes and giant jacks made me nostalgic for sure, because those were toys I actually knew about as a child. And the Scrabble tiles made me smile because Scrabble is my favorite board game – ever!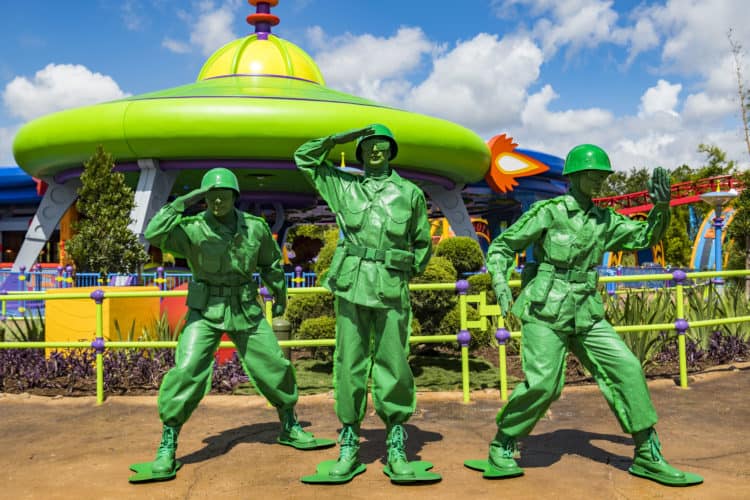 In Toy Story Land, Andy's footprint is about 25 feet long or the equivalent of a size 240 shoe – mine is size 5! It would take a Green Army Man roughly 12 steps just to travel the length of one of Andy's shoeprints!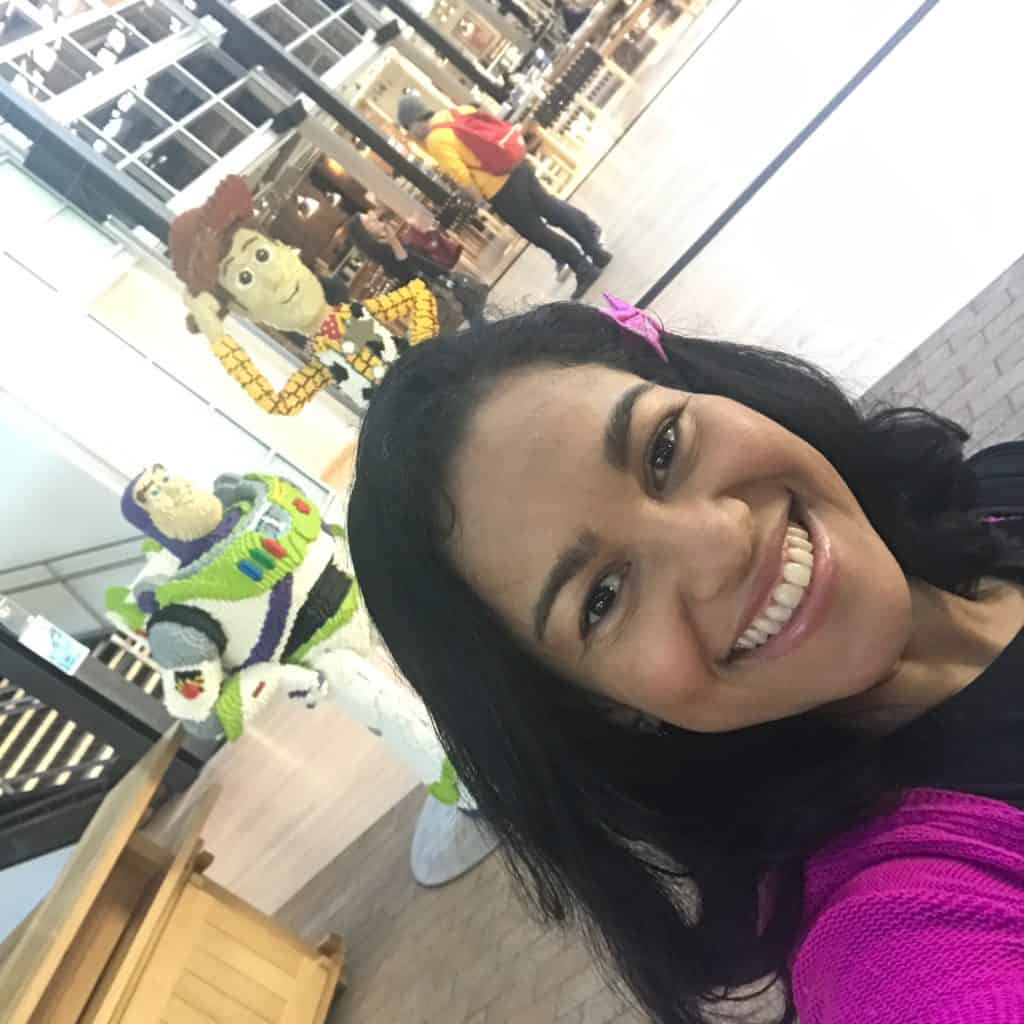 The featured attractions at Toy Story Land are Slinky Dog Dash, Alien Swirling Saucers and Toy Story Mania like you've never seen it before.
Alien Swirling Saucers
That EPIC time I visited Pixar Animation Studios campus, I bought a special t-shirt with the adorable little green alien and I had to wear it to visit Toy Story Land! The Alien Swirling Saucers is a galactic space toy is designed as a playset Andy won at the Pizza Planet restaurant and the green aliens spin to the beat with you in their toy rocket ships.
Toy Story Mania!
Toy Story Mania! is already a favorite attraction at Disney's Hollywood Studios, and it's been updated with a new entrance and more dynamic experience in your 4D adventure through carnival midway games.
Slinky Dog Dash
Imagine that Andy put the Slinky Dog from his Dash & Dodge Mega Coaster Kit on the track and you get this family-friendly roller coaster around Andy's backyard. Slinky Dog Dash is inspired by the delightful pooch spinoff of Slinky, the classic 1940s American toy.
The weight of the Slinky Dog Dash track and support columns weighs almost as much as 125,000 gallons of milk.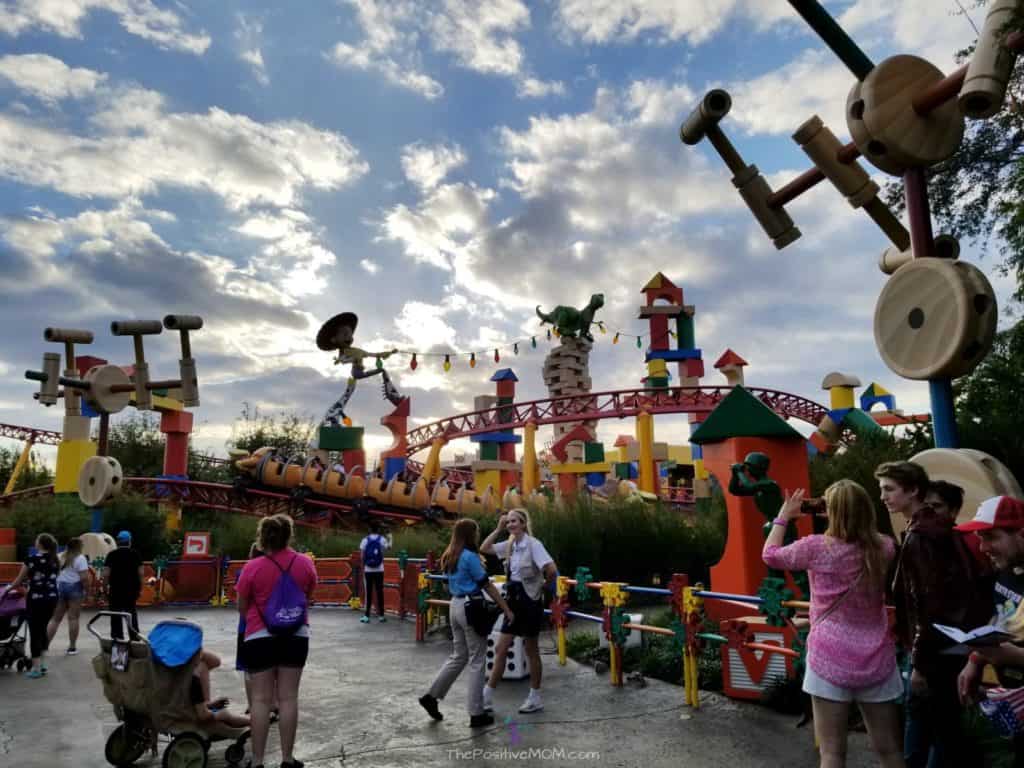 Rex and Jessie helped by stringing lights above Andy's stacked Jenga game pieces. Together Rex and the Jenga Tower are as tall as 7½ Green Army Men standing on top of one another.
Slinky Dog has two launches, it features bends and twists his coils around curves, over hills and down drops on the first one, and sound effects and spinning lights, on the second one. The grand finale features Wheezy, the squeaky penguin from the Toy Story movies.
In each 18-passenger coaster train, you soar aboveToy Story Land, catching great views of Andy's backyard and beyond.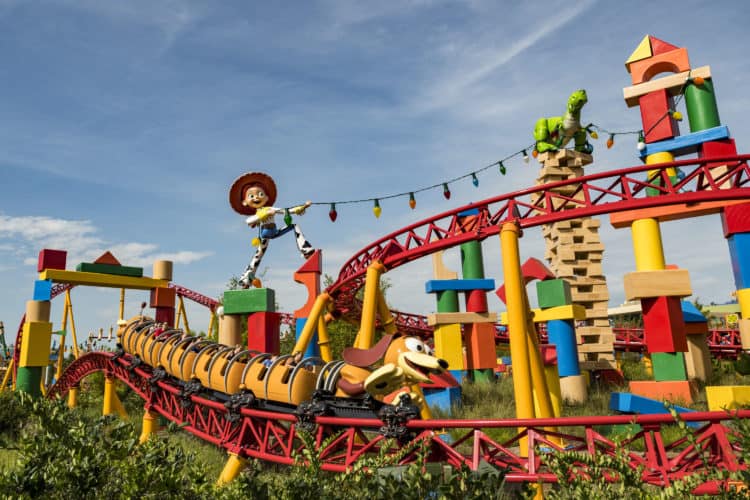 Woody's Lunch Box
If your tummy starts to rumble while you're having all the Toy Story Land fun, you can actually eat at Woody's Lunch Box! My favorite toy sighting was a giant vintage thermos!
Toy Story Land Merchandise
There are two merchandise locations in the form of a toy camper and toy dump truck, where you can get your collectibles and gifts from Toy Story Land.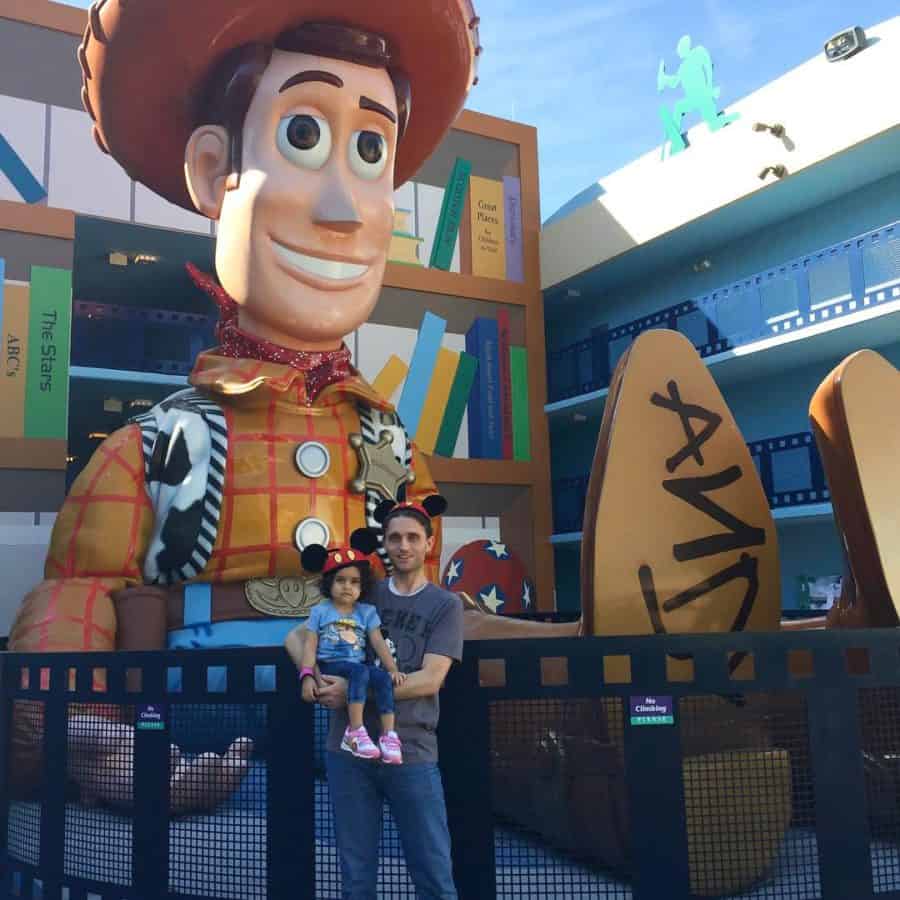 Oh and I pulled this pic from the archives of a giant Woody doll we found when we stayed at the Disney's All-Star Movies Resort after a fabulous Disney Cruise Line experience, just to add a reminder that staying at a Disney Resort is always the way to go when you go visit Toy Story Land!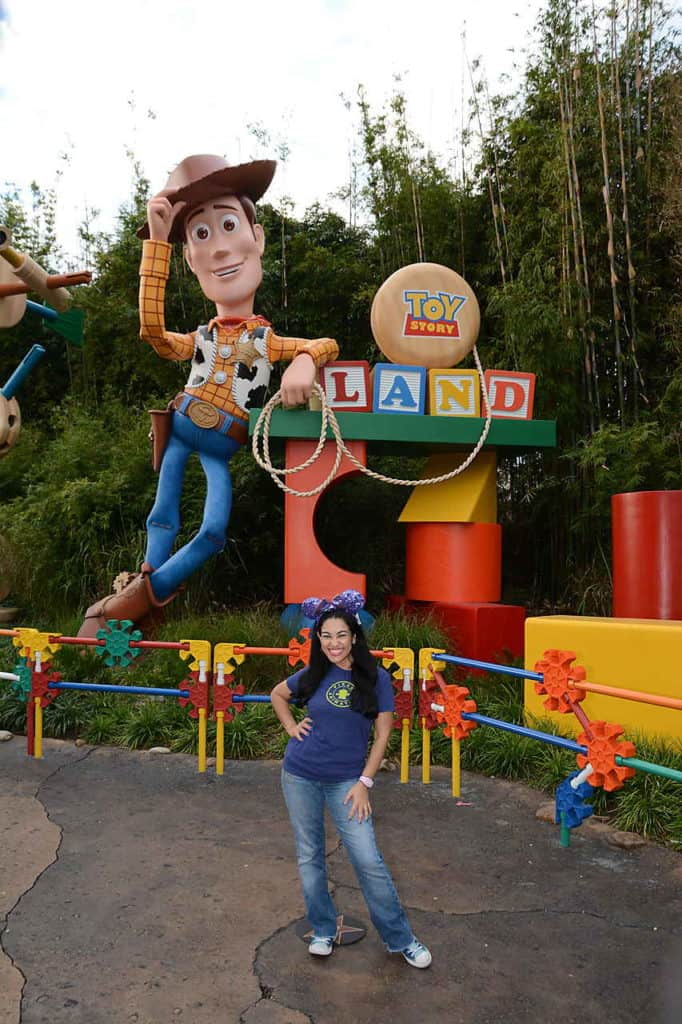 I loved visiting Toy Story Land at Walt Disney World Resort and next up on my Disney bucket list are these other Toy Story-themed lands around the world:
Toy Story Playland, Walt Disney Studios Paris
Toy Story Land, Hong Kong Disneyland
Toy Story Land, Shanghai Disneyland
This is the year of all things Toy Story – and I'm super excited!
What is your favorite thing about Toy Story Land at Walt Disney World? Share your love of Toy Story with us in the comments below!
[ela]