Public Speaking is one of the most effective ways to position yourself as an expert and thought leader in your industry and an efficient way to help others and move them to action.
Being a public speaker can become a profitable aspect of your business as a mompreneur, as well, which is why I focus one of the modules of my Mompreneur Mastery Mentorship programs exclusively on this craft.
Even though many people claim to be scared of public speaking or to really not enjoy it or not look forward to, the truth is that almost everyone has been required to speak in public at one time or another. Speech anxiety is the fear of public speaking is often called Glossophobia.
Speaking is something that usually comes natural to us, but when it comes to calling ourselves a professional speaker or to gather an amount of people and make it more official, we tend to overthink it, freeze with fear, and focus on ourselves:
How will I look?
How will I sound?
What if I forget what I was going to say?
Will they take me seriously?
What if they ask a question I don't know the answer to?
What if they judge me?
Will I mess up?
What if they find out I don't know everything about this topic?
What if they notice I'm nervous?
Will I be able to share everything I have to share within the allotted time?
What if the PowerPoint fails?
There are so many reasons why public speaking is so feared, but most entrepreneurs are mainly concerned with making mistakes, embarrassing themselves, and ruining the image they've built for themselves.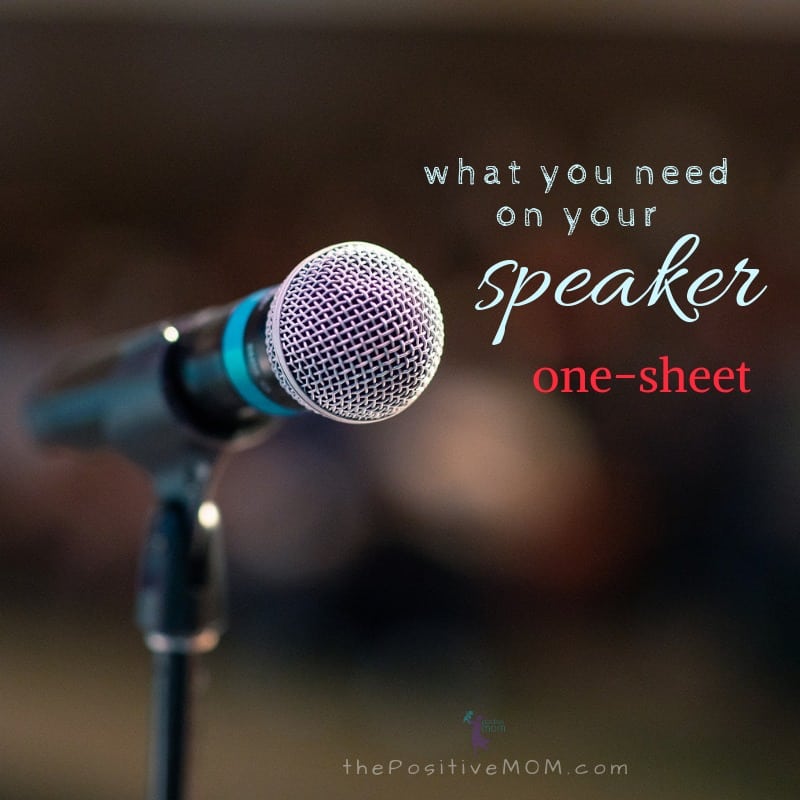 It's really ironic, because I'm always talking about your positioning (what people perceive you to be) your image (the branding you intentionally create) and your marketing (broadcasting your gifts to the world), however, in order to be successful, you must be vulnerable, courageous, and willing to fail.
Public speaking is not about you or how inadequate you may feel, but about your commitment to spread the message you were called to deliver. You will always feel these fears, but being prepared will sure help.
One of the tools that will help you brand, position, and market yourself as a public speaker is a speaker one-sheet. A Speaker one-sheet is a one-page document designed to let event planners know who you are, what your message is, and how you help your focus audience.
A speaker one-sheet is an essential tool to add to your marketing arsenal because it will help you get booked faster, more often, and more profitably.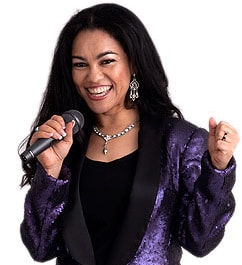 I'm blessed to be both a marketer and a speaker, so being in both sides of the business helps me have a perspective of the do's and don'ts, what works and what doesn't work in the industry, and what you need to succeed.
I've compiled a list of what you need to know before you even think about designing your speaker one sheet, because strategy always comes before design (if done right!).
The 5 Secrets of The Killer Speaker One Sheet REVEALED
Meeting planners will have a lot of questions about you before they even consider you. Your speaker one-sheet must answer at least these 5 questions effectively:

What is the main benefit you offer the audience? Go beyond saying what you speak about and tell them specifically how you help the organization, the event participants, and the event planner. What results will you get?
Most designers will make the speaker's name the most prominent element of the one-sheet, but unless you're a top celebrity, I would recommend to include your benefits and results in the main heading.
Include no more than 3 compelling speaking topics, highlighting the main take-aways for each topic, and identifying a problem and your solution, along with the emotions the audience will feel.

What groups do you speak to? Provide relevant information about your target audience to the decision-makers you are seeking to attract.
This will assure them that you are an excellent fit for their organization or event. Include a relevant but brief client list, showcasing logos and testimonials, if you have them.

What is your expertise? Don't just slap a mini-bio on there; define what makes you an expert in the field and the solutions you offer.
Remember what I always say: "people buy the visionary first and the vision next." When you add your experience, achievements, awards, media clips, and proven track record, and what kind of contribution you make, you will be certain to catch their eye. If it's true, it's not bragging!
Include pictures of your books or training programs to enhance your credentials and qualifications, if you have that available to you.

What makes YOU stand out as the ideal candidate for the presentation? A well-designed brand is the perfect complement to well-crafted words.
Let your photos be professional, crisp, and show your personality (think action shot rather than headshot).
Your visual branding can include your catch phrase or tag line, colors, logos, fonts, and other vibrant creative graphics contained in your other marketing pieces or marketing collateral.

How can they book you to speak? Believe it or not, many speakers fail to include booking details, making it impossible for event planners to reach out for more information.
A powerful one-sheet is not complete without a strong call to action and a phone number! Don't forget your social media handles, and your #Hashtag. Encourage them to connect with, like, and follow you, too.
Whether you plan to mail them or just have a PDF for download on your sites, make sure you hire a professional to help.
Focus on making your message powerful and don't worry about contrast, white space, or when and how to place these elements on the page (plus, having someone to proofread and provide feedback won't hurt).
Why should someone hire you and invite you to come speak? I'd love to hear your thoughts in the comments below. And let me know if you need help with your speaker one sheet and we'll create it for you! <3
[ela]