Though I always loved to read and write, I didn't ever own a book when I was a kid. Whenever I could get my hands on a book, I would devour them and read them over and over – as many times as I could before I had to return them.
So, because you know we always want to give our kids what we didn't have, I made sure they had plenty of books. I really have spent a small fortune in books, and I've really enjoyed having the opportunity to read children's books and get a glimpse of the magic that I missed out on because of the circumstances of my childhood.
When I discovered Dr. Seuss, (aff) I was hooked. I loved the simplicity, the timelessness, and the fun wisdom of his work. As a new mom, I didn't take time to read unless it was to my kids, so I spent a lot of time with Dr. Seuss every day.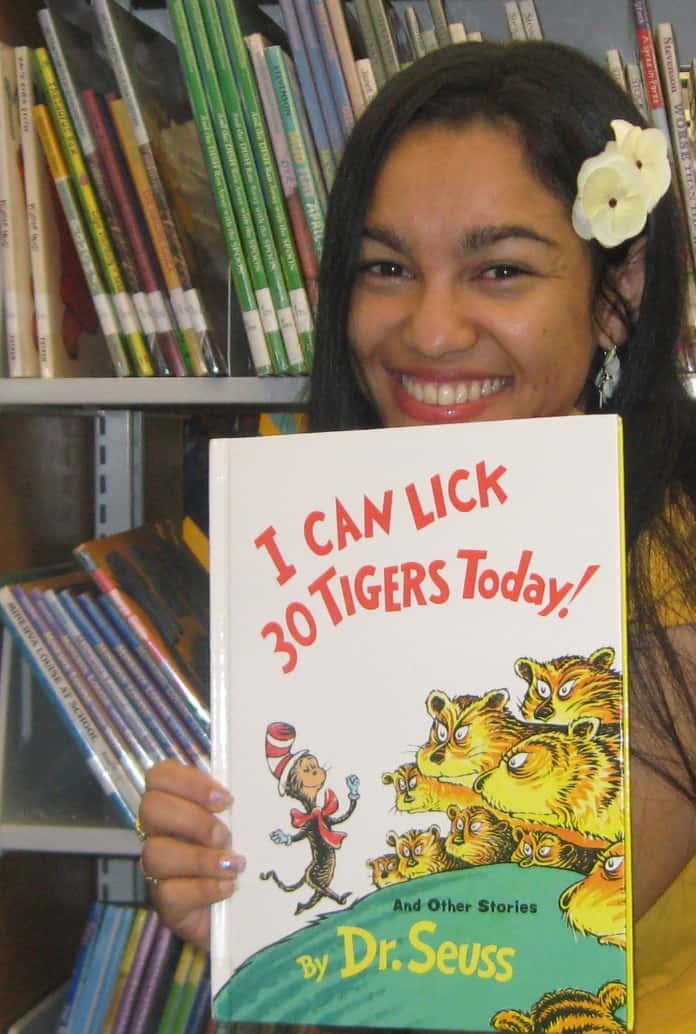 Dr. Seuss (Theodor Seuss Geisel) published and illustrated 46 children's books. His award-winning work has been adapted to feature films, TV specials, TV series, a Broadway musical, and even theme park attractions!
I want to share Dr. Seuss quotes that contain amazing life-lessons that got me through a lot of hardship, depression, and suicidal anxiety. His philosophy inspired me to become more conscious, intentional, and aware as a woman, as a mom.
Dr. Seuss Quote #1 ~ "Don't cry because it's over. Smile because it happened."

 
We are blessed for the people, places, feelings, and experiences we enjoy, even if for a short season. It's healthy to grieve, to cry and to allow our emotions to flow. What we resist, persists, and if we do not take the time to heal, we may never be able to.
However, we must also cherish the memory, be thankful, and know when to move on. 
Dr. Seuss Quote #2 ~

"Be who you are and say what you feel because those who mind don't matter and those who matter don't mind." 
Since we can't share the joy we don't have, trying to please other people doing, saying, or being what doesn't bring you joy is counterproductive. I've tried to change who I am to please someone else and, boy, what a waste of time, what a waste of…me! Though sometimes those who matter do mind, it's essential to remember that being who you are and saying what you feel is the only path to true peace in life.
Dr. Seuss Quote #3 ~

"Sometimes the questions are complicated and the answers are simple." 
The right answers are: love, belief, and gratitude. A question I usually asked when things got too complicated for my taste was: "WHY?."
As I started to replace it with "WHAT NOW?", seeking for direction instead of an explanation that I may be not wise enough to understand just yet and I thought I was entitled to, I have gained more awareness and a larger perspective that allows me to increase my understanding – to have more answers, if you will.
Dr. Seuss Quote #4 ~

"The more that you read, the more things you will know. The more that you learn, the more places you'll go."
Something I love about reading books is the accelerated learning and leverage one gains when doing so. Because I have written books myself, I can attest of the time, effort, and energy that goes into compiling information, pouring your heart and soul, and polishing a book towards publishing.
When we read a non-fiction book, we are taking a shortcut – it's a mom hack; because we can learn in a few hours or days what may have taken the author 50 years to learn and 5 years to put into book form. 
Dr. Seuss Quote #5 ~

"Today you are You, that is truer than true. There is no one alive who is Youer than You."

 
Because you are unique, when you compare yourself, you can't be accurate. There is "no one alive" that can bring what you can. You're your kids' mother on purpose and being yourself is the only way you can be the mom you're meant to be. Take this to heart: there's only one way parent – yours!!!
Dr. Seuss Quote #6 ~

"A person's a person, no matter how small." 
Even though I'm 4'9″, that is not why I am using this Dr. Seuss quote. It's about time we treat our little ones like their voice matters. They have so much wisdom it "scares" me. They are individuals and must be treated as such. They deserve respect and attention. Listen to what they have to say. My daughters are my best teachers and have "put me in my place" more than a few times. Parents can be wrong, you know.
Dr. Seuss Quote #7 ~

"Today is your day! Your mountain is waiting. So… get on your way." 
When you decide that today is your day, everything will flow so much better and you will see results almost instantly. Procrastination can certainly be "the enemy." I remember times in which I was foolish, working too hard, without rest. I thought I would "make up for it tomorrow" and that day never came.
When you know today is YOUR day, not only are you grateful for a day to live, but you start investing your time, instead of spending it, wasting it, or killing it. Invest in your joy. TODAY. NOW. There's no better time; today IS the day for you to seize.
Dr. Seuss Quote #8 ~

"I'm sorry to say so but, sadly it's true that bang-ups and hang-ups can happen to you" 
Adversity is part of life. Grief, challenges, disease, and obstacles are all part of the plan. Sometimes we can experience what may seem like a tragedy, but it really is a victory in the making.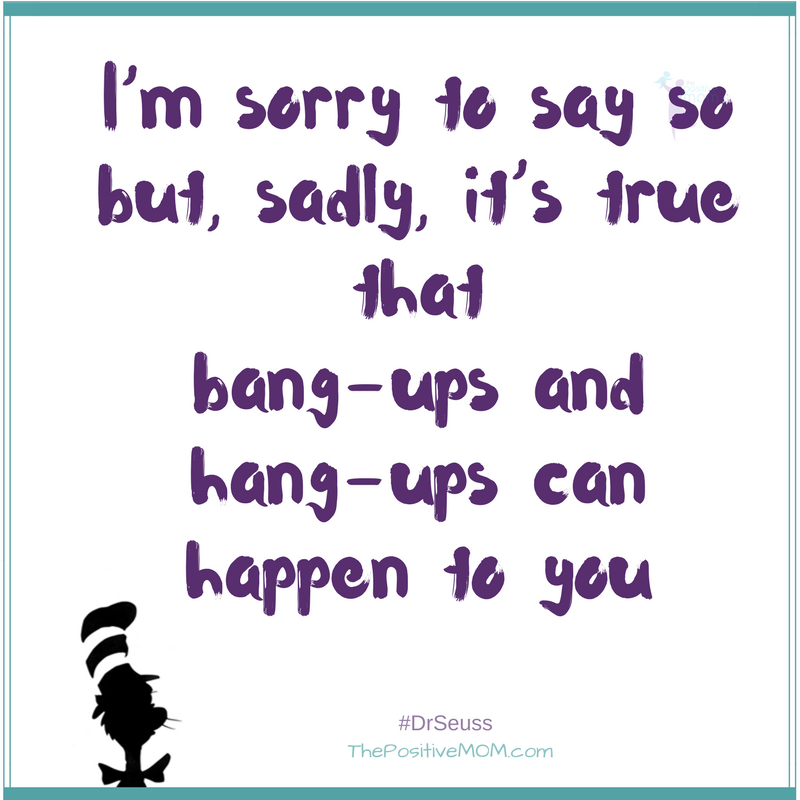 I received some news three days ago that broke my heart and I have been praying for the little ones who suffered irreparable damage, but I know that God has a plan and I am praying (and asking others to join) that it will turn into a triumph in time.
Dr. Seuss Quote #8 ~
"And will you succeed? Yes! You will indeed! (98 and 3/4 percent guaranteed)" 
We were born to achieve, to succeed, to grow, to multiply. There is no doubt you can do it. I always say "God wants for you what you want for you." As you ask for guidance, you will receive it. When you ask for strength, you will receive it. When you ask for support, you will receive it. When you ask for resources, you will receive them. The only failure is not trying or giving up!
Dr. Seuss Quote #9 ~
"You have brains in your head. You have feet in your shoes. You can steer yourself any direction you choose."
The greatest gift we are given in our mortal experience is the gift of choice. Our life is created by the choices we make, so it is very empowering to have the ability to create our lives and to be able to shift in a more joyful direction. 
Where will I steer myself toward today? Where will that take my children? Remember that the road you take is the one your children will be on!
You must use your brain to decide your vision and your destination; however, you must move your feet – take action – to get there!
Dr. Seuss Quote #10 ~
"If things start happening, don't worry, don't stew, just go right along and you'll start happening too."

Sometimes it's not what happens, but how we react to what happens that matters. Worry, doubt, and dwelling in negativity is what prevents us from achieving our desires. This is not to say that we will not have unpleasant emotions, because that's just not realistic, but that we must move on sometime, rather than continue to stew in them.

Dr. Seuss Quote #11 ~
"It is better to know how to learn than to know."
"Knowing" is dangerous. It is so freeing to be open to learning, while being right and feeling like "we already know" something can be a personal prison that sabotages both our lives and our relationships. It isn't easy to stay out of the "knowing" danger zone, but this surrender is the best feeling!
Dr. Seuss Quote #12 ~
"Unless someone like you cares a whole awful lot, nothing is going to get better. It's not."
Any lifestyle change, any major achievement, any breakthrough or shift comes with a whole lot of caring. One must put in all mind, heart, and strength into something in order to see it grow and materialize. 
It's not enough to care about your kids a whole awful lot. You must care about yourself, your dreams, and your wellbeing an awful lot, too!
Dr. Seuss Quote #13 ~
"You're on your own. And you know what you know. And you are the one who'll decide where to go."
Sometimes we feel like we HAVE TO do something or go in a particular direction, not having much of a choice in a matter, but the truth is we always have a choice. You are the one who will ultimate decide what you'll do, and consequently, where you'll go – and take the kids along.
Dr. Seuss Quote #14 ~ "I like nonsense, it wakes up the brain cells."
We sometimes take ourselves, and motherhood, too seriously. It's okay to be playful, to laugh, and have fun just for fun – actually, it's not just okay, it is necessary. Give yourself permission to lighten up every once in a while!
Dr. Seuss Quote #15 ~"Sometimes you will never know the value of a moment until it becomes a memory."
Motherhood is quite a juggle. It's easy to get caught up in the grind and shut out what really matters. We must be watchful and mindful so we can cherish the moments that will turn into our most precious memories.
Hindsight is 20/20 vision, but not too helpful when the moment is gone. What if you were to become more mindful and focus on the present moment? Sometimes in order to actually be present, we must schedule and plan those special moments that we know shape us and our relationships. 
Dr. Seuss Quote #16 ~"Why fit in when you were born to stand out?"
Whether introverts or extroverts, we were all given gifts and attributes to stand out in our own way. Trying to fit in is a disease that robs us of the beauty and joy that comes from embracing who we are and owning our purpose.
Get clear about your purpose and start living authentically from it, and I'll guarantee anything you touch will prosper.
Dr. Seuss Quote #17 ~"Today I shall behave, as if this is the day I will be remembered."
What if you knew this is your last day on Earth? How would you manage our time? What would you attempt to accomplish and how much effort and energy would you put into it? I like to remind myself that it really could be my last day to make a difference, and even if it isn't, having the expectation to impact another is positive motivation because that's what I want to be remembered for.

Wow… that was quite a lot – but there is a lot more! Stay tuned for part two of Dr. Seuss life lessons.
What have YOU learned from Dr Seuss? Share your favorite Dr. Seuss quote with us and what it means to you as a mom. xoXo