This shop has been compensated by Collective Bias, Inc. and its advertiser. All opinions are mine alone. #LimpiaTotal #CollectiveBias
Who doesn't love a clean house? We all love the result, although many of us will gladly admit, we don't necessarily enjoy the process. And to be honest, we wear so many hats and have such a long list of to-dos, that cleaning, aromatizing, and disinfecting just stops being a high priority, or becomes a very dreadful one.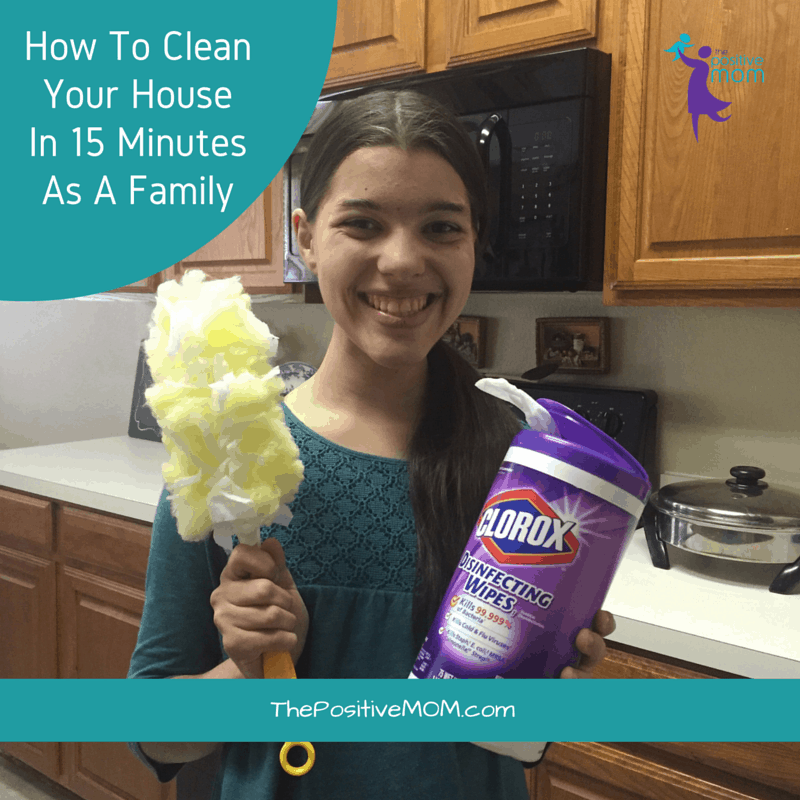 Whether you're the type of mom who really despises doing chores, or the kind of mom that just doesn't seem to have the time, we all wish we could enjoy the results of our hard efforts (or our helper's efforts) just a little longer.
Raising kids is challenging, and having a clean and organized house while raising kids, is even a bigger challenge.
Being a single mom for 8 years helped me become quite creative at practicing tips, tricks, and hacks to make life a little easier more bearable. Most of these solutions include involving the kids, because:
it allows me to teach them a skill they can use their entire life.
it is an investment that has the potential to save me lots of time.
it is a way to spend quality time together, enjoying meaningful conversation (and time passes a bit quicker when you're in good company).
One of the best cleaning and organizing routines we practice is done in only 15 minutes! I encourage you to try it – and I know you will be amazed at how much you can get accomplished. It's definitely more manageable to keep the house clean and decluttered than it is to clean it all up when it's dirty.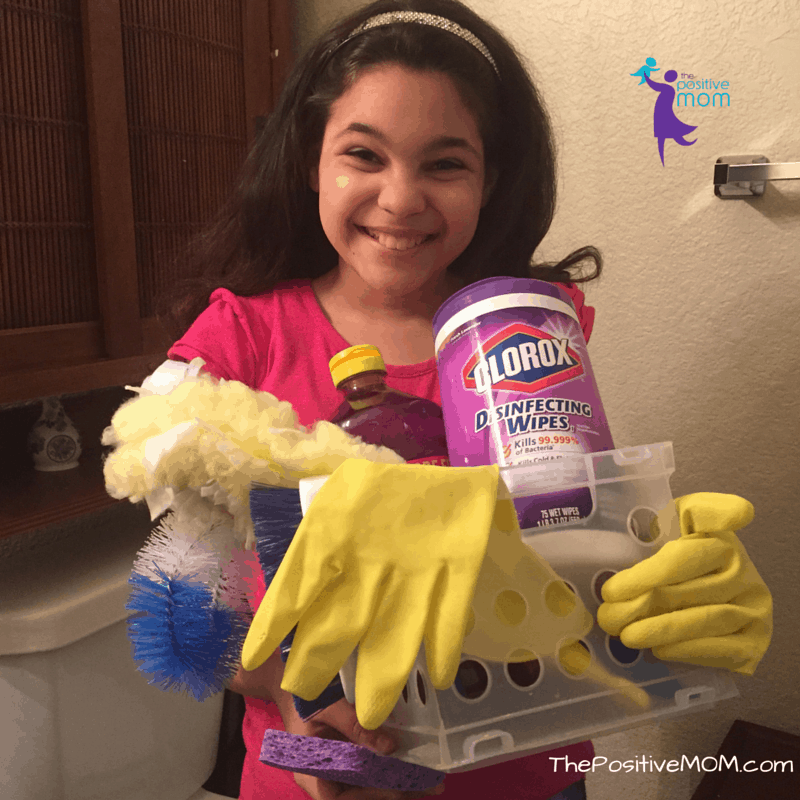 How To Clean Your House In 15 Minutes As A Family
Step 1 ~  Gather up the family and brainstorm on the activities each can do to tidy up the house.
You can categorize your checklist into activities, such as clean, dust, wipe, sweep, organize, vacuum, wash, mop, etc.
You can mix and match your activities with surfaces: counters, floors, furniture, beds, etc. You can also add the obvious things that need cleaning, like dishes and laundry.
Step 2 ~ After you have a good list together, discuss assigning names to each of the chores. Sometimes it helps to assign a room or a group of chores within a room, although it is more exciting for active kids to "travel" around the house. This negotiation time is powerful because when kids have a say on what or how they want to help, they are more committed, and excited to help.
Step 3 ~ Create an activity checklist. Kids love visuals, so it will be attractive for them, and it will be a sanity-saver for you, because you don't need to remember who does what on what day, or to remind them all the time.
Step 4 ~ Once you have your cleaning guide packed with activities and assignments, you want to set everyone up for success by assembling a cleaning supply basket with everything they need to do their chores. I sent my husband to the nearest Walmart for the best price and selection. i.e. One of Elyssa's chores is to make sure all wastebaskets are empty, so providing her with trash bags is definitely a good idea.  If your child is in charge of cleaning the bathroom, including Clorox Liquid Bleach would be helpful, because it kills 99.9% of germs in your home.
Another trick to success is to pay attention to what your kids love and how they react to certain fragrances. For example, since I know Elyssa loves soothing smells, using something with a delicious scent like that of Pine-Sol Lavender, which cleans and deodorizes, leaving fresh, clean scent. Also, Lavender Clorox Disinfecting Wipes can be really exciting to her, and effective for me, because it kills 99.9% of household bacteria in the home.
Step 5 ~ Now that you're all equipped, it's time to get a timer and set it for 15 minutes each night before bed time, so that each member of the family can tackle their cleaning and organizing assignment for this period of time. Don't feel tempted to do more than the allotted 15 minutes. The fun, like in musical chairs, is to stop when the music stops. Which reminds me, if your'e a music lover, you'll want to clean while jamming to your favorite tunes.
I am a firm believer in the power of involving kids in chores and every day tasks around the house.  It helps solidify concepts like teamwork, responsibility, and a strong work ethic. Just like I am not compensated for what I do around the house, my daughters do not expect an allowance, because it's a privilege to help those we love. It is their home and their space, too, and it brings them a sense of pride to know they contribute to its upkeep.
Every kid has the ability to help out around the home. Our Little Pigeon has been using paper towels to help clean since before she was one year old. She helps put shoes on the rack, or put books away. You definitely want to rethink letting little ones cleaning up their toys by themselves, because sometimes  they make a bigger mess than there was to begin with. We can't blame them: toys are for playing.
The trick is to understand your child, to involve them in the chore assignment process, and to make sure the chore is what they call age-appropriate (in my experience is not a matter of age, but a matter of readiness).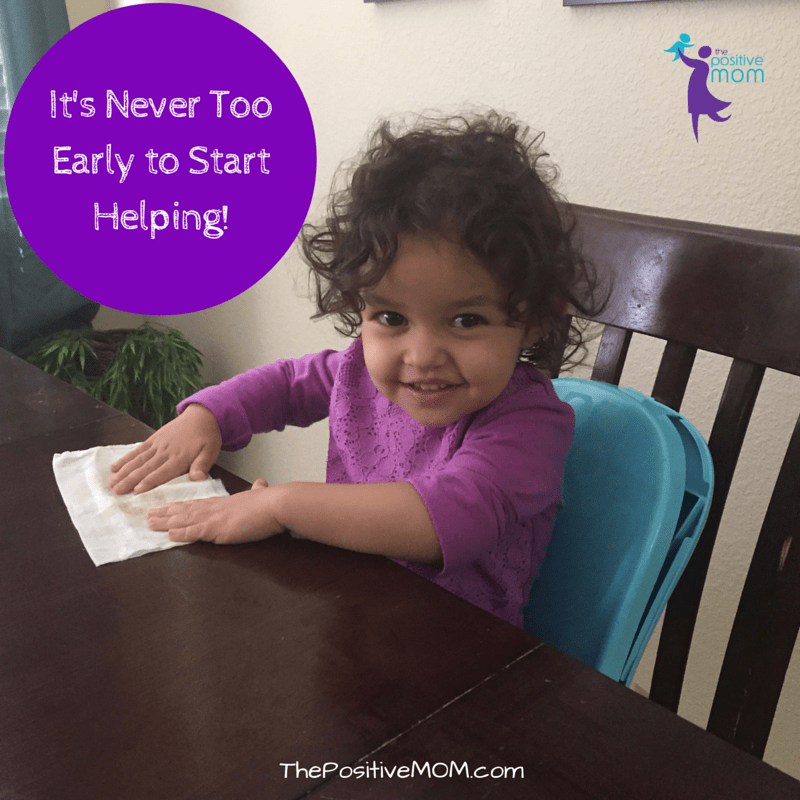 Elisha and Elyssa already help out with the majority of the chores and they usually have a great attitude about it (a hundred times better than mine when I was their age). By cleaning in layers (Clean, Disinfect, Aromatize) and making cleaning a fun game we can all play, it becomes more enjoyable for everyone, and we can all reap the benefits.
How do you include your kids in cleaning and maintaining a clean house? I look forward to reading your comments about the 15 minute house clean up technique. What are your thoughts about it?


© Elayna Fernández ~ The Positive MOM