When I was in Los Angeles for the AVENGERS: INFINITY WAR red carpet and movie premiere, I was blessed to visit Marvel Studios and interview Black Panther Executive Producer Nate Moore to celebrate the in-home release of the highly celebrated story of T'Challa (Chadwick Boseman), a young African prince who takes on the mantle of King and Super Hero. Black Panther has quickly become one of everyone's favorite Avengers.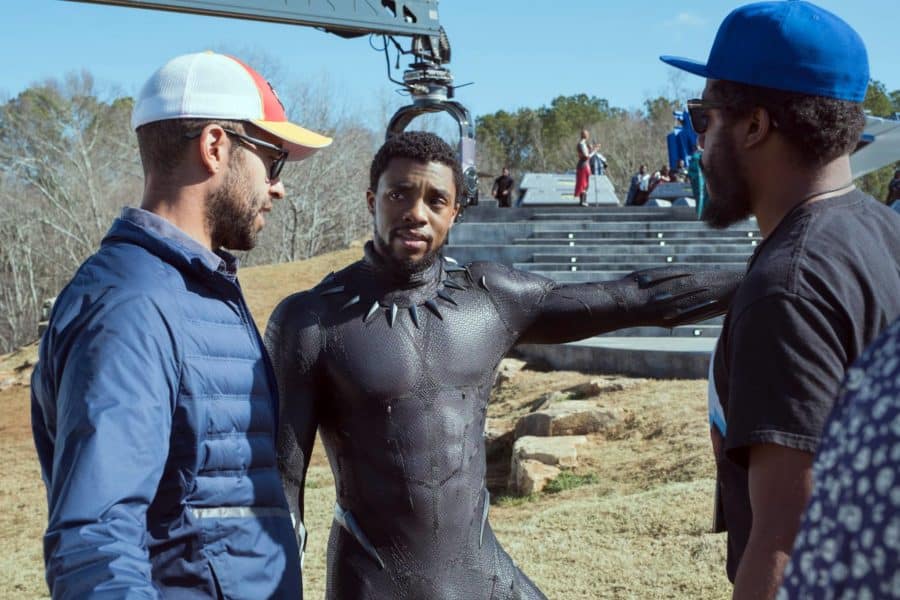 With a powerful message, a mostly African American cast, and an unparalleled depiction of powerful women, Marvel Studios' BLACK PANTHER is a must-own cultural phenomenon. I think the level of representation, richness in diversity and mindful inclusion are what made this film so successful.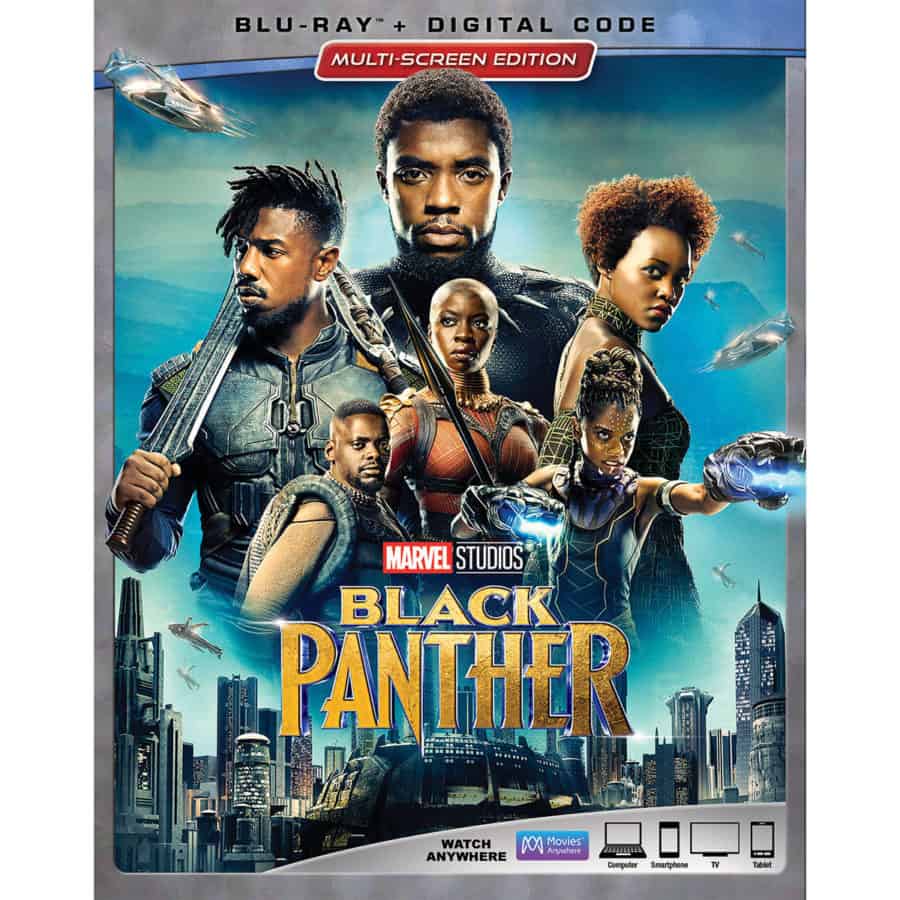 As of today, you can now bring it home and watch it over and over again! Black Panther came out Digitally in HD and 4K Ultra HD™ and Movies Anywhere on May 8 and on 4K Ultra HD™, Blu-ray™, DVD and On-Demand on May 15. With both Dolby Vision and Dolby Atmos immersive sound, 4k Ultra HD offers consumers a transformative viewing experience.
ENTER TO WIN A DIGITAL COPY of BLACK PANTHER HERE
DOWNLOAD BLACK PANTHER BINGO CARDS HERE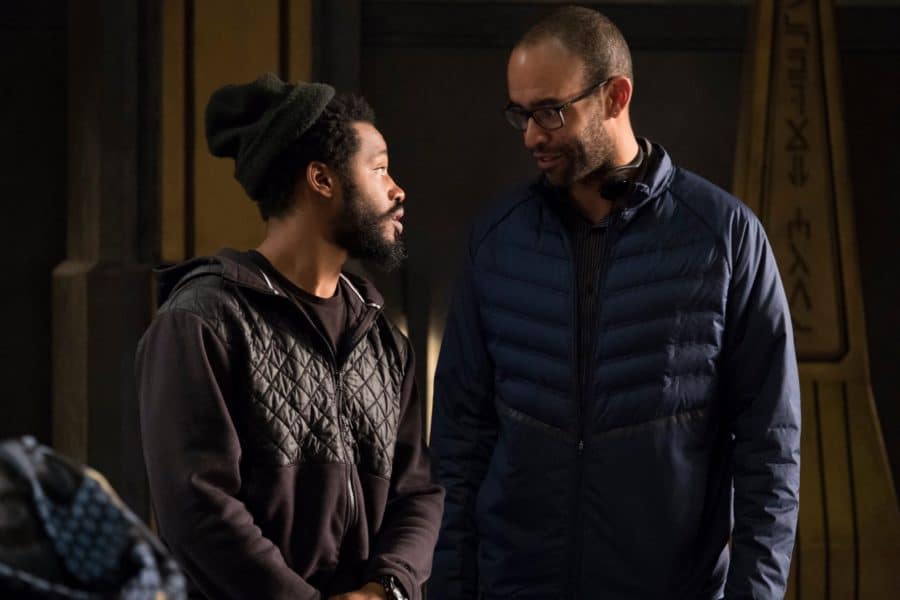 I am so excited that Black Panther fans can now bring this favorite home, and I must say that I feel blessed that I got a sneak peek at some of the incredible bonus features of BLACK PANTHER, introduced by Executive Producer Nate Moore:
We typically don't preview stuff so you guys are one of the first groups of people we've ever done this for.
He chose three different features to showcase: Crowning of a New King, The Warriors Within, and The Hidden Kingdom Revealed.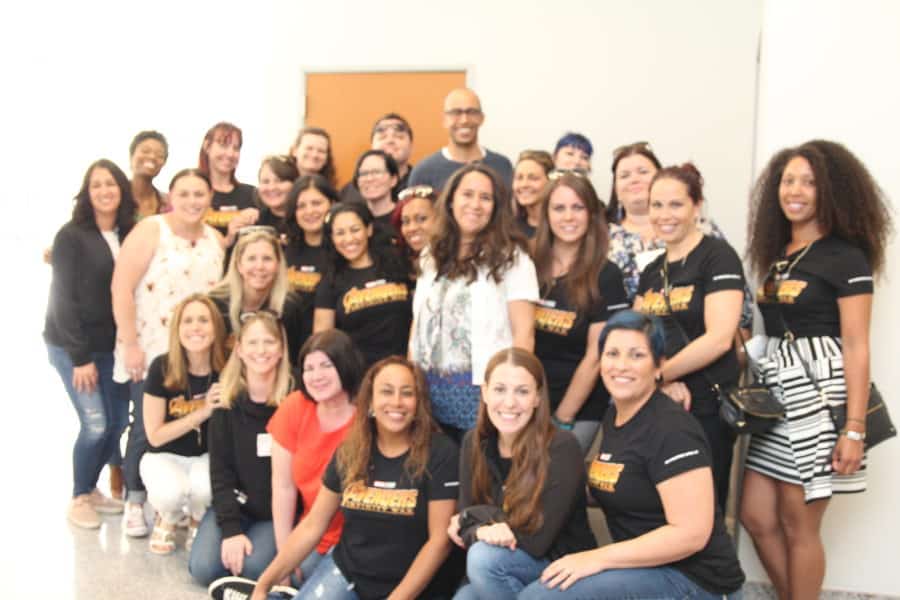 The room was in awe and we had so many questions about how these wonderful features came to life in the in-home entertainment release of Black Panther.
We have a brainstorming session where people get to pitch out ideas of what they think is interesting and also what footage we have that we can show. The typical ones like deleted scenes and gag reels, we know we're going to do so we are collecting that footage all through production and post-production… Once we kind of get a sense of what people are responding to out in the world, we can craft our features based on that… This movie just happened to have a lot of really in-depth stuff because the building of Wakanda was so complicated. We had a lot of stories to tell from this one.
There are plenty of amazing deleted scenes, and if you ever wonder why would such a powerful scene be cut-out, here's what Executive Producer Nate Moore told us it all has to do with pace:
The deleted scenes that are in the film are all scenes that people loved but ultimately when we removed it, it actually helped the movie play better. Our director's cuts are always really long and it's no secret. And, in a script, some things feel very necessary storytelling wise. When you watch the movie, things that you feel like need to be textural, actually work being inferred. As a for instance, there's a great scene in the deleted scenes between Okoye and W'Kabi, and it's after Killmonger has taken the throne and it's there sort of differing points of view as to what side to take. It's a fantastic scene. Danai and Daniel Kaluuya do a fantastic job in it. And we kept it in every cut of the movie through testing because we thought it was so important for people to understand the relationship. And because it seemed so good frankly. And when we pulled it, we found that audiences understood just as well but the pace issue we had for that part of the movie when away. So, people got really frustrated in waiting for T'Challa to come back. So, the shorter we made that area, the better it played.
I'd say Black Panther is pure perfection, though I'm glad we get to see these pieces, too. The global cultural phenomenon of "Black Panther" has dominated the box office charts emerging as the third biggest movie of all time domestically with over $665 million – the first film in eight years to spend five weeks at No. 1 – and rising to the global top 10 of all time with over $1.3 billion.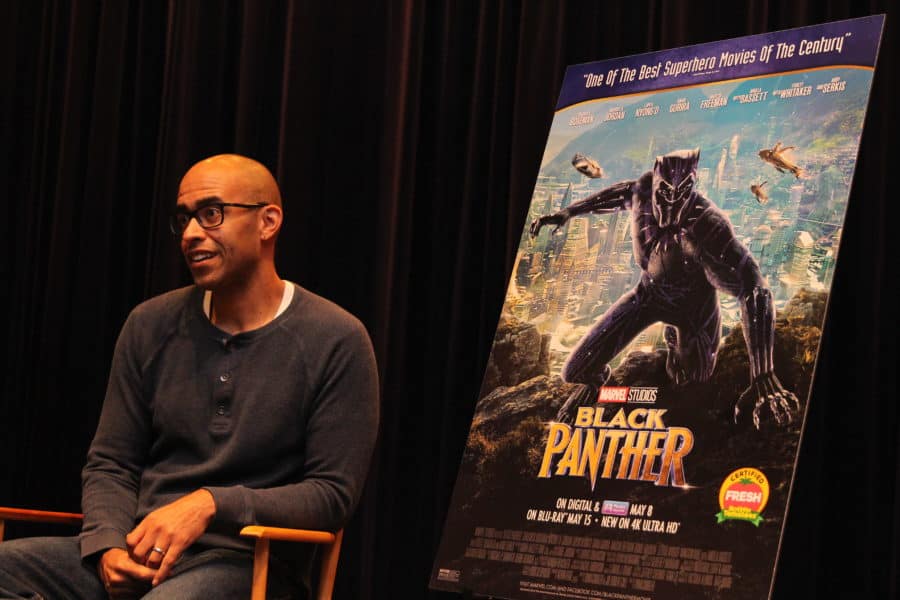 Nate Moore told us they knew there was interest in the character from the Black Panther appearance in Captain America: Civil War, but they are surprised that the film "performed beyond expectations," especially internationally:
We couldn't have anticipated at all how this movie has done and how it's sustained which is really I think telling that people are really falling in love with the character and the themes.

There is a natural hesitance in Hollywood to have a film of this size with a cast that's predominantly African or African-American. You worry that it's not going to travel. The truth is, it did. The good news was we weren't concerned about it in the making of so we didn't adjust the storytelling to work in any specific direction.

Technology travels… that's something that's universal.
And speaking of the fictional culture of Wakanda, it wasn't inspired by a particular African nation of culture:
We wanted it to be a celebration of all those things and not a judgment as to one being better than the other, which I hope was successful.
Interestingly enough, Wakanda was not all shot in Africa, it was actually barely shot in Africa!
We filmed it, almost all in Atlanta, Georgia. And then we went and shot plates. So, we shot plates in South America and in South Africa. The visual effects crew goes and collects all the footage and they were able to sort of populate it as needed. For instance, when they find Wakanda, all of those plates are Africa. And then obviously, the Royal Talon fighter is not real and that was CGI. We scouted thoroughly in South Africa and other parts of Africa for locations like that because we did want it to be something that was real photography even if we couldn't take the whole crew there. The car chase was shot in Gunsan, South Korea, so we had a whole second unit out there for a couple of weeks. They locked down all the streets. It was actually pretty complicated. And then the casino was built on a stage. So, hopefully, it feels seamless.
"Black Panther" stars Chadwick Boseman ("Captain America: Civil War," "Get on Up"), Michael B. Jordan, Academy Award® winner Lupita Nyong'o ("Star Wars: The Force Awakens," "12 Years a Slave"), Martin Freeman ("The Hobbit" trilogy, "Sherlock"), with , with Academy Award® winner Forest Whitaker ("Rogue One: A Star Wars Story," Lee Daniels' "The Butler") and Andy Serkis ("Avengers: Age of Ultron," "Star Wars: The Force Awakens").
ENTER TO WIN A DIGITAL COPY of BLACK PANTHER HERE
DOWNLOAD BLACK PANTHER BINGO CARDS HERE
Executive Producer Nate Moore told us they inherited some of the cast (like Chadwick Boseman and Martin Freeman and who was introduced in Civil War, Andy Serkis had been in Avengers: Age of Ultron.
One of the first things Director Ryan Coogler said when he was chosen is that he wanted a role for Michael B Jordan ("Creed," "Fruitvale Station"), and he also suggested Daniel Kaluuya ("Get Out," "Sicario") and Danai Gurira ("The Walking Dead," "All Eyez on Me").
We collectively went out to Academy Award® nominee Angela Bassett ("American Horror Story," "London Has Fallen") thinking there's no way she's going to do this movie because man, she's so fantastic.
With casting Winston Duke, Executive Producer Nate Moore said this was their first encounter with him, but "his size and his presence was just so dynamic."
When it comes to the role of Shuri, there were three contenders:
It was really about chemistry with Chadwick… Letitia was one of the few people who could actually get Chad to laugh naturally because Chad is a very reserved person. But in the audition, it was like "oh, that's his sister." And even on set, she's one of the few people that he actually relaxes around and she is so fantastic.
Let's explore the Black Panther bonus features! I've added Nate Moore's commentary where available!
Black Panther Blu-ray Bonus Material
(may vary by retailer)
Director's Intro
From Page to Screen: A Roundtable Discussion – Delve into the film's making with Executive producer Nate Moore said that this has never been done before but he might try it again. "It was interesting to see how the character was handled through different eras and different challenges they faced because of audience expectation and market expectation."
Crowning of a New King – Explore the world of "Black Panther" in all its color and complexity. Nate Moore called this "a behind the scenes of how we put Wakanda together." And said that "it goes through everything from production design to visual effects to cast and story."
The Warriors Within – Get to know Wakanda's women and the actors who portray them. Executive Producer Nate Moore said "the female characters are such a big important part of this film… and our actresses are amazing and how they portrayed the roles. So, you get to see a little bit of the behind the scenes of how they brought Okoye and Nakia and Shuri to life, which we think is fantastic."
The Hidden Kingdom Revealed – Wakanda's diverse people.

Nate Moore said:




"This goes into a little bit of how we crafted the different tribes that make up Wakanda. One of our big remits very early on was making sure Wakanda felt as authentic as possible for being this fictional African nation. You'll get to see some of the real-life reference that we used to make sure that Wakanda feels like a place you could actually visit"

Wakanda Revealed: Exploring the Technology. Executive Producer Nate Moore calls it "dissecting the technology of Wakanda"
Deleted Scenes
U.N. Meet and Greet – Executive Producer Nate Moore said it was a fun scene that they unfortunately had to cut this one because of pace.
Okoye And W'Kabi Discuss the Future of Wakanda – This scene "was pretty great" and they hesitated taking it out of the film.
T'Challa Remembers His Father
Voices from the Past

Gag Reel – Nate Moor told us it "

could have been much longer because it was a really fun shoot and a very close cast."

Exclusive Sneak Peek at "Ant-Man and The Wasp"
Marvel Studios the First Ten Years: Connecting the Universe
Director's Commentary
Black Panther Bonus Material – Digital Exclusives
In World Wakanda Tourism Ads
Come to Wakanda "Before"
Come to Wakanda "After"
Executive Producernate Moore wanted us to really know "the music is such a strong character in the movie."
Our composer, Ludwig Goransson, is so talented.
A fun fact about the Black Panther BluRay is that you won't see a lot of intentional Easter Egg activity.
When we were building this story, one thing that Kevin [Feige] …said very early on was …there's enough in this property that we don't have to have a lot of different intersections because we think it stands alone. …There was so much storytelling and so much detail… and I think it helps the movie just feel like its own experience…
Ryan Coogler ("Creed," "Fruitvale Station") directs from a screenplay he wrote with Joe Robert Cole ("The People v. O.J. Simpson: American Crime Story"). Kevin Feige is producer with Louis D'Esposito, powerful Marvel mom Victoria Alonso, Nate Moore, Jeffrey Chernov and Stan Lee serving as executive producers.
ENTER TO WIN A DIGITAL COPY of BLACK PANTHER HERE
DOWNLOAD BLACK PANTHER BINGO CARDS HERE
Executive Producer Nate Moore has worked on 3 Marvel movies and he considers the development process to be the most fun and the most painful to be pre-production. In his time at MCU, he's noticed the only person everyone gets starstruck about is Stan Lee. His cameos are moments we expect and love in every Marvel Studios movie, and Nate Moore told us that they are written and pitched to Stan Lee. What a legacy he's created, and Black Panther is such a great part of it.
Do you LOVE Black Panther? Get your copy and stay connected to all things WAKANDA and BLACK PANTHER, by visiting Marvel.com. You can also like Black Panther on Facebook, follow Black Panther on Twitter, and follow Black Panther on Instagram. You can also use the hashtags #BlackPanther, #BlackPantherBluRay and #WakandaForever to join the conversation.
[ela]