AVENGERS: INFINITY WAR is the movie with the highest grossing opening weekend of all time both globally ($640.9 million) and domestically ($258.2 million), and it brings me so much joy and pride to know that Victoria Alonso was the AVENGERS: INFINITY WAR Executive Producer, and also Marvel Studios' EVP of Physical Production, yes, as in a big player in all the movies in the Marvel Cinematic Universe!
A working mom, a Latina, a wife, and a fountain of wisdom, Victoria Alonso is the type of person you fall in love with instantly, because she's real and offers you a warm big smile.
I wanna know what you wanna know that you can't find. That's why I give you access.
She started working for Marvel Studios in late 2005 as one of the three founding members of Marvel Studios along with Louis D'Esposito and Kevin Feige. AVENGERS: INFINITY WAR marks the 18th movie "that is out in the world" for Victoria Alonso, and a total of 23, with 5 more movies in the Marvel Cinematic Universe in the works to be excited about.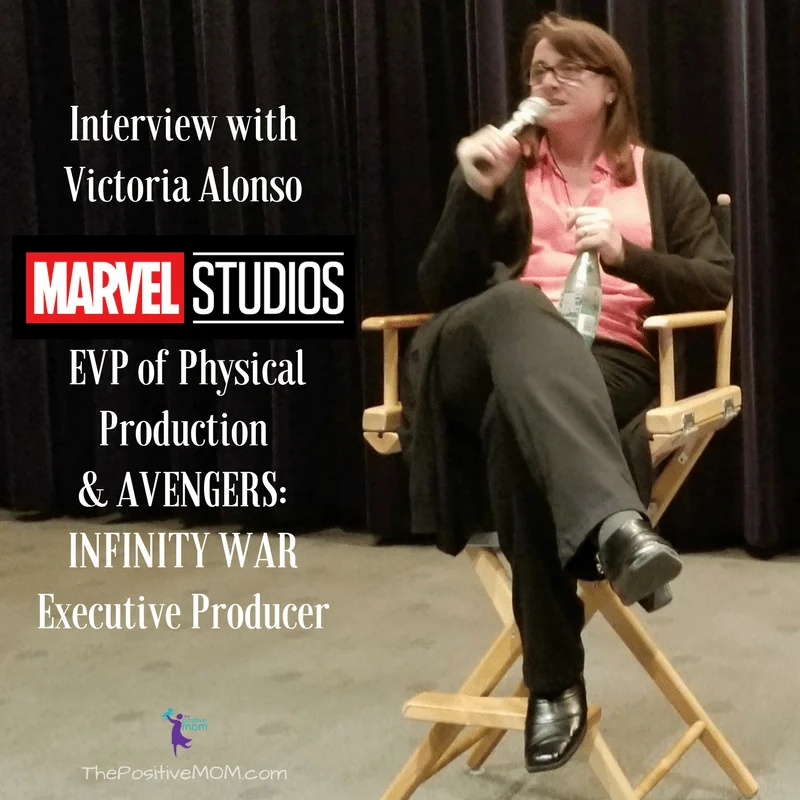 Victoria Alonso is the Executive Producer of the films Marvel Studios make, and also the Executive Vice President of Production for Marvel.
Marvel is different than some of the studios where in some of the studios you have the executives and then you have the producing team. We're all of it, 'cause we do both.
Remember the tunnel with the costume displays at the AVENGERS: INFINITY WAR?
It just put it all so into perspective. Imelda (Victoria Alonso's wife) walking through, who's super wise, she said to me, 'wow, this is humbling… and you had a hand in every single one of these things.' And I thought, yeah… I feel very responsible.
AVENGERS: INFINITY WAR is just part of the culmination of 13 years of work. A big ally in not spilling MARVEL secrets? She doesn't drink – another thing we have in common.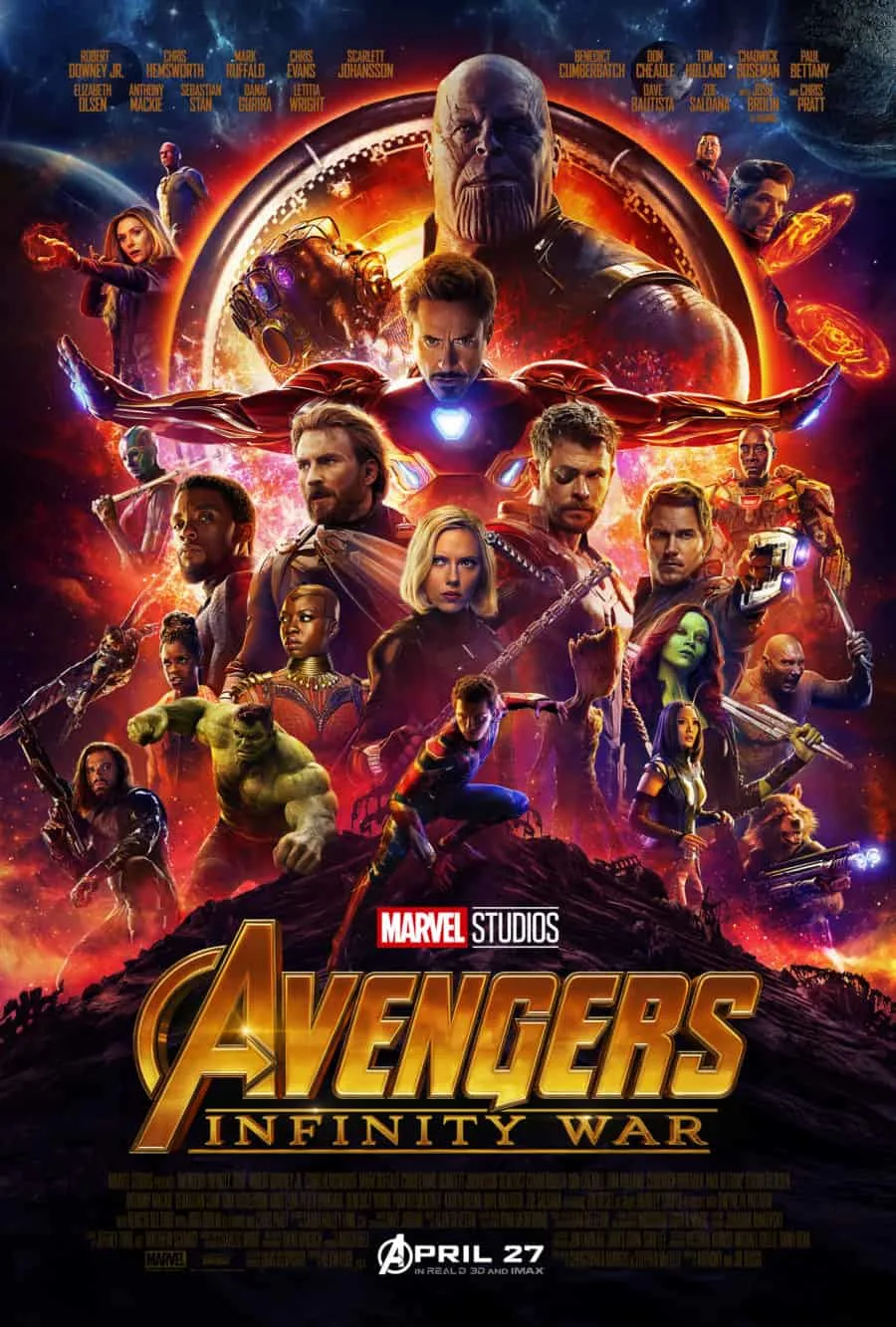 Of course, I am impressed with her. She's my new hero! I had been jumping with excitement about interviewing this powerful mom since I was invited by Marvel Studios to the Infinity War Event and I was excited to see her on stage at the movie premeire and the after party. I had to ask her what her kids think about her job!
She told me she has one daughter, Olivia, about to turn eight and since she goes to a very diverse school, she's become very popular after the making of Black Panther. A fun fact is that the kids didn't know "which mom" worked on the making of the film because has two moms. Victoria Alonso referred to Imelda, as "the greatest partner of all time."
She has heard me talk about it and what it has meant to me…I don't talk about what the movies are but what it has meant to me as a career. I've done the career day and then the teachers this year invited me to do a change-maker thing, which was a big deal. It was a big deal to me begin with. And then she repeated for about — I don't know — five weeks out loud, my mommy's a change-maker. My mommy's a change-maker.
When you believe in what you do and talk to your kids about what it means to you, they will not only be our fans, but our partners, and our advocates. Most importantly, they will be inspired to do meaningful work in the world. When Elisha and Elyssa published their book at 9 and 10, I didn't actually help them, but I realized they learned from experience that you can transform your pain into your purpose.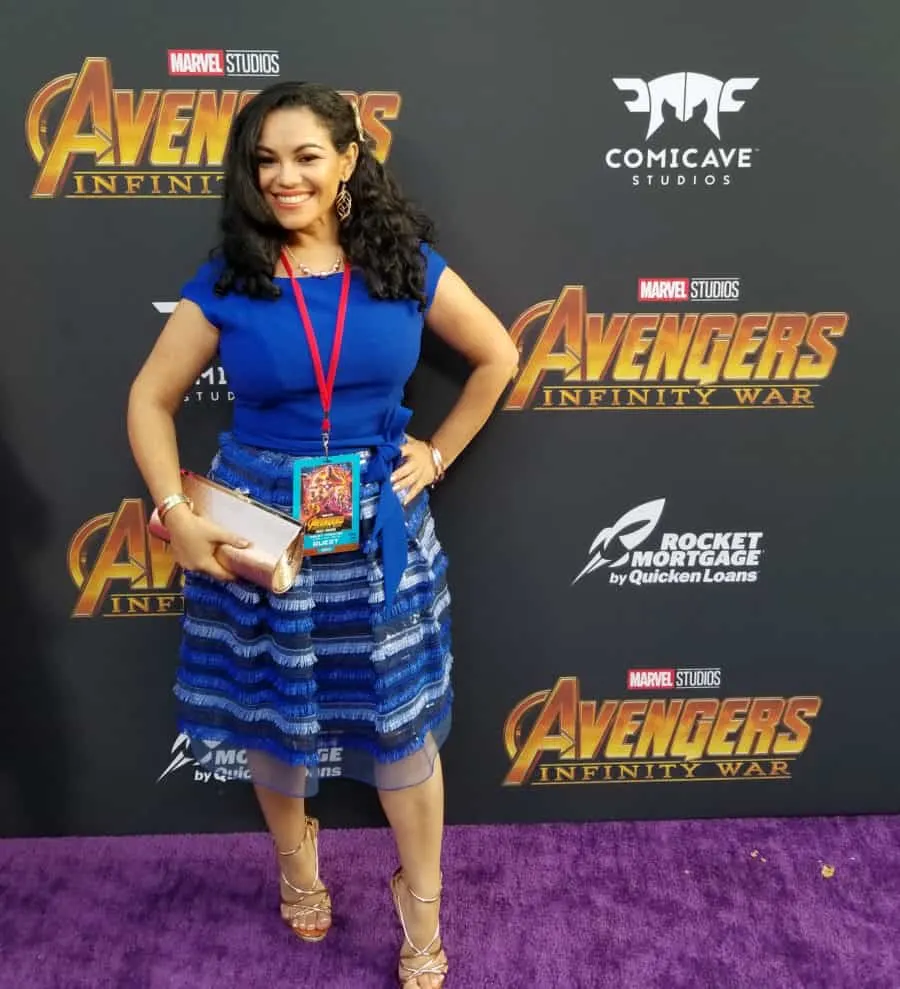 Another question I got to ask Victoria Alonso was "Who is your hero?". I didn't expect her powerful answer and the tears and chills that would ensue.
"I think it would have to be my mother, you know. I grew in Argentina in a military dictatorship where things were not easy, or there was a lot of activity. People were getting taken away and killed… My father died when I was six and my mother never remarried. She was a high official in the ministry of education, and she kept us safe. She kept us strong. She kept us open-minded… There's two of us, my sister and I. And my mom had it going on. She's a strong, strong girl. And she never took anything from anybody, not the military, not no one.

My mom's the woman that was left on the road bleeding with me on her hands for not saying something some — during that time, there were different groups, political groups, that will come and force you to say, you know,… all the things that were going, my wouldn't get involved. And these thugs came and beat her and left her for dead on the street…with me in her arms. I was a baby… She's a strong, strong girl. And she just whenever she regained consciousness she got up and took us and off we went.
I couldn't stop my tears from falling. I thought back to my own story, with one-and-two-year-old little girls, feeling worthless, hopeless, and helpless, and having the courage to stand on my feet again as a single mom. If Victoria Alonso is somehow a vision of what my daughters could be, I am blessed to have been through so much adversity and so many challenges in my life.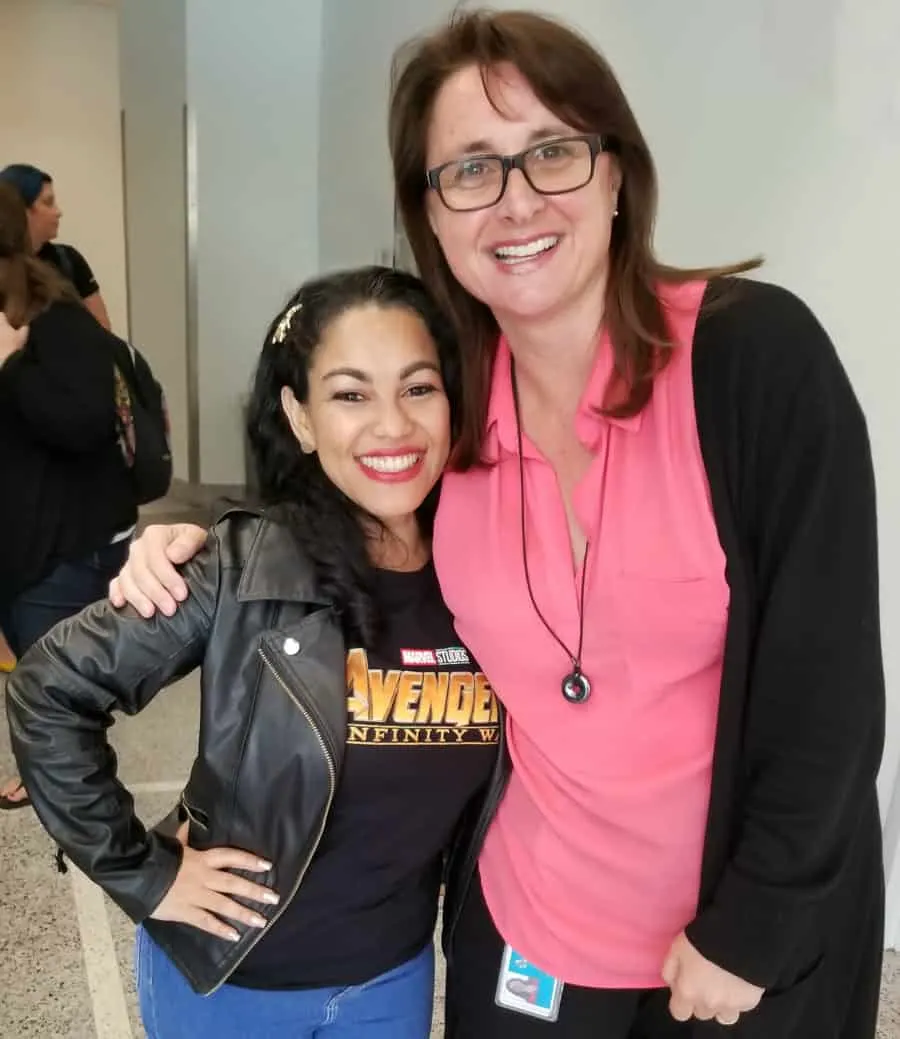 And speaking of challenges, I think Victoria Alonso is an example of the power of perspective. When we know what a true challenge looks like, somehow that makes us stronger to face what Victoria Alonso calls "hurdles."
I like to change a little bit of the dynamic of how we teach ourselves of something that you wanna get pass it that is a hurdle and not a challenge. A challenge just seems like something you can't get to.
It's interesting that, as humble as she is, Victoria Alonso doesn't see herself as a change maker, but to me, she's making change where matters most: in the conversation of diversity, inclusion, and equality.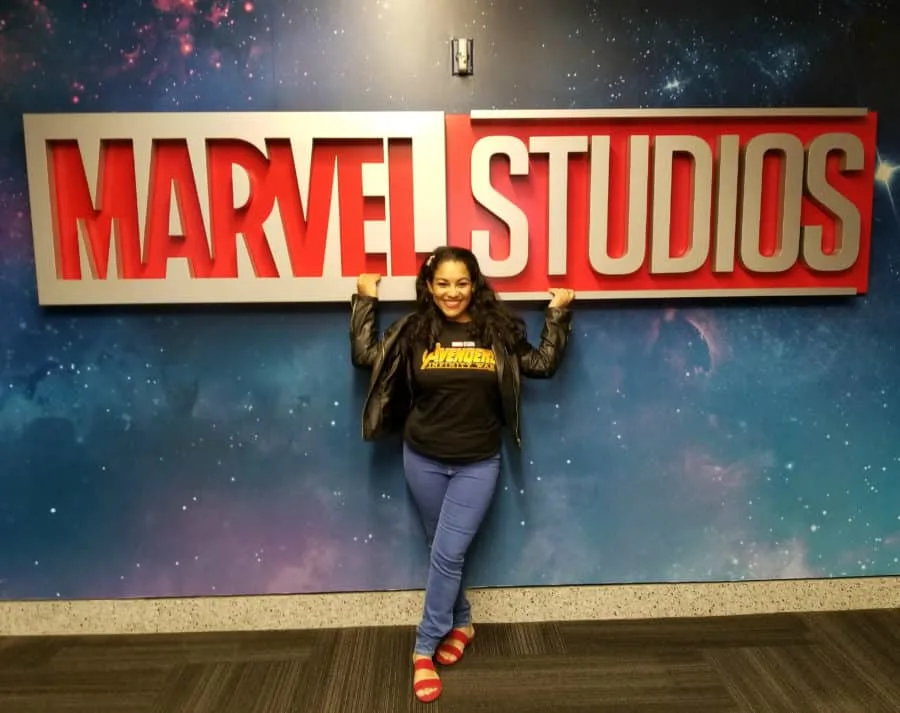 One of my favorite moments of the interview is when she told us the story about her daughter contemplating whether she wanted to be a boy and the wise way in which she went deep to get to the root of what that meant for her daughter.
I thought, well, maybe we have to have this conversation. And then I thought why. Why would you wanna be a boy? Well, they just have all the fun. And then she came back and she goes but you're a change-maker. And I said uh-huh. Well, then, I guess I could be a girl. I guess I could. And I said, oh, you can be whatever you wanna be.

And the other day I said, so, if you wanted to be any superhero, who would you be? She said "Captain Marvel." And I said why. She goes 'cause she's real. And so, the fact is there's a reality to it for her. And I think part of her feeling popular is because every kid there is super excited about Black Panther 'cause they couldn't see themselves before.
I know what that's like because representation matters in every front. I loved when Victoria Alonso quoted the Gina Davis Foundation tagline: "if you can see it, you can be it."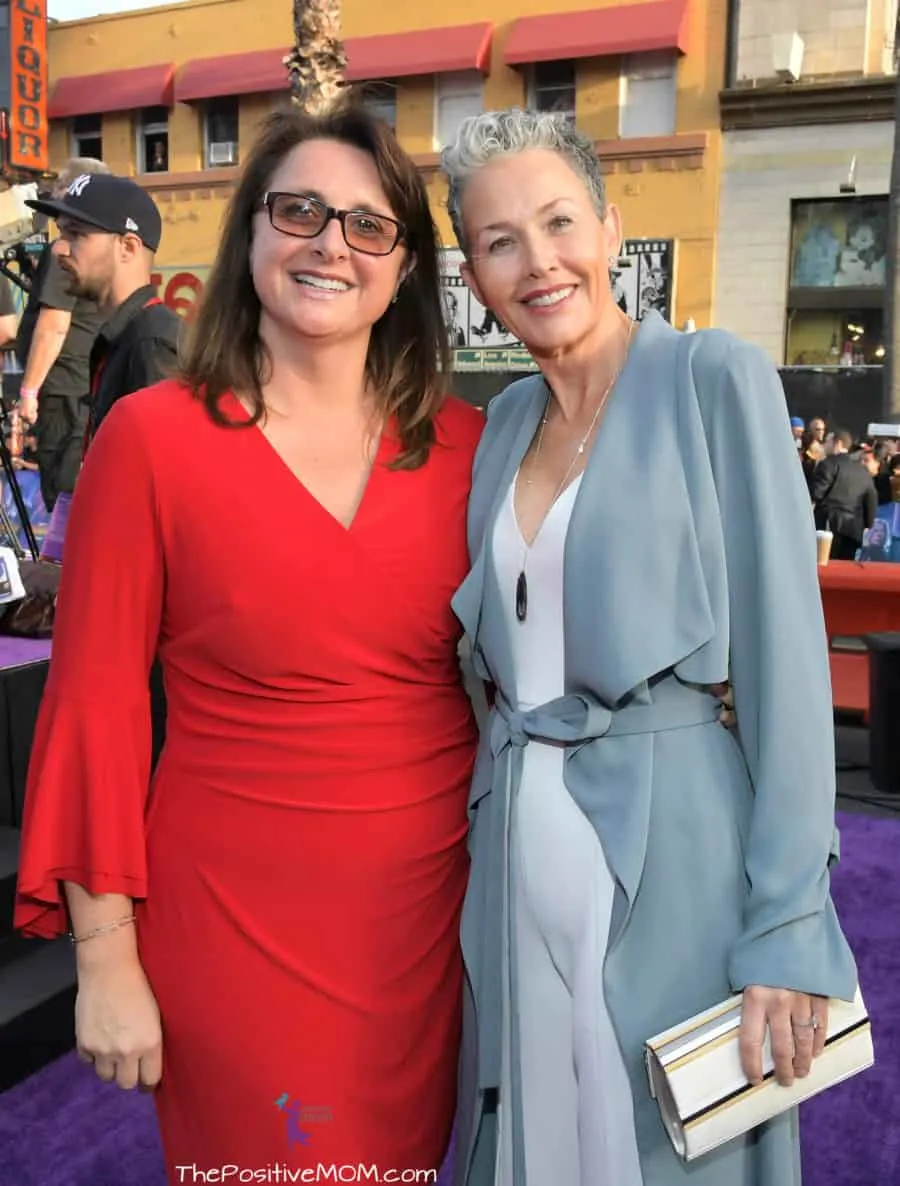 For her seeing me or her other mother or any other woman out there doing it is what inspires her to be. I think that women need to believe in their core that they're equal… If they see it in you, they're gonna get it. Expose them to stories that you in your true, true self believe that will inspire you, and it will go in and it will inspire them.

My mom used to say if it has been done, it can. And if it hasn't been done, it should. And here I am. Somewhere and yet it went deep.
The room was in tears and we were all in awe with her wisdom and it hit us hard because it is all pure truth. It all came full circle when she said to each of us that what what makes you different is what makes you powerful:
The strength is being who you are. Hands-down. That's what makes you different. That's what you bring to the table. But when you go to that table, you sit at that table, not on the side, not behind. You sit at the table. And own it. That's it. I own it every time I wanna sit at that table. I don't make an apology for being there. If I'm at the table, that means somebody decided I should be here. So, I am here.
Victoria Alonso summarized something that non-parents will never understand:
We forget who we are 'cause all we do is mom. It takes all we got to parent!
Marvel Studios just got more amazing when she spoke about her colleagues being her partners in making adoption and motherhood her priority. She told us that she brought Olivia along to work as a baby and she knew all the MARVEL secrets and she was the perfect vault. She was bottle-fed by everyone in Marvel Studios and everyone was supportive of her.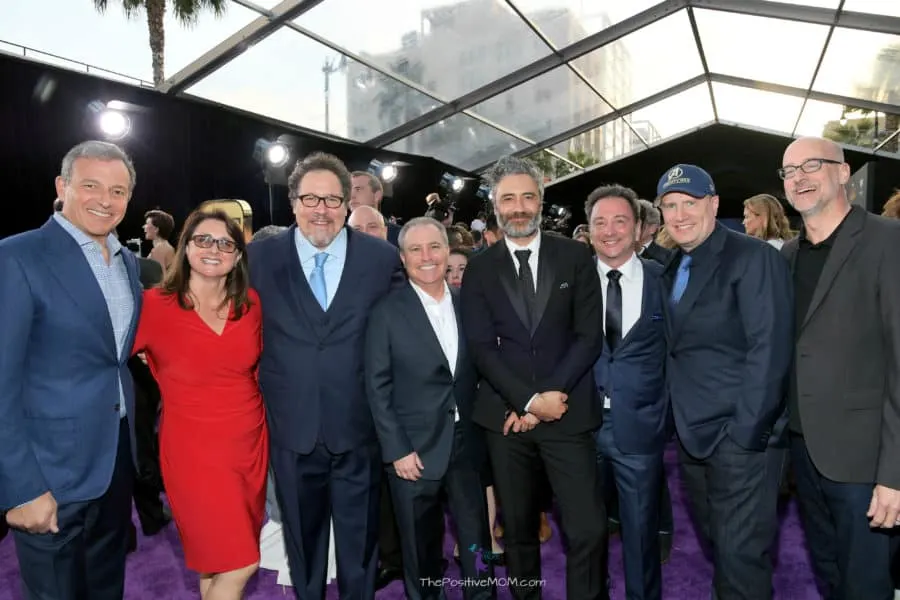 And just as moms do when we get together, we chatted with Victoria Alonso about balance, and it was very real. I always say that balance is just self-management that allows one to stay in alignment of what matters most.
Well, I must say that since Olivia was born I stopped traveling for long periods of time. And when we travel, either they travel with me. I don't care if I don't sleep. I just I need to come home. I'm a mess if I'm not in my home with my girls. It's just it's harder on my body, but that's how I do it.
That's what balance is, really, doing what it takes to get the results we love, with the people we love. Plain and simple!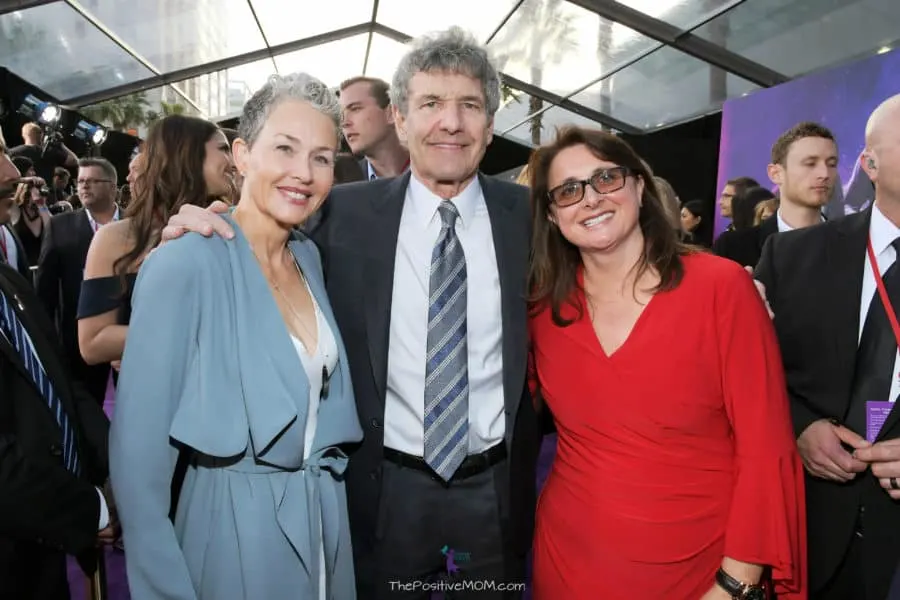 Victoria Alonso was so generous with her time and I speak for all of us in the room saying that we didn't want to part ways, even when a cool tour of Marvel Studios awaited. We were just soaking up all the motherhood inspiration she filled our hearts and minds with.
In your own right, you're doing something for these children. Just show them. Show them that the world is better a world… together, but we're different. And the one thing that unites us really is the love. For our family, for our partners, for our children, for our country, for whatever. We can do it. I just wanna say, listen, I thank you. As a mother to mothers, I work every day to make sure that our kids a better perspective… because it's global and it gets [to ] kids all over the world, and if we can create that kinda thing for kids everywhere I think that's a win.
And whether Victoria Alonso feels like a change-maker or not, through her role as a powerful MARVEL mom, she's helping us see ourselves and see what we can be.
…Every little change is gonna create something that will allow for our girls and our boys to be identified and be included.
She's not a comic book fan, she really does it for the heart and soul of MARVEL films and the messages she hopes we get:
I do see our movies, because I think they have a heart and they have a message. And they have more than one message, and it's really up to you to see it. You know, you can peel our movies like an onion, right, and find it and find it and eventually you might cry.
The synopsis of AVENGERS: INFINITY WAR will tell you of a great battle between our favorite Avengers and their most powerful enemy yet, Thanos, but if you read between the lines and dig a little deeper, you will see these inspiring themes Victoria Alonso talked about, and you can use them as tools to have powerful conversations with your children, so you and they can see it and, eventually, be it. My daughters and I have already pondered some great lessons and received immense inspiration from all the Marvel movies and AVENGERS: INFINITY WAR.
AVENGERS: INFINITY WAR is playing at a theater near you and here's Victoria Alonso's recommendation:
I would say like not because I wanna put IMAX out there, but, because we did shoot it in IMAX, if you have a chance to see it again, I think it's a different experience.
What motherhood inspiration was most powerful for you? Share you favorite lesson from Marvel Mom Victoria Alonso in the comments below.
Get your tickets for AVENGERS: INFINITY WAR and stay up to date by visiting the official Marvel AVENGERS website. Be sure to also stay connected by following AVENGERS on Twitter, liking AVENGERS on Facebook, and following AVENGERS on Instagram. Be also sure to follow the hashtag #InfinityWar and #InfinityWarEvent.
Read other AVENGERS: INFINITY WAR Event posts:
AVENGERS: INFINITY WAR Character Posters
Marvel Cinematic Universe Movie Collection
The Ultimate Marvel Movie Collection Giveaway
I'll Be Walking The Red Carpet for the AVENGERS: INFINITY WAR World Premiere
AVENGERS: INFINITY WAR Review : Guaranteed to blow your mind
Top AVENGERS: INFINITY WAR Collectibles for Marvel Fans
[ela]
[Celebrity photos courtesy of Marvel Studios]