To say that I am a Disney fan is stating the obvious, but I like the sound of it, or the feeling I get when I say it. With that in mind, you can imagine how excited I was to be invited to the Disney Social Media Moms On The Road experience in Phoenix, Arizona, this past Wednesday, June 25.
The Disney On The Road events were held in Chicago, Philadelphia, and Phoenix, gathering bloggers from all ages, stages, and states.
I flew to and from Arizona on the same day. I was up late on Tuesday and woke up to rush to the airport on Wednesday to leave at 6:15 Dallas CST, and arrived at 6:38 Phoenix time, quickly boarded a car service, and arrived at the breathtaking Fairmont Scottsdale Princess Resort right in time for registration, all while wearing my princess tiara.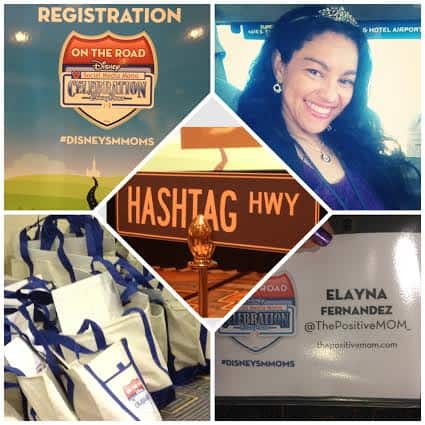 It was totally exhausting. I totally missed my babies – and in an effort to overshare so you can get the picture – I was painfully engorged when I got home that night! And it was completely worth it. I had so much fun, learned so much, and made great connections and friendships, all while showing my #DisneySide.
I'm sharing my top 7 #DisneyOTR favorites, in no particular order other than appearance, because it's a tie all around.
The Disney Crew
Michele Himmelberg was in the house! She's the Public Relations Director at Disneyland Resort (The Happiest Place On Earth!) ~ I first met her on the Disney Magic Cruise where I spent my honeymoon. She's such an amazing inspiring mom. Her daughters are spreading magic and positivity, and ruling the world. She reflected upon the legacy Walt Disney created and encouraged us to follow his lead to inspire others… that's part of my mission and it was a confirmation I'm on the right path. Of course, she filled us in on everything new and improved at the Disney Parks, along with an important piece of advice around the 60th anniversary of Disneyland:
Follow @Disneyland and #Disneyland60 on twitter — and check out the Disney Parks Blog this July 17th @ 10am PST for an important sneak peek!
Erin Glover, the beautiful and super funny Social Media Director at Disneyland Resort and Disney Parks Blog writer / content producer, shared the strategy behind Disneyland's content creation and curation. I loved that she told it like it its:
10% of time is spent is actual content posting and a whopping 90% is planning, researching, publishing, sharing, and measuring analytics.
It was great for most of us Disney Social Media Moms in the room to be reassured that beginner bloggers, veteran bloggers, and huge production teams such as Disney's go through the same motions to be successful… we all need effort, focus, and inspiration to make it work!
My favorite part is when she talked about creating an editorial calendar in Google Docs. Triple YAY and woo hoo! My favorite tools in the mompreneur shed.
Leanne Jakubowski O'Regan, the remarkable Disney Parks Director of Social Media, shared interesting facts about the history behind Disney Parks Social Media. I love learning how to hone my craft and my ability to

teach others

.
The Mompreneur Speakers and Panelists

Maria Bailey [@MomTalkRadio] CEO of BSM Media, Author, Radio-Host, Producer and Jill of all trades, hosted the inspiring panel of rock star mom entrepreneurs who had all been recipients of the Huggies Brand Mom Inspired Grant Program, which helped them turn their ideas into successful products, and launch their own millionaire enterprises.
Romy Taormina, CEO of @psibands, the anti-nausea acupressure bands I wish I had last year when I was with child, shared a very dear message to my heart:

be kind to yourself!

Allyson Philips, [@tiltycupmom] CEO and inventor of the genius Tilty Cup, who is a model of

persistence

in seeing a dream come true.
Lisa Cash Hanson, [@Mompreneurmogul] CEO of @SnuggWugg innovative baby gear, who believes in mentorship to make achievement possible. I love being a mentor!

Lori Lorenz,

@LoriLorenzCA @HPPrint

, Director of Marketing and Business Development,

HP, shared an inspirational personal mommy-daughter story that had me in tears and that I want to feature in my next book.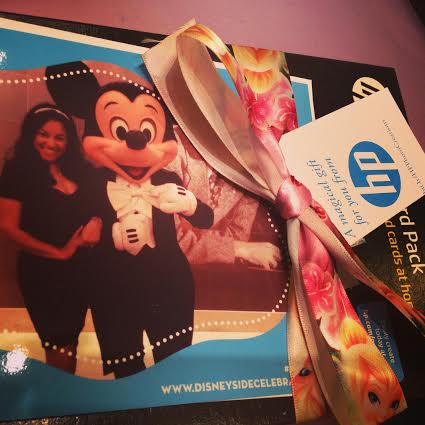 PS: We all received our Disney Side photo turned into a postcard, a stamped envelope we could mail using the #DisneyOTR mailbox, and a generous pack of HP photo printer paper. Thank YOU!
Tracey Clark, [

@traceyclark] Photographer, Author and one of the three Disney Sisters, shared a rocking presentation about Elevating the Everyday. That's the most I've learned about photography ever… and to be honest, I think is because the magic in the pictures (all Disney Parks) and her sweet + inspirational humor kept me interested. Now I'm going to use my iPhone more often to

"Find the Magic in the Mundane!"

Stay tuned!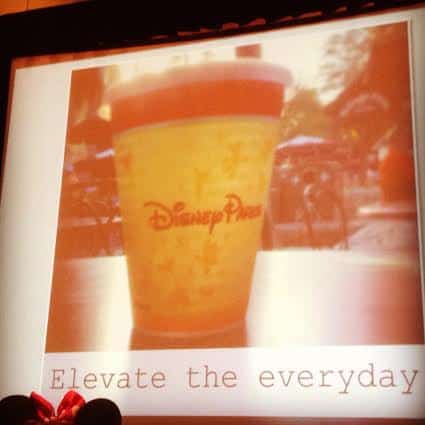 The Goodies
I was overwhelmed with the goodies. There is something about Disney that makes me feel like a kid again. Mr. Disney and I share that our childhoods were not very magical in many ways, so I feel that, like him, I will be a kid at heart forever. So yes, I giggled and jumped, and ooh'd and aah'd and all the swag gave me happy feelings.
We also engaged in the art of Pin Trading, right after a delish breakfast – I traded a few times and got plenty of hugs and smiles while burning off the calories. I ended up with a Mickey pin that reads "I love you." Can you say "perfection"?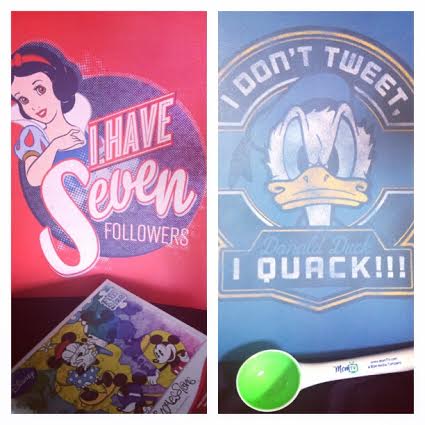 Nadine's 10 Tips

Our keynote speaker was Nadine Bubeck, @NadineBubeck. She's a mom, wife, TV personality, speaker, blogger and author. She's gorgeous and her story was really inspiring. I can relate to her in so many ways because she used challenging circumstances to her advantage to follow her dreams with passion with determination. I loved the 10 reminders she shared to skyrocket your mompreneur brand:
Create goals.

Know your niche.

Never burn bridges

Don't ever say no to publicity.

Take pride in yourself.

Learn to love public speaking.

Have tough skin.

Be a shameless self-promoter.

Take risks.

Be proud!
Meeting Grumpy Cat
I think we all expected a visit from Mickey Mouse to close the event, and to our surprise, our special guest was none other than The Real Grumpy Cat, [@RealGrumpyCat], whose real name is actually Tartar Sauce. Grumpy Cat has been dubbed "the world's grumpiest cat," but I personally find her adorably sweet. It was such a great experience to meet her… so exciting!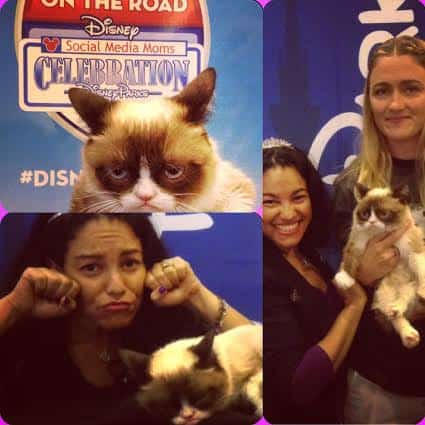 The Disney Social Media Moms

What a remarkable group of ladies! It was truly magical to be around grown ups who play dress up and believe in pixie dust and the magic of dreams. I was connected at the hip with Jessica, of Magic Mayhem Memories, and took selfies with her and some of the other ladies and the speakers and panelists. It's always great to put a face to a name… or to a brand LOL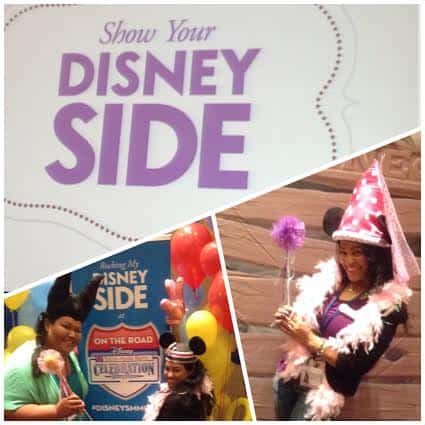 Post Conference Serendipity

At the end of the event, I spoke a bit with Michele and she invited me to lunch with some extraordinary Arizona bloggers. The food was fantastic. I hadn't had a vegan burger in a while and it was as heavenly as the company and the conversation.
It was good closure because I confess I wasn't ready for the event to end just past noon. I want more #DisneyOTR… I seriously do. I feel extremely blessed for the experience and I look forward to more inspiration, education, and empowerment. I am truly grateful for the invitation and for an exceptional event.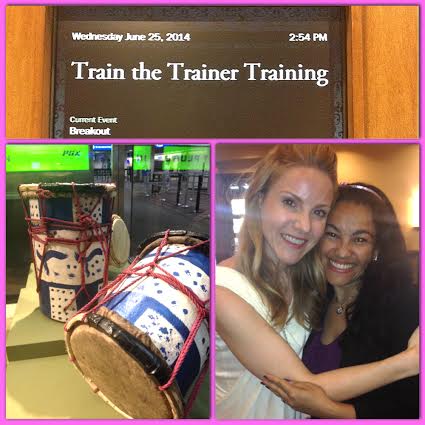 My flight did not leave until the evening, so I hung around the hotel for a bit, and guess what? I ran into Jack Canfield and got a big hug from him. I hadn't had the opportunity to thank him for endorsing the WhollyART girls' book "I Love ME!" I even met Alice, his assistant, in person and she's just outstanding… and a lot of fun. Then I found a tambora (Dominican handmade drum) at the Phoenix airport. A little piece of my homeland! It's a small world, after all! [Yes, I realize this song will play in your head – it's the most played song in music history!]
So to recap… I'm a Disney Social Media Mom… I love magic, laughter, and pixie dust… and I love it!
[ela]