Picture this: it's 3 a.m. and I wake up, and don't know why. As your typical mom, I am a light sleeper because I have two angels to care for and protect. The girls are 3 and 4 and they share a room.
I walk in to check on them, to confirm that they are safe and sound, wonderfully asleep… and my heart stops. Elisha was gone!
Can you imagine? I checked their bathroom…not there. I frantically searched to the living room… not there. I desperately look through the dining room…not there! I turned the closets upside down… and nothing!
At this point, I started to cry hysterically.
Was I a terrible mother and left a door unlocked? The guilt overcame me.
In a moment of clarity, I decided to pray. A still small voice pointed me to the pantry … there she was…all covered in CHOCOLATE!
It was one of those mommy moments you need to live to understand. You don't know whether to be angry, relieved, happy, grateful, or indignant, yet you're all of that at the same time. I hugged the culprit, and cried some more, proceeding to preach the corresponding sermon.
It was the day after Halloween… and, talk about SCARY!!!
We had gone trick-or-treating and she ate the "one piece" she was allowed, but that didn't seem to be enough for her. And that was the most terrifying Halloween I've ever experienced.
Now, if you're one of my regular readers, you may be raising an eyebrow trying to make sense of this story, because you know I don't do the Halloween thing. But there was actually a time when I did.
I used to get the costumes, hand out the candy, do a bit of decorating, and go trick or treating with the girls. Many people assume I must be anti-Halloween, but the truth is, I am not anti-anything. I simply figured that in order to have balance, it was sort of liberating to place my money, energy, and time on something else, so that's what I've done.
So now that you have a bit more insight on my Halloween situation, you'll understand why I'm featuring these cute Trick or Treat baggies, well, partially.
You see, I must confess. I have been obsessed with Snoopy and The Peanuts Gang for ages. I've collected mugs, figurines, plush toys, calendars, framed art, puzzles, Christmas décor… you name it.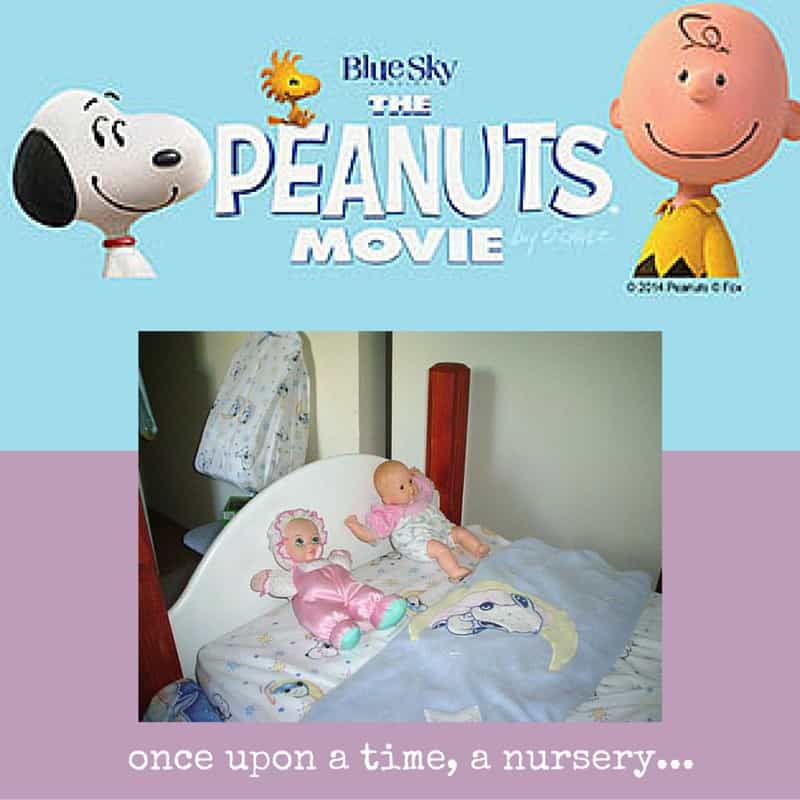 And to give you a clear picture on how intense it is, hear this:
I have had all baby girls, but my nurseries have been blue. Want to guess why? Because I had to have a Snoopy theme!
I don't to roller-coasters, but I went to Cedar Point anyway. Why on Earth? Because of Camp Snoopy!
I took a 9 hour road trip from San Diego to Santa Rosa. And I think by now you know why: it's where the Schulz museum is located.
So this year, I've been so excited to know there's a new Peanuts movie coming out on Friday, November 6, and I'm seriously looking forward to it, and to share it with my daughters. And in anticipation of the big event, for the second half of October, your Albertsons Safeway local grocery stores are handing out these cute [exclusive] free reusable bags with reasonable qualifying purchases. You gotta get in before they run out!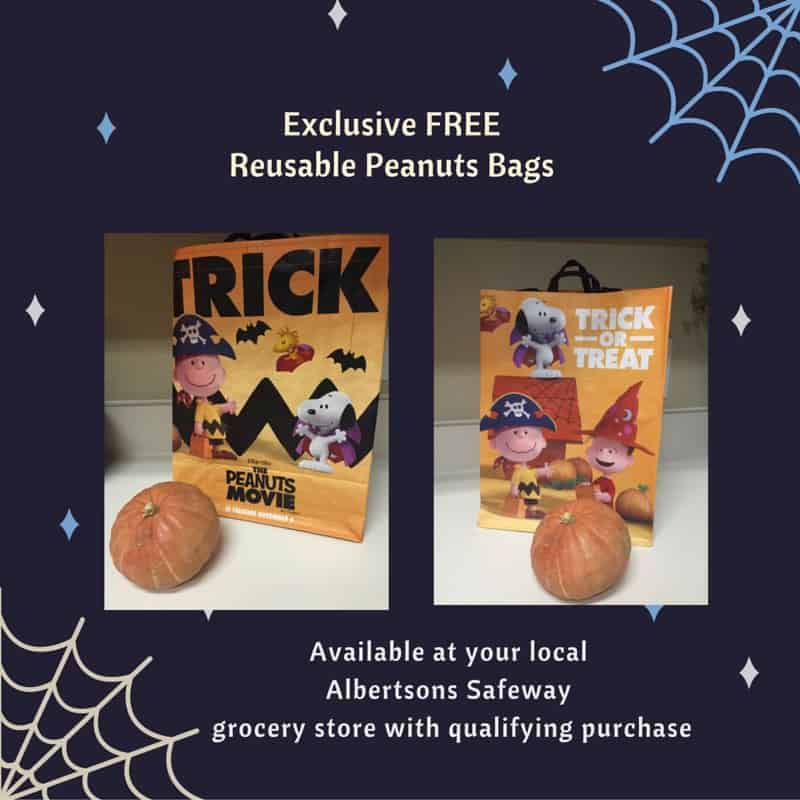 And to celebrate The Peanuts Movie, we decided to put a Peanuts spin on our snickerdoodle cookie recipe. You can use the products you purchase at Albertsons Safeway to create your own sweets and snacks, incorporating some of your favorite Peanuts characters.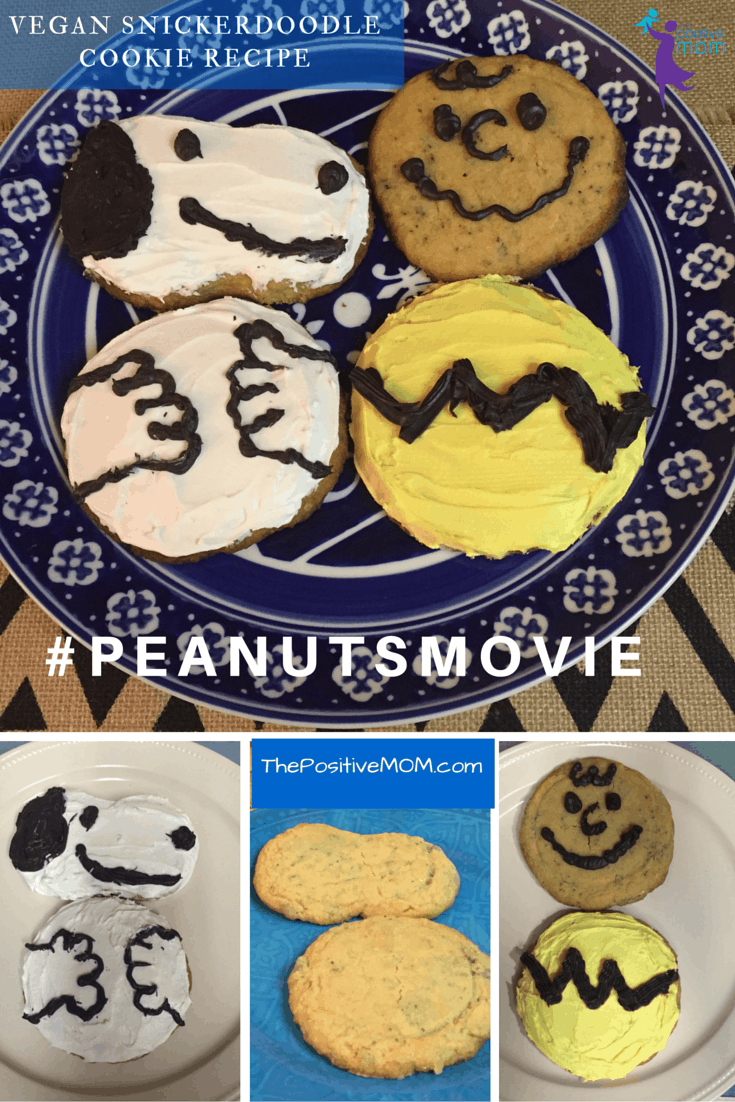 Introducing: The / All – Vegan / EF Girls'
Charlie Brown and Snoopy Snickerdoodle Cookie Recipe
(Easy Vegan Treats Inspired by The Peanuts Movie)
Ingredients:
2 cups Vegan Butter
2 heaping cups Brown Sugar
4 tablespoons Chia
1 tablespoon Baking Powder
1 teaspoon salt
4 cups flour
3-5 tablespoons of Almond Milk
Preparation and Baking Instructions:
Preheat the oven to 350 F.
Beat the butter and sugar in a large bowl until creamy.
Put the chia in a little bowl with 2 1/2 tablespoons of water, and then place in the fridge for 5 minutes (or until it becomes a thick paste).
Add the chia to the the mixture (it substitutes eggs)
Add the baking powder, salt, and the flour, and mix thoroughly.
Add almond milk, as needed.
Make little balls, and then put them on the cookie pan.
Use a cup to flatten the cookies (shape Snoopy's head at this time!)
Put it in the oven and in about 12-15 minutes they will be done.
Decorate with frosting, once cooled.
ENJOY
I promise you these cookies taste even more delicious than they look and sound. And they are huge! My daughters actually get all the credit, so I guess they've already earned their ticket.
Will you be taking your family to The Peanuts Movie on November 6? I'm looking forward to a night of fun with Sally Brown, Peppermint Patty, Linus and Lucy Van Pelt, Charlie Brown, Snoopy, Woodstock, and the whole Peanuts Gang. I look forward to chatting with you about our favorite parts!
[ela]
This is a sponsored conversation written by me on behalf of Albertsons Safeway. The opinions and text are all mine.