What do you think of when you hear these words: pop, heat, snack, kernel, snack, salt, explode, crunchy, buttery? Popcorn, yes!!!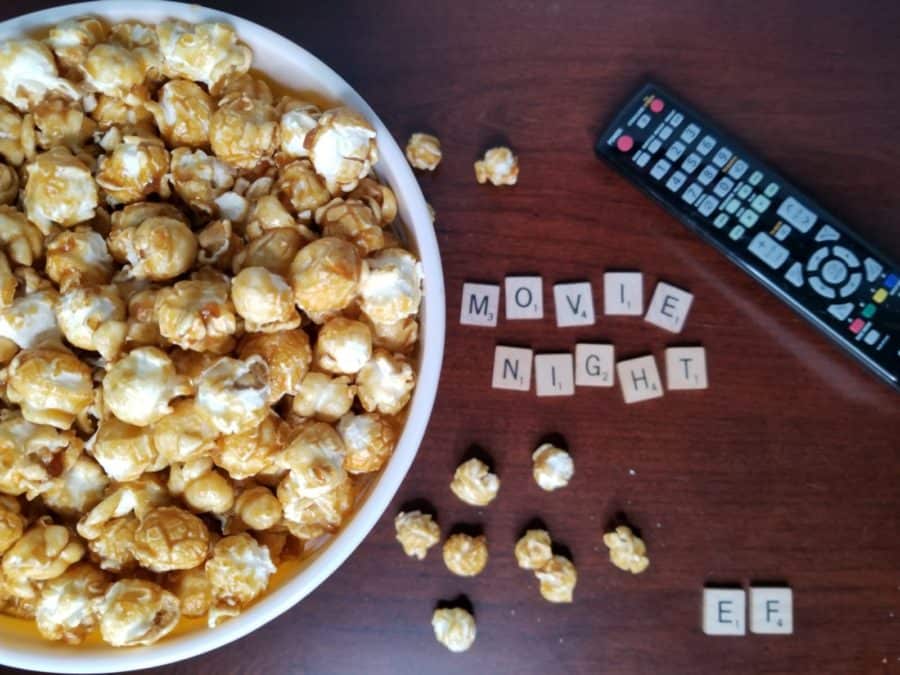 It's National Popcorn Day!!! Popcorn and the movies have been a thing since the late 1930's, but today I have some fun tips on how to host a fun and cost-effective movie night right at your home.
My daughters and I love to get comfy and cozy and enjoy family movie nights. A family movie night is the perfect day to wind down, unplug, laugh (and cry) together.
I particularly love watching movies several nights a week and stay up late with the girls. I know they won't be at home forever and I want to make the most memories we can. Creative family movie nights allow us to be present and in the moment, as we have fun with one another.
"And although it was way past our bedtime, my dad knew there was nothing more important in the world than to laugh with the people that you love… Here's to all the moms and dads who let their kids stay up too late for all the right reasons." ~ Matt Damon
We love watching movies (and series) together, and I love surprising my daughters and sharing my favorite movies with them: from classics to new releases. It's something we look forward to!
We recently stayed up real late to watch Maleficent and Maleficent: Mistress of Evil back to back.
Disney's Maleficent: Mistress of Evil is now available on Disney DVD, Digital, and will make for a show-stealing family movie night you'll always remember.
15 Tips To Host The Best Family Movie Night Ever!
Choose the right movie. A great movie makes for a special family movie night. To choose your movie wisely, make sure you choose a flick everyone can enjoy. Make sure to take turns choosing which movie to watch, so everyone feels involved.
Create themed concessions. Cooking a "movie-themed meal" together can be a lot of fun, especially when you come up with recipes together.
Get props! Props make everything more memorable. A movie sign can announce what's "Now Showing" and what time. I got a movie film clapboard on Amazon that I use from time to time, or you can make your own sign on a paper sheet or small chalkboard. You can get creative with the seating, too, (we've used Pillow Pets, before!) and having your own washable and reusable popcorn containers or popcorn buckets is a nice touch, too!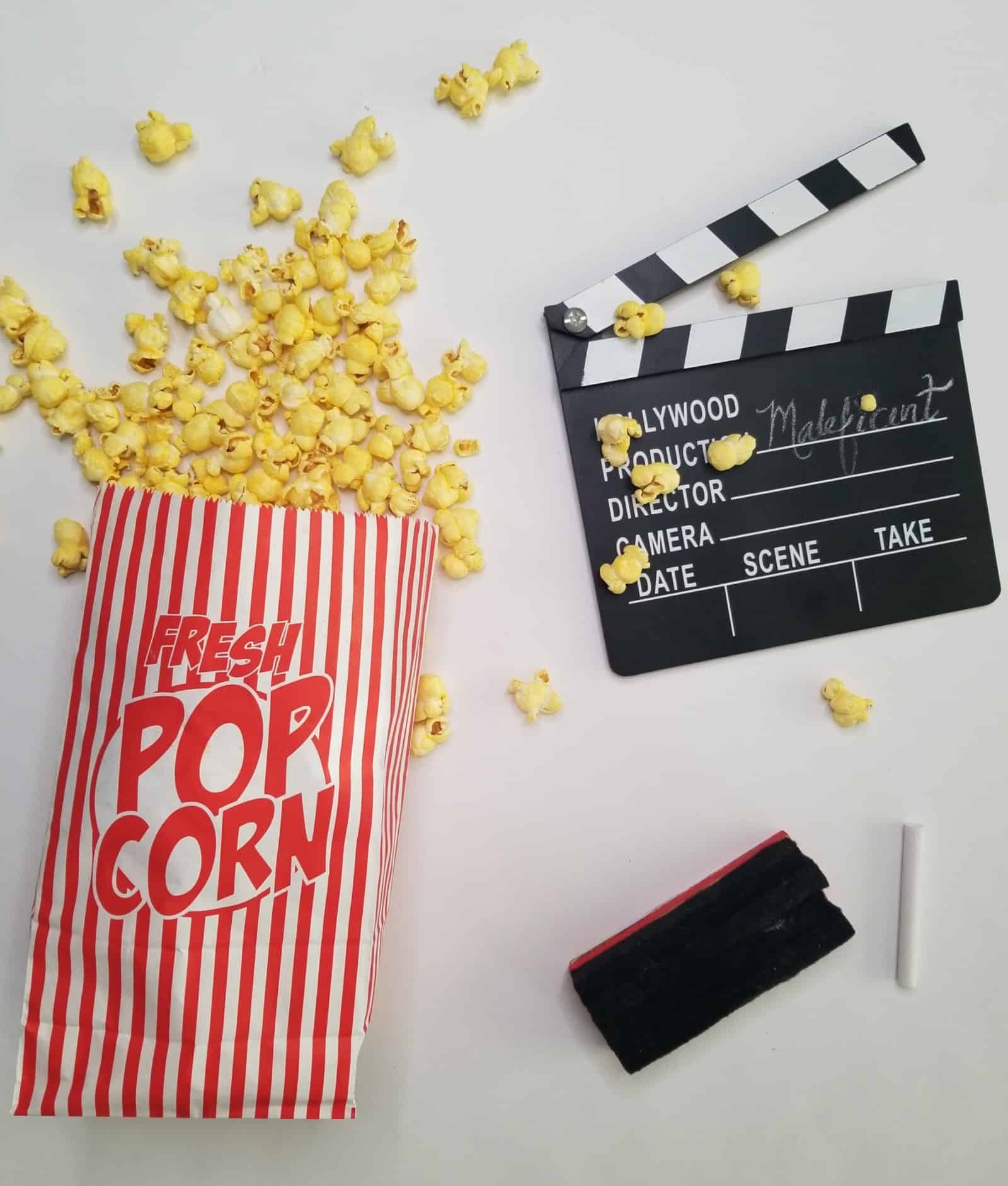 Play dress up. Have everyone dress up as their favorite character. It doesn't have to be a complicated costume – just be creative! A simple hat, tiara, sword, crown, or whatever it may be.
Of course, you can all wear your pajamas, too, or you can all dress fancy, and roll out a blanket to make for a "red carpet" to pretend you're celebrities at the film premiere.
Turn your home into a cinema. You don't need to spend a fortune to make your littles feel like they're at the movie theater. A few red or blue Christmas lights in a dark room and a loud TV volume can do the trick.
If you want to go all out, you could buy a mini projector like this one from Amazon, on a white wall or bed sheet.
Pretend Ticket Booth. The kids love it when you print out custom admission tickets to build anticipation! Kids also love to be in charge of sales. You can set a table with play money, and a calculator for the little ones. Assigned seats are a plus!

Make an indoor drive-in movie theater. My daughters and I love the drive-in movie theater! To make your own drive-in at home, all you need is cardboard boxes and paper plates. The kids can decorate them ahead of time. In my home, we've started out making cars and ended up with spaceships, castles, and even pirate ships!
Intermission. It's cool to plan an intermission halfway through the movie: everyone can use the bathroom, get snacks (and water!!!) and discuss theories about what's about to happen!
Extend the fun with after-movie activities. Something I love to do is to add an educational component to the family movie night by finding hands-on activities that go with the movie: whether it's a maze, craft, trivia questions, or coloring pages, it always makes for more time together where everyone can talk and laugh together.
Invite a special guest. Family means extended family, too, like relatives that don't live at home and friends. The kids can also invite their favorite stuffed animal, instead.
Read and See. We are lovers of reading in my home, so a fun way to watch a movie is to read the book first. A book-inspired movie night is a magnificent way to celebrate our favorite books. I love when we do this because we always spend hours talking about how the book is different from the movie and what we would have changed if we were to write the screenplay.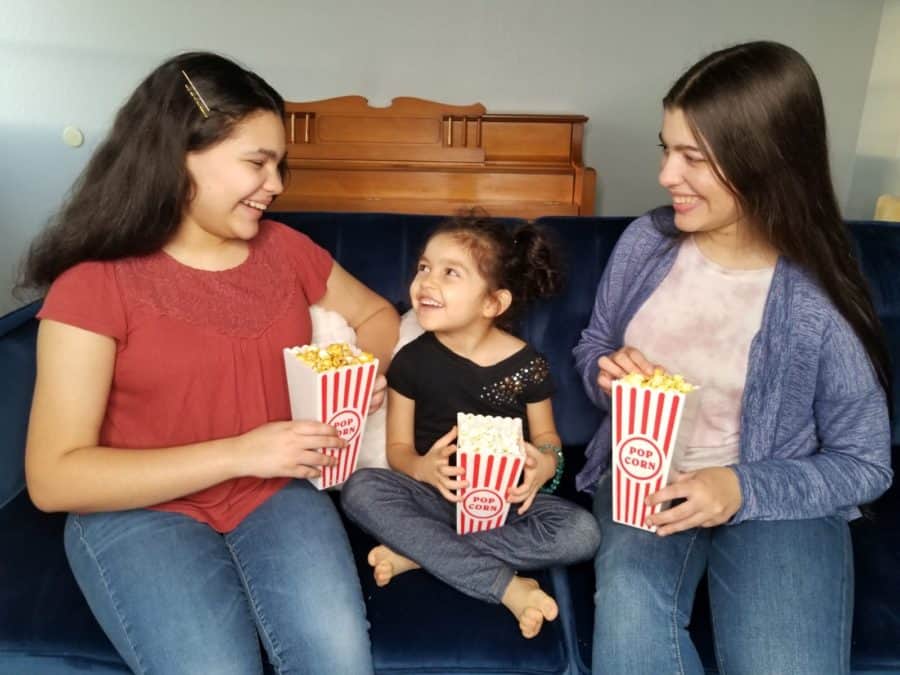 Sing the songs! A great way to watch a musical is to print out the lyrics or sheet music ahead of time and maybe even assign solo parts.
Have a critic's chat. One thing that defines family movie night in my family is to be film critics at the end of the film. The credits roll and we discuss what we liked and disliked about what the characters did or didn't do, what theories came true, what lessons we learned, what our favorite quote was, and other aspects of the plot. It's always fun to watch the bonus features and see what happened behind the scenes.
Pretend movie screening. Just like you would during a private movie screening (my kids and I go to those all the time!), clap for exciting scenes in the movie and when the movie ends. Hand out a reaction slip to all the movie goers so they can describe the film, and save as keepsake.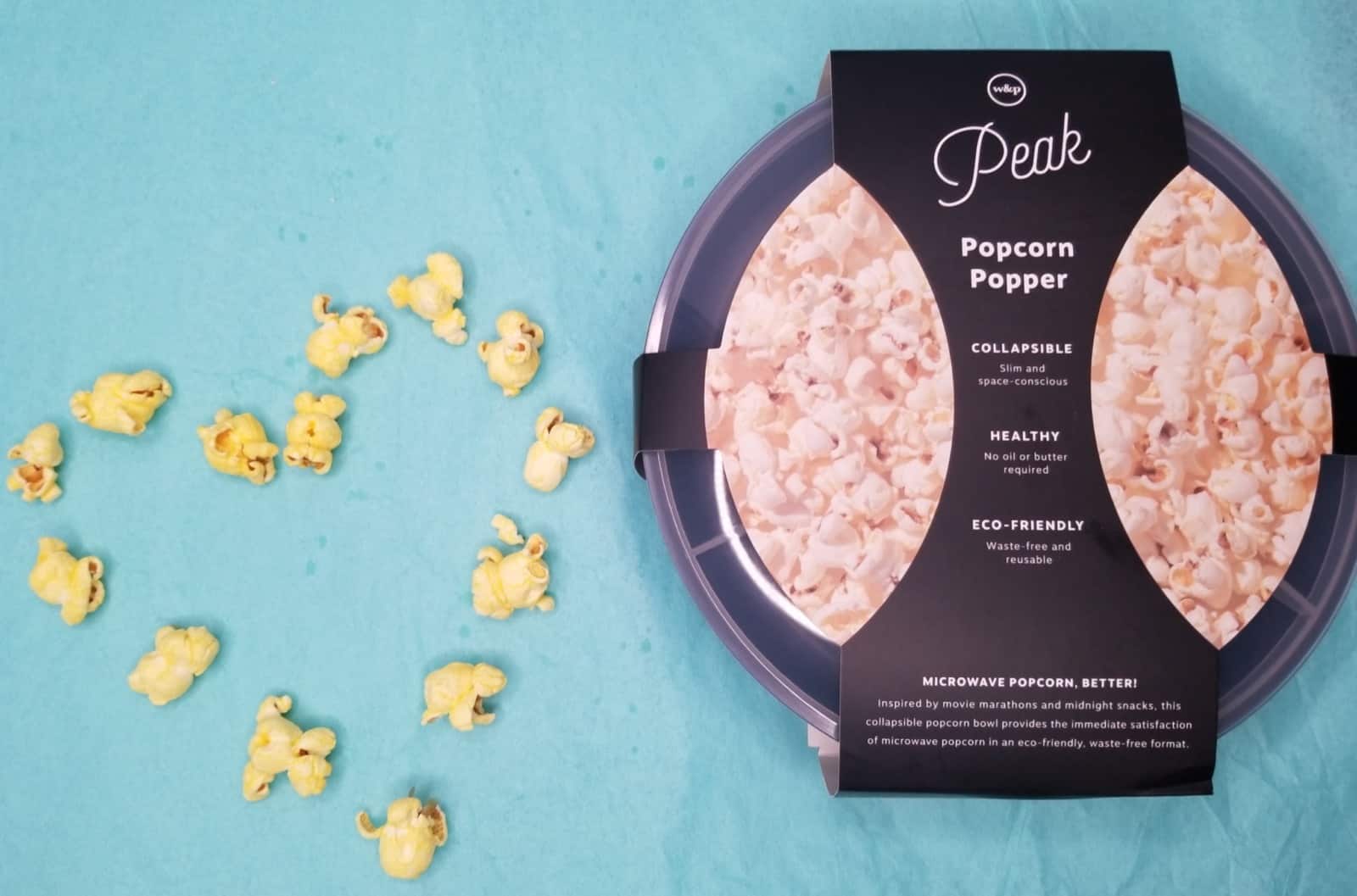 Make Popcorn. Besides the movie itself, popcorn is a mandatory requirement for family movie night. Popcorn is not only delicious, but of course, it can help with creativity: you can play with toppings, string popcorn to decorate the living room, play "guess the amount" to see who gets closer to how many kernels are in a popcorn bag, or even play popcorn basketball by flicking pieces of popcorn into a basket.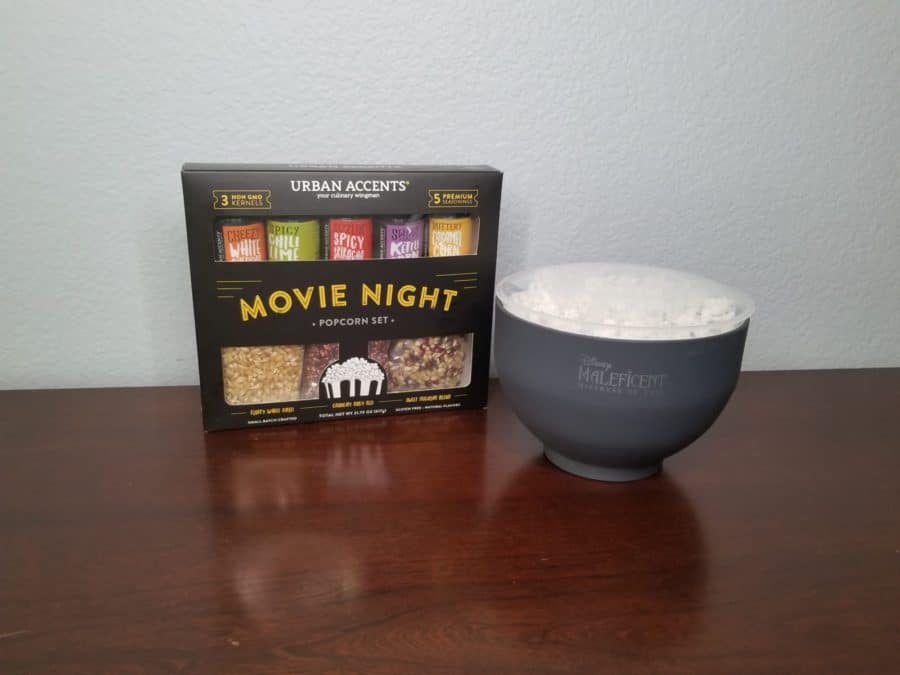 Disney sent me an Urban Accents movie night popcorn set featuring 3 non GMO kernels and 5 different natural flavors, as well as a W&P Peak popcorn popper, so no oil or butter is required. So healthy!
Maleficent: Mistress of Evil : Now on DVD, Blu-Ray and Digital
Maleficent: Mistress of Evil is rated PG in U.S. (bonus material not rated); PG in C.E.; G in C.F. with a feature run time of approximately 118 minutes.
Directed by Joachim Rønning, Maleficent: Mistress of Evil features an all-star cast, including Angelina Jolie as Maleficent herself, Elle Fanning as Aurora, Michelle Pfeiffer as Queen Ingrith, and Sam Riley as Diaval.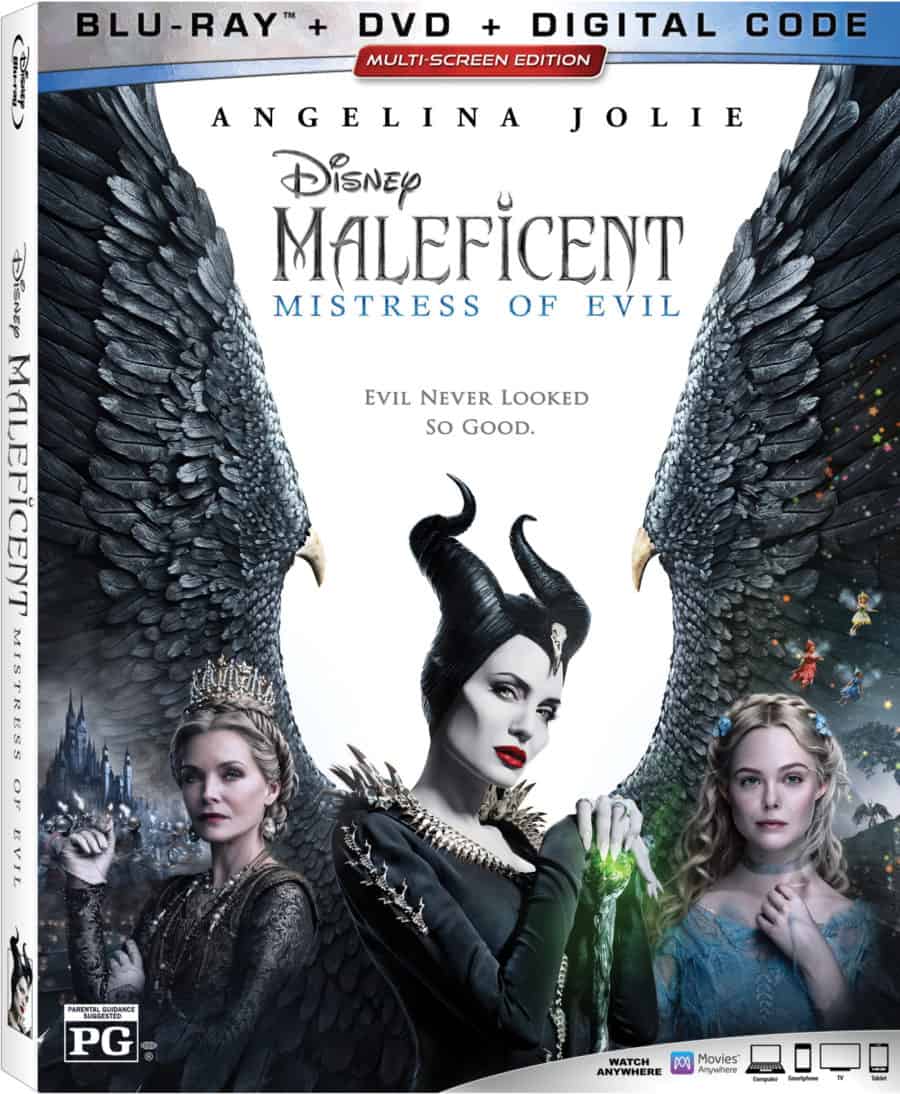 My family and I loved Maleficent: Mistress of Evil along with the wonderful bonus features including extended scenes, featurettes, outtakes, and a powerful music video, as well as a digital exclusive called Lickspittle.
Maleficent: Mistress of Evil
BLU-RAY & DIGITAL BONUS FEATURES!
We are huge movie fans and we loved celebrating National Popcorn Day with Maleficent: Mistress of Evil at home. It was as fun as going to the movie theater!
What's your creative idea for a blockbuster movie night at home? Share with us in the comments below!