The last Sunday of July is Father's Day in my home country and August 10th is my dad's birthday. I miss my DAD. He is my HERO in so many ways.
He always finds a way to LIFT me up, CHEER me up, replace my tears with GIGGLES and SMILES, and help me see my own STRENGTH when I feel weak.

He give

s the best HUGS ever and his WISDOM is only equal to the immeasurable JOY he shares with everyone that crosses his PATH.

He has always BELIEVED in me, PRAISES me, and offers advice when I feel LOST.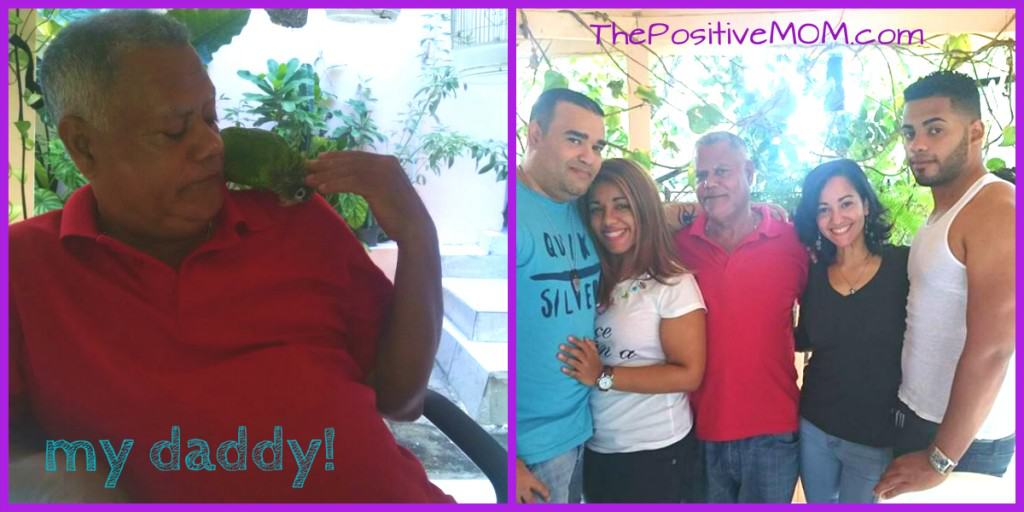 I'm CELEBRATING my daddy. He's many miles away… with my siblings, but he's always with ME in my heart! And although I am happy and I know it's a blessing I have such an amazing dad and he's still with me, I am crying. I would like to be there. I want to go HOME.

You know, this is a touchy subject, but a lot of people approach me and comment on what a wonderful thing is for me to have been able to come to the United States and, I'm not complaining, but they create a different story in their heads than I have in my heart. I didn't come here in search of opportunity; as a matter of fact, it was the complete opposite.
In the summer of 1999, when I came as part of the Work and Travel program, I fell in love with a man whom I ended up marrying in the Dominican Republic in 2001. At the end of that year, I was hesitant, yet I still left a successful corporate career, my loving family, my supportive friends, and the first home I ever owned to move to California and start a family.
A little over 3 years of marriage and life as a stay-at-home-mom, and soon after a week-long cross-country drive to Florida, I was suddenly left a single mom of two toddlers to start over again. That's when I started wondering why on Earth had I given it all up for this man. I was so hard on myself. I felt like such a fool. Have you ever felt like you wasted time, energy, and resources on someone who did you wrong?
I felt so angry, frustrated, humiliated, ashamed, scared, hurt, clueless, demoralized, crushed, and alone!
The worst part was feeling STUCK: I couldn't go back home without full legal custody, which ended up taking almost three years to achieve.
I am blessed to say that God helped me to bounce back and I gave myself permission to turn my passion into my paycheck by becoming a success guide, mentoring moms worldwide to get started on their own entrepreneurial journey so they can enjoy time with their kids while doing meaningful work in the world.
I am in the United States by choice now – and grateful – but I still miss the Dominican Republic, my family, my friends, my culture. I used to travel there a lot with the girls, but I haven't been able to renew their passport without their dad's signature and it's been almost three years since I've been there.
Every holiday, birthday, and special day, I feel a void forming in my heart… and I feel tempted to beat myself up about my first marriage.
Despite all that has happened, and that I haven't seen him in almost a decade, I can say my ex-husband has blessed me so much: he first gave me my first two daughters, then left them behind (which means I got to keep them – yay!), and through his departure he removed a huge stumbling block, allowing me to see my strength and get back to the path toward my purpose.
My eyes are swollen, yet my heart is full once again, because I know God knows the eternal puzzle that I can't see in my own understanding, and that grounds me in trusting that "all things work out for good" and helps me remember that I am so blessed to have such an amazing dad who loves me… just as I am.
As I continue to struggle, I'll continue to fervently pray about this situation. Will you join me?
[ela]