DreamWorks She-Ra and the Princesses of Power is one of our favorite shows and today we are celebrating International Women's Day with free She-Ra printable activity sheets for you and the girls and women in your life.
In recognition of International Women's Day, DreamWorks Animation assembled the cast, crew, and adorable young fans of She-Ra and the Princesses of Power to remind girls around the world they have the power to achieve anything they set their mind to. I am so excited to share this video.
Aimee Carrero (Adora/She-Ra), Lauren Ash (Scorpia), Marcus Scribner (Bow), Karen Fukuhara (Glimmer), Merit Leighton (Frosta), Krystal Joy Brown (Netossa) and executive producer Noelle Stevenson share what She-Ra and its positive portrayals of women and girls mean to them and the impact it has on the young audience who watches the show.
I know my daughters and I feel it's a very empowering show for women of all ages and just last night we were talking about how every girl in the world, but especially in the USA because of the toxic culture, definitely should watch She-Ra and the Princesses of Power because it's a diverse show on and off-screen and promotes great values.
She-Ra and the Princesses of Power features a wide variety of inspiring female characters brought to life by a diverse voice cast, with an all-female writers room, a majority female crew, and a dedication to centering the stories of women in a way that both children and adults can relate to.
The series is showing young audiences that no matter how they look or who they choose to be, they are worthy of love, respect, and a starring role in the stories they adore.
I am excited to share the resources and activity sheets DreamWorks Animation put together for parents, leaders, teachers and caregivers to utilize in reinforcing the important messages that International Women's Day aims to spread.
Download each free printable activity by clicking on its name:
I'm excited to celebrate International Women's Day with my three daughters by going through these printable She-Ra activities. I am confident you will enjoy them, too!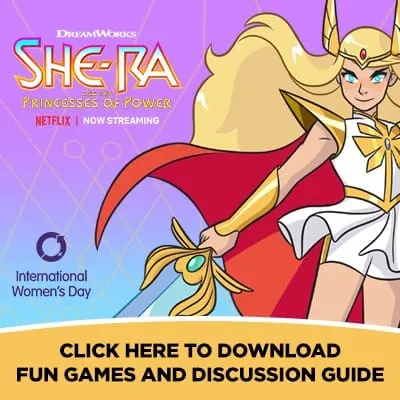 Join She-Ra in fighting the good fight – and forge a #BalanceforBetter in the world, because in Eteria and in our world "Balance must be restored!"
What do you think of this video? Use the hashtag #BalanceForBetter on social today and share this free printable resource with every woman you know today! Happy International Women's Day, power woman!
Elayna is a homeschool educator, single mom of 4, founder of the Positive MOM Community, award-winning Storyteller, Story Strategist, and Student of Pain. She's a bestselling author, internationally acclaimed keynote speaker, and 3x TEDx speaker. To receive a gift from Elayna, click HERE.

Want to support the Positive MOM blog?
The mission of the Positive MOM blog is to help moms break trauma cycles, find peace, and feel emotionally whole, so they can practice supportive parenting and create a positive and healthy environment for their children. If you found Elayna's content valuable, please consider donating a love offering to enable her to keep creating content and helping more moms worldwide. Donate HERE.