I love bugs, snakes, and spiders (especially tarantulas!). Roaches only make me scream because, um, well, you know, they're gross. My phobia, fear, or pet peeve wasn't heights, the dark, or tight spaces. I was afraid of driving my car!
Don't get me wrong…I love my car. I even think I look kinda cute in it, if I may say so myself. But like with every relationship, there's more to that story!
To give you a background, there's the fact that I am directionally challenged and that I get extremely confused over "simple" fundamentals like "where's left?" "where's right?", "where's North?" and "which way's South?"
Then there's the fact that I've had what we'll call "highly unpleasant" experiences in cars before I learned to drive that almost killed me, literally.
Oh, and just add the fact that I had to start driving when I didn't really know how I was able to pass the test and get my license because I only had a day of "training."
So here I was, with sudden overnight full "custody" of two little girls, and forced to drive when I didn't feel ready. I had to learn how to drive in order to survive! Things that may be considered common sense didn't come to me so easily when I was shaky and terrified and I didn't trust myself driving my little ones around. Even though I was driving safely and being cautious, I felt I was putting others in danger just by being behind the wheel.
In hindsight, Naples, Florida was great for me: 0-miles on my little car, just a few roads and slow pace. I gently found the confidence to go when and where I needed to go. Driving started to feel like a privilege…except when I drove at night, in the rain, next to a big truck, when I got on I-75 – and the I-4 to go see Mickey 😉 – or went through overpasses.
Things got better after I went to see Dr. Jason Quintal for an Accelerated Results Session of his Rapid Resolution Therapy™, and all of these issues were wiped out.
Then BOOM! We moved to Dallas, and now my car is older, the roads are many and seem confusing, and traffic is congested. My biggest challenge has been unforgiving drivers. People who yell and harass don't make things exactly easier. I've relied on my hubby to drive me everywhere he can because he wants me to be at ease.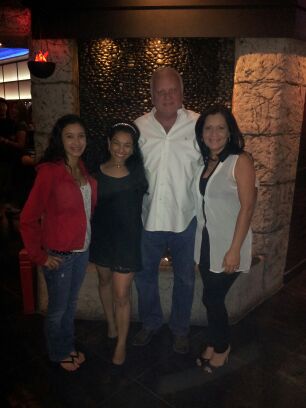 And here's how my fear ends. It all started when I went to Florida for a speaking engagement. I stayed with a sweet friend whom I just love, and while having a pleasant conversation with her and her husband, he offered to help me "face my fear." I cannot really describe the true feelings inspired by this unusual proposal, but my determination to be done with it was stronger than any hesitation.
We drove to some sort of rural area, I believe a former jet landing area, and we did not practice softly and gently basic turns and stops, instead, he drove in circles, stepped on the brakes really hard, drove in reverse looking forward, and then handed me the wheel expecting me to do the same.
Completely trusting this godly man, I complied. I followed his directions step-by-step even when I felt tense and overwhelmed with fear and anxiety. As I faced my fear, it felt as I was going up a ladder…closer to confidence with each step. Wobbly at first, steady at last, I became excited about my newfound feeling of safety.
Good-bye panic, good-bye prison, good-bye "Hodophobia" [or whatever the fear of driving is called]…
So I was never a natural driver…I didn't have to be. I now realize I don't need to know the terminology or the exact mechanics of my car (or any car!)… All I need is love trust.
Thank you, Anthony and Damaris…Even eagles need a push!
My mission is to help moms find peace, break cycles, and feel whole so they can be present, peaceful, and positive moms. To receive a gift that can get you started on that journey click HERE.