Storytelling is one of the most powerful tools I have at my disposal as a mom, homeschooler, and mompreneur. Telling stories, real or fictional, is a valuable skill that can help you communicate any message and can ignite social impact. Mere bullet points, statements, and rants are not compelling enough.
But, how do you craft a story that engages the audience and inspires lasting change?
As a part of my Disney all-expense paid press trip to Los Angeles, I was blessed to join the celebration of the In-Home release of Walt Disney Animation Studios' ZOOTOPIA, and sit down with ZOOTOPIA filmmakers Byron Howard (Director), Rich Moore (Director) and Clark Spencer (Producer) to chat about how the story of Zootopia came to life. It was an extraordinary experience, and humbling, to say the least.
The chemistry between them and their individual warmth was amazing, and I felt like I was chatting with old friends. Of course, the topic is near and dear to my heart because Zootopia is a family favorite of ours.
I wish you could have been in the room with me because they each shared so many valuable nuggets, insights, and fun facts. Thankfully, you'll get to hear from them on June 7th when you get your hands on your very own Zootopia DVD, Blu-ray, or Digital HD copy (yay!).
For now, I'm going to share what I think are specific secrets to crafting a powerful story, so you can use these key principles to move people to action, whether at home or in your business. I know you are as excited as I am to learn from master storytellers who engage global audiences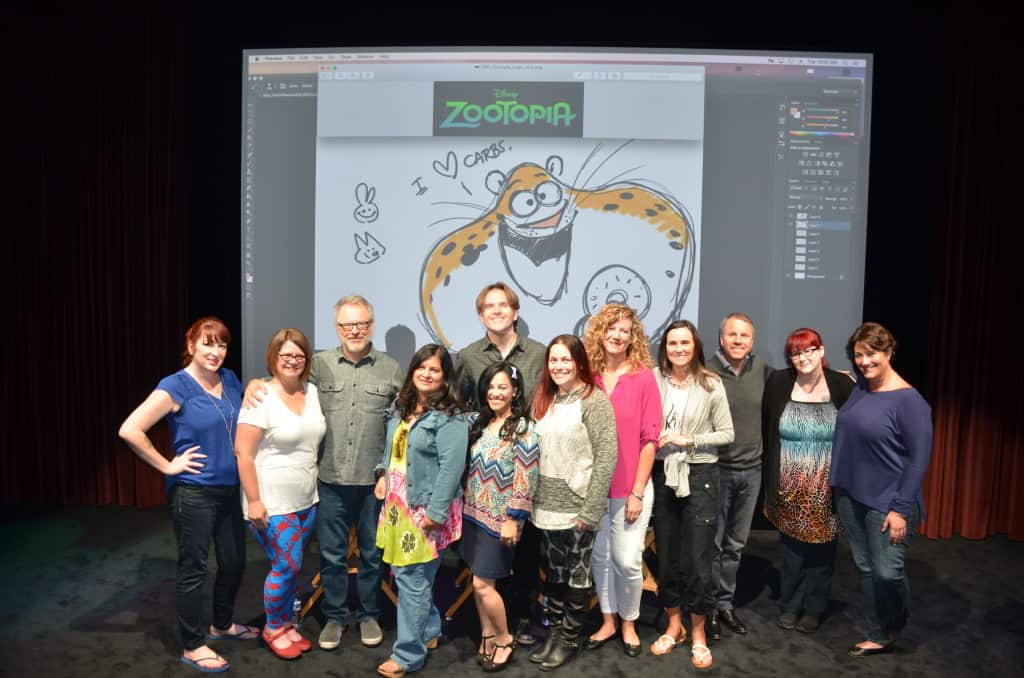 Let's look at them!
Storytelling Secret #1 EXPLORE SIMPLE IDEAS
Zootopia started with the simple idea of a movie featuring animals in clothing. They usually pitch and discuss 3 ideas they are passionate about to John Lasseter, who is the chief creative officer of Pixar Animation Studios, Walt Disney Animation Studios, and DisneyToon Studios.
"Projects are not assigned. We present at least three ideas to him of something that we're interested in, ideas we'd like to explore." Rich Moore
"He believes that at the end of the day, if you're gonna spend four or five years making a story or creating characters, it's gotta come from you, or you will eventually become either bored or disinterested in it." says Byron Howard of Lasseter.
Storytelling Secret #2 DO YOUR RESEARCH
One of the multiple things I love about Zootopia is the artful way in which the theme of bias is presented, especially when it affects me and my family directly with being a multiracial and multicultural family. It was interesting to know how this relevant issue came up organically from research:
"We all believe that the best stories come from research. We really dive in and try to become experts on the subject." Byron Howard
So, guess what they did? They not only went back to the classics (like Robin Hood), and visited Disney's Animal Kingdom… They went on a research trip to Africa!
When going into Nairobi, they actually flew over Pride Rock, since the Lion King team had come on the same type of tour when that film was being made. And you know that's what inspired The Positive Mom logo!
As Byron Howard talked about Africa, you could hear a pin drop. There was so much energy and passion in his words, and the picture he painted was magical:
"I think our favorite part was when you stepped out of the plane, and everything was like just quiet. It feels different. The air feels different. It's open. And the places we visited in Africa haven't changed in about 40,000 years. The environment is the same. And the animals have a society that actually exists. These groups move together like human beings do.
One of our camps was about 30 feet from a watering hole where we would watch these animals all come in during the day in herds of anywhere from 20 to 500 animals. Wildebeests came in and giraffes. And we saw that antelope and lions would drink right next to each other at the watering hole. And no funny business. No one was attacking each other, there's no aggression. They just got their water, they looked at each other, and then they went their separate ways. And we thought, that's very much like our own society. Groups don't always get along. We have these cities where we all have to figure out how to live together without killing each other.
And, it was a great experience. But I think that first camp next to the watering hole was a real eye opener for all of us! We had our leadership in the film: our lead of animation, our art director, our character designer…And we all came back with this desire to make the movie so much better because of what we had learned." Byron Howard
By researching, observing, and getting immersed in the subject matter, your idea starts taking shape into an authentic story that is not only entertaining, but has the potential to capture your audience in a relatable way.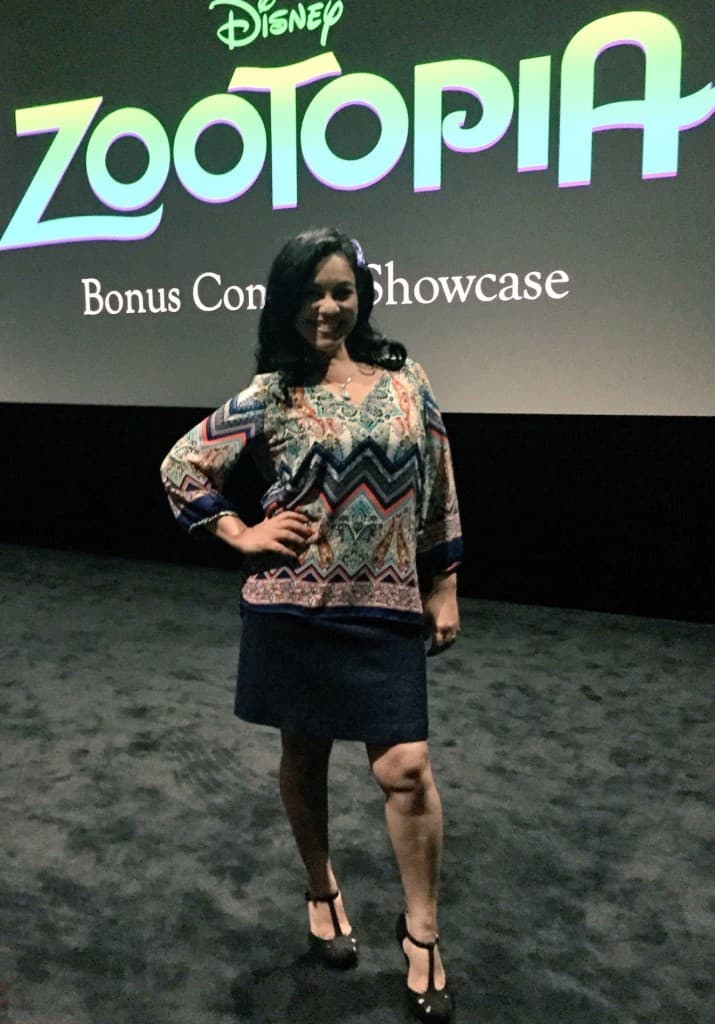 Storytelling Secret #3 RELATE TO YOUR AUDIENCE
When you think of Disney as a global brand, it is impressive how they are able to relate to audiences of all ages and cultural backgrounds, in many languages. While talking to the Zootopia filmmakers, I learned that there is a lot of testing behind the scenes to make sure the ideas presented are relevant to everyone in the intended audience. For instance, this is what Clark Spencer said about the DMV/Flash scene:
"We said to ourselves 'we're the only ones who are gonna understand this concept. It's the United States. It's the DMV. We've all been there. We know what this concept is.' So we actually test our films around the world.. to see what the audience thought of the overall film. And we tested it in Japan, Korea, Russia, Australia, Mexico and Brazil, and China… I think it was 12 markets we tested the movie in. And every single market, the number one scene was Flash, because for everybody, even though they didn't know what the Department of Motor Vehicles was, they knew what bureaucracy was. Whether it's the post office or getting a passport, or, or getting a driver's license, there's some aspect of their daily life that everybody can relate to. It's a universal idea. It was amazing to watch and feel that sense of people falling in love with the character of Flash and totally relating to this scene in such an incredible way."
And people have fallen in love with the Zootopia citizens because they can understand their struggles in their own lives.
I love what Clark Spencer added to this conversation, because Zootopia's theme of bias is a deep, complex, and tricky issue to talk about:
"We always wanna make entertaining films but if it's not about something real, if it's not about something that really affects people then we're not doing our job,"
With Byron Howard, he feels responsible about "what movies are about what movies are saying, about the qualities of the characters, because we fall in love with the characters just as much as we hope the audience will. We always go back to real life… We put as much as we can of what we love about our families and the world into these movies so that people can relate and find something in common no matter where they go."
And Clark Spencer explained how "in different parts of the world people respond to different things. It was amazing to watch some people look at it and they think about the female bias. Some people look at it and they look at the empowerment of Judy's character, at someone who's trying to blaze that trail. It's fun to watch how the world sees that same story from their own perspective, their own lives."
I definitely learned a lot about crafting my own stories and making sure they relate to people at an universal level. Good stuff!
Storytelling Secret #4 DON'T PREACH
With a theme so relevant and timely, Rich Moore confessed his fear that Zootopia might come off as preachy, if it were done with live action or with human characters:
"My big takeaway from doing this movie is that one of the conventions I think of a talking animal story, the good ones, is that the story is about something that's difficult to talk about amongst human beings… especially kids."
It's important to bring hard topics to the table, and to do it in a way that truly resonates with the audience in a timeless way that inspires action, a shift in perspective. That's my life calling!
"And that made us work even harder to make it the best it could be. That it didn't come across as preachy, as 'this is the message.' Those topics are complex.They're messy, and they come back now and then. It inspired us to really make the movie as genuine and real as possible. That it didn't pull punches, but it also didn't try to sugar coat anything."
Zootopia, like other Disney films, such as Bambi and the Lion King helped our families have hard talks.
"We wanted to present it not just as a message movie but through the journey of the characters. And that's why we're so happy that people really bonded with Judy and her journey, and saw that she's not perfect. She makes mistakes and she learns by the end of the movie that these issues are much more, not as simple as she thought. So it was great, though it was very tough on us all, but we're very proud of the fact that people have really gotten the message of the movie and have really related it through the journey of the characters."
Storytelling Secret #5 PUT YOUR HEART AND SOUL IN IT
You know my favorite part of getting to know Rich Moore, Clark Spencer, and Byron Howard? None of us ever mentioned asking the question: is it going to make money? They asked the right questions because they put their heart and soul into the creative process.
"All three of us loved working on Zootopia, because it was a story, we crafted with some real depth and we really had something to talk about. " Rich Moore
"You get to watch the team start building this idea, you get to watch in one day this little tiny nugget of an idea become an entire scene, and you get to see everyone laugh and see it get pitched." Clark Spencer
They are so excited that the studio looked at Zootopia and deemed it an important film and that it "has been embraced so lovingly by the audience and the characters that we were very close to for a long time, for a few years and, have fallen in love with our characters."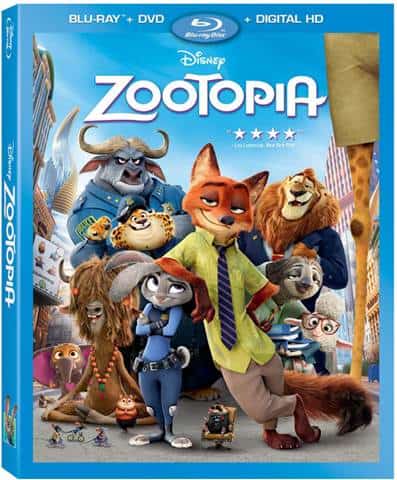 These men are not only brilliant but they believe in what they do, and they embrace the creative process as it flows. No deadline, no hidden agendas:
"We don't say, 'Today, we're going to be creative.' Creativity comes to you, and the ideas are going to flow. You can't control it, it takes off and does what it wants. It's almost like a living organism, like an acorn growing into an oak tree. You can plant it, fertilize it, and you can tend to the seed, but it's going to grow at its own pace. You're not going to say, 'Okay tree, grow faster today.' It's going to do what it wants to do. And some days it can be really frustrating, thinking, 'Why won't it grow faster?' But we're watching it in real time come to life. I'm thankful everyday that I'm finally working at a place that appreciating the creative process is foremost in everyone's mind." Rich Moore
We all know there's a great deal of work that goes into making a film, but to hear from the filmmakers how much love, passion, and commitment they have each put into Zootopia is a true inspiration.
Oh… and about asking the right questions, they use one of my favorites – one that got me out of the fetal position when I found out I was now a single mom of two toddlers. Remember that one: "What If?"
"We sit in a room and we ask, "What if?" We get excited about ideas. We build on each other rather than knock each other down. If you're with a group of people that ask, "What if?" every day, it's hard not to be positive. Because you're trying to solve problems. And if we can solve a story about how a fox and a rabbit can be best friends and work together, it gives me hope that a lot of things in the real world could be solved if more people asked, "What if? What if? What if?"
These five secrets to storytelling are incredible! Don't you think? And there's more you can learn when you see the bonus content on the In-Home
And besides all this goodness, I actually learned from Byron Howard to draw Clawhouser and here's my drawing, for you to enjoy.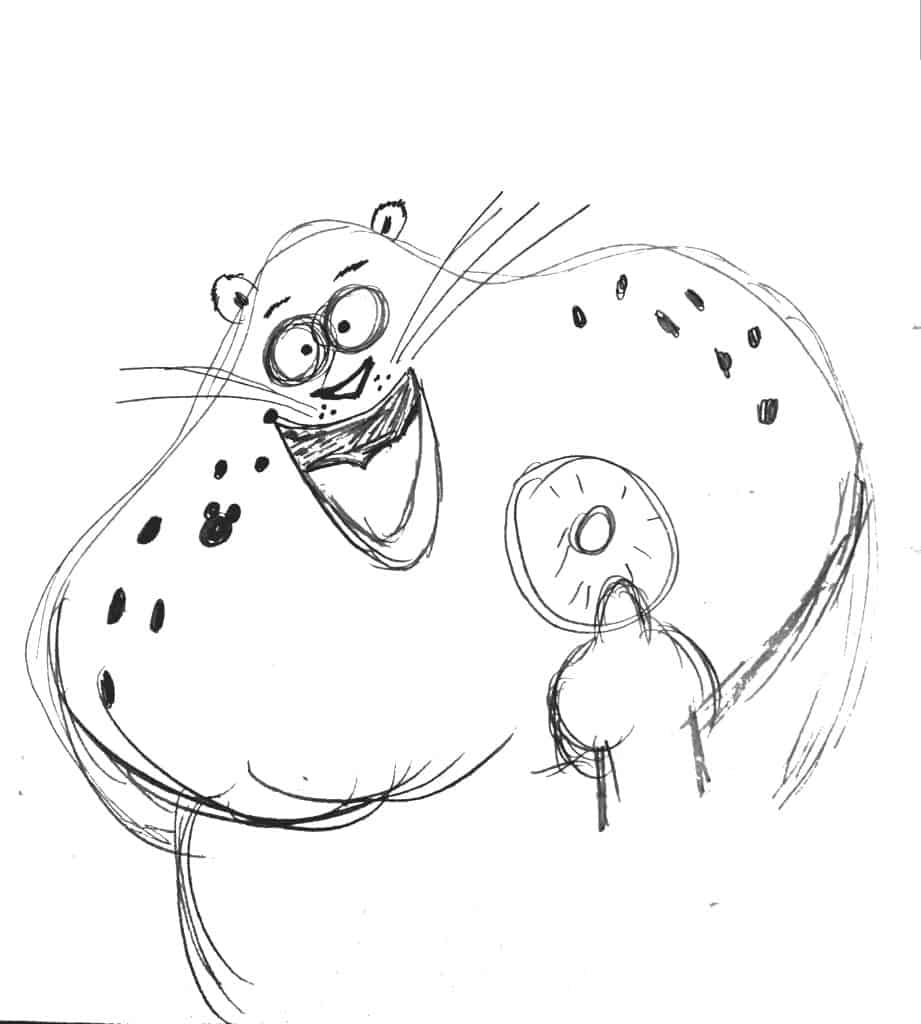 What do you think? I got the thumbs up from him – oh my!
@thePositiveMOM_ Awesome, Elayna! 🙂

— Byron Howard (@ByronPHoward) May 25, 2016
Love Zootopia or simply curious about it? Join the conversation with #ZootopiaBluray, visit the official ZOOTOPIA website, Like Zootopia on Facebook, Follow @DisneyAnimation on Twitter, and Follow @DisneyAnimation on Instagram for more information and preorder on Amazon NOW! (Aff)
How do you incorporate these secrets into your storytelling? I'd love to learn from you, too!
[ela]