Logo design [ or meme – as we call it in Guerrilla Marketing ] is a critical step to creating your brand because it establishes the image your audience associates with your offering.
With that being said, your logo must be meaningful, purposeful, and beautiful.
An effective logo has the capacity to alter human behavior!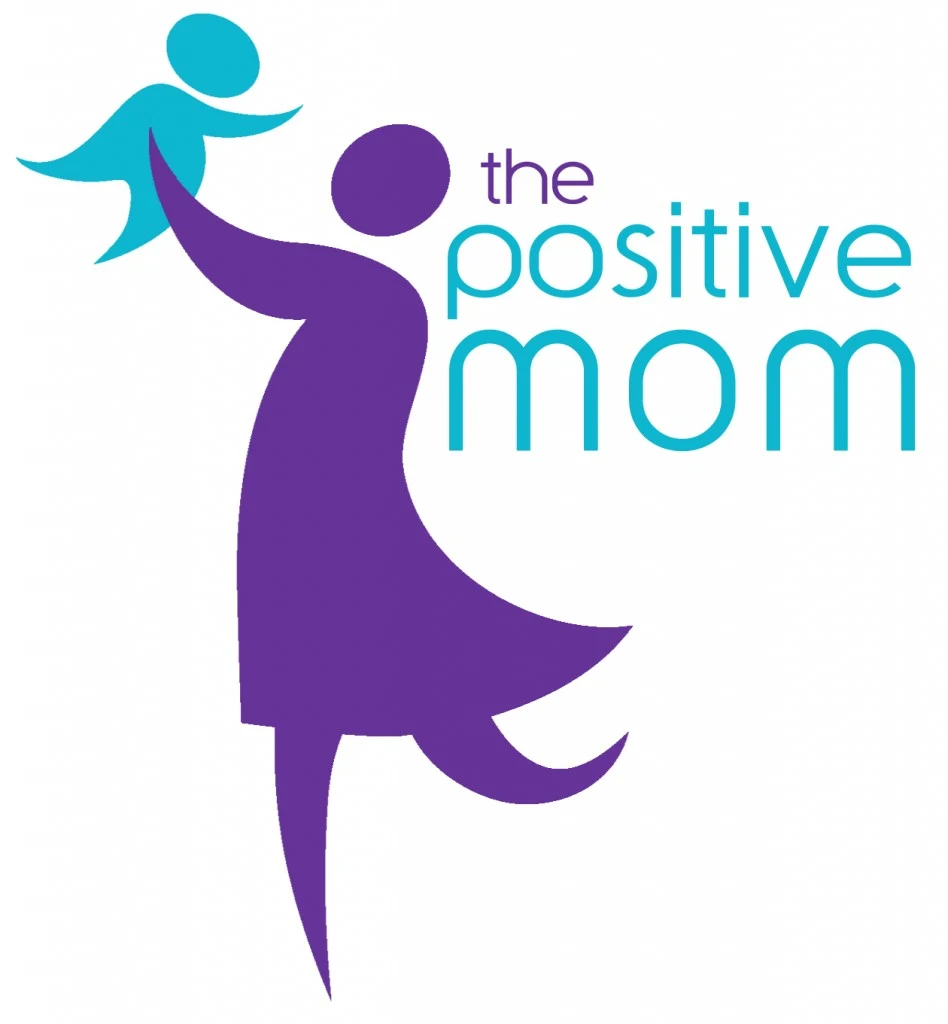 The Positive Mom logo was inspired by the word RAISE – as in rearing kids, but also as in helping them grow, and lifting them up.
I believe that Positive Moms can raise positive kids.
I was always impacted by the way Rafiki held Simba (in the movie The Lion King) as he presented him to the pride… with pride.. he he.
The mom in my logo supports her child with such joy…as s/he faces her because besides guiding, teaching, and leading the child, she reflects the world.
The Positive Mom is present with her child. There's a secure attachment.
Her leg is lifted because the Positive Mom is playful. Another film reference, because that's what women typically do in the movies when they experience true love's kiss. I love when that happens! As a mom, it can give you the impression that she dancing and singing to her child, too – so it's all about joy.
This logo was designed with color psychology in mind too!
The color purple means royalty, spirituality, and imagination.
Turquoise means clarity of communication or purpose.
The combination of the colors shows feminine energy, and so does her dress.
The fonts are feminine, simple, and congruent with the shapes.
The color is balanced as it is used in words and shapes, and as it defines the mom and the child as different individuals. This is a really important part of my motherhood philosophy and I wanted it to be a part of my branding – our child is not an extension of who we are!
Your logo must communicate an entire idea, simplified to the bare essentials.
In addition, your logo must:
instantly communicate what your brand stands for
effortlessly convey why you're the obvious first choice for them
trigger an emotional response that generates a desire in just a few seconds
The BIGGEST Misconception About Logo Design For A Personal Brand
As a blogger, work-at-home mom, or mompreneur, you own a personal brand.
For many, it may seem that a headshot should suffice to position what you offer – because you offer you (your story or storytelling ability, your writing, your popularity, your perspective, etc.). However, you need both a logo and a Gravatar headshot or About Me picture.
The first will communicate the results you offer, the second will communicate your personality… together, they make you twice as memorable.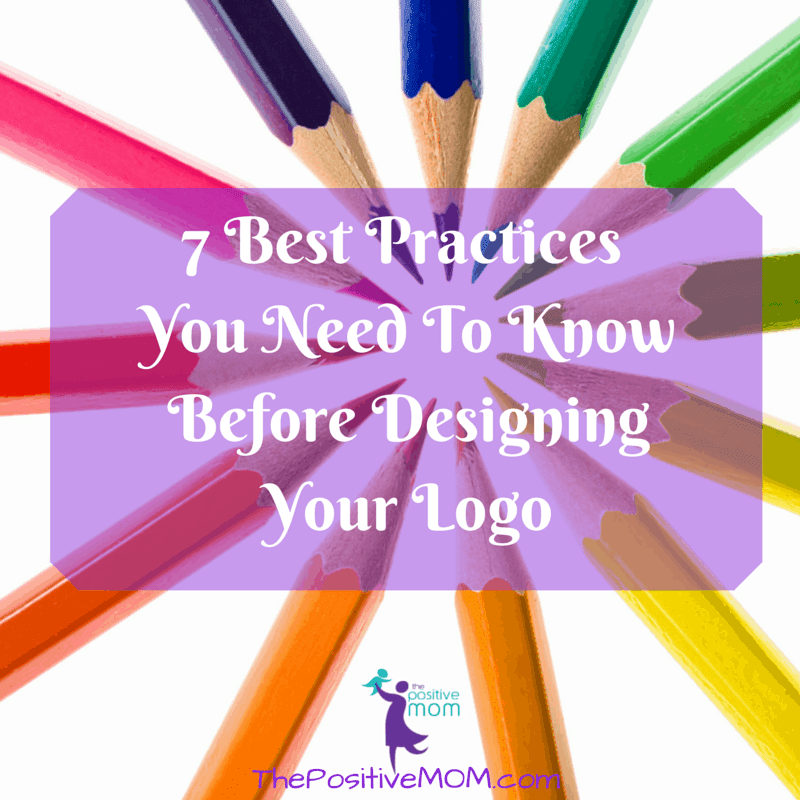 7 Best Practices You Need To Know Before Designing Your Logo
I invite you to use these 7 principles to position yourself and attract your ideal customers or clients.

Simple is better –
Some say you ought to be able to sketch a logo on paper after looking at it for 10 seconds or it's TRASH.
Did you say "harsh"?
I think "brilliant"!
It would guarantee getting the attention -and business- you deserve.
In today's day and age, people don't have time to solve a cryptic message that gets their head spinning… as creative, clever, and cute as you may find it.
Keep in mind that we are building a brand, not an art masterpiece.
Some of the most powerful brands of all time [Nike, Apple, Shell, McDonald's, Pepsi...] have the simplest logos, which I'm sure you can see in your head right now simply because you read the words.
What's better is that people can globally recognize them even without the name. That's definitely what you want because that means a bigger impact and contribution.

Low Maintenance –
Most successful logos out there are two-color based and use easily legible fonts (serif or sans-serif).
I suggest avoiding too many colors because it gets confusing. The NBC peacock is a notable exception because it has 6 colors (one per division), but it started out with 11 colors and a more complex design, so you see how simplicity is really the main trend.
Also avoid metallic colors (gold/silver), "textured" looks, "photo-based" looks, and thin lines or gradients. These are all hard to reproduce and can get pricy in print, too.

Versatile & Practical –
Make sure your logo design will look the same on print and web, by matching web-safe colors.
Your business name and the logo concept should be legible and easily appreciated in any logo size, materials (from a pen to a shirt), and style (multicolor, monochromatic, light, dark).

Competitive –
Be aware of industry standards and take a peek at the competition. Be unique in your design, but be sure to communicate the value your clientele will get out of your brand and the industry you belong to.
Ultimately, it is essential to understand that your logo is not about YOU, but about your audience, their needs, the solutions they are looking for, and how you stand out from the rest.
I'm not saying it shouldn't be something you like or that has some elements that showcase your values or creativity, but if it doesn't communicate a USP (unique sales proposition), then it won't help your audience make a choice to invest in themselves through your offering or program.

Professional

–
Do-it-yourself or web-generated logos look amateurish.
A professional logo should be designed by an expert graphic artist who follows graphic design principles. And it should be developed by a branding expert who understands the expectations your image will create and needs to live up to.
Strategy is key when it comes to brand design.
Paying for logo design is NOT money down the drain. It is no coincidence- or a secret- that Fortune 500 companies set aside millions of dollars in brand development. Thankfully, your investment probably won't surpass the double or triple-digit figures.

Tested –
After getting the first proof of your ideal logo, it's a good idea to print it out, fax it, photocopy it, look at it on the screen and look at it at different resolutions. Yeah I know I said fax. Why not?
A sensible logo designer will allow you a few revisions before final approval. If this is not specified in the original proposal, make sure you ask how many revisions are included in the quote. Contracts are your best friends.

Yours! –
Make sure you own rights to YOUR logo and have your designer deliver your logo in different versions, including black and white.
When I work on a logo design, I usually provide JPEG, PDF, PNG, web and print resolutions, as well as PSD, and include the fonts, original images, or vector files and fonts, too.
Does this all look like gibberish?
It's okay not to know everything about logo design, but become familiar with file extensions like .PSD, (Adobe Photoshop) .EPS (vector file), INDD (In Design), and .AI (Adobe Illustrator).
You want to have files with these extensions so any designer you bring on board is able to modify these and they can be used in any project.
These formats may not mean anything to you now, but they eventually will (when you REALLY need them!).
Ready for your logo?
Now that you know the basics, start thinking about your ideal logo.
Your view, perspective, and brand self-image are vital for your logo developers to come through.
I always stress the point that no one knows you or your uniqueness as you do. I encourage you to be an integral part of the process. It's time well spent invested, especially when a trusted, qualified mentor guides you through it.
Warning:
Beware of brainstorming with your friends and relatives.
As awesome, and smart as they are, and as much as we love them, they won't necessarily have the best advice. The only exceptions are:
1. They represent your target market.
2. They are experts in branding.
And even then, they will still be too close to you to give you a fresh perspective.
In my country, we use the expression "Nadie es profeta en su tierra," which means no one is a prophet in their own land. You know how much I love Jesus, and yet, to many people in His land, He was just a Carpenter's Son – not even merit of His own.
My niche (or people I want to impact) includes "moms who want to turn pain into purpose and passion into a paycheck, and want to create JOY, BALANCE, and SUCCESS without guilt, struggle, and overwhelm." Asking trusted moms who fit that description – or have in the past – would be my best bet.
After I got clear on The Positive Mom logo, I asked my mom followers on social media and email subscribers to choose between my final 3 choices.
I discovered that one of the fonts actually made them feel the opposite of what I wanted to convey. It was incredibly valuable feedback! So even after all the intentionality that went into my design, it was important to ask the experts: my audience.
If you follow these tips and advice, your logo design will serve as a fantastic branding tool that speaks for itself.
A credible logo will give you powerful recognition and will weigh in as an important factor in an individual's decision to trust you and your brand. And wouldn't that be nice?
Or as Gwen Stefany would say: "And tell me, boy, now wouldn't that be sweet?" LOL
What does your logo say about your brand? Share with us below!
Elayna is a homeschool educator, single mom of 4, founder of the Positive MOM Community, award-winning Storyteller, Story Strategist, and Student of Pain. She's a bestselling author, internationally acclaimed keynote speaker, and 3x TEDx speaker. To receive a gift from Elayna, click HERE.

Want to support the Positive MOM blog?
The mission of the Positive MOM blog is to help moms break trauma cycles, find peace, and feel emotionally whole, so they can practice supportive parenting and create a positive and healthy environment for their children. If you found Elayna's content valuable, please consider donating a love offering to enable her to keep creating content and helping more moms worldwide. Donate HERE.