It feels like yesterday when I found out I was going to be a mom for the first time. Having a child is such a defining moment and one in which you are overwhelmed with so many emotions. It is absolutely mind-blowing that my September girls, once bald-and-just-a-little-over-six-lbs babies, just turned 12 and 13… I have a teenage daughter – gasp!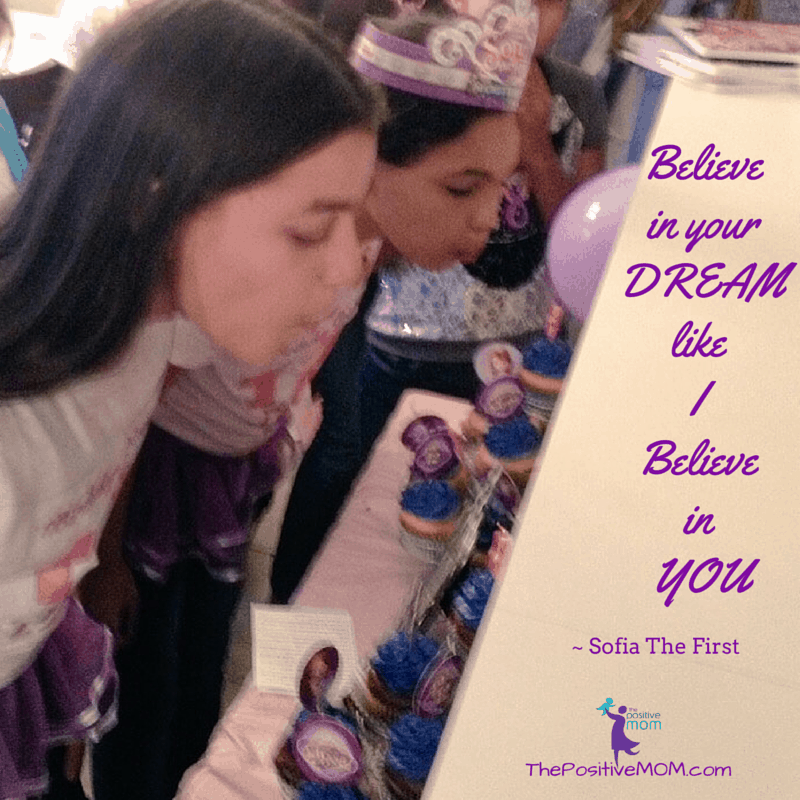 They truly challenge, teach, and inspire me to grow and become a better version of myself each day.
Needless to say, I really wanted to celebrate these amazing young ladies and wow them with a sweet, girly, and remarkable birthday party, just like them.
I knew that a "Dear Sofia" fiesta would be a great fit, because Sofia The First promotes friendship, bravery, courage, curiosity, creativity, adventure, loyalty, honesty, compassion, and grace, as well as other "royal attributes" that make for a true princess. I am humbled to know that my daughters embody these positive values and are passionate about teaching them to other kids, too.
I called it the "Sofia The First Princess Gathering," which combined some of the creative activities we love the most: writing, positive values, and selfies. LOL I pray that my memories inspire simple ideas to celebrate your special princess or princesses, too!
"The Scavenger Hunt"
Because I learned from my first party that you end up repeating yourself a lot, and you are bound to forget to tell someone something, I created a "scavenger hunt" checklist to hand out at the door that also acted as a program for the Royal Event. I printed the list in pink copy paper, and placed it in a frame that my husband had gotten for me at a garage sale (because it is silver with purple sparkles), which matched the cupcake holders perfectly. Here's what it said:
Here's how to have the most fun in this Royal Event!
Wear your crown/tiara and be yourself
Keep hydrated throughout the princess gathering
Write your "Dear Sofia" letter (when you mail it, she'll answer back!)
Wear your "I wrote Sofia a letter" sticker
Use the stamps, stickers, ribbons, tape, and glitter to create and decorate your princess journal.
Get a "Princess Portrait" taken ~ choose your favorite props! [use #DearSofia if posting online]
Fill out your "Amulet of Avalor" rewards certificate to receive bookmarks and book labels
Get a selfie with princesses Elisha and Elyssa
Sing "Happy Birthday" and enjoy a delicious vegan cupcake
Participate in the Royal group picture
Jump on the trampoline with your princess friends
Take your tiara, crafts, amulet, and Secret Library materials home with you!
~ * Enjoy! * ~
Can you believe all of that commotion? I had over 20 princesses (and just a few princes) completing this fun checklist – and overachievers as they are, they actually ended up hula-hooping and doing the limbo in the back yard, too.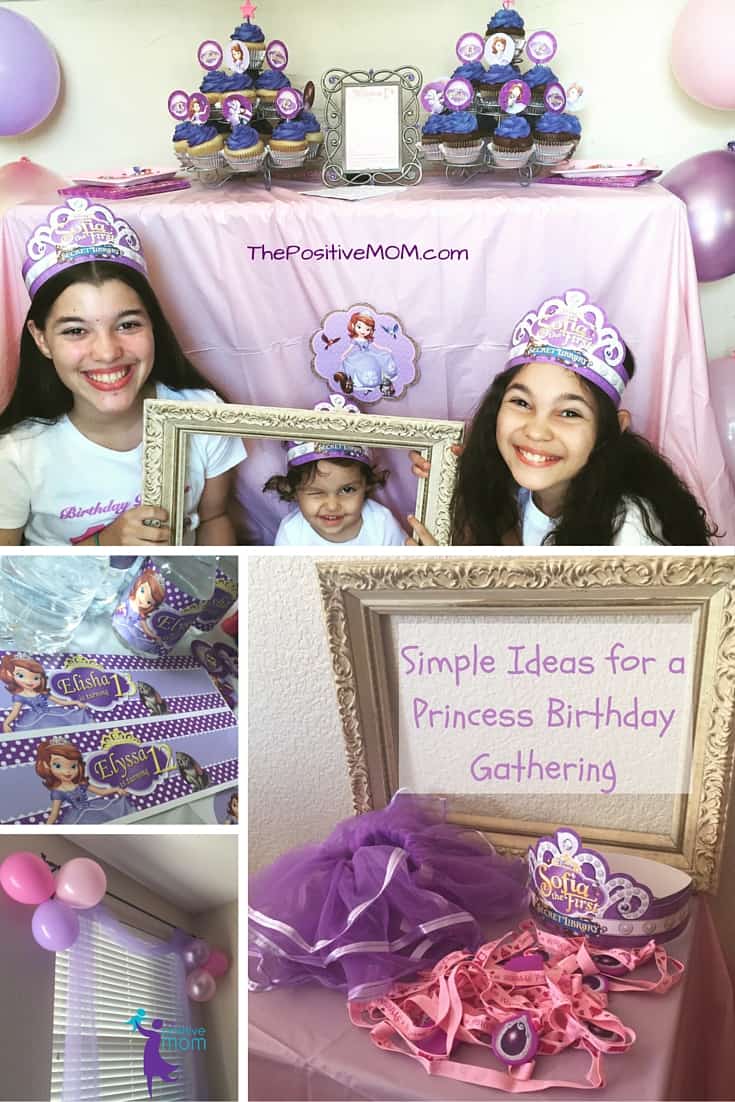 The EF Castle Decor

Instead of rearranging furniture and replacing entire walls with banners and decor, I simply replaced one window covering with 4 yards of purple tulle I found on sale, and a few balloons on each side.
I used plastic table cloths to protect the furniture, and I like that the girls can reuse them so mami can stay sane when they're painting their beautiful masterpieces.
For the selfie station, I used an old-Thrift-Store-bought backless frame, and a few tutus from a dollar store. A Sofia The First paper tiara and an Amulet of Avalor for each girl was in order!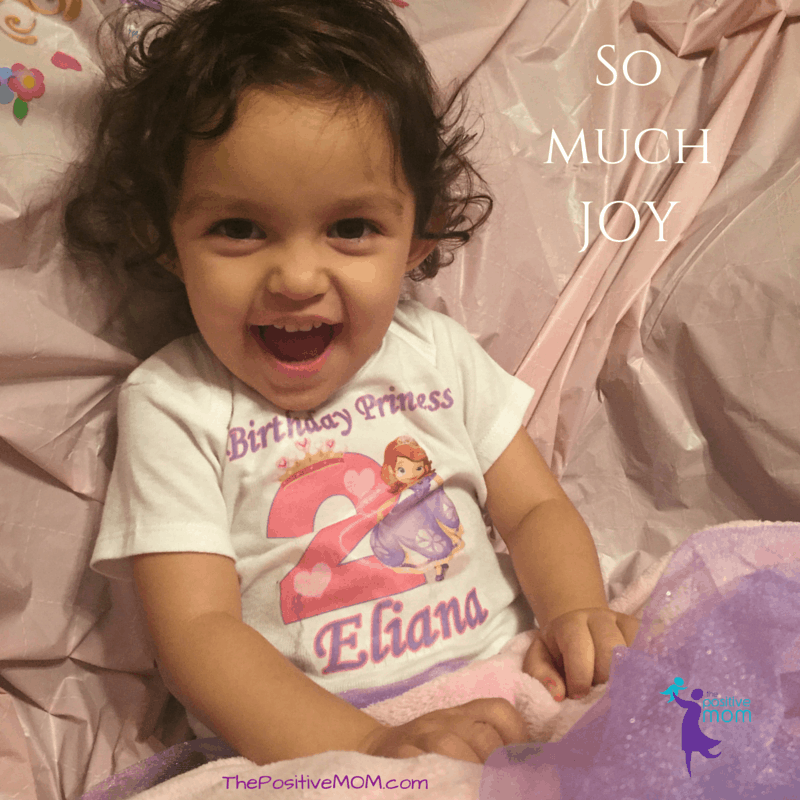 I got my three princesses each a Sofia The First birthday T-shirt (even Pige!) and again, ordered customized cup cake toppers and water bottle labels… because we don't do soft drinks or encourage others to, either.
Sofia The First Letter Writing Party
When I was a young girl, I had pen pals all over the world, and that was a very enriching experience. That practice has been somewhat lost with all the technology we enjoy these days (as brilliantly illustrated in this video by Tech Savvy Kids).
All the girls at our party wrote a letter to Sofia the First, some in English, some in Spanish, some in both. They giggled as they read each others' letters, and expressed their creativity decorating their correspondence with stamps, glitter, stickers, colored pencils, and more!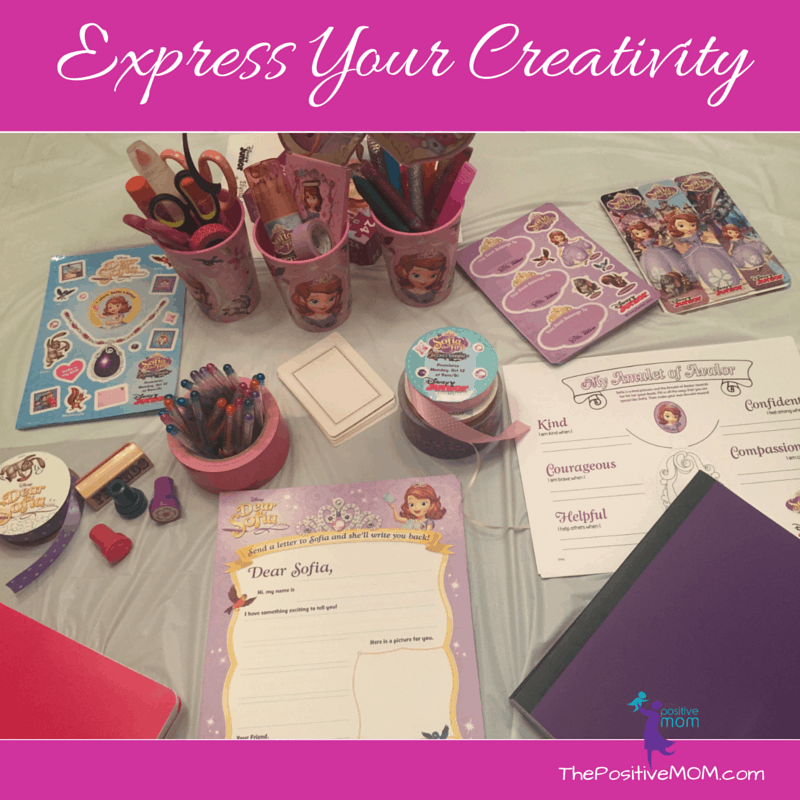 You can actually download the bilingual Sofia The First stationary at DisneyJunior.com/DearSofia, and I wasn't joking: when your children write to Sofia the First, she'll actually write them back! Of course, you know Enchancia is a kingdom far, far away, and snail mail… well, it's called that for a reason… so help your littles be patient as they wait for the royal reply. Watch this tender video to learn how you can share your family moments with her.
The DIY Princess Journal
Each guest at our Princess Gathering also received Sofia The First bookmarks and book labels, colorful mini pens, and the opportunity to create her very own Princess Journal.
All you need is a composition notebook, pretty duct tape, ribbon, and scissors. I am such a huge fan of composition notebooks, WIDE ruled – they get as low as $0.25 at the Back to School sales.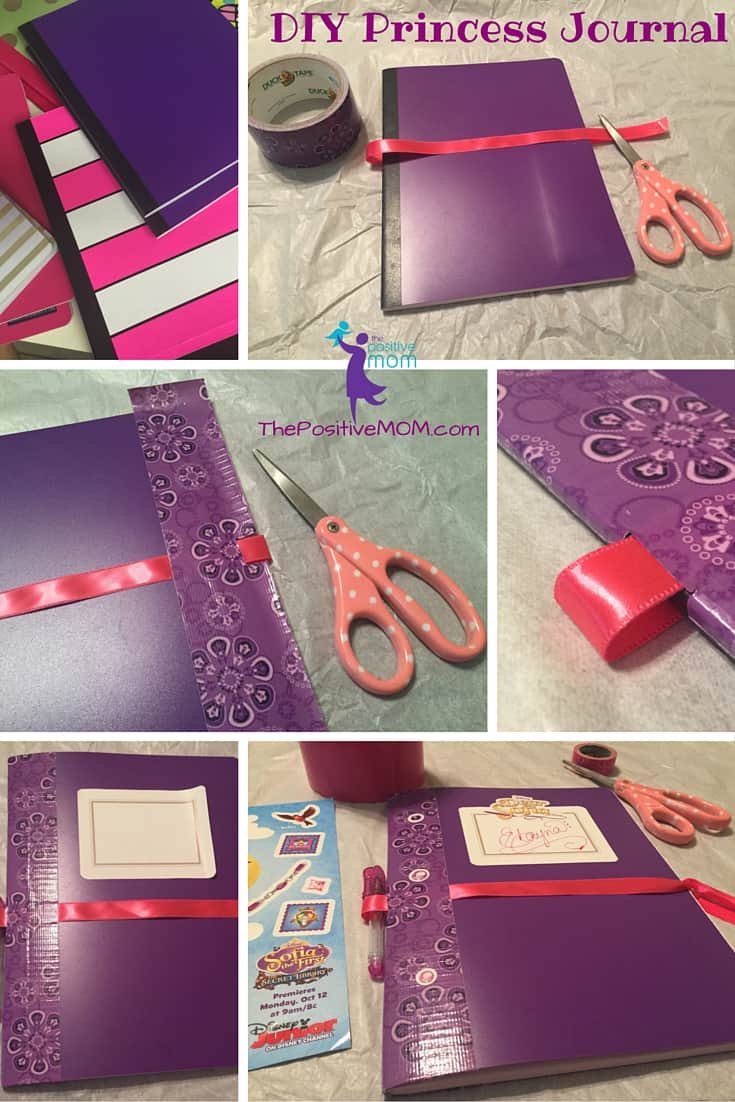 Pictured above is MY princess journal – I'm still a kid. Not pictured above is said journal opened to reveal that I decorated it upside down, so check that yours is correctly positioned before starting the project.
How to make your DIY Princess Journal (I mean, your child's):
Step One: measure the ribbon and place it where you want it to be so that it holds your favorite pen, and keeps your journal sealed.
Step Two: attach gorgeously colored duct tape to the binding of the composition notebook, cutting around the ribbon
Step Three: Add an adhesive label, and some of your favorite stickers and bling.
What do you think? If you love it, pin it – and make your own! Everyone ended up with a significantly different journal, and felt inspired to write stories, ideas, lists, notes, and more!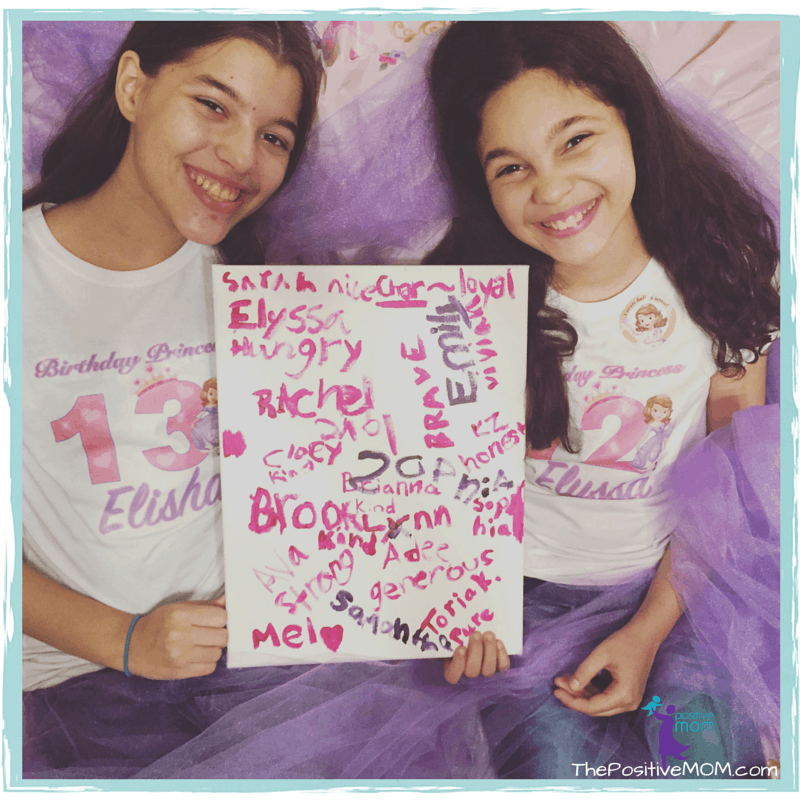 We certainly enjoyed every moment of the party… and Friday was a great choice, because there is no School on Saturday, and there is church on Sunday. And besides the cherished moments all the princesses shared together, they also compiled a canvas with their names and royal qualities they embody. It's such a great keepsake!
Are you thinking of throwing a Sofia The First themed party? If you love her, or are intrigued by her, you can tune into Disney Junior to follow her latest royal adventures: Sofia the First ~The Secret Library, featuring a special appearance by Merida from Brave, which premieres Monday October 12 at 9am/8c on Disney Junior on Disney Channel.
And to close, I just have to say we were blessed to have Sarah, Theo, Rachel, Ava, Esme, Sophia, Emerick, Sophia, Samantha, Emma, Melanie, Emily, Vivian, Brooklyn, Toria, Brianna, Tyler, Haley, Adeline, Chloe, Charlotte, Chelsea, Kendra, Velvet, Ruby, Fiona, Yulia, and Elyssa over, and we are so grateful for their friendship, time, and generosity. You are royalty!
Please share your thoughts with me below. Sending you a royal wave!
[ela]