The word VISION is a noun from late 13c. meaning "something seen in the imagination or in the supernatural," from Anglo-French visioun, from Latin visionem (nominative visio) "act of seeing, sight, thing seen," other roots indicate "to know" or "to clearly see," which denotes a deeper meaning beyond the sense of sight, which was introduced a lot later.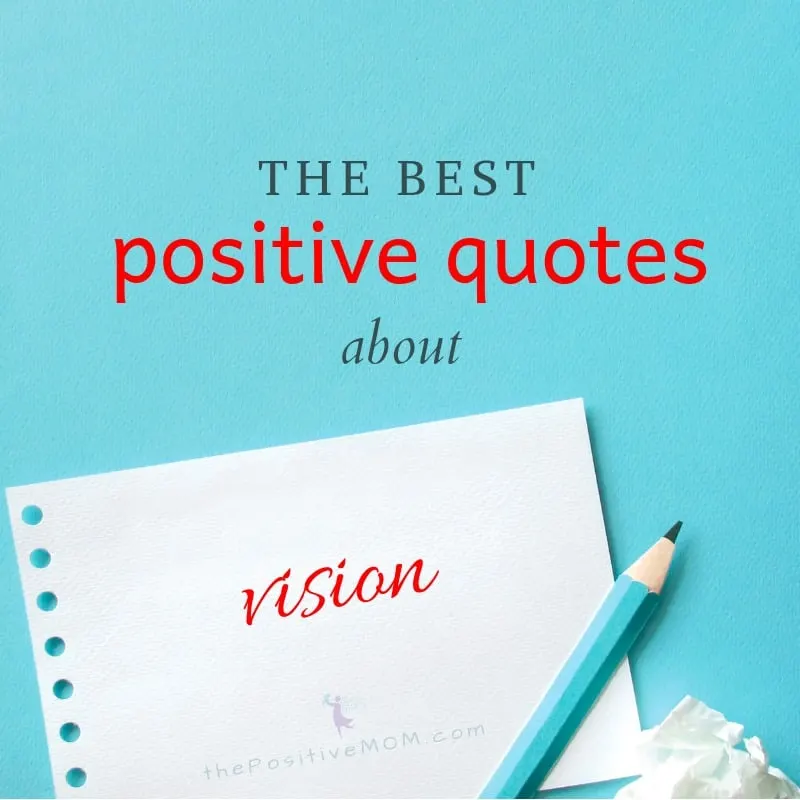 VISION is one of my 5 Positive Principles For A Magic Life! Everything is created twice and when you create a vision, you create your life.
The Bible says that "without vision, people perish." We each have a vision of how our life will or could be and it is directly linked to our perceived identity and sense of deserving.
We sometimes use our imagination to terrorize ourselves with worry and worst case scenarios, and these positive quotes about vision inspire us to use our mental faculties to imagine the best possible life we can live, instead.
Having a clear vision is a tool I've used to design the life I desired, and if I can do it, anyone can!
Positive Quotes About Vision
"The more boundless your vision, the more real you are." ~ Deepak Chopra
"Create a vision for the life you really want and then work relentlessly towards making it a reality." ~ Roy T. Bennett
"Definiteness of purpose is the starting point of all achievement." ~ W. Clement Stone
"Champions get what they want because they know what they want. They have a vision that keeps them motivated and efficiently on track. They see it, feel it, and experience it in their minds and hearts. What is success for you? You won't get there without knowing what it feels and looks like." ~ Dr.Phil
"You will serve. Either someone else's vision and purpose, or your own." ~ Alan Froggatt
"What we see depends mainly on what we look for." ~ John Lubbock
"In order to carry a positive action we must develop here a positive vision." ~ Dalai Lama XIV
"Speak with intent so that you can lead with vision." ~ Paul Larsen
"Leadership is the capacity to turn vision into reality." ~ Warren Bennis
"Winning requires a crystal clear vision, relentless passion and complete dedication with No Excuses." ~ Farshad Asl
"All you need is a vision and everything else will fall in place. Trust me" ~ Charmaine J Forde
"Where there is no vision, there is no hope." ~ George Washington Carver
"Your heart is able to see things that your eyes aren't able to." ~ Kholoud Yasser
"You have to see reality in order to have a vision, otherwise you just have dreams." Elyssa F.
"The person who see the difficulties so clearly that he does not discern the possibilities cannot inspire a vision in others." ~ J. Oswald Sanders
"Just give me a thousand words and you may make your own pictures." ~ Erica Goros
"A country without vision runs to every direction." ~ Toba Beta
"Good leaders have vision and inspire others to help them turn vision into reality. Great leaders have vision, share vision, and inspire others to create their own." ~ Roy Bennett
"The tower of success stands on the pillars of vision, action, patience and the character to withstand criticisms." ~ Amit Ray
"The most pathetic person in the world is some one who has sight but no vision." ~ Helen Keller
"If the doors of perception were cleansed, everything would appear to man as it is – infinite." ~ William Blake
"Nothing is more imminent than the impossible . . . what we must always foresee is the unforeseen." ~ Victor Hugo, Les Misérables
"Live your vision and demand your success." ~ Steve Maraboli
"Unity is vision; it must have been part of the process of learning to see." ~ Henry Adams
"Those who look behind will never see beyond." ~ Sherry K. White
"How you look at it is pretty much how you'll see it" ~ Rasheed Ogunlaru
"I never hit a shot, not even in practice, without having a very sharp in-focus picture of it in my head." ~ Jack Nicklaus, World Champion Golfer
"At the moment of vision, the eyes see nothing." ~ William Golding
"A goal is not always meant to be reached, it often serves simply as something to aim at." ~ Bruce Lee
"If I paint a wild horse, you might not see the horse… but surely you will see the wildness!" ~ Pablo Picasso
"He who looks through an open window sees fewer things than he who looks through a closed window." ~ Charles Baudelaire
"Discovering what you really want saves you endless confusion and wasted energy." ~ Stuart Wilde
"As you become more clear about who you really are, you'll be better able to decide what is best for you – the first time around." ~ Oprah Winfrey
"Vision is the art of seeing what is invisible to others." ~ Jonathan Swift
"The very essence of leadership is that you have to have vision. You can't blow an uncertain trumpet." ~ Theodore Hesburgh
"Without vision, even the most focused passion is a battery without a device." ~ Ken Auletta

If you had a magic wand, what would you love to create? I encourage you to take the time to think and write out a detailed vision for what you want your life to be, for the word is the beginning of all creation.
[ela]