I've been sharing so many amazing memories from my latest Disney press event in Los Angeles. Tomorrow, Disney*PIXAR's Coco finally opens in theaters in the USA and I'm so excited for everyone to see the film and be inspired by its themes of life, tradition and family love.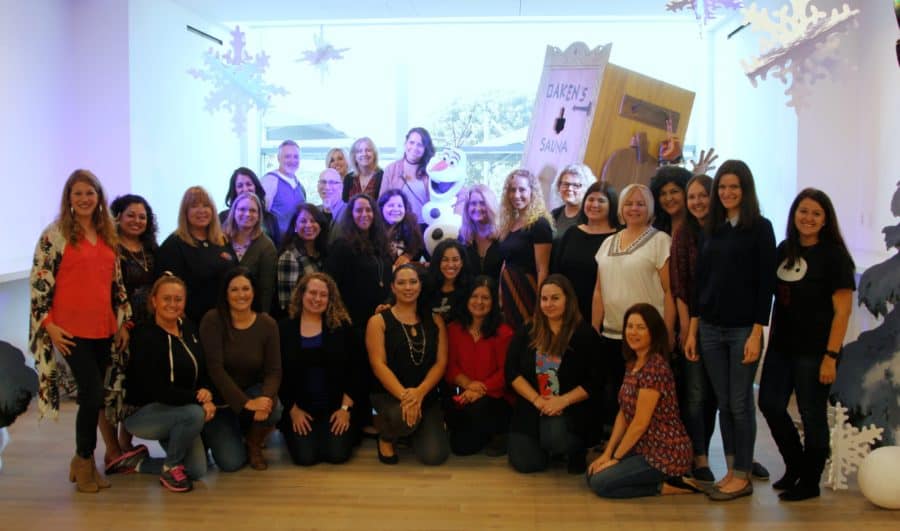 And "Olaf's Frozen Adventure!" will be opening with Coco FOR A LIMITED TIME in theaters, which makes a lot of sense because this 21-minute featurette teaches us what the winter holidays are really all about.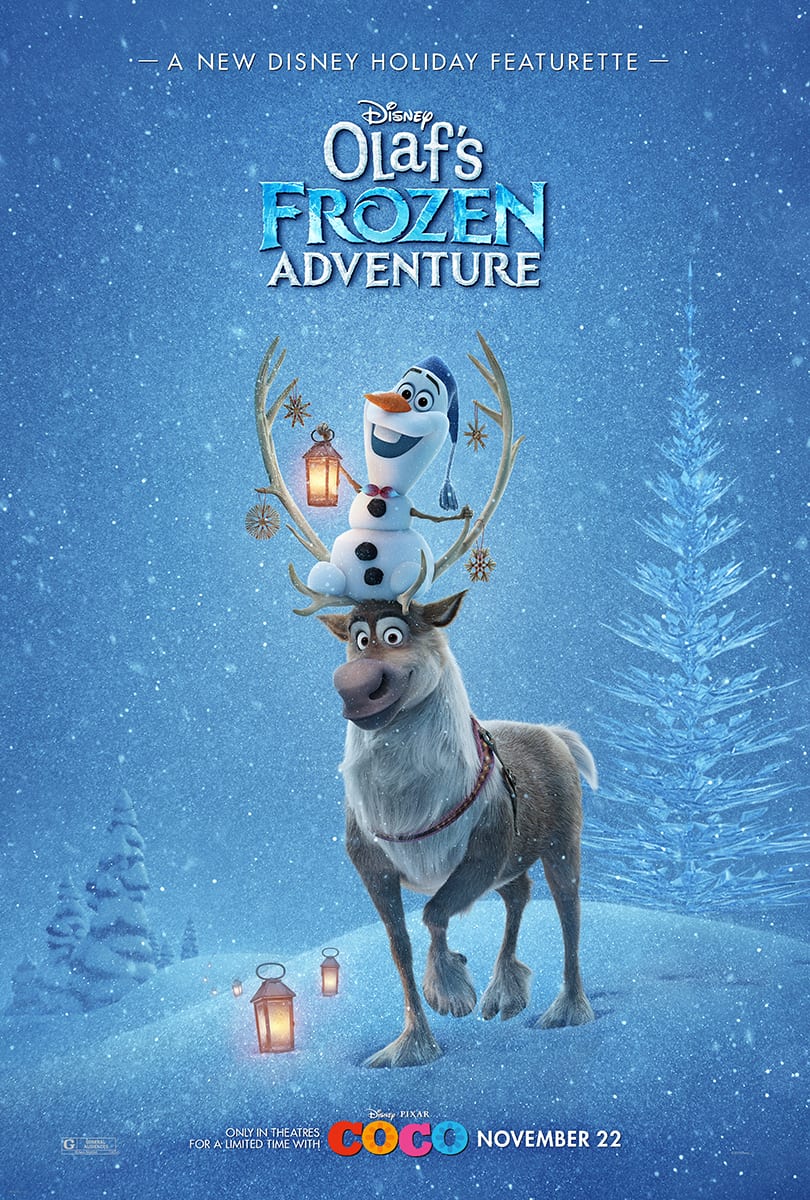 I became excited about "Olaf's Frozen Adventure!" since I saw an early preview at D23 Expo. John Lasseter announced that the original cast and characters would be back to the big screen and I just couldn't believe it.
You will once again see our friends Olaf (Josh Gad), Anna (Kristen Bell), Elsa (Idina Menzel) and Kristoff (Jonathan Groff), and they're funnier and more charming than ever!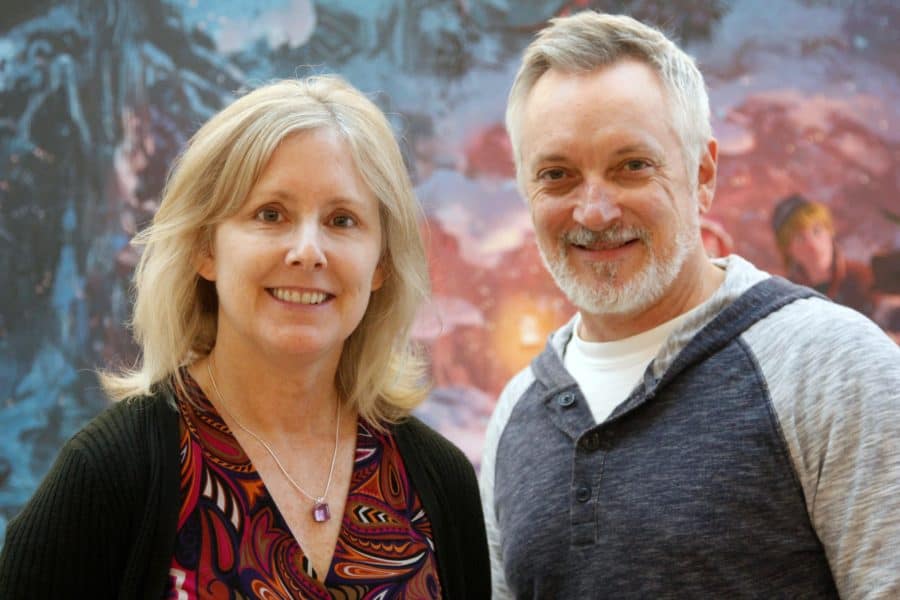 I sat with Emmy-winning Directors Stevie Wermers-Skelton and Kevin Deters (Prep & Landing), Producer Roy Conli (Big Hero 6 / Born In China), and Songwriters Elyssa Samsel and Kate Anderson ("Between the Lines") for a Q+A inside a small theater room at Walt Disney's Animation headquarters in Los Angeles and learned some amazing fun facts behind "Olaf's Frozen Adventure!"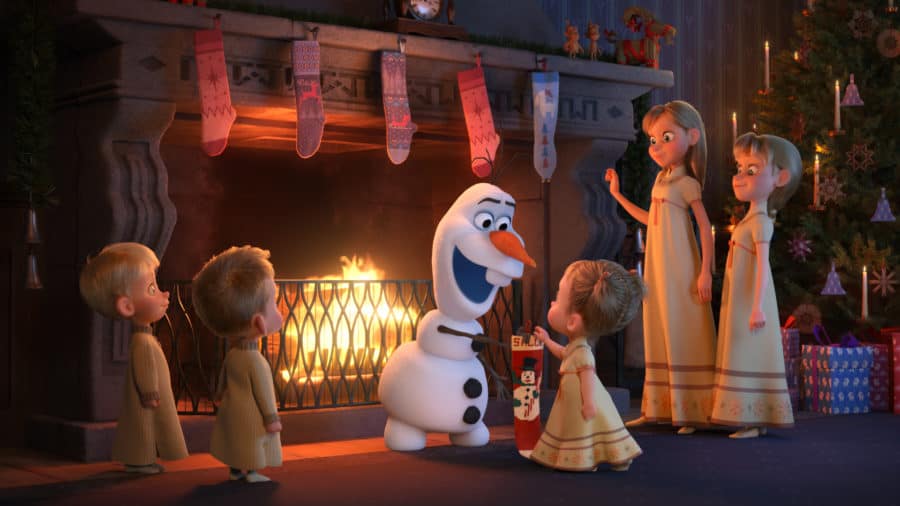 There are four new songs in the Olaf's Frozen Adventure soundtrack (which is available for purchase now!).
"Ring in the Season" performed by Kristen Bell," which is the opening song we see in the trailer, when we learn the plot behind the Olaf's Frozen Adventure featurette: the holiday season is about to begin in the kingdom of Arendelle for the first time since they opened up the gates. It's Christmas and Elsa and Anna discover that everyone has a tradition, but they don't, so Olaf enrolls "his associate" Sven to go on an epic Frozen adventure to find "the best traditions Anna and Elsa have EVER seen!" I loved seeing that Kristen Bell sings this song because she's the one who revealed this plot to us at D23 Expo!
"It breaks Olaf's tiny, icy heart to see the girls so sad! – she said.
I just adore Olaf. I could relate to him so much that I cried and cried and cried. His only motivation in life is to make those girls happy, and he's like a mom in that sense. Frozen has always been about family in both the traditional and non-genetic sense of the word. No, Anna and Elsa are NOT adopted by Olaf, but you can just feel his nurturing love for them and how much he cares.
As a matter of fact, Director Kevin Deters told us that they saw Olaf as a little kid in this story and he could relate because he's a father of three.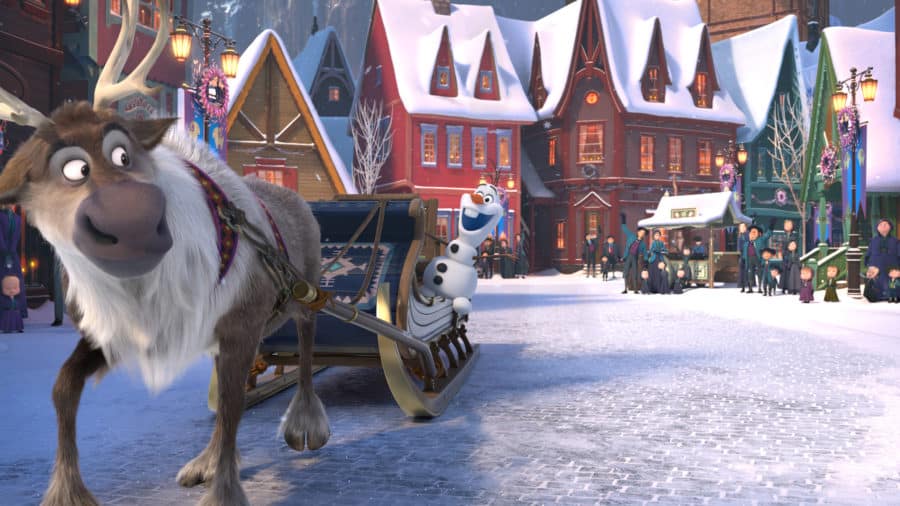 And Sven is also part of the family (He's Roy Conli's favorite character, too!).
"That Time of Year" performed by Josh Gad, which is a very high pitch song – Very Olaf! Director Kevin Deters joked that Josh Gad was saying it was too high of a song "just to get pity!"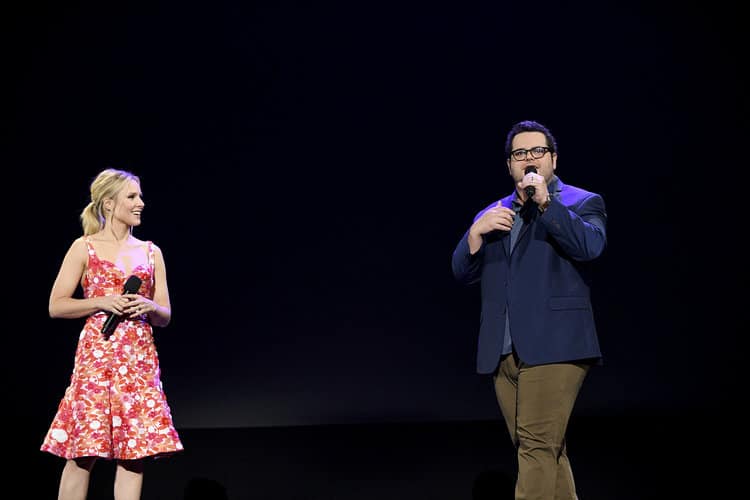 You could feel the chemistry the creators, songwriters, and cast have is amazing! Roy Conli even said he considered Kevin Deters and Stevie Wermers his brother and sister, and Kate Anderson and Elyssa Samsel as "geniuses."
Anderson and Samsel, in turn, credited writer Jac Schaeffer who would send them a wealth of resources they were free to put into their lyrics, the cast, whom they dubbed "the most incredible vocalists!," as well as the inspiration they received from listening to the original score and soundtrack of Frozen "for hours and hours."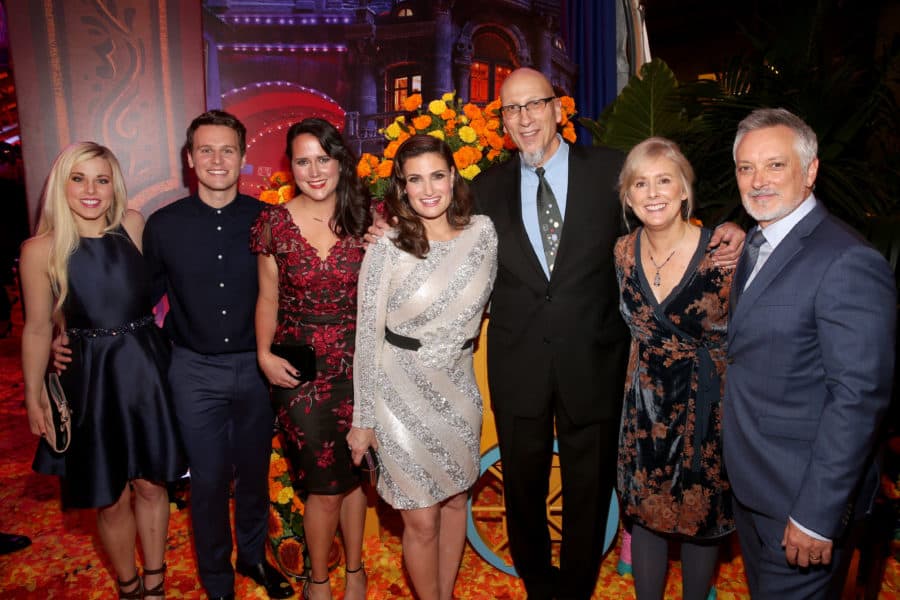 "The Ballad of Flemmingrad," performed by Jonathan Groff, which is the funniest and only available in its full length on the soundtrack (at least for now).
There is so much humor in Olaf's Frozen Adventure! You could see in the trailer that our silly and favorite snowman Olaf goes into Wandering Oaken's sauna for a break. It gets better!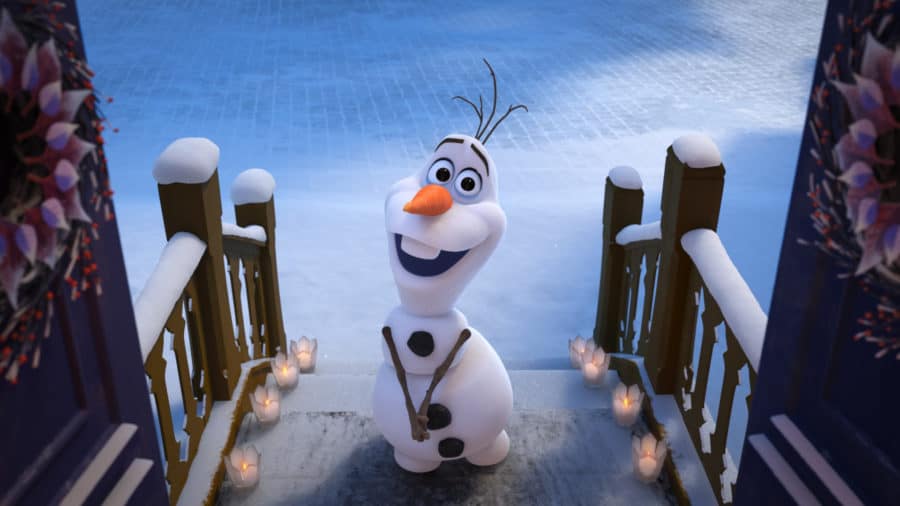 Some outrageous storylines were considered and pitched to John Lasseter! Like Olaf's Hawaiian Adventure, or Olaf getting stuck in a crevasse like James Franco's character did in 127 Hours.
Roy Conli confessed they had researched idea of having Olaf host a Christmas show, too! They "studied every Christmas special possible – from Perry Como to The Osmonds, to Bing Crosby!" he said.
Unfortunately, it was a challenge to keep Olaf's Frozen Adventure as short as 21 minutes, so they had to cut a character out. Mr. Jingles was a companion yule goat to Olaf in his journey. Who knows whether we will see this footage sometime in the future?!
But some fun cameos made the cut, though:
Stevie Wermers voices the Candy Cane Kid's mom.
The Candy Cane Kid is voiced by Kevin Deters' son.
Elyssa Samsel is the voice behind a kitten.
Kate Anderson plays "The Cookie Lady."
Of course, Ray Conli had his easter egg, as well. If you look closely at Olaf's sleigh in the film, you will see Baymax's arm!
"When We're Together" performed by Idina Menzel, which is the most epic, and took the longest to write. It was also the most challenging since the dynamic Samsel-Anderson duo was under a bit of pressure: "Write the next 'Silent Night'," they were asked jokingly by John Lasseter. High stakes indeed – but I think they did it!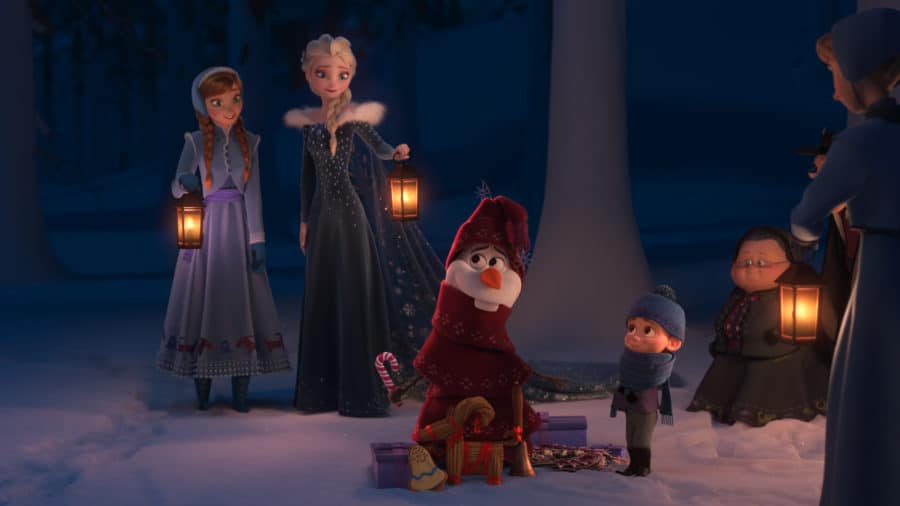 They went through 4 or 5 stages of this song until it felt right. Until they got "that feeling that we can all connect to."
Like any good Disney animated film, Olaf's Frozen Adventure is a short film that is filled with all types of emotions, the kind that give you a warm feeling, kind of like the hugs Olaf likes. You will definitely connect to it… guaranteed!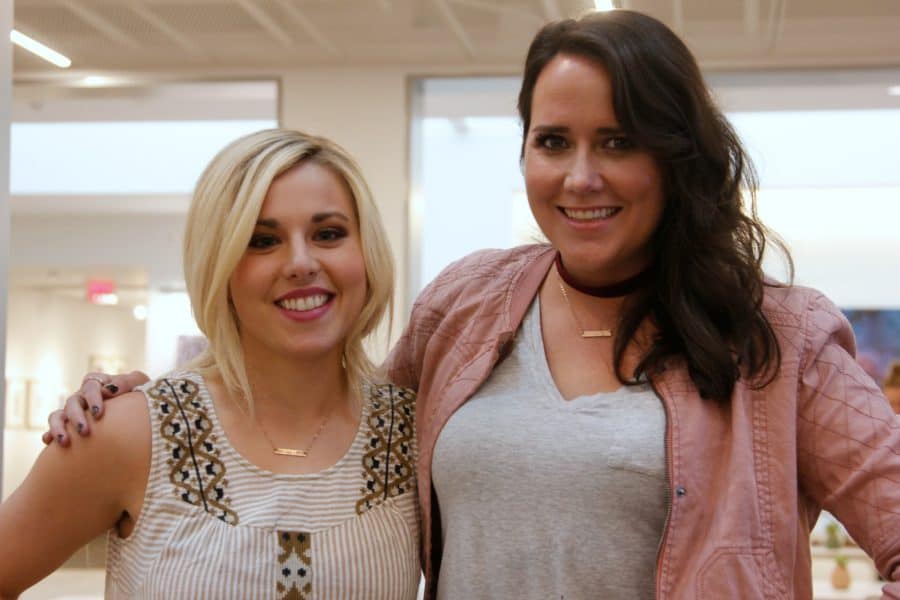 You don't have to lose a loved one, have a blended family, or have a rocky history with someone you love to connect with this short film. For me, it was remembering how I came to this country with a small carry-on bag, leaving all my traditions behind (I just choked up again just thinking about it), and then again celebrating Christmas for the first time as a single mom when Elisha and Elyssa were one and two.
Roy Conli told us that, in their research, they "looked at winter holidays throughout the world," because "the movie is about tradition and family."
There are many Scandinavian motifs in Olaf's Frozen Adventure (Stevie Wermers told us to look at Elsa's dress and for a certain cookie!), like St. Lucia's Day -the festival of lights celebrated in Sweden, Norway, and some areas of Finland- and the Yule Bell you see in the trailer is traditional to start the family festivities in Nordic countries. But Director Kevin Deters assured:
We embrace Frozen as an all-inclusive world and universe. Arendelle is a fictional fantasy land that welcomes people from all faiths and all walks of life.
What a beautiful concept – don't you wish it was not fictional?
When We're Together is one of those sentimental songs that can make you sob because it goes right to the heartstrings. The songwriters told us that they discussed what the winter holidays really boil down to, and they understood that being together is more important than any tradition or tangible thing you can get or do. I definitely agree with that!
What winter holidays do you celebrate? What is meaningful behind your celebration? I'm excited to hear about your family traditions you in the comments below.
Make sure you see Olaf's Frozen Adventure in theaters while it's there! We fell in love with these friends from Arendelle in November 2013 (with over $1.2 billion in the box office), and Frozen 2 (unofficial name) will be back on the big screen in November of 2019, and it will reunite filmmakers Jennifer Lee, Chris Buck and Peter Del Vecho with the Grammy- and Oscar-winning songwriting duo Kristen Anderson-Lopez and Robert Lopez! Olaf's frozen Adventure will make the wait seem a bit shorter – and memorable!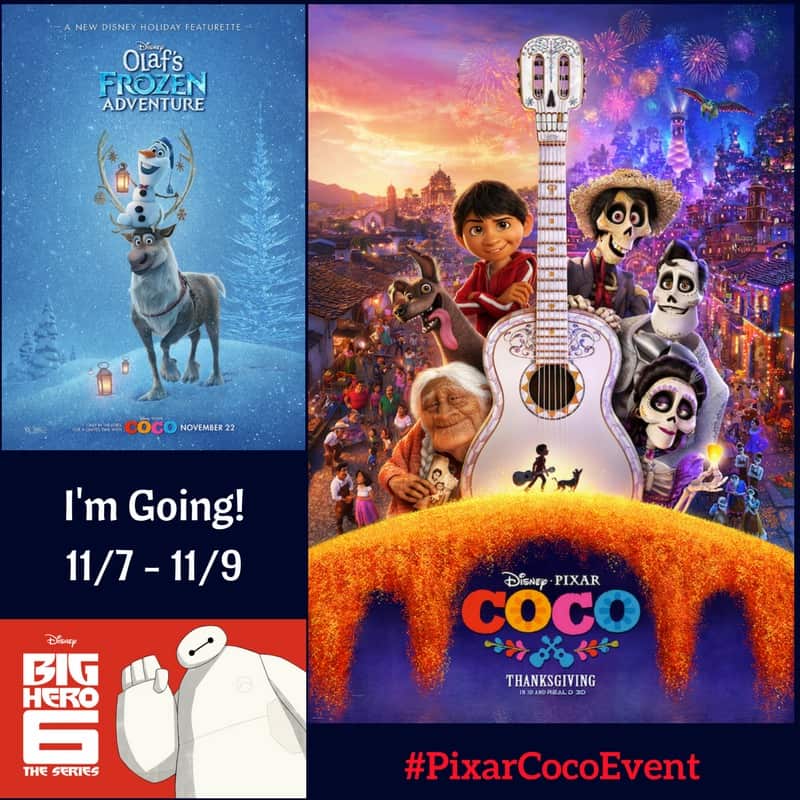 For more on Olaf's Frozen Adventure, on social media using #OlafsFrozenAdventure and #PixarCocoEvent!
My mission is to help moms find peace, break cycles, and feel whole so they can be present, peaceful, and positive moms. To receive a gift that can get you started on that journey click HERE.


Group photo by Silvia Martinez | Stills courtesy of Disney