TODAY is THE DAY! Disney•Pixar's "Coco," opens in U.S. theaters everywhere, beautifully paired with Olaf's Frozen Adventure, both reminding us of the importance of our family traditions! Head to Fandango and Atom to get your ticket (you can thank me later!).
Besides having the blessing of attending Disney•Pixar's "Coco," Hollywood Red Carpet premiere, during my latest Disney press event, I was also showered with gifts from the all-new Disney•Pixar's "Coco," merchandise line.
Receiving gifts is not my love language, but I was so overwhelmingly happy for all the amazing Coco products and so were my daughters when they opened up the reusable tote full of goodies I brought back home!
There are many designated gift-giving holidays you celebrate and gift-giving traditions you may follow, and some people just love giving gifts and or receiving gifts, so I wanted to share something I've been pondering about:
why do some gifts feel blah or even awful to receive?
why do some gifts make for memorable moments and experiences that warm your soul?
how can we make giving traditions more meaningful?
There are 3 questions I think are key to giving meaningful gifts on any occasion and invoking joy and gratitude.


What gift would help the gift recipient feel seen? It's a human need to want to be seen, heard, understood, and to feel that others care about and know what we want or need, what we are going through, and what carries special meaning to us.

What gift would be helpful and useful for the gift recipient? There's a warm feeling that comes from anything that reflects someone knows our interests and has taken the time, thought, and effort to tailor the gesture to something that really matters to us, whether that carries conventional practicality or not.

What makes the gift recipient smile? With everything we go through and struggle with as humans, we never smile or laugh enough, so when someone goes the extra mile to help us feel a little more joy in our lives, it really counts and goes a long way.
Celebrate the fantastical wonder of Coco with this soft figure of its hero Miguel. His hoodie sweatshirt has a working zipper and features a felt face paint mask that makes him look just as he does in the movie.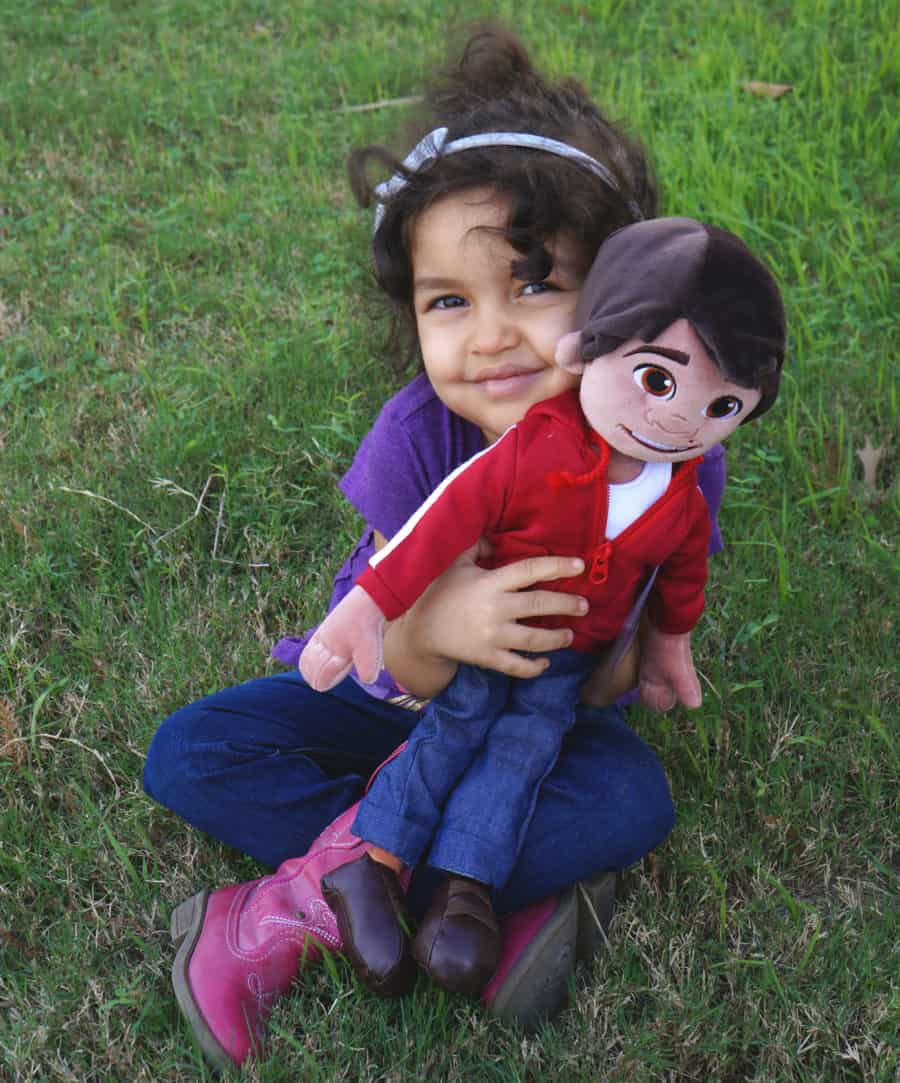 Eliana takes it everywhere and it's made conversations about life and death easier and stress-free.
Celebrate the epic musical adventure from PIXAR, Coco, with this singing figure of its star Miguel. He comes with a guitar and two interchangeable heads, one with festive face paint.
This is a big favorite of mine and makes for a meaningful gift to any little one because all kids love music. The song lyrics are a wonderful gateway to fostering bilingualism, which affords so many benefits in childhood!
Señoras y señores, buenas tardes, buenas noches
Buenas tardes, buenas noches, señoritas y señores
To be here with you tonight brings me joy, que alegria!
For this music is my language and the world es mi familia
I've heard these lyrics a hundred thousand times but it's cute each time. I confess there are certain musical toys that make you want to bang your head against the closest hard surface, but this is certainly not one of those. Anthony Gonzalez' voice is such a treat!
Disney*Pixar Coco Merchandise ~ Funko POP figures
When I visited my friend Trent in Utah, I realized he has a huge collection of Pop! Vinyl Figures. I was so sad that I brought him a gift he already had! So this time around, because I knew he already had a Funko POP Miguel and Funko POP Ernesto, I am sending him a Funko POP Hector to help him celebrate the fantastical wonder of Pixar's Coco!
As a chase variant special edition, Pop! Vinyl fans have a one-in-six random chance to get Miguel without his face paint – that is AHmazing!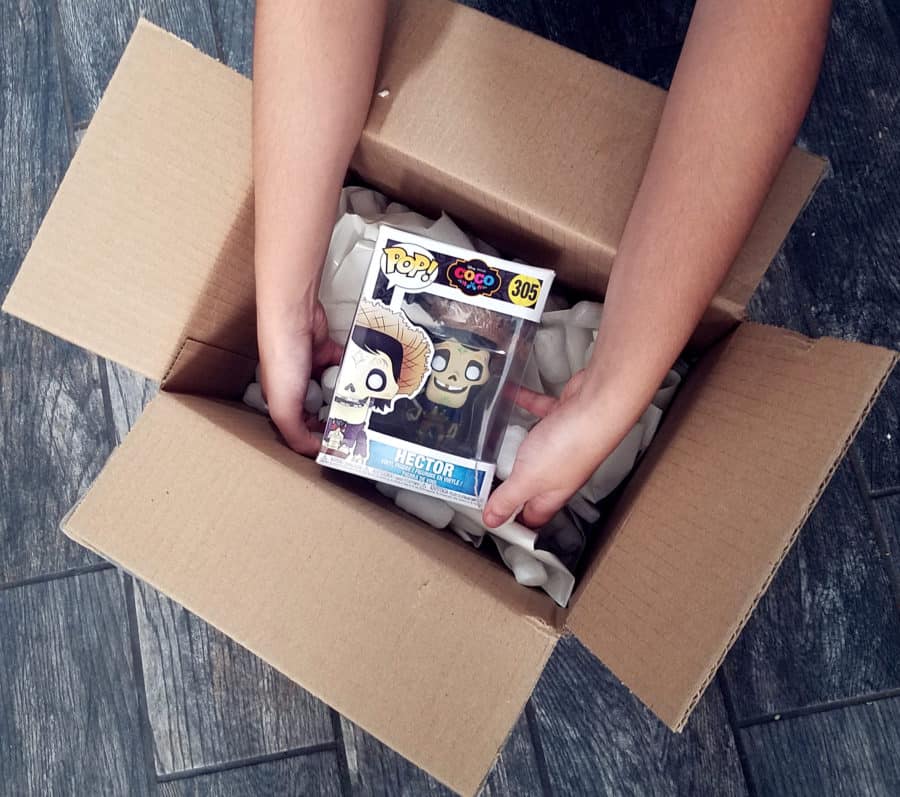 I am so looking forward to seeing the three figures together as part of his collection!
Disney*Pixar Coco Merchandise ~
Miguel Mug
Celebrate the wonder of life and remembrances of the past with this charming, colorful mug inspired by PIXAR's Coco. With its guitar and festive design themes, this mug is sure to become a morning favorite. And because I love me my Abuelita hot chocolate, I am keeping this one to myself.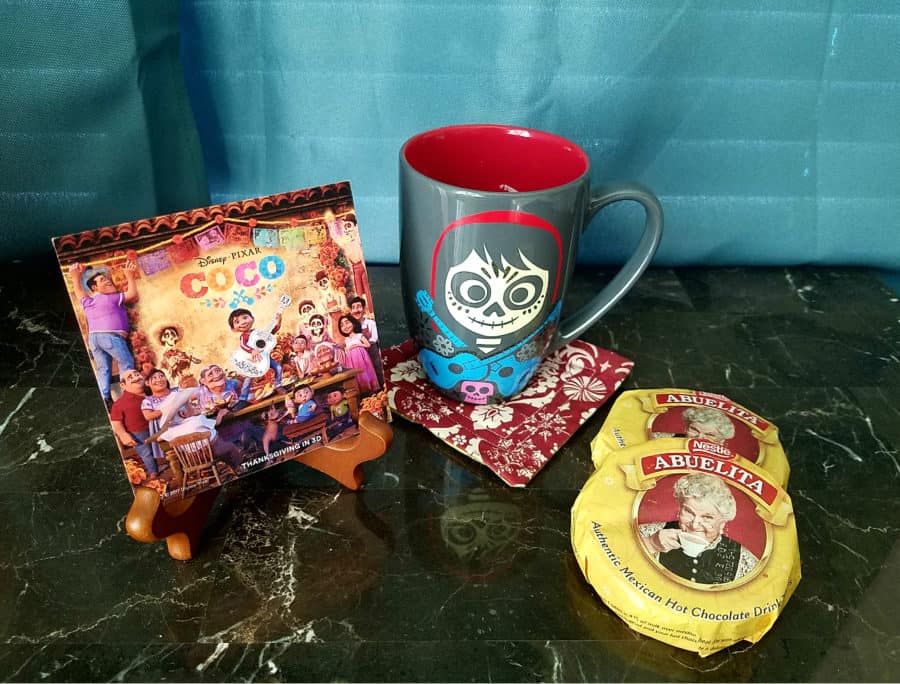 This gift is meaningful to me because it reminds me of Mamá Lidia, my dad's mother. She passed when I was just a little girl and one of the fondest memories I have of her is going to her finca (land) and "helping her" harvest cocoa beans and making pure raw chocolate! A Día de Los Muertos inspired mug is perfect to honor this memory!
Disney*Pixar Coco Merchandise ~

Coco Journal:

Celebrate the magical, musical adventure of Coco with this cool, colorful faux leather journal. Embroidered cover details and over 150 lined pages make this a treasure for life.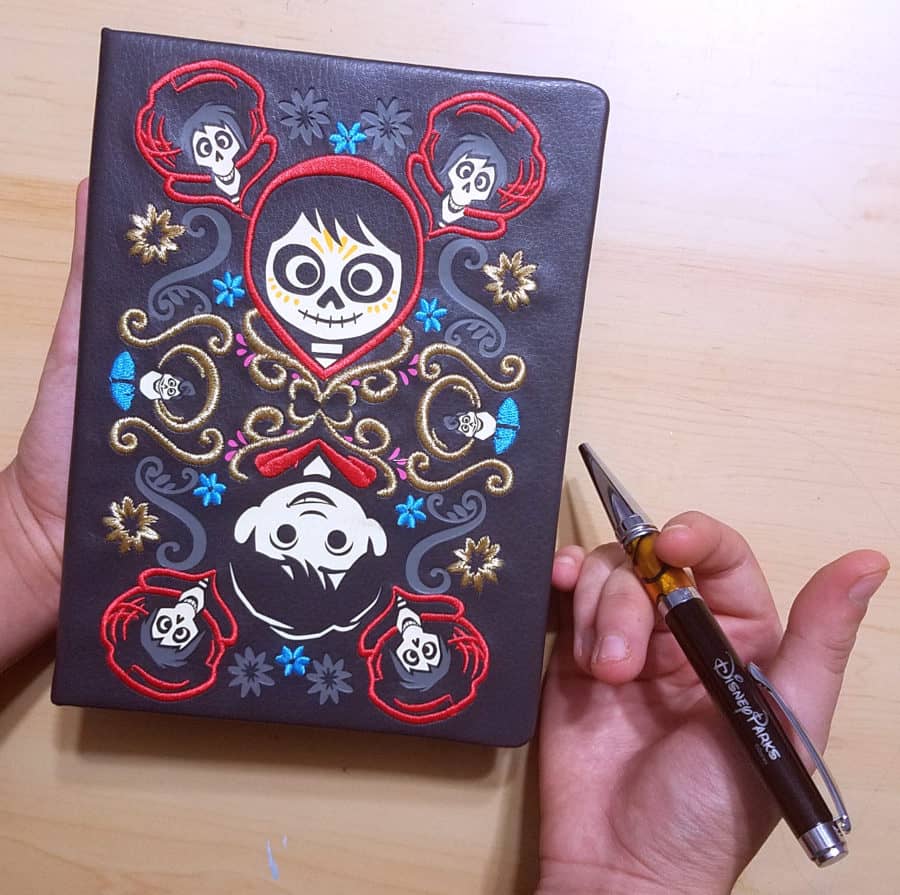 Journals always make meaningful gift because they help you remember and be remembered. Whether your gift recipient uses it as a diary or for self-reflection entries, you will be part of their personal growth.
Inspired by PIXAR Animation Studios' latest film, Coco, this middle-grade novel retells the story of Miguel's daring adventure and features exciting new scenes about his family. I think this was the item Elisha and Elyssa were most excited about. It's hard to tell with all the screams.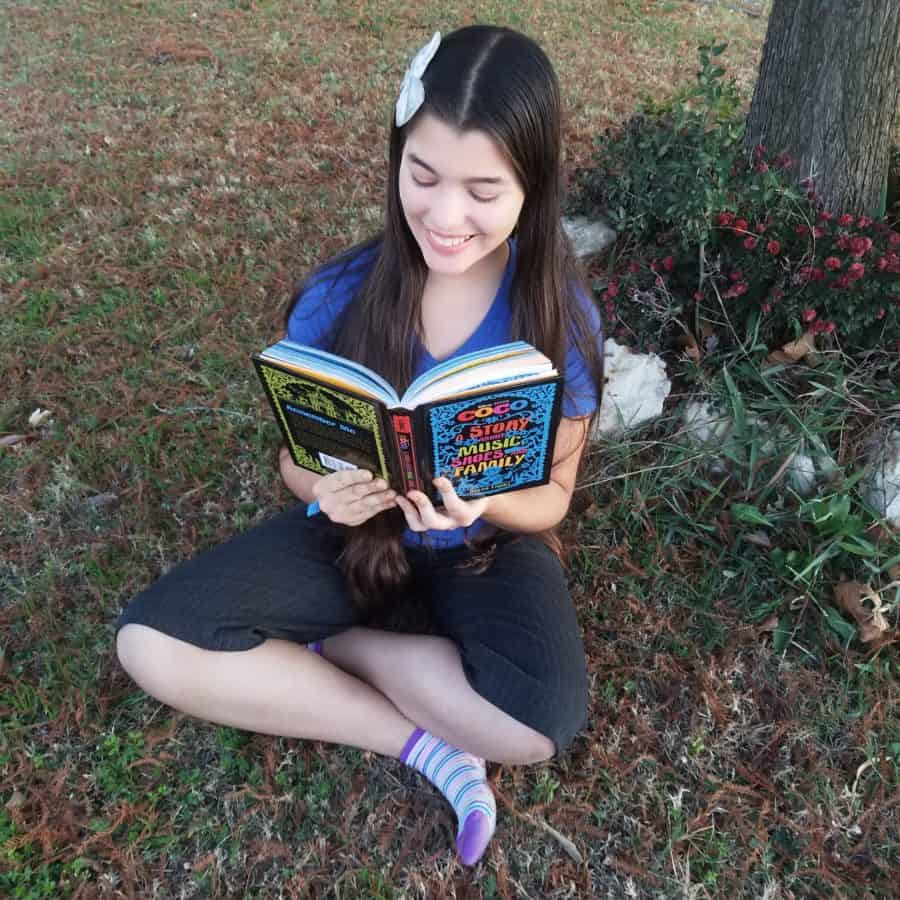 It's an empowering, inspiring, entertaining read for your not-so-little ones – and that's meaningful in itself!
Featuring a beautiful original story based on the characters of PIXAR's Coco, as well as vibrant stylized artwork.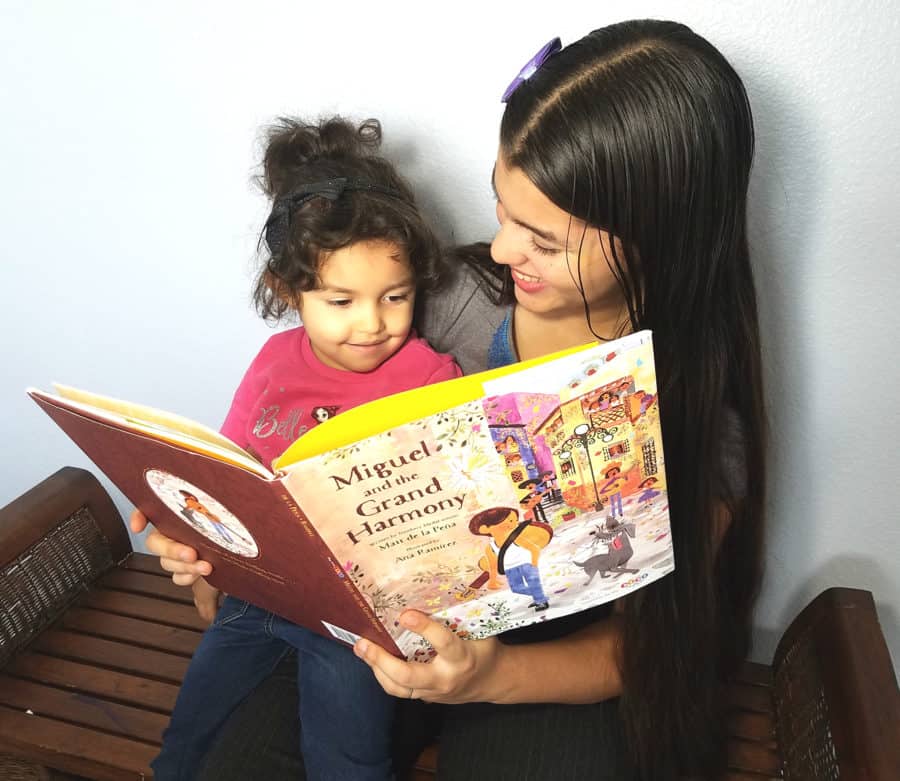 Miguel and the Grand Harmony is sure to appeal to readers of all ages. It is an exquisite present for sure and what's even better is that there's a Spanish version too: Miguel y la Gran Armonía is also on sale for your gifting pleasure. Having both versions is a must for us so that the girls can learn how to properly translate from one language to the other.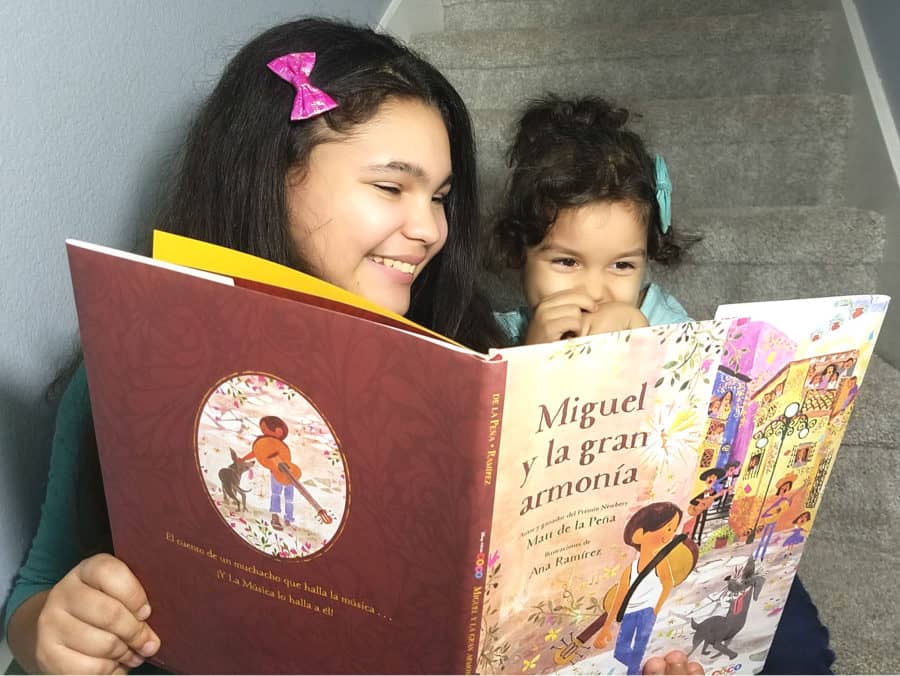 In our family, being bilingual is extremely important and meaningful because my daughters need to know both languages to communicate with the whole family. I feel blessed that they understand my dad because his wise words make everything better – and more fun, too!
This beautifully illustrated Little Golden Book retells all the excitement and adventure of Disney/Pixar's Coco. It's perfect for children ages 2 to 5. This stage is sensitive for learning language, so you would be giving a child one of the most meaningful gifts of all by reading to them or with them!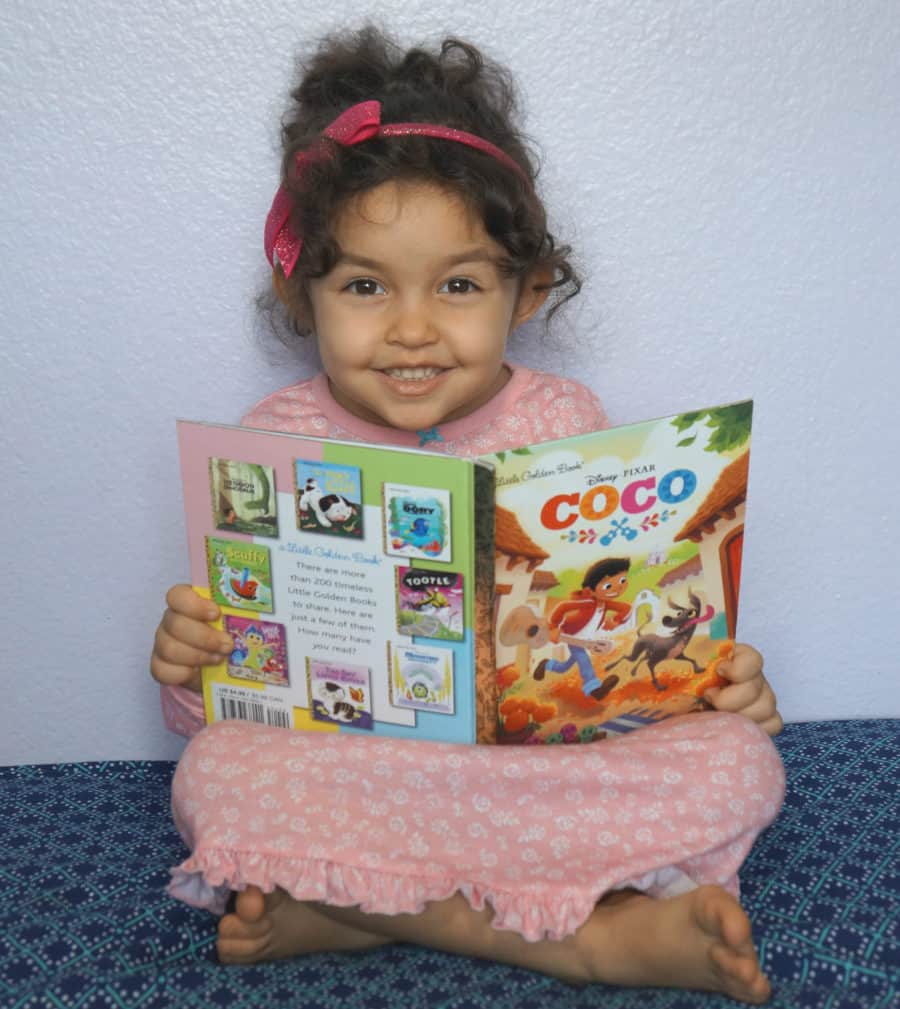 Eliana is an avid reader, so she has read this little book on her own a lot of times, but I also insist in reading with the little ms. independent!
Disney*Pixar Coco Merchandise ~
Coco Soundtrack
:
Make PIXAR's colorful family adventure sing with this Coco Soundtrack CD. The collection includes the film's signature song Remember Me by Kristen Anderson-Lopez and Robert Lopez.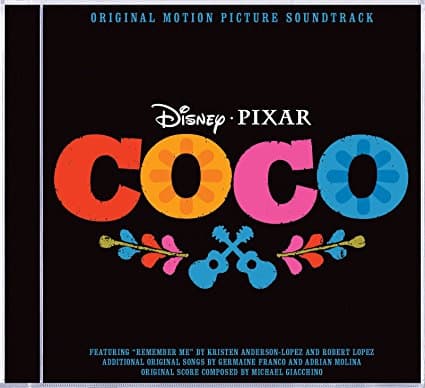 Besides the lyrics above, the music is just amazing and music makes everyone feel happier. Whether your gift recipient listens at home or in their car, you will bring a smile to their face and maybe a little exercise, too. [Picture courtesy of Amazon ]
Disney*Pixar Coco Merchandise ~

Coco Reusable Tote

:

You and your family can carry all your favorite things in this colorful Coco shopping bag with festive art styling. Made from 80% recycled materials to help keep spirits bright forever.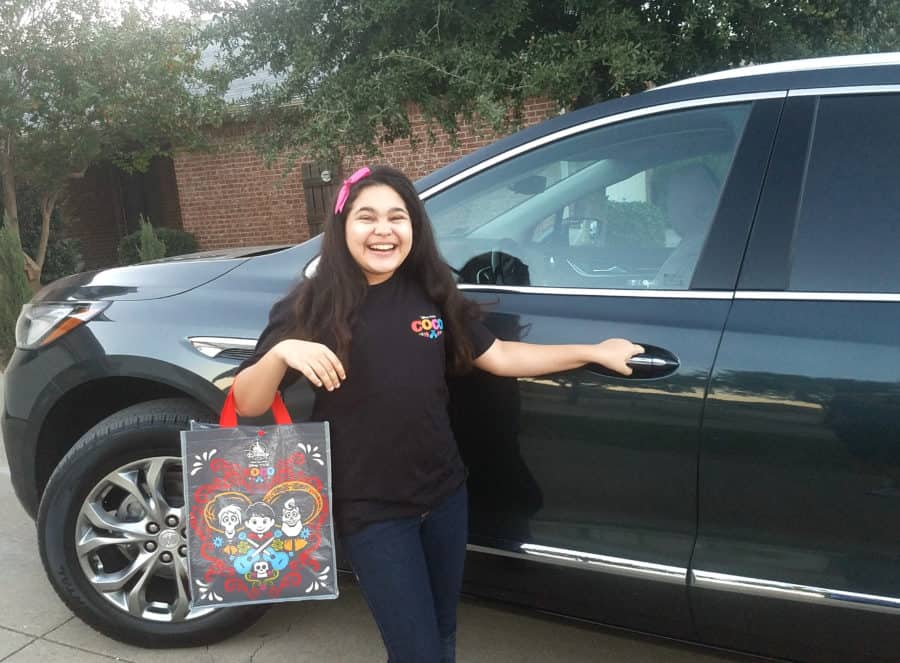 To view more Coco products, visit http://fxo.co/4q60 and make sure to comment on this post or share on Twitter (with #PixarCocoEvent and @ThePositiveMOM_) which product in the Coco merchandise collection is your favorite so you can enter the giveaway! (Giveaway is now over)
Take your family to see Coco today at a theater near you! The full all-Latino voice cast for Disney•Pixar's "Coco" includes: Gael García Bernal (voice of Héctor), Alanna Ubach (voice of Mamá Imelda), Benjamin Bratt (voice of Ernesto de la Cruz), and Anthony González (voice of Miguel), and Edward James Olmos (voice of Chicharron), and it was masterfully directed by Lee Unkrich, co-directed by Adrian Molina and produced by Darla K. Anderson.
Make sure to follow along with me on social media using #PixarCocoEvent and check out http://movies.disney.com/coco, Hashtag: #PixarCoco, Pixar Coco Facebook, Pixar Coco Twitter, and Pixar Coco Instagram, too!
What is the most meaningful gift you've given or received? What are your gift-giving traditions? I'm excited to hear all about it in the comments below and share my affiliate link with your friends so they can get their own Coco items at ShopDisney.com!
My mission is to help moms find peace, break cycles, and feel whole so they can be present, peaceful, and positive moms. To receive a gift that can get you started on that journey click HERE.