Most entrepreneurs start a business because they get tired of trading hours for dollars. When I quit 9-to-5 ten years ago to start working from home, what I longed for was the freedom to "BE THERE" to influence my children, impact other people with my skills, and generate the income that could afford us a comfortable life.
Soon after I became a mompreneur, I found out that, if you're not careful, you can end up in the same trap you tried to escape, because as a solopreneur, you become the "Jane of all trades" and the "chief of everything." I started working excessively because the demand was high and my fees were low.
By charging based on "how long" it took me to build my clients' websites, design their logos, or to consult on their web strategy, I put a ceiling on how much I could earn, and worse, on how many people I could serve.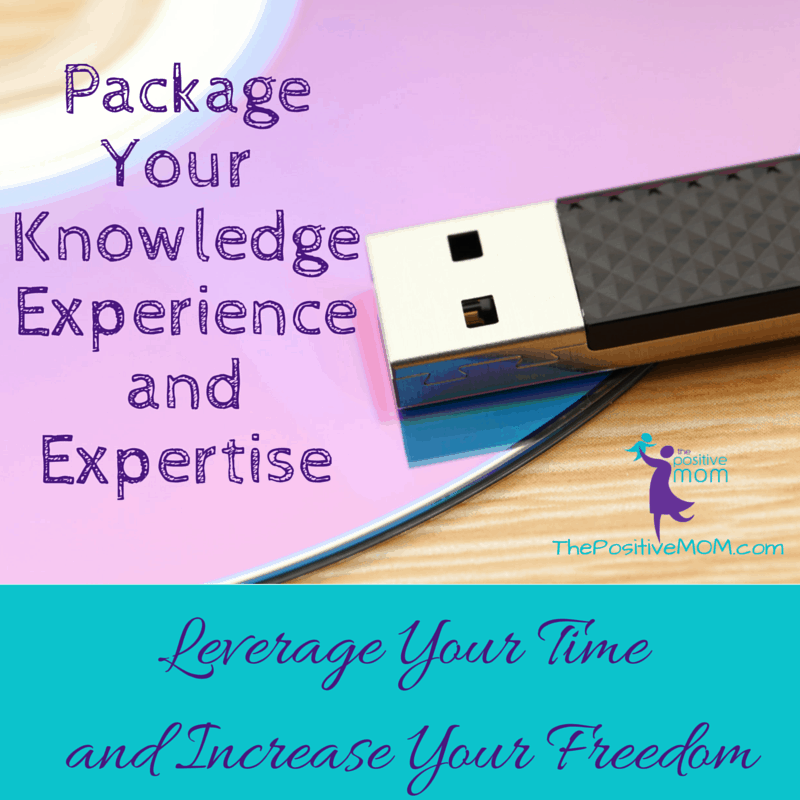 Packaging was the answer. Not packaging in the sense of boxing, wrapping, and putting a bow on my skills, but in taking what I knew and grouping that information together to offer value for the people I wanted to help.
If you are tired of trading time for money, and you desire to get paid what you're worth, then you must package your knowledge, your experience, and your expertise. In other words, you must package your content.
Packaging helps you organize your content and clarify your message
Packaging helps you attract the clients you truly want to serve
Packaging helps free up your time and energy to create more and focus on what matters to you
Packaging helps you deliver more value to your clients and at a deeper level
Packaging helps you position yourself as an expert and make more money while investing less time
Content can be profitable for you, and transformational for your audience. If you want to change lives, share your voice, make a bigger impact in others' lives, and make a difference using your God-given gifts, you can deliver valuable content in the form of services, products, or subscriptions.
Today, there are so many options and so many ways available for you to leverage your time, expertise, and experience, so you can choose a career path that is aligned with your top passions.
I put together a list of different types of premium content and informational products that your audience could be willing to pay for and that you could create and offer with little to no cost (coming from a true guerrilla marketer).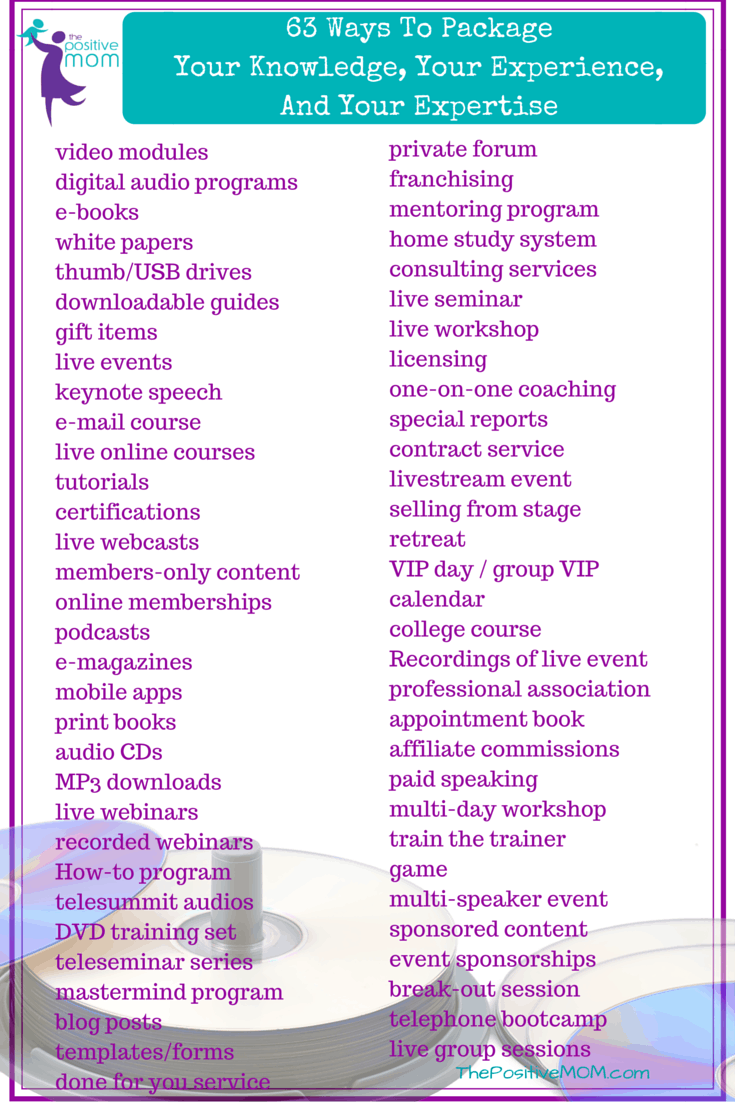 online video modules
digital audio programs
e-books
white papers
thumb drives (flash drives, USB drives – whatever you want to call them!)
downloadable guides (or mini-guides)
gift items (mug, t-shirt, hat, apron, etc.)
live events/experiences
keynote speeches
e-mail e-course
live online courses
tutorials/ how to programs
certification programs (live or online)
live webcasts
members-only sections or premium content
online membership or continuity program
podcasts
online magazines
mobile apps
print books
audio CDs
MP3 downloads / online audio
live webinars
recorded webinars
How To program or system
telesummit audios and transcripts
DVD training set / program
teleseminar series
yearlong mastermind programs
online blog posts
templates, forms
private forum
franchising
mentoring program
home study system (manual with binder, CD's or DVD's, and worksheets)
consulting services
live seminar
live workshop
licensing
one-on-one coaching programs
special reports
contract service
livestream of event
selling from the stage
retreat
VIP day / group VIP day
calendar
college course
DVD recordings of live event (workshop-in-a-box)
professional association
appointment book
affiliate commissions
paid speaking
multi-day workshop
train the trainer program
game
multi-speaker event
sponsored content
event sponsorships
break-out session
telephone bootcamp / teleconference
live group sessions
done for you service
That's all I could think of right now, but I promise you, there are more ways to package your knowledge, your experience, and your expertise. I've personally put many of
these business models to the test, and they certainly worked for me and my family, providing leveraged income and more time freedom.
I started out teaching web design and social media classes, then putting together small workshops, and writing tutorials, and then started moving up to writing books, courses, and so forth. This strategy alone added several zeroes to my bottom line, plus, it allowed me to create a business around my lifestyle and evolves as my needs, desires, and priorities evolve. Even though I still get to play with code and design, my earnings are not tied to the number of websites I design a month, and I have found tapped into channels to deliver my gifts in ways that are more meaningful and fulfilling to me.
What if you could find that for yourself? You can. It is possible for you as much as everyone else.
You have a life story to tell, real life lessons to teach, and a message to share in the world, and you can get paid to coach, train, and teach others. I'm sure you already are giving valuable advice, so you can easily create multiple streams of income, even passive income, by taking what you know, the lessons of what you've experienced, and what people pick your brain about, and packaging it in an attractive way that showcases the value that it will bring to the people you want to help.
Have you packaged your message? Tell me in which ways you've packaged or plan to package your content. I have done everything but #7, #18, #20, #49-53, #33, and #39 – how about you?  If you need support creating these, I would love to partner with you to be your success guide. Here's to more income, impact, influence… and time freedom!

© Elayna Fernández ~ The Positive MOM