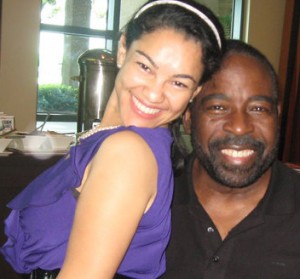 Best known for his signature phrase "You Gotta Be Hungry!", Les Brown is a top motivational speaker, speech coach and best selling author. He went from being left at birth at an abandoned building in Liberty City, FL and being labeled"the dumb twin"  to 3-term State legislator in Ohio and winner of The Golden Gavel Award as a keynote speaker.
In 2009, he became my client, friend, and MENTOR.
My new year's resolution was to take an empowering direction in my life. I wrote my goals down and was determined to take action.
On January 15, 2009, my friend Nancy invited me to the private broadcast of the movie Beyond the Secret at the Naples movie theater. The Beyond the Secret  two-hour panel was a follow up to the highly praised film and best selling book by Rhonda Byrne.   As soon as I made it home, I blogged about how I felt that Les Brown was talking directly to me and how I loved his interventions the most out of all the amazingly inspirational panelists.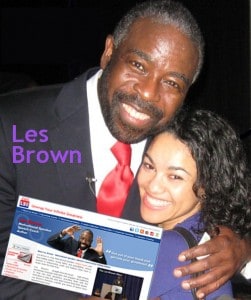 My friend Nancy said Les Brown was going to be at the Vemma convention in Las Vegas at the end of the month and she could get me in. I said "I'm going" and I did.  I said "I'm going to meet Les Brown" and I did.
During his speech, I was pumped!  I was HUNGRYYYY!!!  When he was done, I ran like a Dominican baseball player and went through security. LOL Nothing was going to stop me. They caught up with me but by that time I was hugging Les and giving him my business card. Les asked the security guard to take a picture of us. I laugh just thinking about it.
I came back home and felt empowered. I couldn't stop talking about how I met Les Brown. I was so excited to see how when you set an intention and follow through with your actions, you receive the results you were seeking: Applied Faith!
About 10 days after the event, I received a phone call and the caller identified himself as Les Brown. I was convinced it was a prank call, but it turns out it wasn't. He loved my business card and my "firecrackerness" LOL.  We had an incredible conversation and many followed up.
On February 21, Les  flew me to L.A.  and after my interview with him and Mr. Positive, I became part of the Les Brown Enterprises team.  Can you say "Surreal"?

While I enhanced Les ' marketing and web presence, he inspired me to become a motivational speaker and to share my many stories with the world. I have read every book, listened to every audio program, watched every video and attended each conference for a whole year.  Through Les , I have also met other great friends who continue to bless my life.
Les ' friendship has been a blessing to me, of which he says: "you made it happen, Elayna. Out of 3,000 attendees, you ran backstage…YOU were HUNGRY!"
Are You HUNGRY? Make it happen!!!!