"Why can't you be more like your sister?" That may have been the question that got me started on the path to comparing myself.
Several decades later, I still don't know the answer and I still can't succeed at being more like my sister, my brother, my cousins, or anyone else. I can only be who I am.
I once read a quote heard the quote "happiness is found when you stop comparing yourself to other people."
Though I don't know who first said this or necessarily think this is the only way to find happiness, I do agree that forsaking comparison is certainly a good way to get closer to joy. In fact, I think Theodore Roosevelt had it right when he said that "comparison is the thief of joy."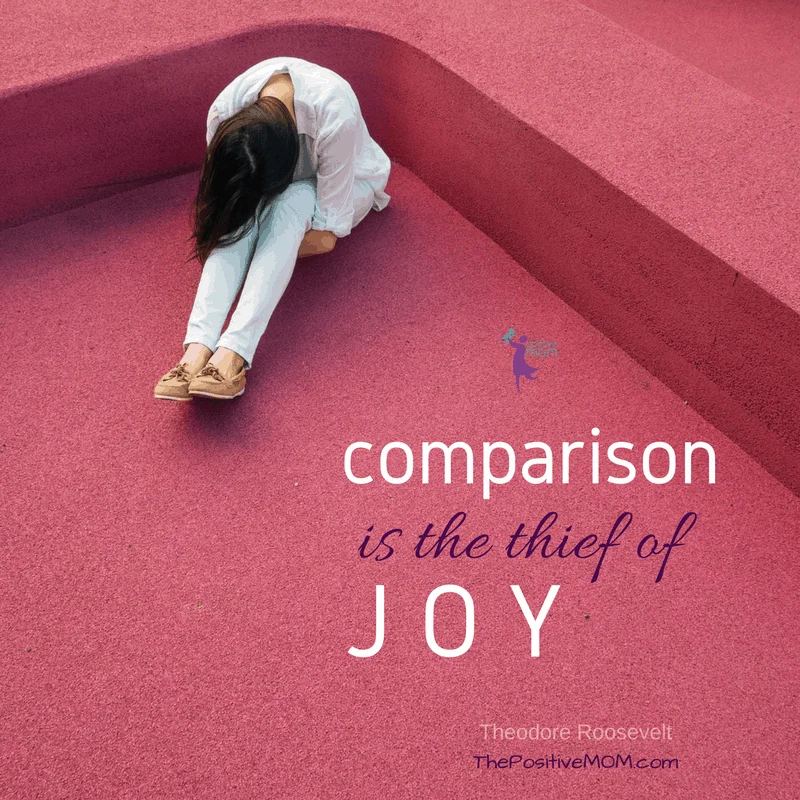 I cannot remember a time when I wasn't addicted to comparing myself to others. It was definitely a learned habit because of my childhood environment, but I know now that it is a universal truth:
Comparing ourselves is a natural need, something that happens automatically, inevitably, and unwillingly.
Many moms admit that they feel insecure and compare themselves to other moms on a regular basis. They are hard on themselves and think they constantly fail at motherhood. They are convinced other moms are "better moms" than they are – at pretty much everything.
Do you compare yourself to other moms? You may not admit to it, because we are sometimes unaware of subconscious comparisons we have going on. In my coaching practice, I find that many moms announce:
"I don't compare myself,"
"I don't judge," or
"I don't envy other moms,"
Those moms usually turn out to be the ones who are most chronically affected by these ills.
I think declaring yourself as someone who doesn't ever compare herself to other moms is the most dangerous trap, too.
Maybe you feel you're doing an okay (or even wonderful) job as a mom overall, so you don't know when you are in comparison mode, and it sabotages you and steals your joy when you least expect it and without you understanding why.
In most cases, comparison creeps in when you lack confidence, have low self-esteem, or simply happen to witness another mom being "better than you" at something you want to achieve or accomplish – and unless you are a supermom who is perfect at everything all the time, this is bound to happen quite often.
There was a time when I felt like this whole thing was a setup!
Why do I get the unshakable feeling to get everything right all the time when that is unattainable?
It has to do with our eternal nature. We're spiritual beings having a human experience, so it can be unsettling from time to time because we cannot understand our potential.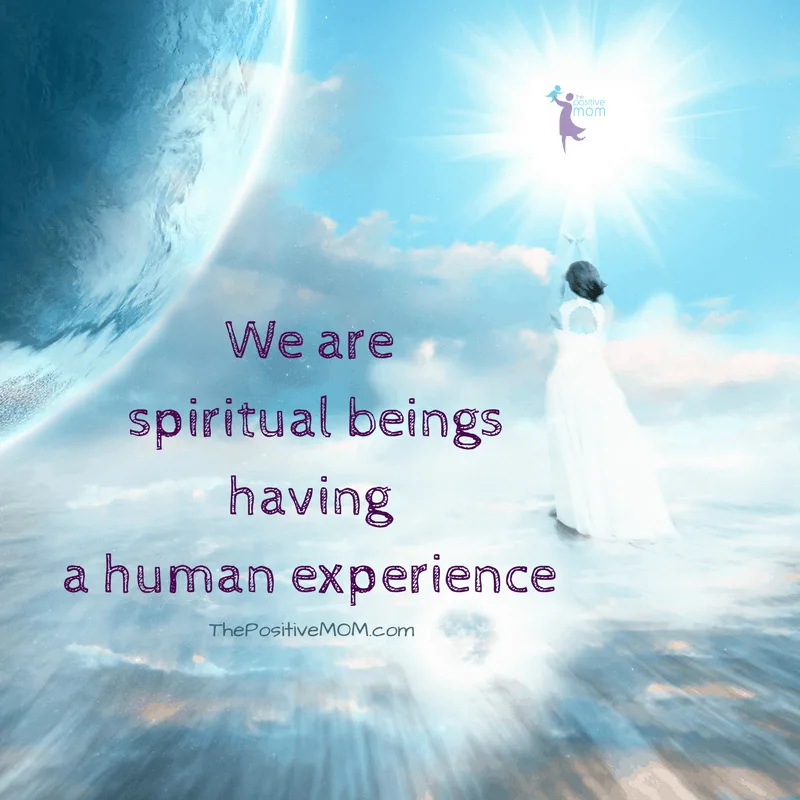 However, we're all humans here, so identifying yourself as "less than" another human is against your true identity.
When we automatically size ourselves up against other moms who appear to have it all together or to be more fit, more organized, or more successful, we feel like we are not enough, and are headed toward true failure and misery.
Research shows that comparing yourself with other moms is unhealthy in many ways, so you must do your best to catch yourself and consciously shift your thoughts to more productive thinking.
"Mothers who don't feel they stack up to societal expectations and fear being criticized by others are prone to feeling shame," states the Journal of Child and Family Studies. Besides shame, comparison also creates stress, envy, jealousy, separation, and even depression.
We cannot stop comparing ourselves, but we can be more conscious, noticing where it comes from, how destructive it can be, and what behaviors may decrease the tendency or intensity of our comparison. Awareness is such a powerful and precious gift.
One of my coaching students constantly compared herself to her mother-in-law. Another constantly compares herself to her best friend, whom she idolizes as a mom.
There are some moms who measure themselves against what they see in the media, such as celebrities or even fictional sitcom characters. Have we been brainwashed by Lew Zealand (from The Muppets) and "agreed a celebrity is not a people"?
One of my favorite actors, Jim Carrey, shared this timeless drop of wisdom:
"I think everybody should get rich and famous and do everything they ever dreamed of so they can see that it's not the answer."
Wealth and fame don't equal happiness so the comparison is useless anyway.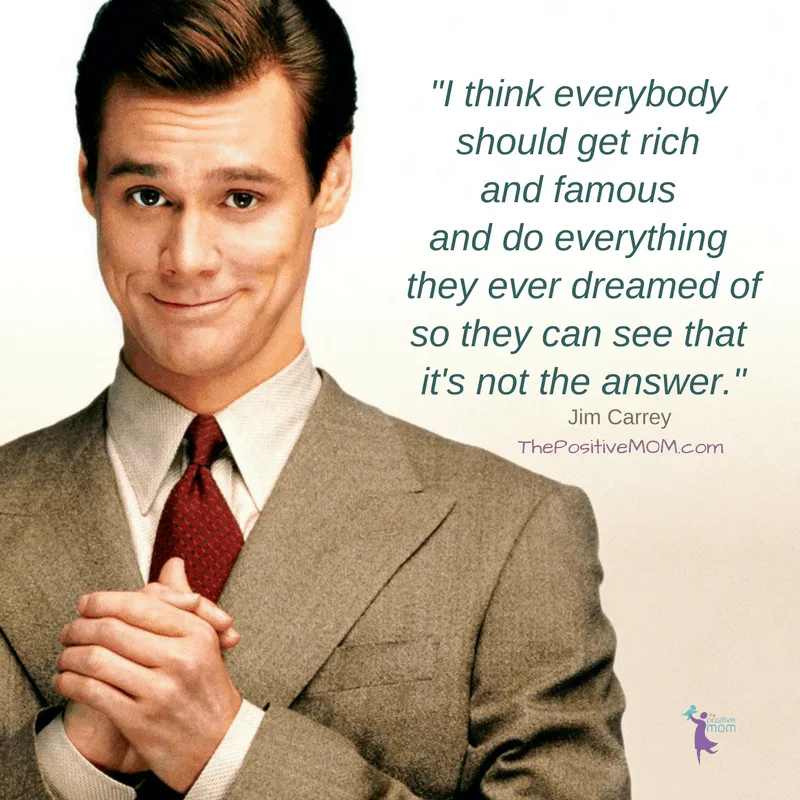 Social media can also be dangerous in causing unrealistic comparisons. We all have demons, some just hide them better than others.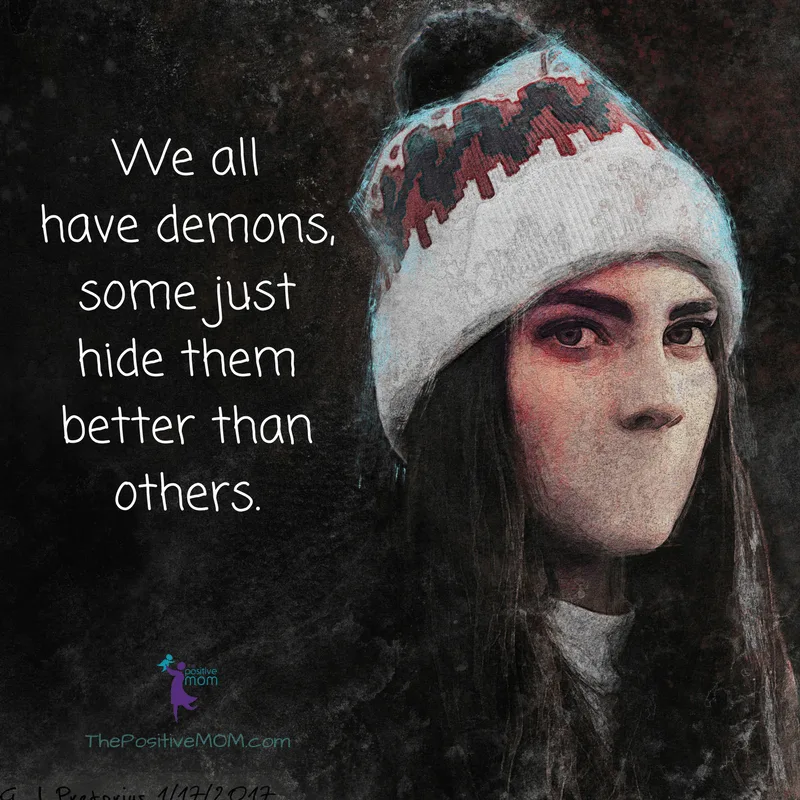 I know many moms I interact with on a regular basis who are struggling and going through difficult trials they choose to keep private… hidden. As they hide their truth, their Facebook feed is filled with carefully filtered images, misleading wins, and motivational statuses that make you think they're on top of the world.
Some people aren't all they post to be, and the facade makes them feel worse about themselves! It is difficult to post our ugly truths and sometimes it takes some time, but when we do, we not only liberate ourselves, we liberate others, too!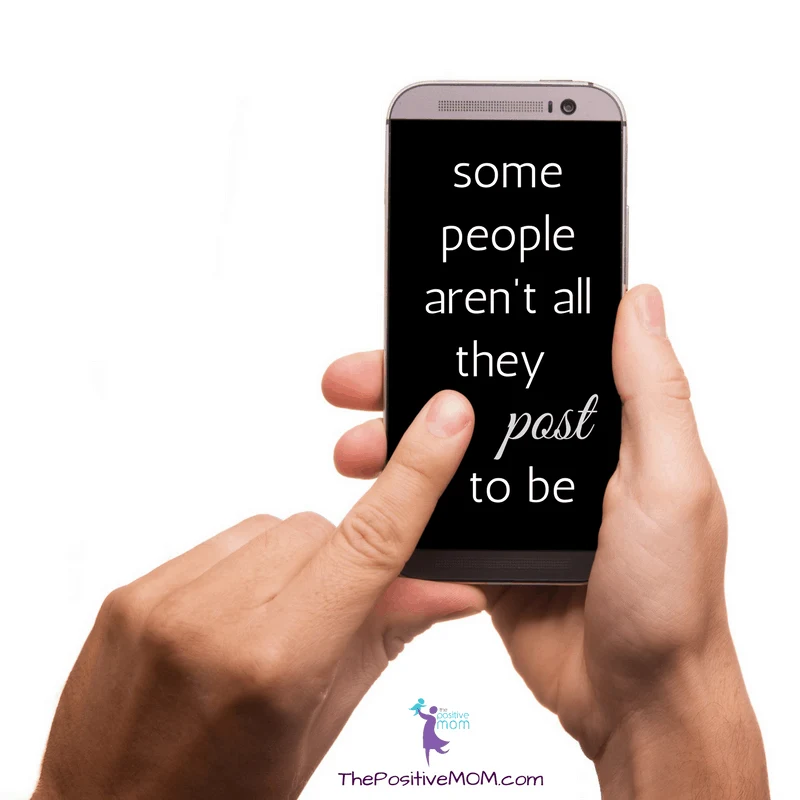 Pastor Steven Furtick once said that "the reason we struggle with insecurity is because we compare our behind-the-scenes with everyone else's highlight reel," and I find this to be true.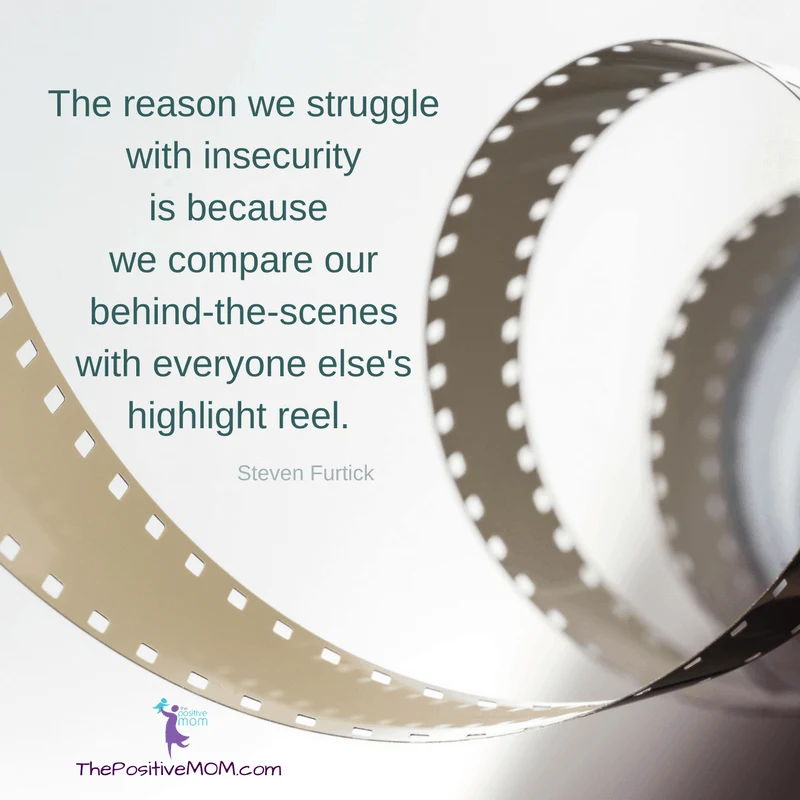 Life can be chaotic and messy and it's not fair to compare it to an image of perfection that was carefully crafted before it was shared. I'm not saying this is only the case, or that we must be suspicious and skeptical about other moms' achievements, abilities, and gifts. I think we can aim to admire other moms and recognize how wonderful they are at what they do, without feeling like we are terrible moms, horrible people, and sore losers.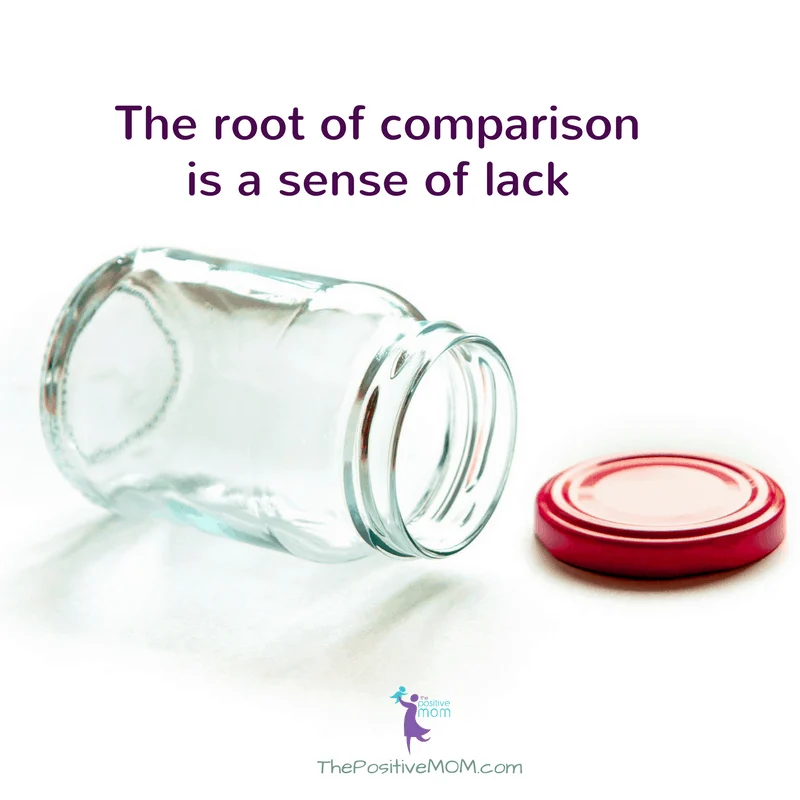 The root of comparison is a sense of lack:
I am not enough
I don't have enough
I don't do enough
As we start noticing this terrible affliction invades our being, we can tune into gratitude to counteract its harmful effect. We can choose to focus our energy on what we have, what we have control over, and what we can be in the present moment.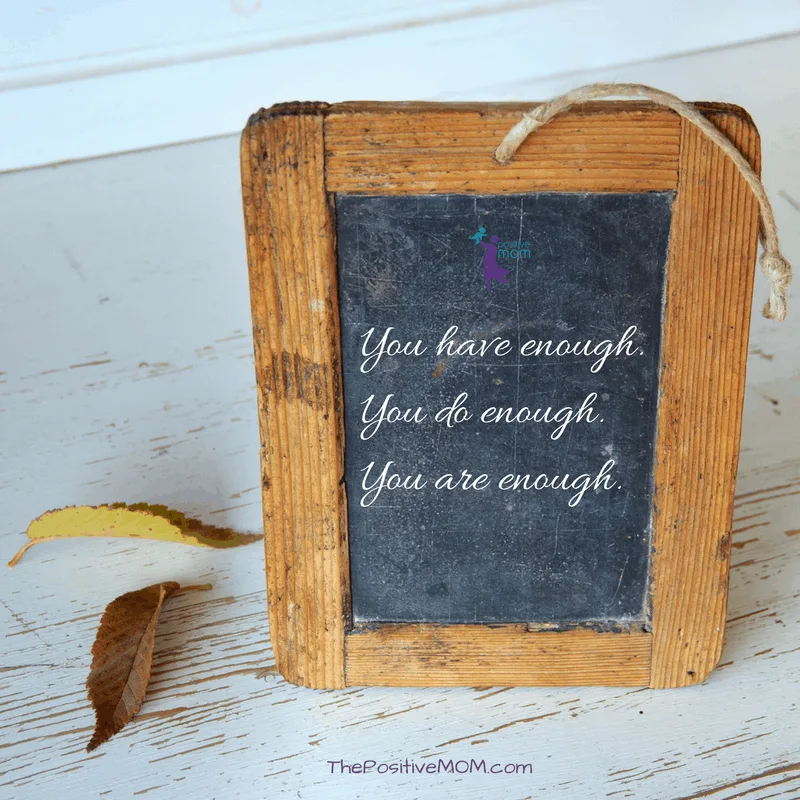 Some people are of the opinion that if we must compare, we could compare down, focusing on people that have less than we have, but I particularly believe that this energy will contract us, rather than expand us.
Gratitude and awareness of our true identity and just how supported we are here and now are what will move us away from comparison and toward joy.
When I found out I was going to be a mom, I vowed to never compare my children with one another. The memorable "Why can't you be more like your sister?" and other obscene questions have never been asked. Yet, my daughters still started comparing themselves to each other, to their friends, and even to me! It is my duty to stop them in these harmful tracks.
It's hard enough to be a mom, to be a woman, to be a human. The pressure of comparing ourselves to one another can be torturous, at best. When you notice that you're comparing yourself to another mom, stop and analyze where the feeling is coming from.
You are not her, and most importantly, she is not you. You have different priorities, different talents, different goals, different support systems, different backgrounds, and different to-do lists.
What works for her and her children doesn't necessarily work for you and yours. You feel she appears to have it all, to have all the answers, to be able to do it all, but you don't know what she's been through or what she's going through, or just how she's able to do it.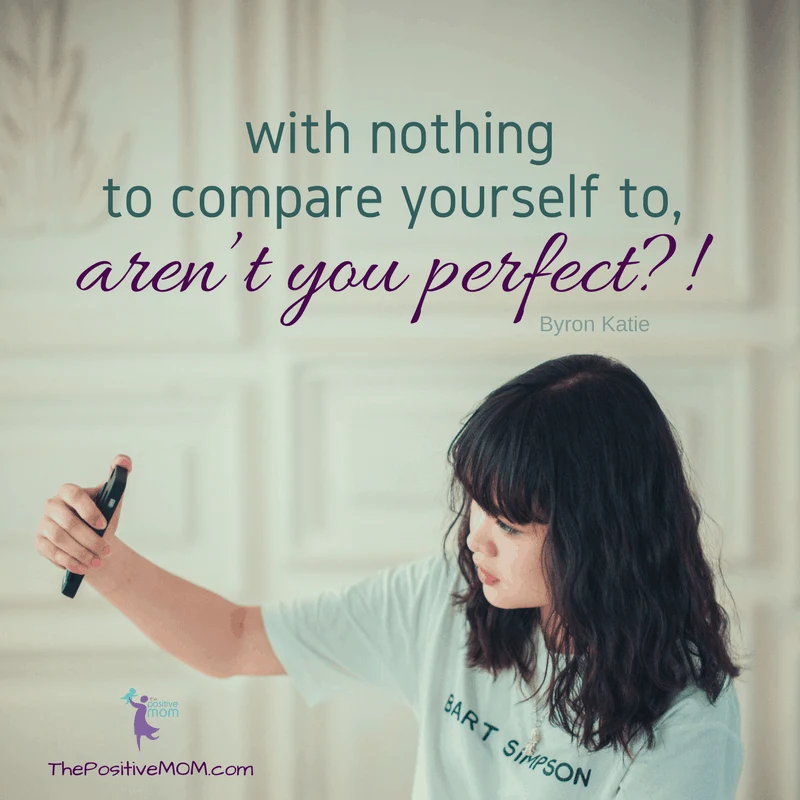 You may be seeing something that isn't there, too. I like how Byron Katie puts it: "without anything to compare yourself to, aren't you just perfect?!" You may chuckle at this thought but I believe you were fearfully and wonderfully made and loved for who you are.
The truth is you are comparing yourself to something you have imagined. You have no certainty that what you believe about the other mom is true. The perfect mom you're comparing yourself to just doesn't exist.
Many times, what you feel you are lacking, you already have, just probably not in the form you want. Self-improvement is supposed to feel good, not something you do out of guilt because you feel inferior to someone else. I know from experience that when we make decisions based on love, rather than on fear, we can fully enjoy our results.
There's always something to strive for and room for improvement, but it's not positive change if you end up in tears and feeling defeated and insignificant. Highs and lows, flaws and virtues, you are the mom your family needs and God believed you could handle the job. It's time you believe in yourself.
I know, you're thinking of the long list of shortcomings you recite to yourself all the time. You feel lacking in the arts and crafts department, you yell at your kids and yet you don't discipline them enough, you don't read enough to the children, you don't take enough pictures, you don't cook enough… but…
what if you focused on the things you do right?
what if you just honored your intuition and trusted that you're doing what works for your family?
what if you felt gratitude for those moms you compare yourself to, celebrated their fortune, and wished them more?
You can't stop comparing yourself to other moms, but you can give yourself a little grace, you can shift your focus, and center yourself in gratitude for the present moment. As you do this, your vibration is going to be raised and you will feel the energy of love fill your space. You can use this simple practice every time you need it and get your joy back.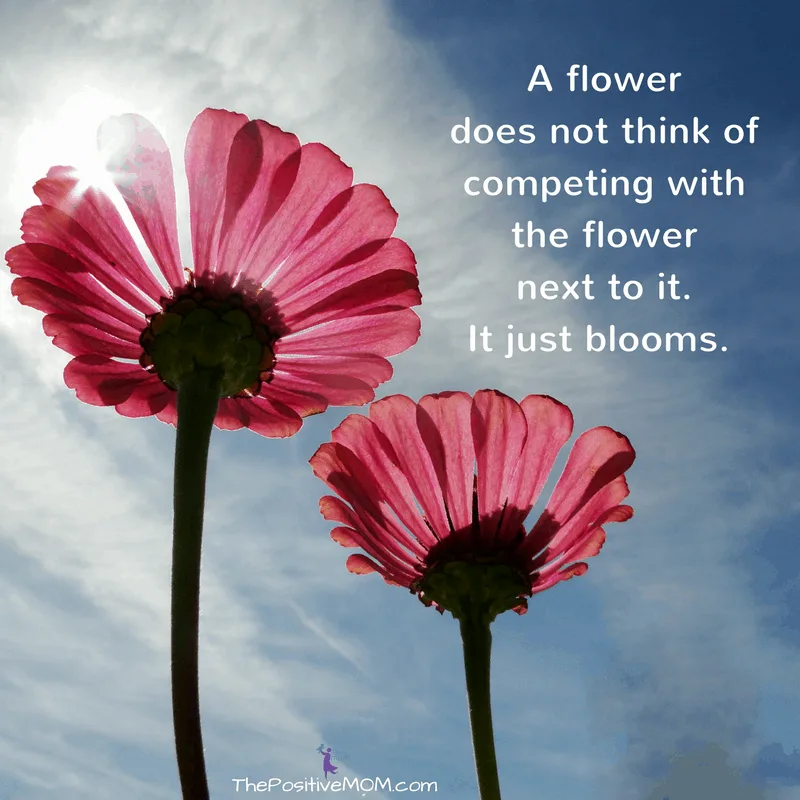 Remember: a flower does not think of competing with the flower next to it. It just blooms. May you focus on your own growth today – as I will!
What do you do to combat comparison? I decided that I can't be more like my sister, or like any mom, I know, but I can be more like myself, more like the person God wants me to be. I'd rather compare to her. Share your secrets with us in the comments below.
Elayna is a homeschool educator, single mom of 4, founder of the Positive MOM Community, award-winning Storyteller, Story Strategist, and Student of Pain. She's a bestselling author, internationally acclaimed keynote speaker, and 3x TEDx speaker. To receive a gift from Elayna, click HERE.

Want to support the Positive MOM blog?
The mission of the Positive MOM blog is to help moms break trauma cycles, find peace, and feel emotionally whole, so they can practice supportive parenting and create a positive and healthy environment for their children. If you found Elayna's content valuable, please consider donating a love offering to enable her to keep creating content and helping more moms worldwide. Donate HERE.