A few years ago, a sweet friend of mine found out that I had never had a birthday cake, so she made one for me and I got the experience to blow out the candles and make a wish. It was a very special moment for me, because it was the closest thing I had to a real birthday party, which was secretly my dream since I was a child.
Since then, I actually threw a couple birthday parties for my daughters, and they were a success. I had never dared embark under such undertaking. You know, I consider myself a creative, except in the crafting department, and I am told I am a good host, and end up enjoying it, but I confess I never look forward to it. Okay, you're right, I'll say it: I absolutely dread it.
I have embraced that I feel pressured and I pressure makes me feel inadequate and leads me to depression. 
I have tried to talk myself out of it. I love kids. I love having kids around. And I know I can keep a few kids entertained for a couple of hours. But the thing is, this throwing your kid the perfect birthday party goal has gotten way out of hand these days. 
It's easy to get carried away with stressful logistics, gift registries, RSVP's gone wrong, and Pinterest ideas that don't seem to ever come out as cute as the original pin, even when you carefully followed each and every bit of the instructions. Or to invite every possible kid from church, class, and the neighborhood, because you don't want any kids to get their feelings hurt – or their parents to judge you.
I think we have forgotten why we throw birthday parties, making it too much about us being perceived as a super mom, than it is about our child having a memorable and enjoyable experience.
For my birthday, since it was going to be a very special one, I decided to give my inner kid the perfect birthday party: one with all the fun and none of the fuss. It was December 23, which commemorates El Dia del Niño (the day of the child) in my homeland, so it was a perfect day to celebrate all children.
Since Chuck E. Cheese's launched new birthday party offerings to make birthdays bigger and better than ever, I jumped in at this opportunity! The new Chuck E. Cheese's online reservation system made it super convenient to book our birthday party, and it sent out electronic invitations to our guests.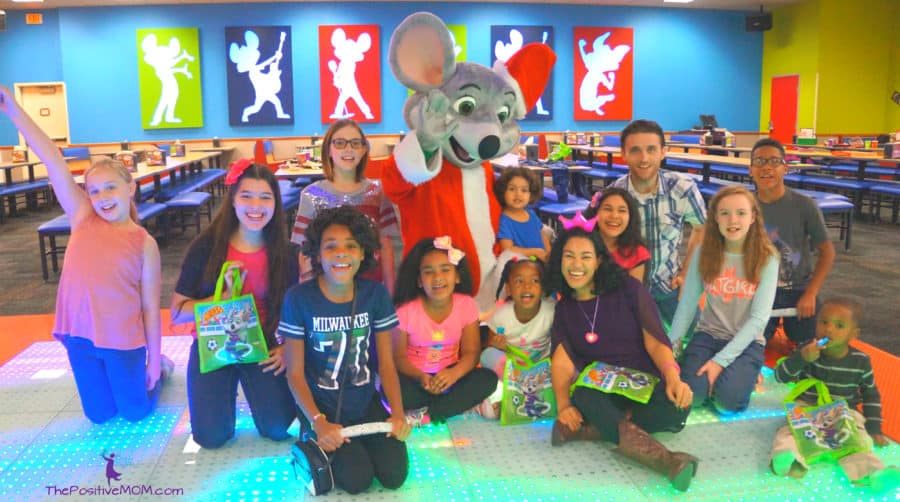 Psychologists and childhood experts say that you must invite the same amount of kids as your child's age plus one. In this case, it would have been a disaster, but we did have reasonable amount of birthday party guests. Most of the parents dropped off their children and no gifts were required. If we're honest, some gifts are just better than others and feel more personal, so I don't like to have all that competition in my head. I am happy to just have someone's presence in the party and we can call it even.
We had a Chuck E. Cheese's bilingual host do everything for us. She took care of everything related to scheduling, as well as the cups and plates, the pizza, the lemonade, and the decor. You can choose from many birthday party themes, including: "Party Like a Rock Star," "Dressed in Pink Party," "Sports, Sports, Sports" and "Chuck E. Super Fan." Of course, I went all pink for this one.
Chuck E. Cheese's birthday packages include three different price / package levels including:
Star
Super Star
Mega Super Star
My family and I had a delicious vegan pizza, made lots of wonderful memories with each other and our friends, and didn't have to worry about cleaning up.
I really enjoyed that besides the fun kid centric environment and non stop games, you can include goody bags in your birthday party package, so the kids can get a parting gift. 
I  was fun and easy – and no one let go of a balloon and cried for 30 minutes. Of course, anything you do will take some effort, but hey, this is as effortless as it gets. Hurray for simpler parties where everyone enjoys themselves.
Since Chuck E. Cheese's is really popular, you may be thinking the crowd could be overwhelming, but Chuck E. Cheese's also offers another birthday experience for visitors – a VIP birthday party experience, where you get the whole party area to yourself before the restaurant opens, for 90 minutes. 
The perfect birthday party doesn't have to be elaborate, expensive, or chaotic. We don't need to feel guilty if we don't overextend our ourselves and our budget, and trust me when I say, no one cares when we go above and beyond to show off our skills – she who will be happy will be happy and she who will find something to complain will. Don't take it personally.
If you don't have the time, money, or inclination to organize the PERFECT birthday party of the year, don't set torturous unrealistic expectations for yourself, and throw an amazing party at America's number one place for birthdays – Chuck E. Cheese's. I was so happy I did.
Are you planning a birthday party at Chuck E. Cheese's? Share your thoughts on the comment area below. Also be sure to follow Chuck E. Cheese's on Facebook, Twitter, and Instagram!

© Elayna Fernández ~ The Positive MOM