When I speak about being positive, I always use the analogy of drowning. Isn't that how we feel when we are exhausted, and overwhelmed with everything we need to juggle? But we don't drown from falling in the water, we drown from not standing up or swimming out.
I didn't learn how to swim until very recently, and likewise, many moms don't have the tools, the resources, or the information to create a positive life. But like Maya Angelou used to say:
Once you know better, you do better.
Being a positive mom doesn't mean you are perfect. In fact, it doesn't even mean that you are always positive. Being a positive mom means being open to learn better and being willing to do better… even when it doesn't exactly turn out to be that way sometimes.
I grew up in an environment where I felt unimportant, uncared for, and worthless. I was held to a standard of perfection and, naturally, I was unable to meet those expectations. It has taken a lot of inner power and inner work to heal much of it, but these are not feelings you just shed in a day or a year. I am still on a journey of healing, armed with the knowledge that I am responsible for my own wellness. I've learned to say no, to rid myself of toxicity, and to forgive myself when I fall short and make mistakes. We all make mistakes in life and motherhood.
No one has it all together. No one was granted superpowers by conception, adoption, or step-parenthood. I've never heard of a Manufacturer's handbook either, although the Lines of Communication are indeed open.
The Positive MOM concept was born out of the most negative moment of my life: a moment of intense fear, self-loathing, anger, and demoralizing feelings of frustration, humiliation, sorrow, anxiety, and shame. Like a lotus, beauty came out of the mud… like a Phoenix, life came out of ashes.
I believe God gave me great inspiration in the darkness to reinvent my life – and for that I am grateful. But, make no mistake thinking that being positive is a ONE-TIME event. It is a journey… an imperfect journey. There are many bumps in the road, and many thorns along the way. There are times you get it right and make much progress, and times you mess up and fall backwards and end up flat on your face… both are equally important and meant to teach you.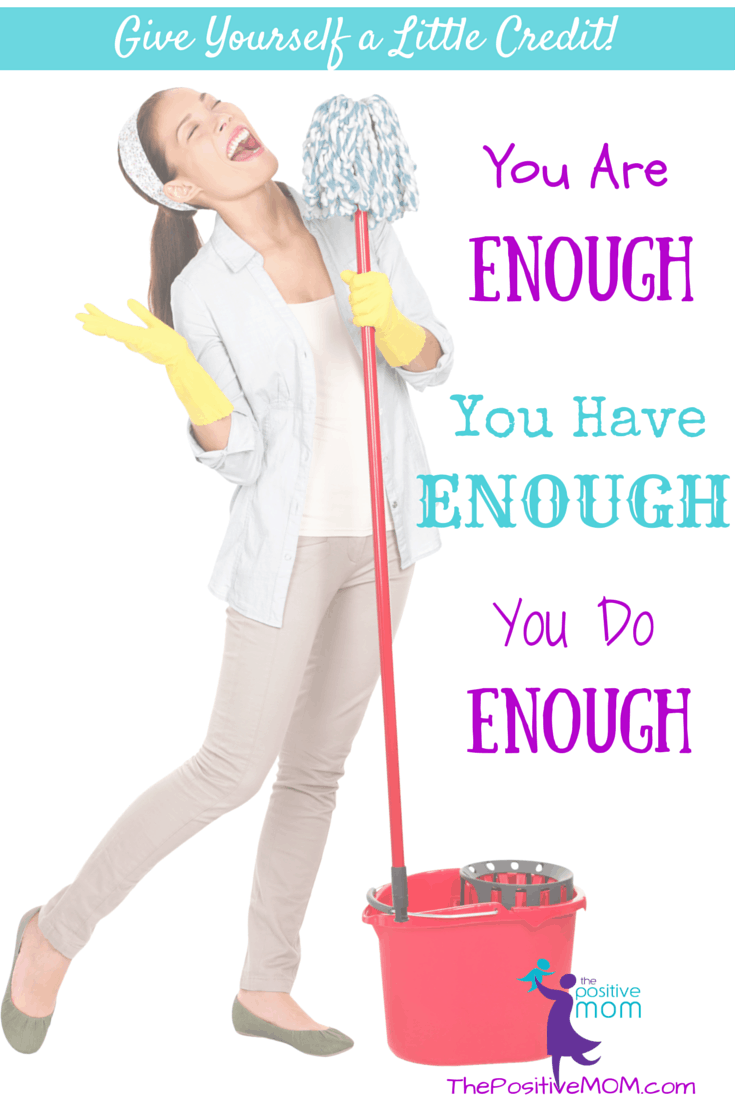 I have had plenty of both those moments and I believe I am not alone. A common theme in my Stepping Into BALANCE camp and other training courses is that of feeling inadequate of or not being enough. I teach the message I need. I believe all teachers do. It is my life's mission to teach others that imperfection is beautiful and opposition is part of the plan. You are enough, you have enough, you do enough.
[Tweet "You are enough, you have enough, you do enough. #elaynaquotes #motivationformoms"]
Here's the issue: we listen to the inner bully, whose deadly weapons are to compare, compete, criticize, condemn, and complain. She has a full database of demeaning words and phrases that don't fail to get you down on yourself and beat yourself up. We feed her every time we internalize what others say – or imply – to us, and with our very own self-doubt and harsh judgment.
I call myself a recovering perfectionist because for many years I felt like I had to be perfect to survive. As I know better, I can do better… I can give myself credit for progress and forsake perfection, especially because that's not even my idea. It's a false ideal that society has promoted and we have bought into.
I say that because one of my favorite things to do as a coach is to take people through a process of identifying their Top 5 Passions so they can find the necessary focus to achieve their dreams. In many years and hundreds of one-on-one sessions, asking people to write everything they want to achieve in life, I have yet to see perfection as a goal. Moms want to be happy, they desire wealth, they find meaning in family, they value health, they crave intimacy and connection, they practice faith in God… and the list goes on… not one of these moms so far has written "I want to be perfect." Coincidence? I think not.
Sure, deep inside we have the inner-knowledge that lets us know we are divine and were created with an unlimited potential for improvement, and I believe that is actually what most excites us really: the opportunity to grow, learn, and expand.
The Japanese word Kaizen, which means continuous improvement, refers to a long-term approach to work that seeks to achieve small, incremental changes in processes to improve practices and productivity. I believe we can adopt this philosophy to parenting. What if instead of being so hard on yourself, you actually gave yourself credit for the progress you're making? Instead of perfection, I now strive for continuos improvement. You are a work in progress… we all are! Guess what? Progress IS success – that's what I always say!
[Tweet "Progress is SUCCESS #elaynaquotes #motivationformoms"]
Life is a journey, it's not teleportation… you get there one step at a time. As long as you keep taking those steps, no matter how insignificant they may seem, you are getting closer! I love this quote by Robert Louis Stevenson:
Don't judge each day by the harvest you reap but by the seeds that you plant.
Sometimes we focus so much on our vision that we don't take time to celebrate and give ourselves credit. It's healthy to recognize how far you've come, instead of always looking at the LONG journey ahead and torturing yourself because of how far you have left to go!
Take a few minutes to ponder:
What knowledge, opportunities, skills, tools, and connections do you already have?
Have you implemented any changes that you know are making a difference?
What important decisions have you made?
What have you said NO to?
How is your life better?
We are NOT perfect, but we indeed ARE powerful beings and can create our own happiness – or struggle. In acknowledging the patterns of our thoughts, emotions, and actions, we can exercise our freedom to give our circumstances the meaning and significance that is most empowering, and we can utilize our personal power to go in a direction that most serves us.
Saying "wow… I'm much closer!" doesn't mean you are complacent or that you will be stagnant, ceasing to strive for improvement. It means you reward yourself because you've put in the effort and it has been worth it.
When I decided to be a Positive MOM, I was forsaking perfection, and declaring that I would be friends with myself, stand out for myself, love myself, like myself, invest in myself, and, more importantly, forgive myself. I encourage you to do the same because compassion is not complete, unless you extend it to yourself, too.
[Tweet "A #PositiveMOM forsakes perfection and extends compassion to others and herself"]
When you celebrate yourself and your progress, you also get a chance to feel gratitude for God, for your mentors, for the people who go the way with you or support you in the process. Gratitude, like simplicity, creates abundance in all aspects of your life, as well.
So keep doing your best, while remembering that your best, like your thumbprint, is completely unique to you. As you walk the sacred path of being kind to yourself and shining your sparkle, you will inspire others not in spite of but BECAUSE OF your imperfections.
[Tweet "You can inspire others because of your imperfections! #elaynaquotes #motivationformoms"]
Say goodbye to the poisonous, crippling habits of the inner-bully, and say yes to celebrating, collaborating, complimenting, contributing, commending…and reclaiming the JOY you were created to experience in this life, and eternally.
How do you strive to be positive in motherhood? I'd love to learn from you!
[ela]