Won't you be my neighbor?
I have a strong belief that everyone around us is our neighbor. One of my favorite scriptures is, "love thy neighbor as thyself." The power of kindness is real and I have taught my girls since they were babies to show love and concern for all.
When Elisha and Elyssa were just babies, I discovered the reruns of A Beautiful Day in the Neighborhood on PBS. It was a blessing that I was able to stay home with them because we read, played, and watched wonderful shows.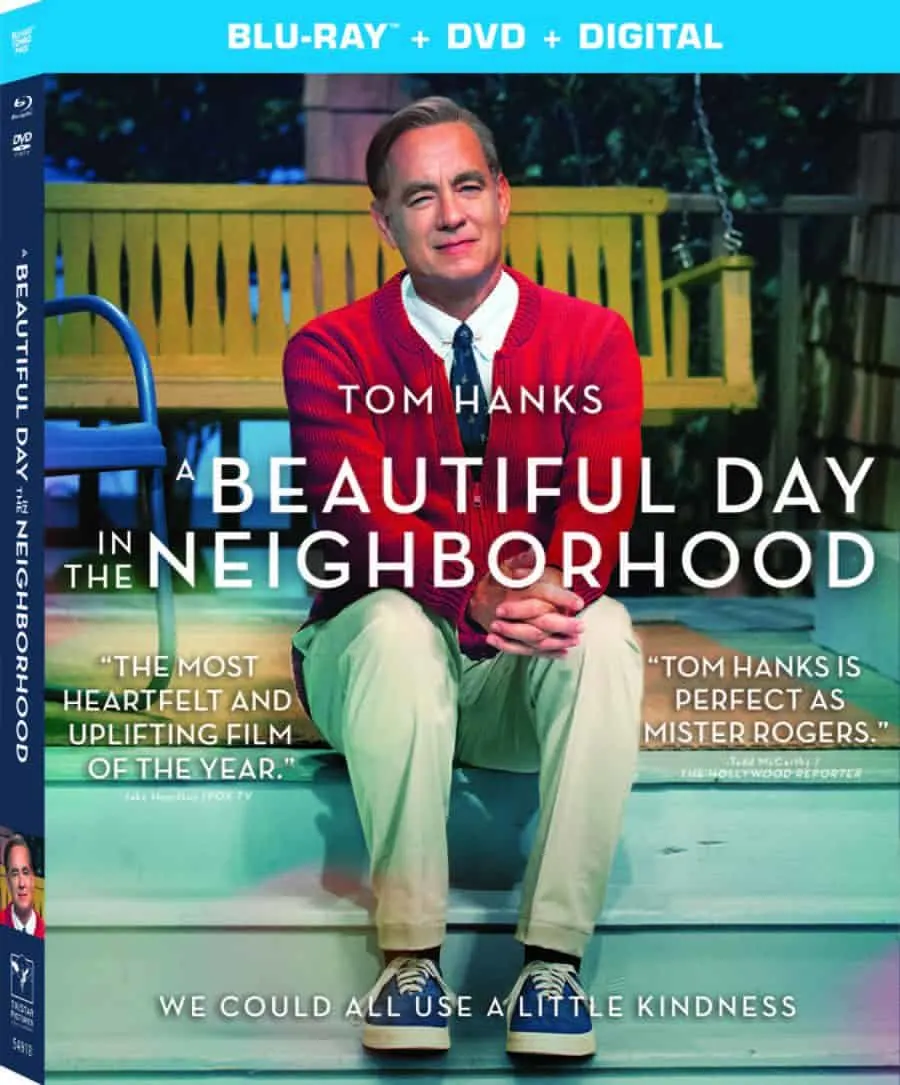 I was clueless when I started out with parenting, and you get overwhelmed with so many questions as to what to do or say or if you're doing the 'right' thing, especially when you don't necessarily have the best role models, for whatever reason. It can even be frustrating at times!
Mr. Rogers really spoke to my heart and I learned so much from him. I have never seen a show that is more wholesome, heartwarming and needed. Mr. Rogers spoke to and of children in a way I had never seen anyone do it: with respect, love, and regard to their individuality and complexity. My little girls loved the show, and beyond that, I truly believe I learned how to be a better, more positive mom because of it.
Mr. Rogers also addressed difficult issues on his show, like racism, divorce, and depression. I am not the mom who sugarcoats hard topics, and my daughters know I'm willing to be blunt and straight up with them. It's so important to show our kids an example of someone in the media who doesn't run away from harder topics, but instead treats it with care.
A Beautiful Day in the Neighborhood is a movie I've been looking forward to seeing since I first heard it was being made.
A Beautiful Day in the Neighborhood is a timely story of kindness triumphing over cynicism based on the real-life friendship between Fred Rogers and journalist Tom Junod. After a jaded magazine writer is assigned a profile of Fred Rogers, he overcomes his skepticism, learning about kindness, love, and forgiveness from America's most beloved neighbor.
In one scene, Mr. Rogers takes his puppet Daniel Tiger out of a suitcase and talks about all the ways you can deal with your feelings without hurting yourself or anyone else. This is huge!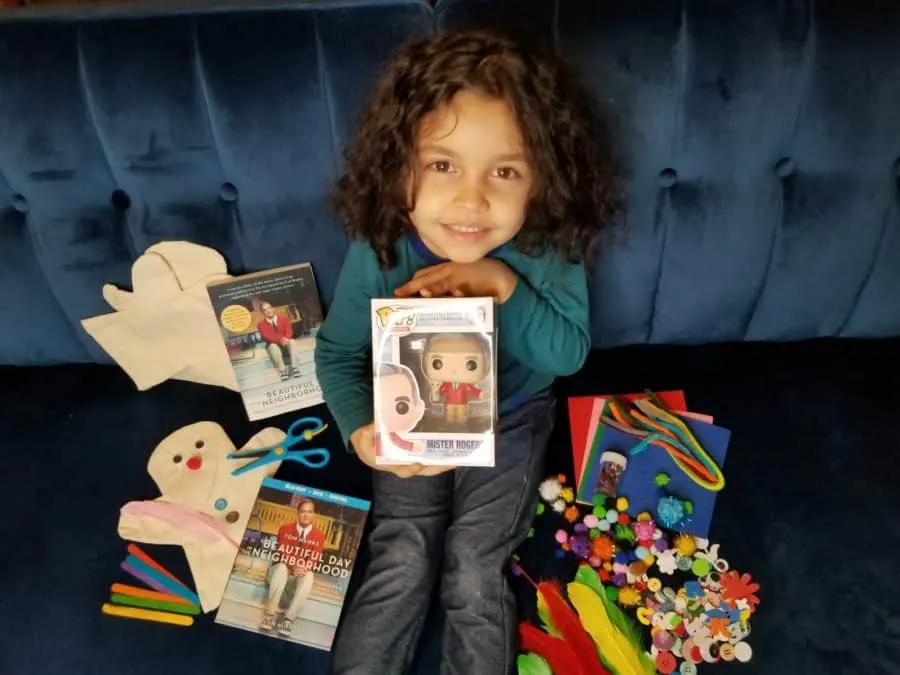 Eliana was so excited to learn that we received a special "Speedy Delivery" including a Blu-ray of A Beautiful Day in the Neighborhood, which we get to watch as a family, plus blank canvas puppets, a DIY crafts case, a book of "Neighborly Words of Wisdom from Mister Rogers," and a Mr. Rogers Funko, all to help me and my girls continue open communication and remember to treat others with empathy and kindness.
Neighbors everywhere continue to show us that the simple acts of gathering together, sharing a smile, and showing each other kindness can have profound effects on our lives.
A Beautiful Day in the Neighborhood has been available on digital since February 4th, and on 4K Ultra HD™, Blu-ray™ and DVD February 18th!
A Beautiful Day in the Neighborhood has achieved nearly universal praise, earning the designation of "Certified Fresh" from RottenTomatoes.com and receiving raves from critics, including Rolling Stone's Pete Travers, who calls A Beautiful Day in the Neighborhood "irresistible," Pete Hammond of Deadline who says it's "the movie we need right now" and FOX-TV's Jake Hamilton who calls it "the most heartfelt and uplifting film of the year."
A Beautiful Day in the Neighborhood | Bonus Materials
A Beautiful Day in the Neighborhood has a runtime of approximately 109 minutes and is rated PG for some strong thematic material, a brief fight and some mild language.
Here's a list of the 4K Ultra HD, Blu-Ray, DVD, and Digital bonus materials:
Over 15 Minutes of Additional Scenes
Blooper Reel
Tom Hanks as Fred Rogers
The People Who Make a Neighborhood: The Making Of
Dreaming Big, Building Small: The Puppets & Miniatures
Daniel Tiger Explains: Practice Makes Perfect
Filmmaker Commentary
A Beautiful Day in the Neighborhood | Cast and Crew
Director: Marielle Heller (Can You Ever Forgive Me?, The Diary of a Teenage Girl).
Written By: Micah Fitzerman-Blue & Noah Harpster
Producers: Youree Henley, Peter Saraf, Marc Turtletaub, Leah Holzer
Executive Producers: Bergen Swanson, Noah Harpster, Micah Fitzerman-Blue, Edward Cheng, Howard Chen
I love that Tom Hanks (Cast Away) has earned him an Oscar® nomination for Actor in a Supporting Role—his sixth career Academy Award Nomination because Tom Hanks also happens to be one of my favorite actors.
"Hanks is amazing" in his role as Mr. Rogers and he stars alongside Matthew Rhys(TV's "The Americans"), Screen Actors Guild Award®-winner Susan Kelechi Watson(TV's "This is Us") , and Oscar®-winner Chris Cooper (Little Women).
A Beautiful Day in the Neighborhood | DVD / Blu-Ray Giveaway
I'm so grateful to be able to host A Beautiful Day in the Neighborhood giveaway, so you can have a chance to win your very own copy of this incredible film. Enter below:
a Rafflecopter giveaway
We could all use a little kindness,- isn't that the truth?!
Use #ABeautifulDayMovie and #ABeautifulDayintheNeighborhood – plus follow @ABeautifulDay on Twitter, and @ABeautifulDayMovie and Facebook and Instagram.
Elayna is a homeschool educator, single mom of 4, founder of the Positive MOM Community, award-winning Storyteller, Story Strategist, and Student of Pain. She's a bestselling author, internationally acclaimed keynote speaker, and 3x TEDx speaker. To receive a gift from Elayna, click HERE.

Want to support the Positive MOM blog?
The mission of the Positive MOM blog is to help moms break trauma cycles, find peace, and feel emotionally whole, so they can practice supportive parenting and create a positive and healthy environment for their children. If you found Elayna's content valuable, please consider donating a love offering to enable her to keep creating content and helping more moms worldwide. Donate HERE.