I just got back from Los Angeles, where I had the amazing honor to attend the Premiere of Disney's Queen of Katwe at the iconic and historic El Capitan Theatre on Hollywood Boulevard.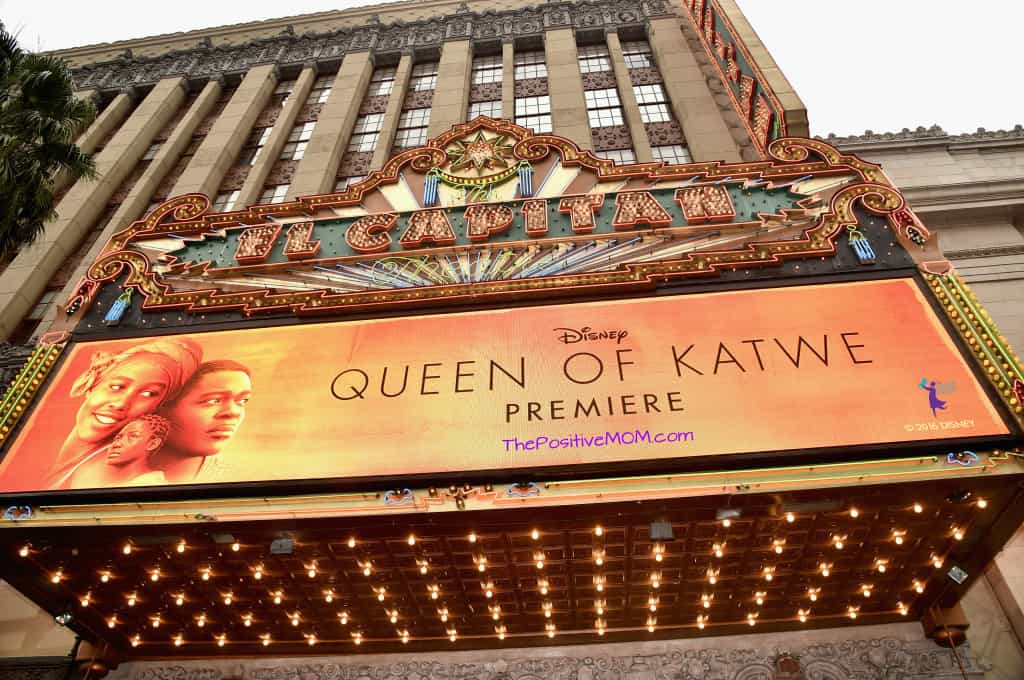 This was my second walk on the Hollywood Red Carpet, but a unique and special once in a lifetime experience. Hollywood Blvd was packed as hundreds of enthusiastic fans lined up to welcome A-list celebrities who also attended the event. It was fascinating to be a part of this extraordinary event to celebrate a beloved film that is very close to my heart.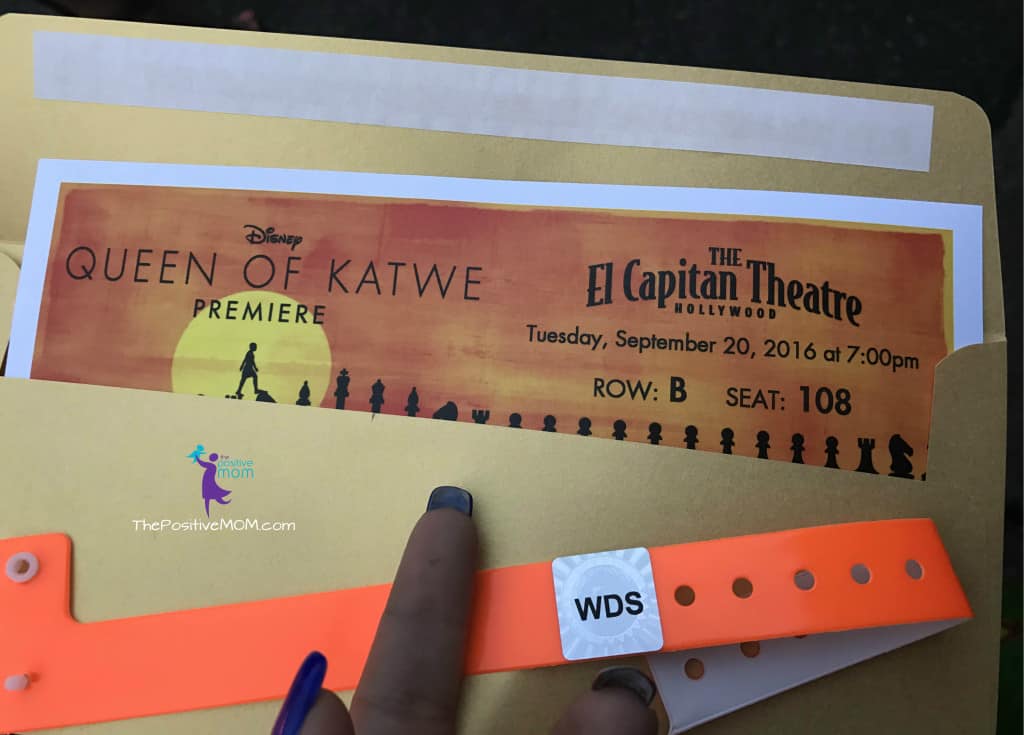 Queen Of Katwe opens in U.S. theaters in limited release on September 23 (TODAY!) expanding wide September 30, 2016, telling the story of chess prodigy Phiona Mutesi, who grew up facing grueling adversity in Katwe, an Ugandan slum in Kampala.
I feel blessed to have the opportunity to attend the Queen Of Katwe release, and hangout with stars like Golden Globe® nominee David Oyelowo and Oscar® winner and Tony Award® nominee Lupita Nyong'o, as they watched the fruit of their talent and work on the big screen with their friends and family.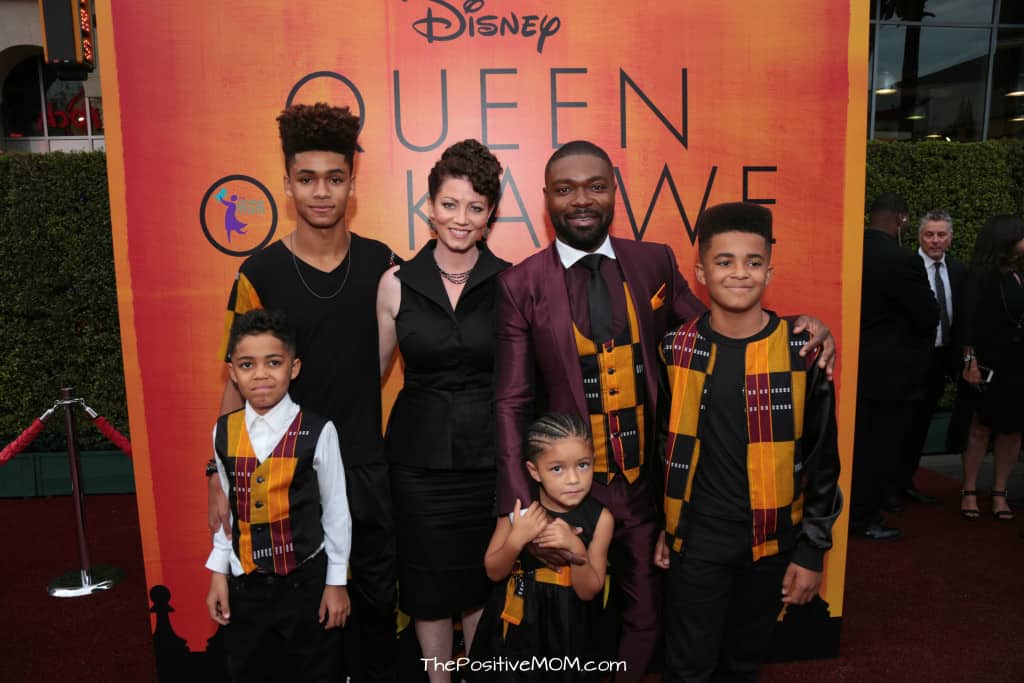 When my friend Bri asked: "Who was the most gracious celebrity you met?" I immediately thought of David Oyelowo. I loved getting to know him and just how humble and friendly he is, as well as meeting his adorable kids.
Of course, I was in awe, because he played Dr. King in Selma. And you know if I could go back in time and meet anyone, it would be Martin Luther King!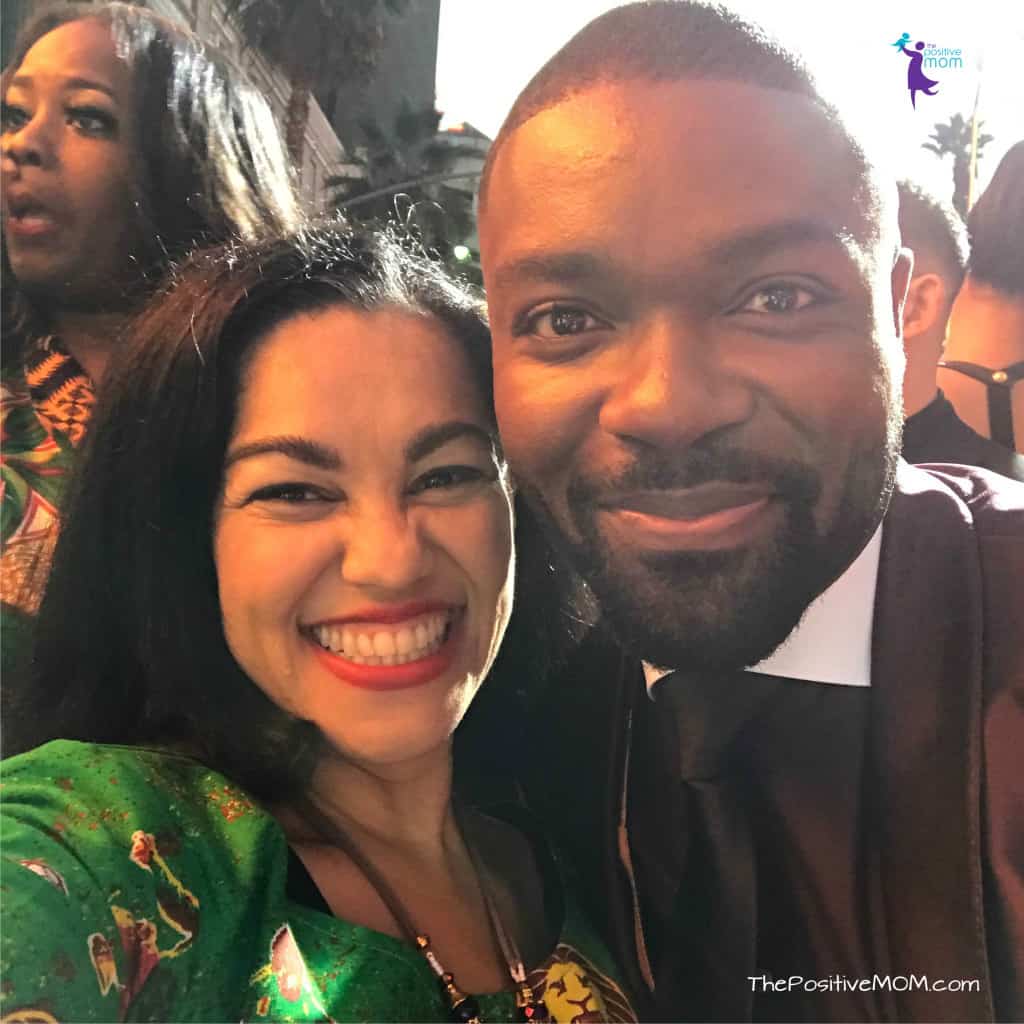 And of course, this red carpet was even more special because I was walking along Phiona Mutesi and Robert Katende, her mentor and coach, as well as Madina Nalwanga (who plays Phiona in Queen Of Katwe), and Martin Kabanza (who plays Phiona Mutesi's brother Brian). These inspiring people were all once slum kids.
Struggle. Loss. Lack. Grief. Suffering. Poverty. Deprivation. Despair. Homelessness. Hunger. Fear. Hostility. Humiliation. Abuse. Discrimination. Illiteracy.
From selling corn on the streets of rural Uganda to becoming an international chess champion, Phiona Mutesi walking the red carpet as the Queen Of Katwe was an incandescent testament to the power of vision, faith, and grit.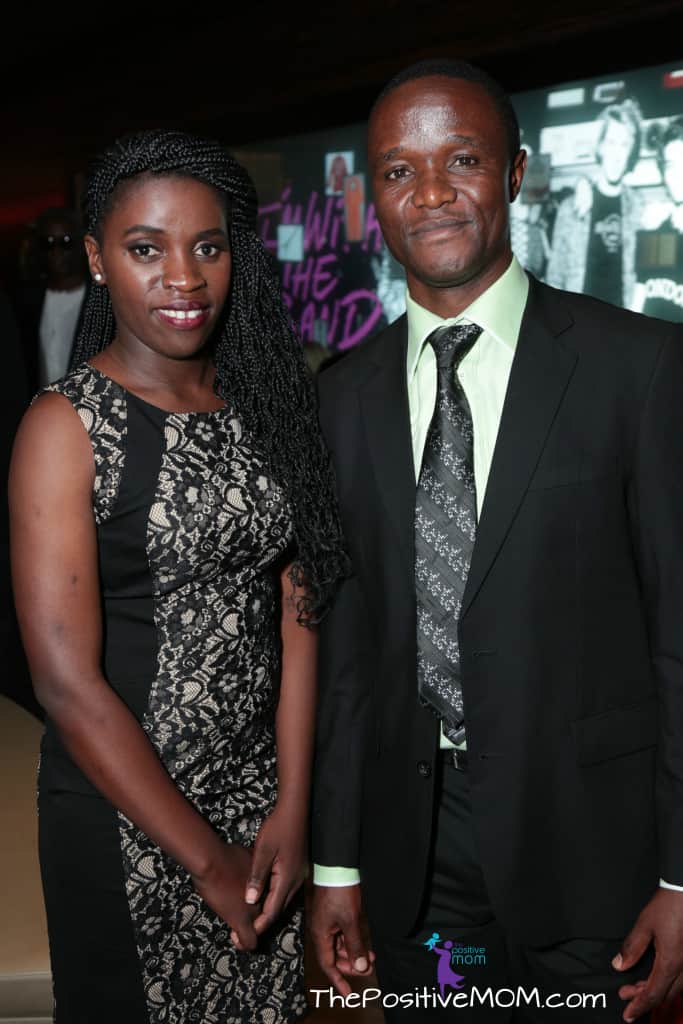 The dictionary defines GRIT as "courage and resolve; strength of character." Grit is synonym of bravery, strength of will, moral fiber, resolve, tenacity, and endurance.
As I saw the beautiful, powerful, and strong women that for sure would make the "Best Dressed List," walking down the red carpet (this time it was maroon!) in confidence, wearing their bold and bright African inspired gowns, it dawned on me that everyone on the red carpet has a story of grit.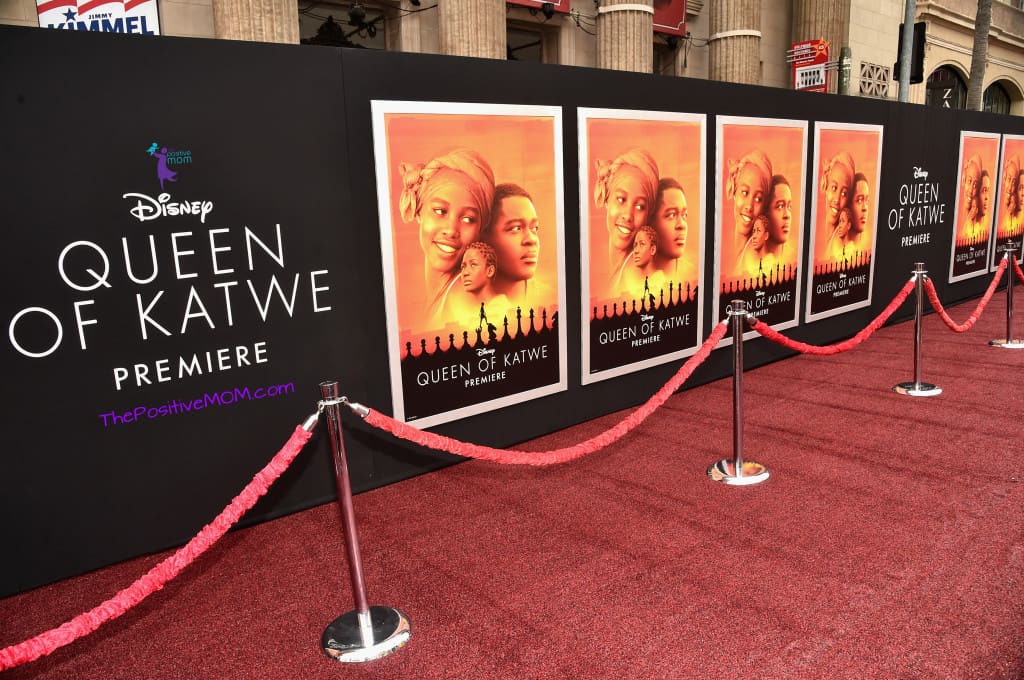 The red carpet is the most fabulous spot on the planet and the one with the most media prominence. It's a surreal experience to be amidst of it all: cameras from all angles, paparazzi, raving fans, and glamorous celebrities. The red carpet is also a place of grit because everyone was working the red carpet, in every sense of the word, and it took a village to create the magic.
It was true of myself and the 24 top Disney bloggers that were invited to the #QueenOfKatweEvent. We were all inspired by the film and in awe of our red carpet experience, but there's true grit involved in all we did to look this lovely on the Oscar Steps.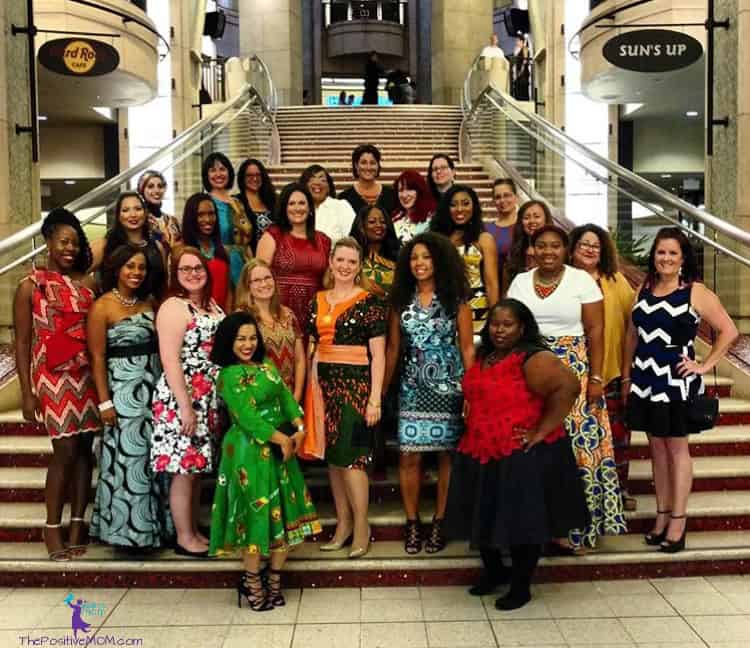 Which takes me to how my dress adventure came together (that's what my friend Debbi called it as she wondered how on earth I pulled this off). The dress I ordered never came. Well, I lie. It was delivered to my home while I was already at the Sheraton Universal in Los Angeles. If you've ever wondered what exactly goes on behind the scenes of a fabulous red-carpet-worthy dress, I'll have to say it is also grit… or in the case of Cinderella and I, a fairy godmother.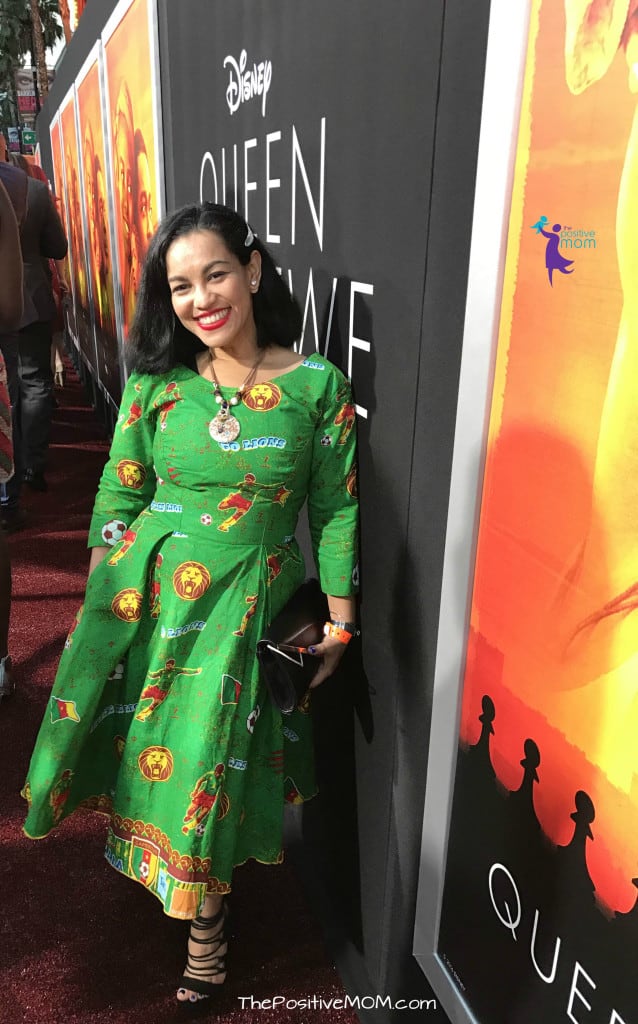 My dress is an import of creative artistry from the land of Cameroon. My amazing friend Laura of Food Fun Family, obtained it from her African sister at church, compared my measurements to her daughter's, and verified it could be a fit. It was a fit miracle. And it had pockets!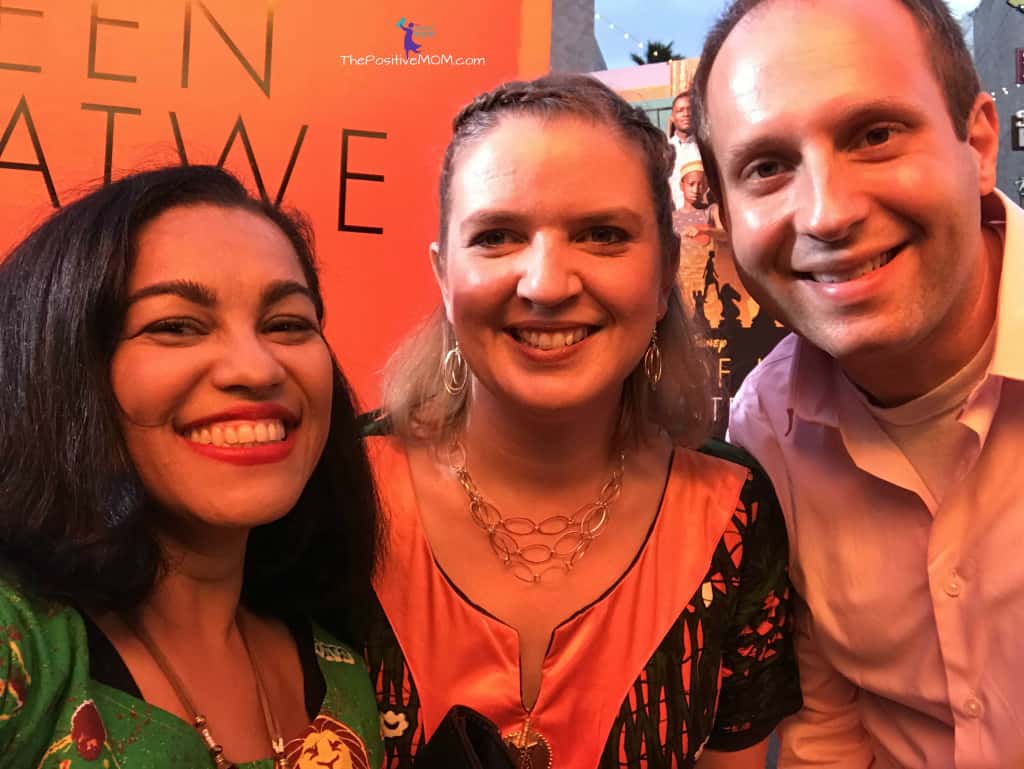 There was chaos, prayer, hope, and even heartbreak (tell you later) just around what I would wear! And yes, my long black locks were sacrificed in the process. LOL
My dad once told me he compliments every woman on her looks because she puts in a lot of energy, effort, and time to look her best.
As I walked the red carpet and during the Queen Of Katwe Premiere after party, I kept being approached by celebrities and guests commenting on how much they loved my dress (and shoes) and some even recognized that it was a traditional Cameroon dress. It was a success.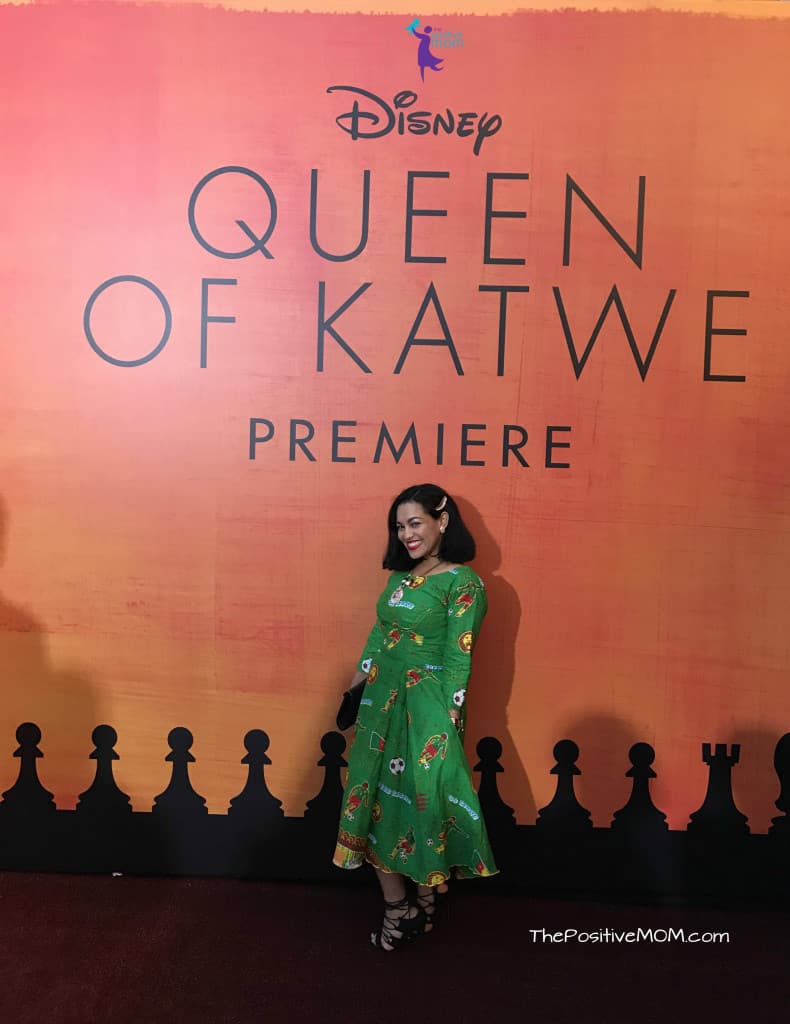 And that's the thing about grit: you do all you can, because that's all you can do, and then someone amazing shows up, and something amazing happens, beyond anything you could have done. This was a lesson from my red carpet dress experience and a main theme for Disney's Queen Of Katwe that you will love.
You'll fall in love with the story, with the people, and with the music!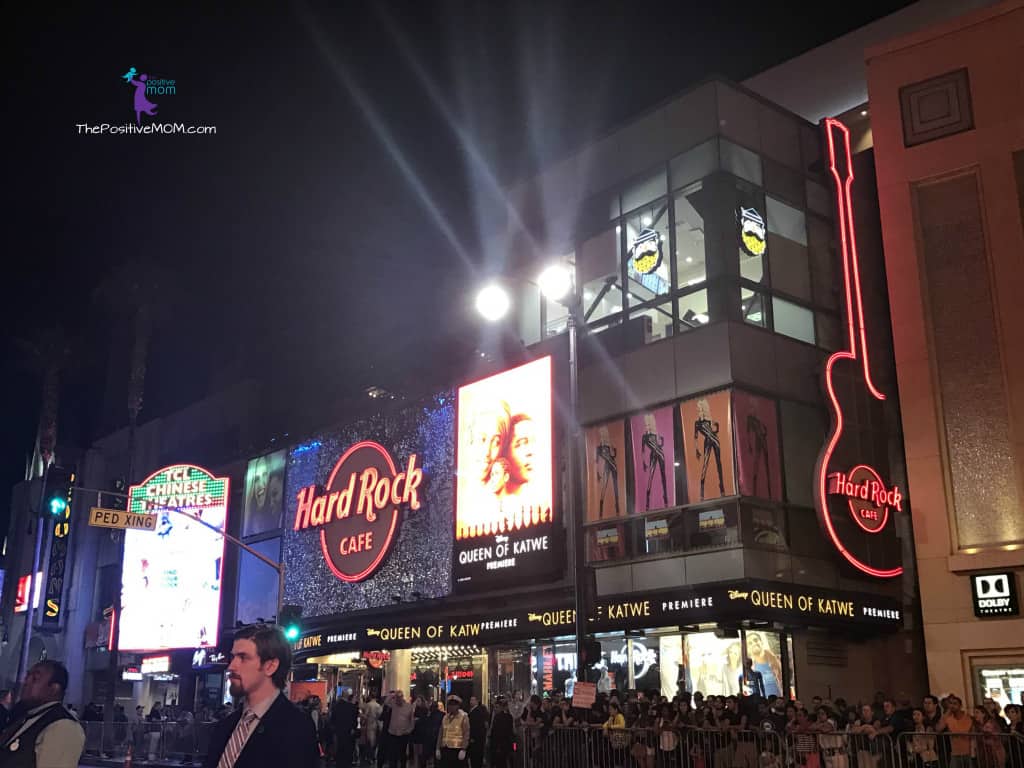 One of my favorite memories from the Queen Of Katwe premiere after party was dancing to #1 Spice (aff link) with the Queen Of Katwe cast, as well as with Young Cardamom and his mom, Director Mira Nair.
I hadn't had this much fun in a long while…
… and if you were following along, you found out in real time!
Because we all have time and desire to publish our moments of glamour and glory. Even if you had a break to share the story in the middle of the grind, sometimes you feel too vulnerable to even start.
We look at the famous stars behind the film, and we fail to see the people behind the role. There's a scene in The Muppets where Lew Zealand declares:
"Mr. The Frog, we all agreed – a celebrity is not a people!"
While walking the red carpet, attending the movie premiere, and mingling with the stars at the after party, you understand that they are not only people, they are people of vision, people of faith, people of grit. People with lives as rewarding and difficult as yours and mine.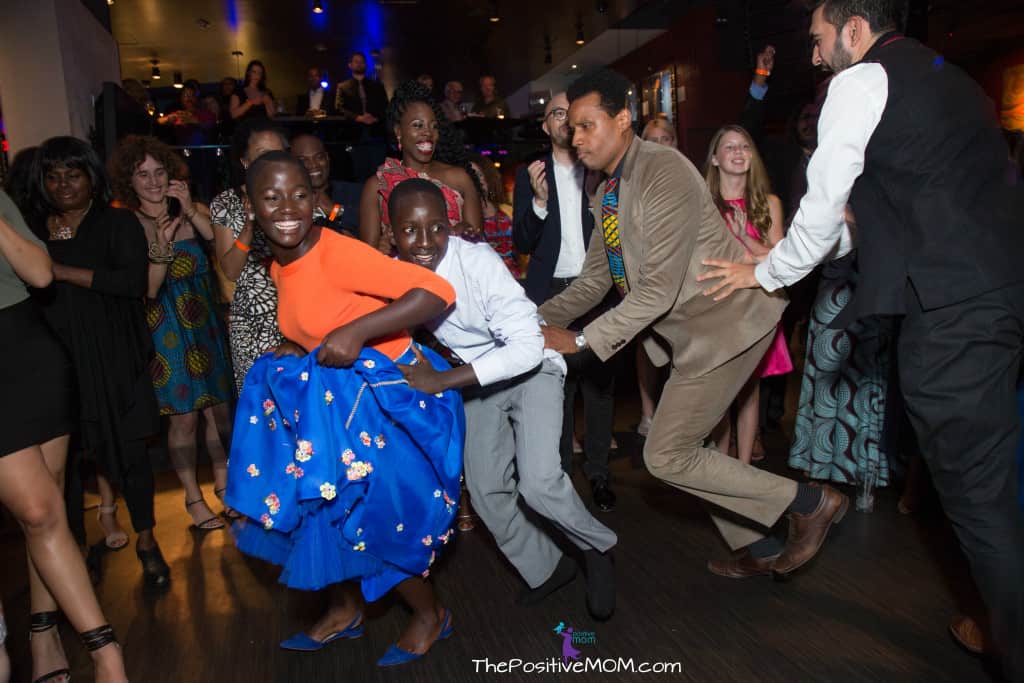 Even as mommy bloggers, we sometimes encounter comments about how we get to travel the world, meet and greet with celebrities, get free stuff, even and get paid, "without having to work!" You guess what my feelings are on that one!
Everyone has a grit story, including – and especially – those who seem to live life on the fab lane. And when we know, or even imagine, someone's story and how it has shaped who they are, we all fall in love a little more with a person, no matter who they are.
I'll be sharing many more stories, so stay tuned! You'll get the scoop on all things Queen Of Katwe, including exclusive interviews with Lupita Nyong'o, Madina Nalwanga, Martin Kabanza, Director Mira Nair, and the real life inspirations, former slum kids Phiona Mutesi and Robert Katende.
You can also learn more about Queen Of Katwe by going to the Queen Of Katwe Website, following on Queen Of Katwe on Facebook, Twitter, and Instagram, as well as following the #QueenOfKatweEvent bloggers all across your favorite social media networks.
What's your story of grit? I hope you're willing to share one aspect of your life as a mom or mompreneur in which you are successful and no one could imagine how much grit and prayers it took to get there. I love you!
[ela]