I wanted to cry, but I held back because I had worked so hard on my makeup. This thought made me chuckle because I never fully understood why people didn't just let the emotion sink in and let the tears out. The irony of my own subtle judgments actually calmed the whirlwind inside me.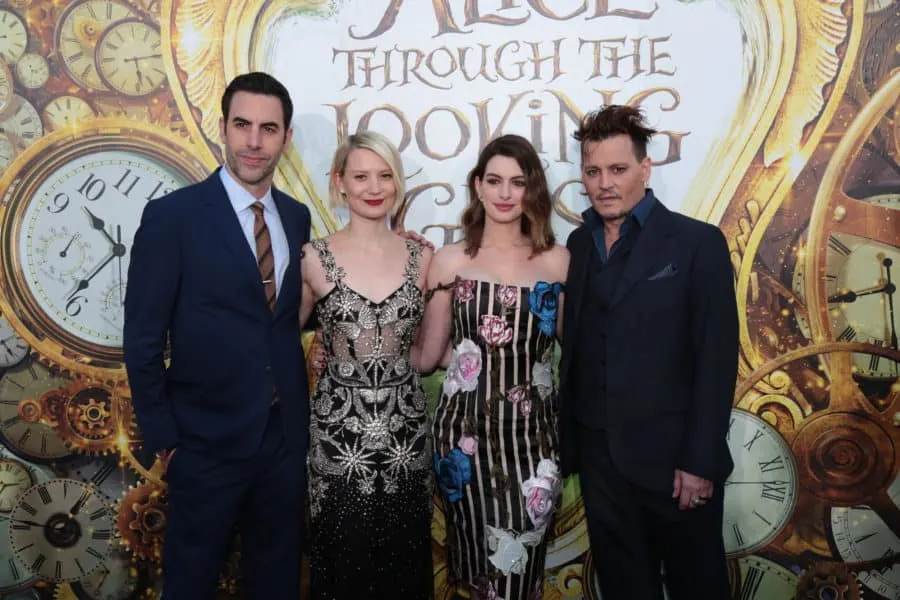 Hollywood Boulevard shut down on Monday, May 23 for the stars of Disney's "Alice Through the Looking Glass" attending the film's premiere at the El Capitan Theatre, which included Johnny Depp, Anne Hathaway, Mia Wasikowska and Sacha Baron Cohen… and Ela. Elayna. Elayna Fernandez. Me. What?!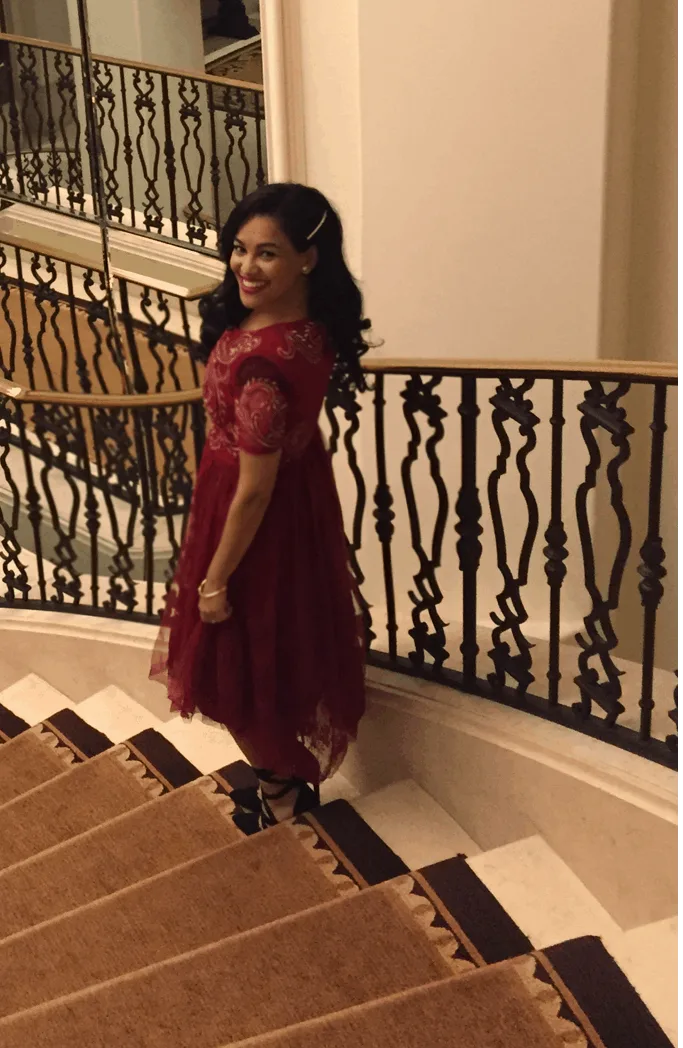 I was miles away from home, unable to attend or watch my WhollyART girls' piano recital, and it had been a very intense day – in a marvelously good way – and everything was brand new to me, but being surrounded by supportive people prevented me from feeling too much pressure, mommy guilt, and stress. These will sneak up on you if you're not on guard.
And now it was time. I was actually doing this and it was actually happening. I'm not sure how I was capable of containing all my excitement. Maybe I didn't really. It was a dream come true – one that I didn't even dare dream before, but had become so mine and so true!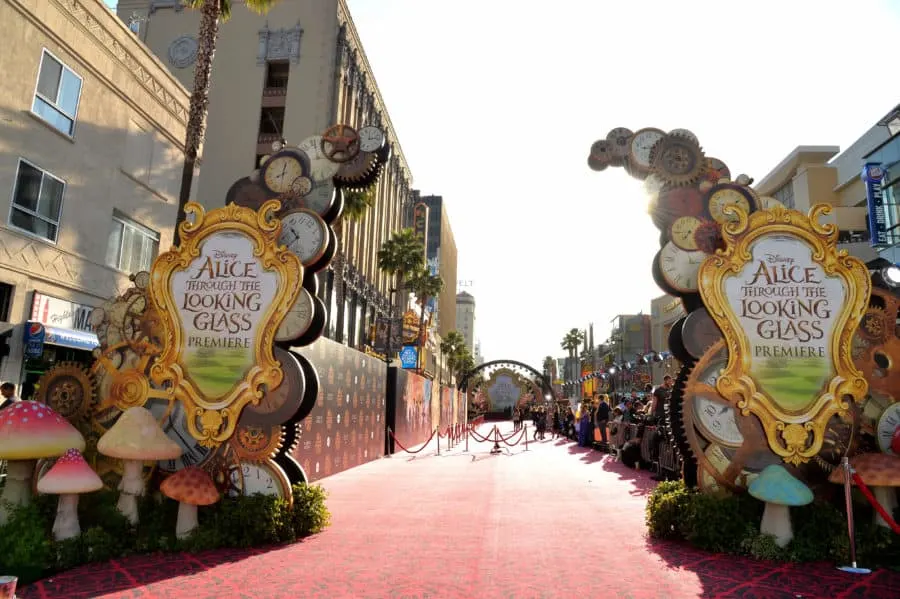 The schedule read:
5:15pm: Check-in at the red carpet premiere of ALICE THROUGH THE LOOKING GLASS
6:00pm – 6:15pm: Watch P!nk perform "Just Like Fire" and "White Rabbit" from ALICE THROUGH THE LOOKING GLASS on Hollywood Blvd. as part of her appearance on Jimmy Kimmel Live!
6:15pm – 6:45pm: Walk across the street, take a group picture in the Oscars steps, and stop by Hot Topic to check out their new ALICE THROUGH THE LOOKING GLASS product line
7:00pm: Return to walk the red carpet at the ALICE THROUGH THE LOOKING GLASS premiere
7:30pm – 9:45pm: Premiere Screening of ALICE THROUGH THE LOOKING GLASS (112 minutes) 6838 Hollywood Blvd. Hollywood, CA 90028. – popcorn & drinks provided
10:00pm – 11:30pm: Premiere party for ALICE THROUGH THE LOOKING GLASS at The Hollywood Roosevelt Hotel (7000 Hollywood Blvd., Hollywood, CA 90028) – food & drinks provided
12:00am: Arrive back at the Sheraton Universal Hotel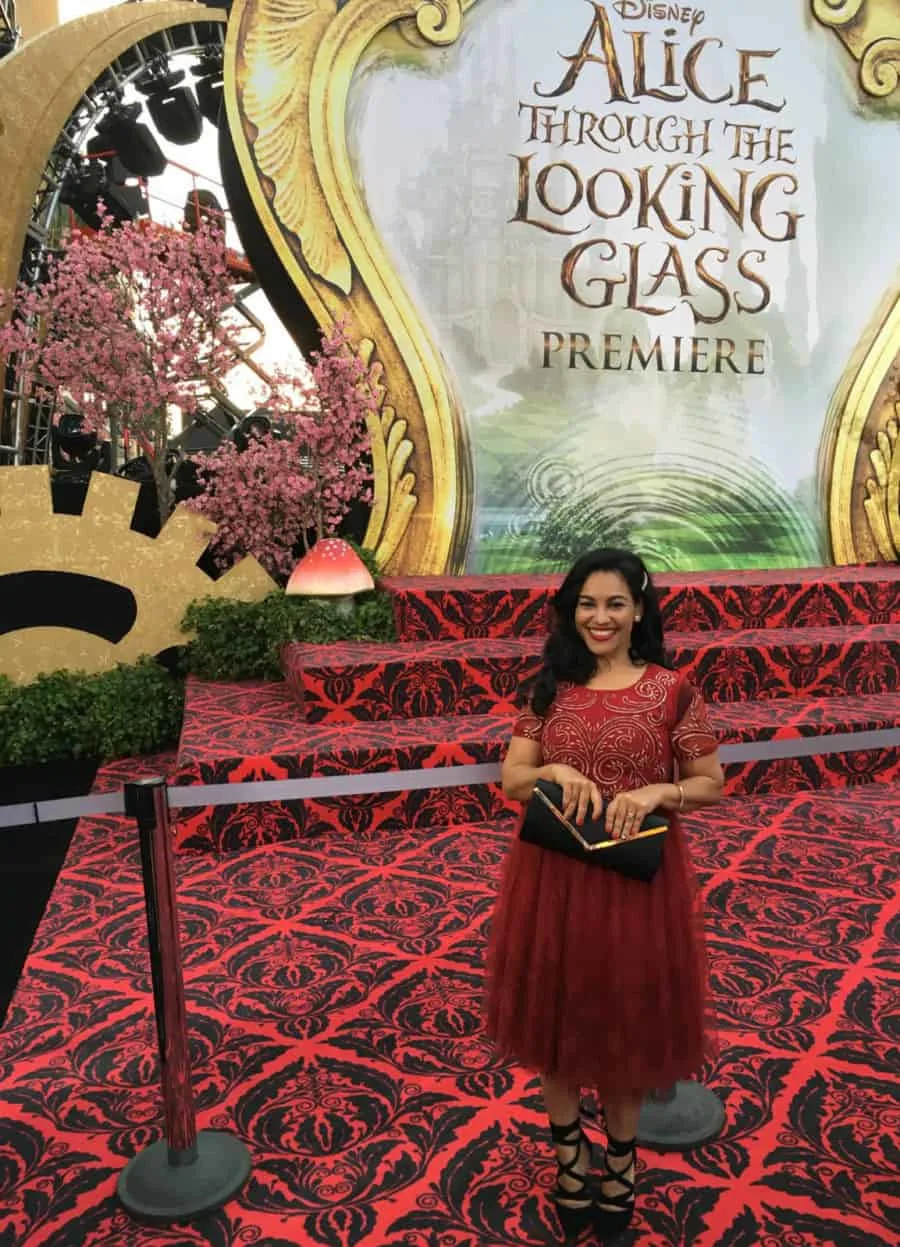 "Is this really my life?" I'm still overwhelmed with the magic.
I could hardly believe that my traumatic life events would lead here. I saw headlines in my head: "From the slum to the red carpet" and I realized I was in my own Wonderland. My life had been this crazy rabbit hole, but the moment I decided to take charge of my life, everything started to make sense and to work for me.
"From the moment I fell down that rabbit hole I've been told where I must go and who I must be. I've been shrunk, stretched, scratched, and stuffed into a teapot. I've been accused of being Alice and of not being Alice, but this is *my* dream. *I'll* decide where it goes from here."
Oh, how I love Alice Kingsleigh and her words of wisdom. Sometimes a few words will make a huge positive impact in someone's life and this was one of those moments for me. Earlier that day, the voice of wisdom showed up as the only male voice in our crew, Marshall, the dream-maker himself. He said three things that completely changed my Red Carpet experience and that can apply to our daily lives as women, moms, and wives:
Don't worry about Tweeting.
Get a buddy.
Take it all in.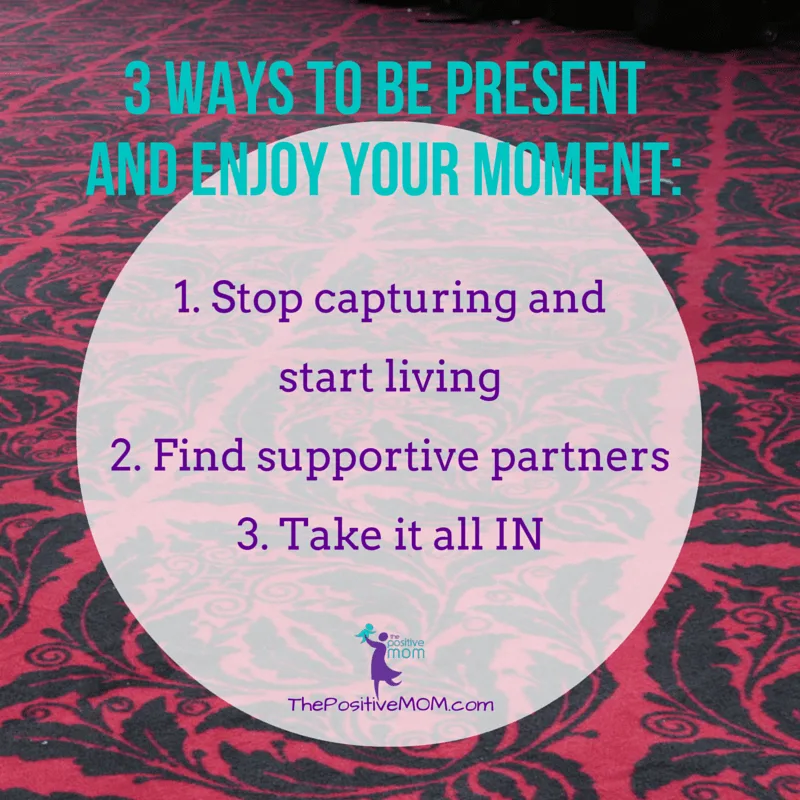 I decided to listen and I said to myself: "Ela, be present and live your moment!" No more thinking of the past or the future, no worrying about other's perceptions or beliefs about who I am or who I used to be.
Mindfulness Lesson #1: Stop Capturing And Start Living
If you have a life event planned soon or if it just comes up for you, capture – if you must – it's but for sure DO live in the moment. A recent study revealed that 58% of people believe that "posting the PERFECT picture has prevented them from enjoying life's experiences," and the mantra of the era is "Pics or it didn't happen!" Of course I tweeted from the Red Carpet, and I instagrammed, and I Facebook-Lived it.
I love social media and captured, documented, and shared my experience for my family, friends, and fans. The key here is to not let your rob you the joy of living the moment fully.
One of the most anticipated moments for me was to see P!nk perform and being front row was an unexpected and very pleasant surprise. Her voice is extraordinary and she was very real. We got to see her cute daughter, Willow, rock to her mom's songs, and the two of them interacting. A sweet mother-daughter relationship always melts my heart.
When I sang along the lyrics of "Just Like Fire," chanting "WE CAME HERE TO RUN IT," I ended my broadcast, put my phone away, and reminded myself that one shot, one video, one share was enough. Check out my clip of her performance on Facebook Live.
It had been years since I've been at a live concert, and with this mindset, I got into it, got sweaty, and had the time of my life.
Mindfulness Lesson #2: Find Supportive Partners
Oprah advices to surround yourself with people who are on the same mission as you are. It's ironic because one of my partners was Erica of Mama's Mission! Most of the glamorous bloggers were in pairs, but Erica, Silvia, and I were together in this. The purpose of having a "buddy" was to keep each other on track to enjoy the Red Carpet event: she would take your glam picture and you would take hers, and you would both get what you needed to make sure the moment was memorable.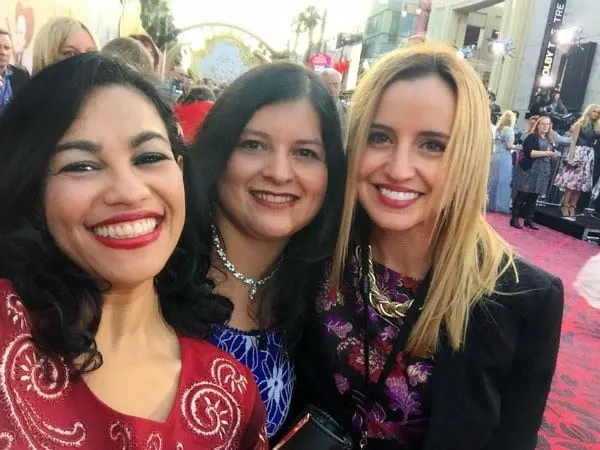 As I thought about that and I now reflect on it, remember many moments that didn't go as I dreamed of and it was mainly because I didn't choose the right partner to live my moment with. Some people don't want to see you walk onto your red carpet because they are afraid and that's how they know how to love you, but give yourself permission to share the most important moments of your life with those who get it and want for you what you want for you.
Sharing *my* moment with these remarkable women was the highlight of the event, because I was so focused on them that it was easy to allow them to focus on me. It is the characters and the relationships that make Underland a Wonderland, and for those I am eternally grateful. A supportive partner is loyal to you, challenges you past your comfort zone, inspires you, grounds you, and encourages you.
As you think of your moments and your partners, don't beat yourself up if, like me, you've chosen poorly in the past. Awareness is not a tool to beat ourselves up for what could have been, but to move forward with the certainty of what could be!
I'm so grateful for my other partners on the Red Carpet Premiere adventure:
Carol, Melissa, Marybeth, Tiffany, Gayle, Enza,
Jennifer, Laura, Di, Amanda, Kate, Christy, Jana,
Ashley, Rebecca, KeriLyn, Susan, Tammie, Kira,
Christa, Chrysa, Tara, and Rachel, too.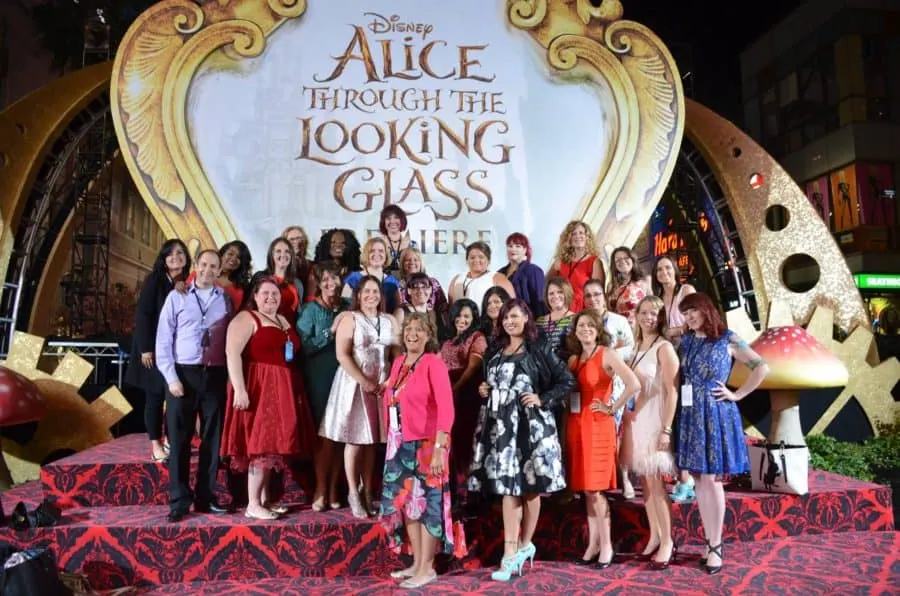 Mindfulness Lesson #3: Take It All IN
Everyone can imagine that walking the Red Carpet is a magical event, but even more so when it is to celebrate the US Premiere of Alice Through The Looking Glass. Every single detail was absolutely exquisite and true to the whimsical and fantastical land of Underland we all love since childhood. I was mesmerized with it all and a bit overwhelmed by the lights, the clamoring crowds, and the hurrisome security officers, but Marshall's voice in my head told me to stop and smell the white and red roses. In life, as in the red carpet, it is essential to NOTICE your inner and outer world.
The little things matter – and I'm not saying that because I'm little! It was so freeing to kind of shut down the world around me and connect with how I was feeling. There were plenty of celebrities to take selfies with, but it felt better to enjoy being amidst them and enjoy the spotlight. Every second of it surpassed everything I expected. It was immeasurably more than I could have ever imagined. [Ephesians 3:20!]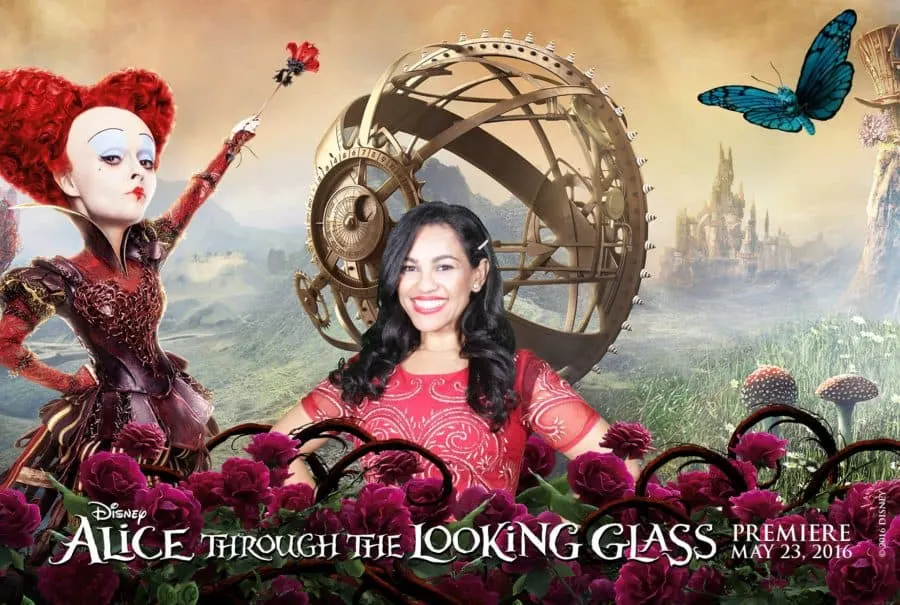 Walking the red carpet was exhilarating, the P!nk performance was spectacular, and the 3D screening Alice Through The Looking Glass was surreal. To think that you are at the El Capitan Theater, watching a movie with the people who made it, is something that I will never forget. The popcorn was vegan, too!
Alice Though The Looking Glass is opening on May 27th in theaters everywhere and it is not only a masterfully made modern classic film with the magic of Disney, it is a true testament of the power of mindfulness and the use of time: every single moment counts!
Disney's ALICE THROUGH THE LOOKING GLASS will be an experience worth your time! Watch it in Digital 3D™, Real D, 3D or IMAX® 3D when it opens in U.S. theaters on May 27, 2016. Stay tuned for my review tomorrow!
Mindfulness, living in the moment, focusing on the now; you've heard it all before, but have you ever tried it? It's your size… and you'll notice how well it fits. It feels good, and it is only impossible if you believe it is.
When you practice mindfulness, you get a deeper appreciation of life because you are able to savor it. Naturally, this way of life has holistic benefits: reducing stress, boosting your immune system, lowering your blood pressure, helping you be more focused, feel more confident, and happier!
I am feeling such a deep sense of gratitude and I guess the tears are back and they're here to stay, so I am letting them roll as I write to you. I am sure they will be back in abundance when I take my family to watch Alice Through The Looking Glass on opening night this Friday. Will you go watch it with your family? I encourage you to pre-order your tickets and get ready to learn even more about mindfulness from this inspiring film. Bring tissues – and don't spend too long on your make up. LOL
Visit the official ALICE THROUGH THE LOOKING GLASS site, like on Facebook, follow on Instagram and follow Walt Disney Studios on Twitter.
[ela]
Cast photo by Alex J. Berliner/ABImages
Atmosphere photo by Charley Gallay/Getty Images for Disney