As a chess player, it's been obvious to me that chess is an analogy for life, and that's something you can appreciate from reading about my red carpet experience, my review of Queen Of Katwe, and the interview with the cast.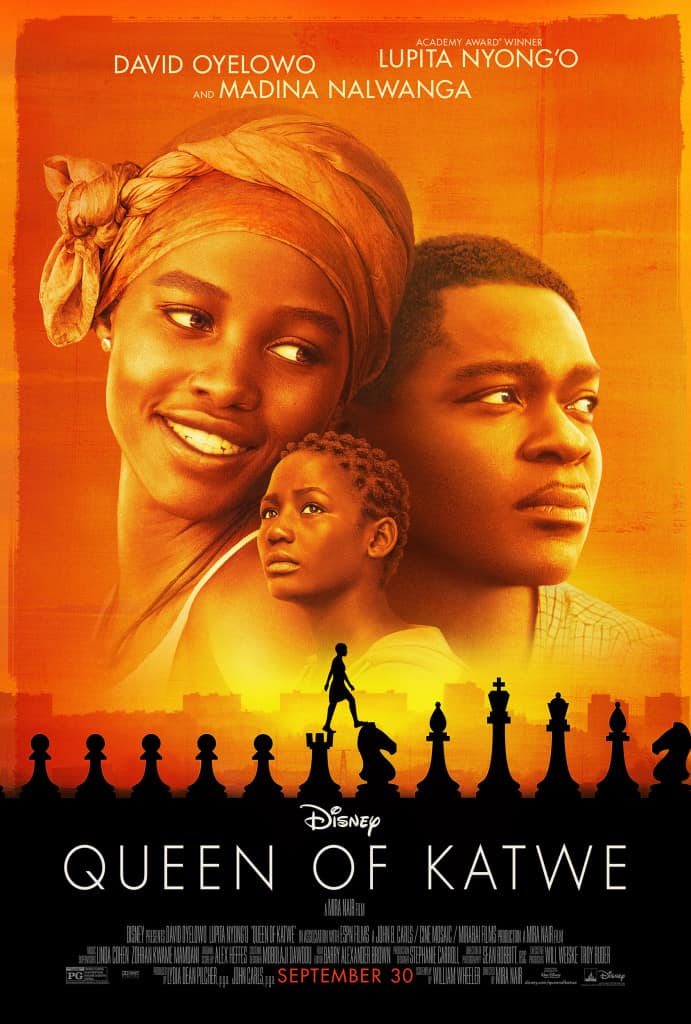 Queen Of Katwe is the inspiring story of Phiona Mutesi, who used to sell corn in the streets of Uganda and after meeting for mer missionary Robert Katende and enrolling in his chess program, became an International Chess Champion.
But, just how did Queen Of Katwe make it to the big screen?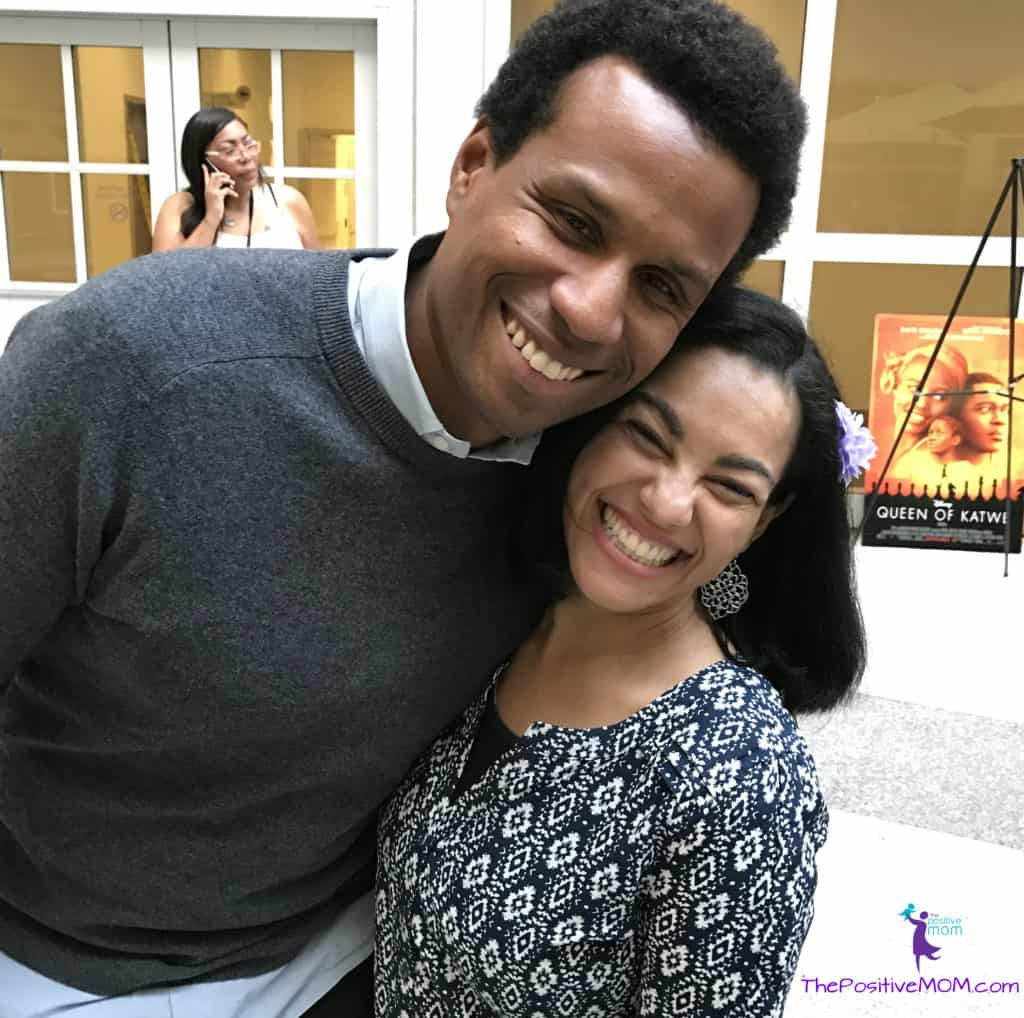 During my recent travels, I had the opportunity to meet Tendo Nagenda, an executive vice president of production at Disney Studios, who also happens to be a wonderful man.
So Tendo, whose father is Ugandan, pitched Phiona's story to internationally acclaimed director, screenwriter and producer Mira Nair in Kampala.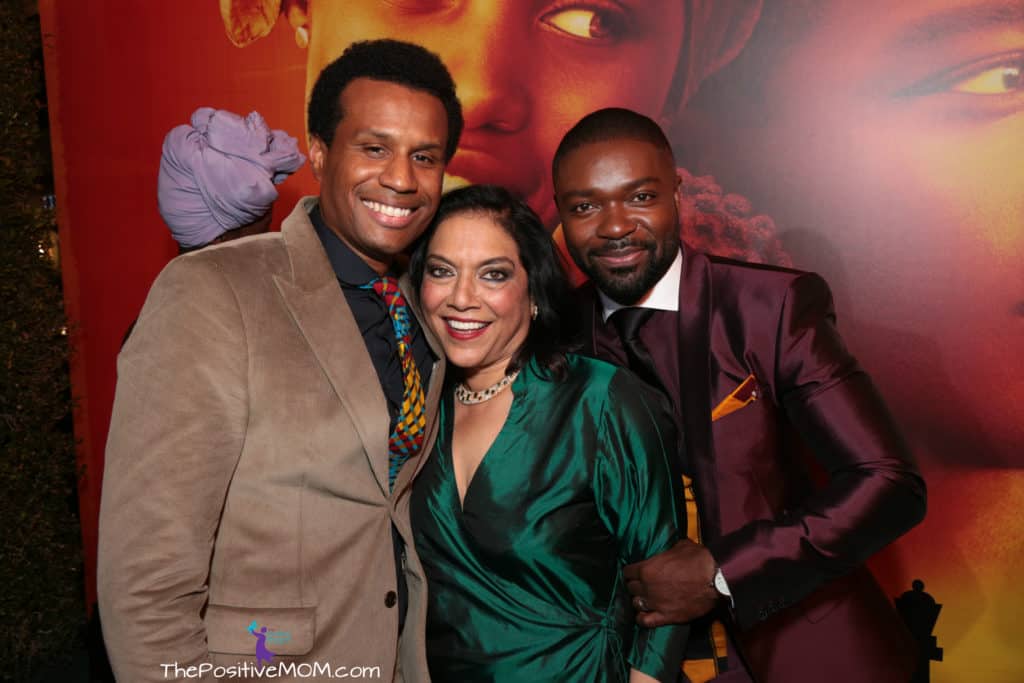 Mira Nair's vibrant work includes the Oscar®-nominated "Salaam Bombay!," also winner of the Camera D'Or at the1988 Cannes Film Festival; "Mississippi Masala"; "The Namesake;" and "Monsoon Wedding," which got her the Golden Lion at the 2001 Venice Film Festival.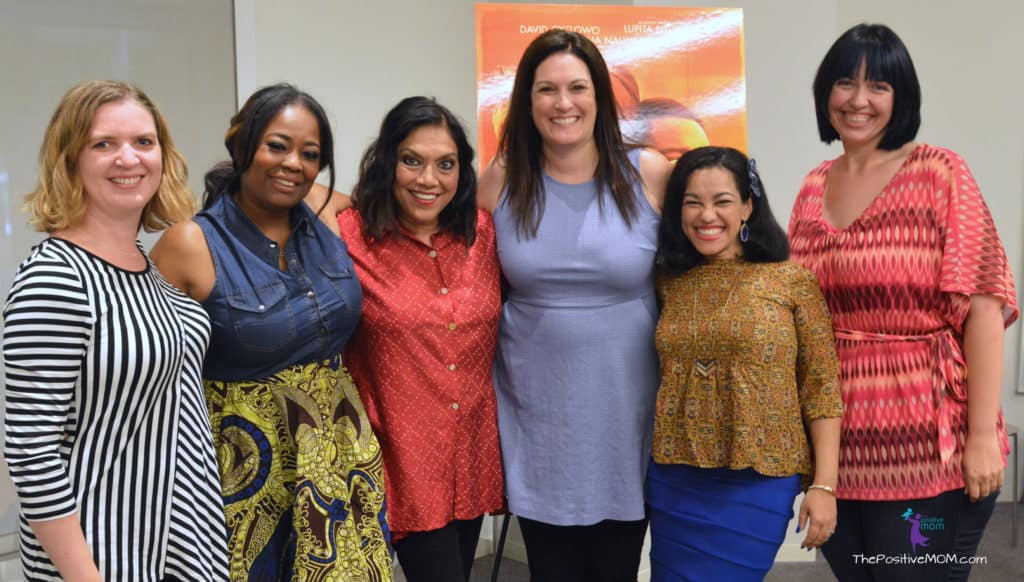 I had the incredible honor of meeting Mira Nair and sitting down for an interview about her amazing work with Queen Of Katwe. Getting to know her was quite a delight.
"Tendo Nagenda came to see me in my garden in Kampala when he was at a family reunion about four years ago. And he showed me this little article about Phiona in the ESPN journal, about this child who sold corn in Katwe who now was heading to becoming a chess prodigy and going to the Olympics in Russia. And I was completely struck by the story."
Indian-born, New York-based Mira Nair met her Ugandan husband while shooting Mississippi Masala, and has called Kampala her home for 27 years.
"1989 was the first time I went, and started my life there, fell in love and had a son and planted gardens and created a film school called Maisha. And the slogan of Maisha is: 'If we don't tell our own stories, no one else will.'"
Maisha Film Lab, a Kampala film school is a non-profit training initiative that focuses on helping emerging East African filmmakers in the areas of screenwriting, directing, producing, cinematography, editing, sound recording, and acting.
"There are so few images of African on any screen anywhere and when there are, it's usually death, despair, dictators, bestiality. We created the school, because we have to make the dignity and the joy of everyday life in our street in Kampala, anywhere. Be specific. Be local. Be truthful. And be excellent. It was such irony that despite my being surrounded by local stories for 12 years, that this story of Phiona Mutesi, who lived 15 minutes from home – I did not know about her."
Besides the irony that such a powerful local story came from Hollywood, Mira actually met Phiona in New York, while she was playing opposite Garry Kasparov, Russian chess grandmaster, and former World Chess Champion. That match is logged in Tim Crother's book, Queen Of Katwe, on page 237. (aff link)
Mira got to know Phiona Mutesi and her coach, Robert Katende, very well.
"We had such a lovely connection instantly, because we are Ugandan and we were joking, slanging, everything."
And interestingly enough, Mira's son, Zohran, was a competitive chess player, so she told us how she was part of the chess circle, and while she understood chess, she didn't really know chess well or play it.
"Phiona taught me chess, prior to the shooting. She would just laugh at me, because I was reckless and I would just want to move the piece. And she would say, 'Ahhh, Mira, you must consider the other side of the board.' And I would just write down. I said: 'that's a great line, Phiona. It's like a metaphor for the world. If we all considered the other side of the world it would make life work!' I used to write down what she would say, but it comes out of her mouth in the movie if you notice it. She would say: ' are you focusing on the game or on your film?' I said: 'the film.' As a teacher, she was fantastic."
I was inspired by every word that came out of Mira Nair's mouth, but this concept of 'considering the other side of the board' was just brilliant. It is really what I love about Queen Of Katwe, especially having grown up in a similar environment as Phiona and Madina (who plays Phiona in the film).
It's really special that we are seeing real life through film and the authenticity of the clothing, the setting, the people, and what is portrayed, even the lines that are said, is what makes Queen Of Katwe a film you will love for the rest of your life.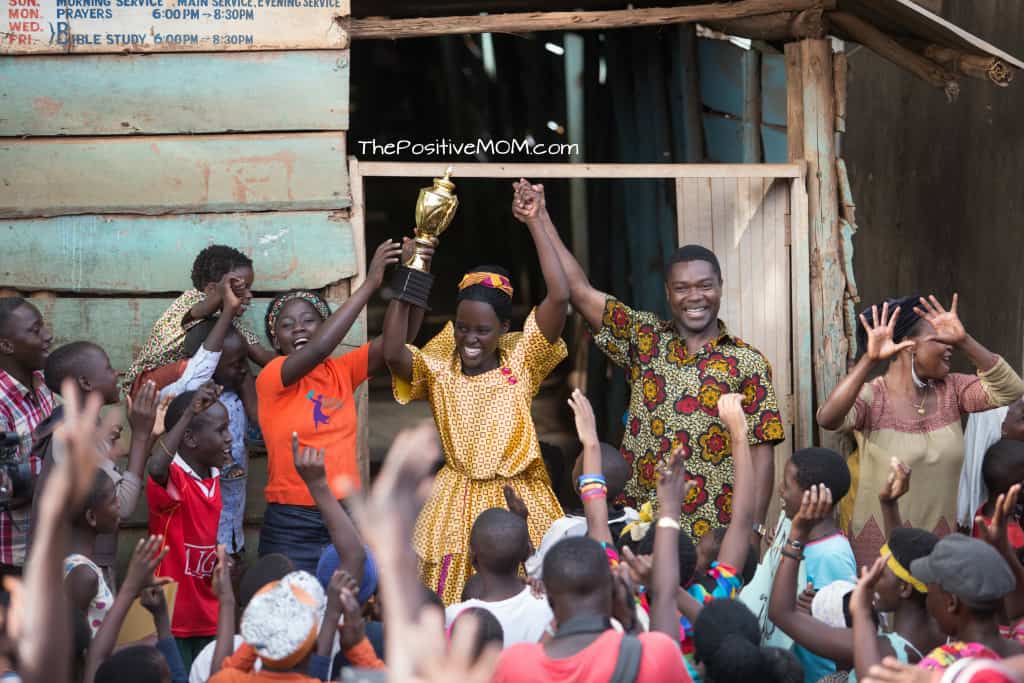 When I learned that Maisha means 'life' in Kiswahili (or Swahili), an African language spoken mainly by the people of eastern and central Africa, I wasn't surprised, because it is reflected in Queen Of Katwe:
"The most beautiful challenge was to distill the love and familiarity I have with my own home, my adopted home of Uganda, the people, the sassiness, the vibrancy of the style. I wanted to capture that sort of emphasis of like no matter what we don't have, we will put forward something that is excellent. The great challenge was to capture that sense of what we call in slang in Kampala "a lifeist" somebody who embraces life fully and doesn't complain about what you don't have. If you have half an inch of water, you will wash your hair, and no one will know that you had a struggle. This the quality of what I live around and this is the quality that I hoped to capture."
I love that concept. I think I have a new favorite word. And if you like it, you must see Queen Of Katwe at your first opportunity. In US, it opens tomorrow, Friday September 30 in theaters everywhere, and because my daughters saw the film when I screened it for the first time, I'm going on a date with my husband so he can finally watch it.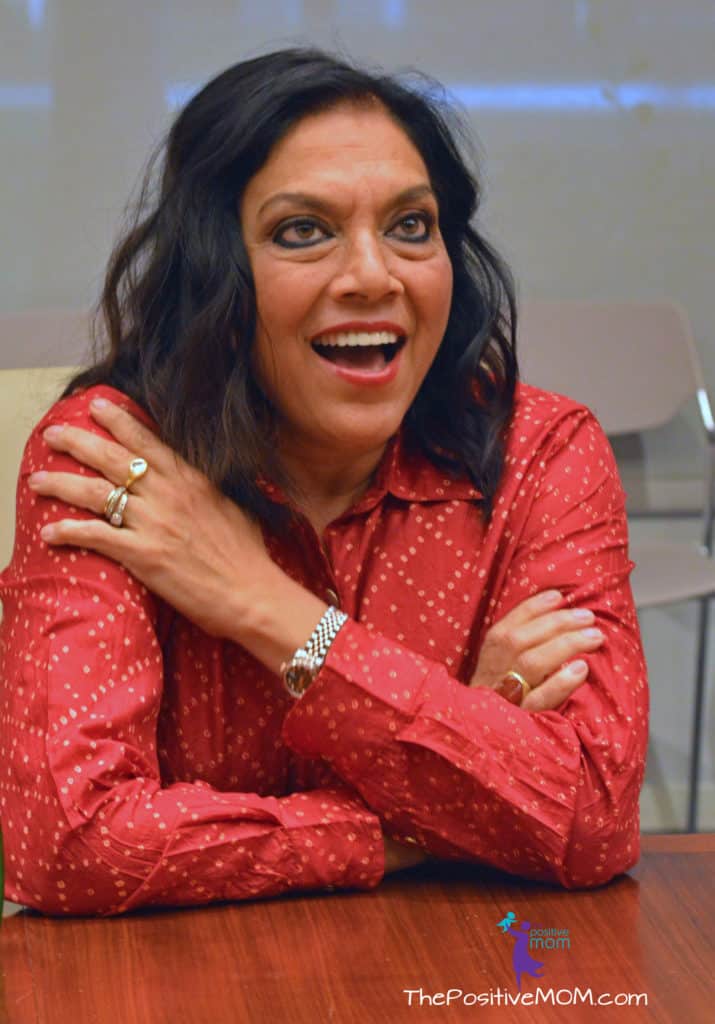 "This story gave me a chance to bring to screen what I love about living in Uganda," says Nair. "To visually capture the human dignity of our people, the vibrant, original style, the streets that pulsate with life…it's about time we see an honest version of the place we live in."
Mira talks about the vibrancy of the style and tells us they didn't have – or need – a big budget for costumes. Costume designer, Nigerian-American Mobolaji Dawodu, used Kitenge, the vividly patterned fabric that is worn in Uganda, and acquired the pieces from Owino, the local second-hand market in Adjumani…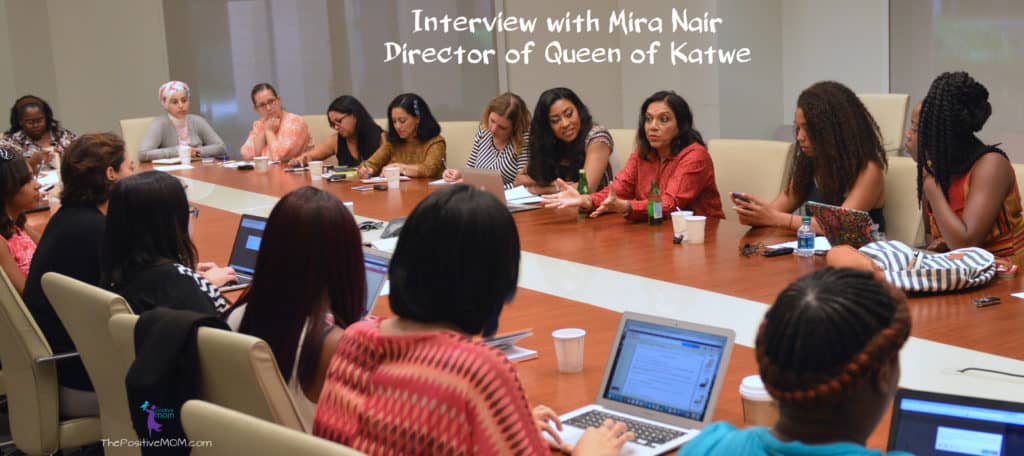 The cast also teaches us about the other side of the board:
"I always work a lot with non-actors, people who have never faced the camera before, opposite legends like Denzel Washington, on this case Lupita and David. That kind of alchemy between the purity and lack of artifice, of a child actor, of a child really, not even an actor opposite a legend who has a lot of tricks to their trade and all those tricks have to drop off when you're faced with the purity and freshness of a kid, especially a kid who comes from the same streets as the story that you're filming. So, for me it was always critical that we don't go too far afield to find our children. All our kids came from Katwe or Kibuli, which is the neighboring community right across the street from Katwe. All our kids have come from there, do live there."
Casting director Dinaz Stafford, a frequent collaborator of Nair's, spotted 14-year-old Madina Nalwanga in a dance rehearsal and couldn't take her eyes off her. She got the part out of 700 girls and after six months of searching, because Mira knew she was the one!
"And I only trust love. I trust my instinct. I have to love you, because I have to live with you for years. Forever. And I would have want to be with you. You cannot have hesitation on casting. It's the core in several ways."
Martin came from a football club, brought in by his coach. Mira said she loved Martin's performance, his sense of comedy.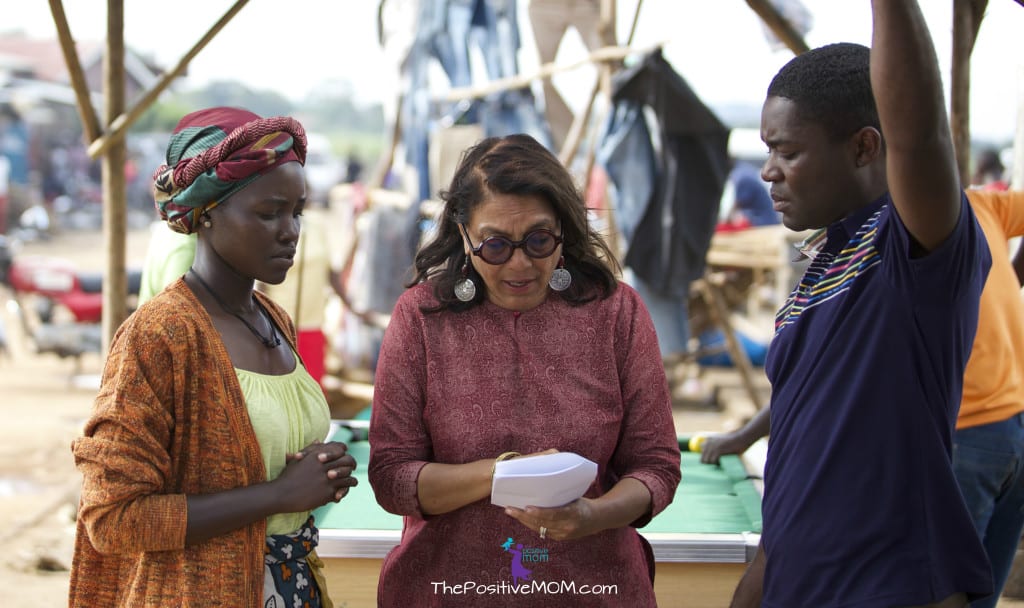 And she also made sure to incorporate real details and expressions of the Ugandan lifeist into the film.
"They make a lot of great sounds, like "ahhh" "eeeeeh" "iiiish." We talk like this. Beautiful. Benjamin was constantly "ahhhhh ahh". And I used it all the time. Or that snap. The snap is like, it's such a lifeist example. It was like checkmate, don't feel sorry for me. Here you go. Touché. You wait. It'll be the catchiest thing…I'm a shameless populist."
And it you are wondering about how they made chess so interesting and emotional, it was all cinematographic talent added to real life chess:
"They were real games, real moves that Phiona was famous for. It wasn't a made-up situation."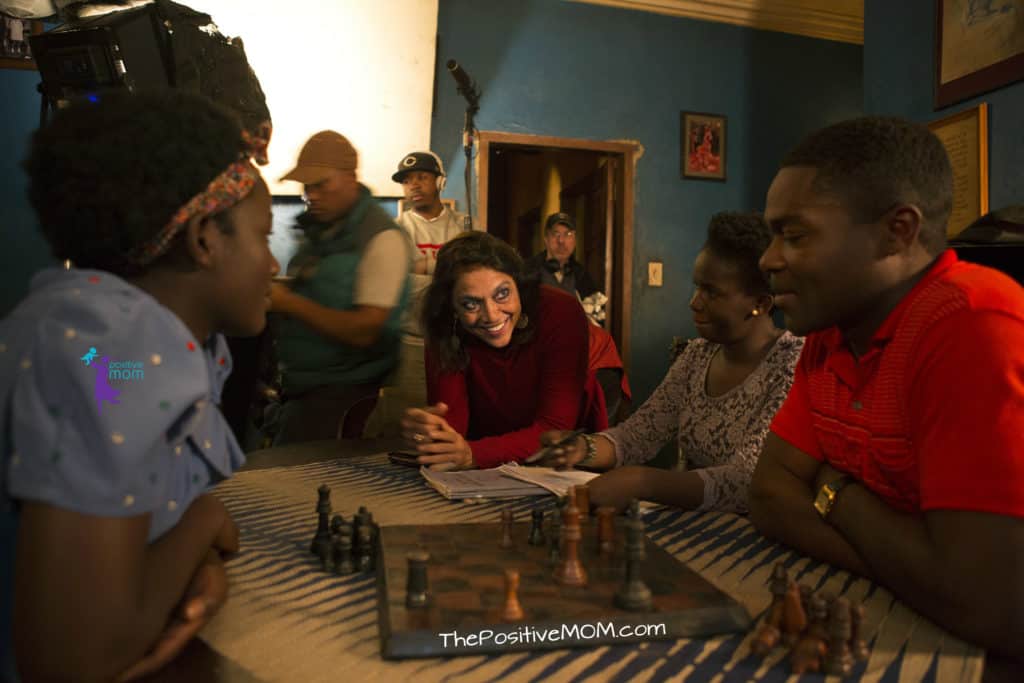 And then Mira asked to meet Harriet, Phiona's mom, who is played by Lupita Nyong'o in the film so she could portray her story with integrity.
"I spent a lot of time with Harriet who took me just below where I lived, where she was evicted when her husband died. And she took me in the ramshackle run; we spent the day just going from one place to another where she had been with her four kids: at an abandoned church, at the veranda of a little vendor stand, at a shop somewhere, and finally, a little room.

When I saw the trajectory of the struggle, the homelessness, and her fierceness to keep her family together against absolutely every odd there was, it just was so deeply moving and great, because she was full of courage and full of pragmatism. She was not a defeated woman by any means."
The passion in her eyes and the reverence in her voice were captivating. The room was quietly engaged in her vivid story.
Everyone was in awe.
The music is another authentic component of "Queen Of Katwe." Young Cardamom & HAB will help you consider all the talent and spice that lies on the other side of the board.
I got to dance with Mira at the after party and she was so friendly and fun. It was a really special moment with her. You can see the grumpy bodyguard man doing his job right behind us. She kept shooing him away so we could dance and everyone else could get in the circle. I just LOVE her!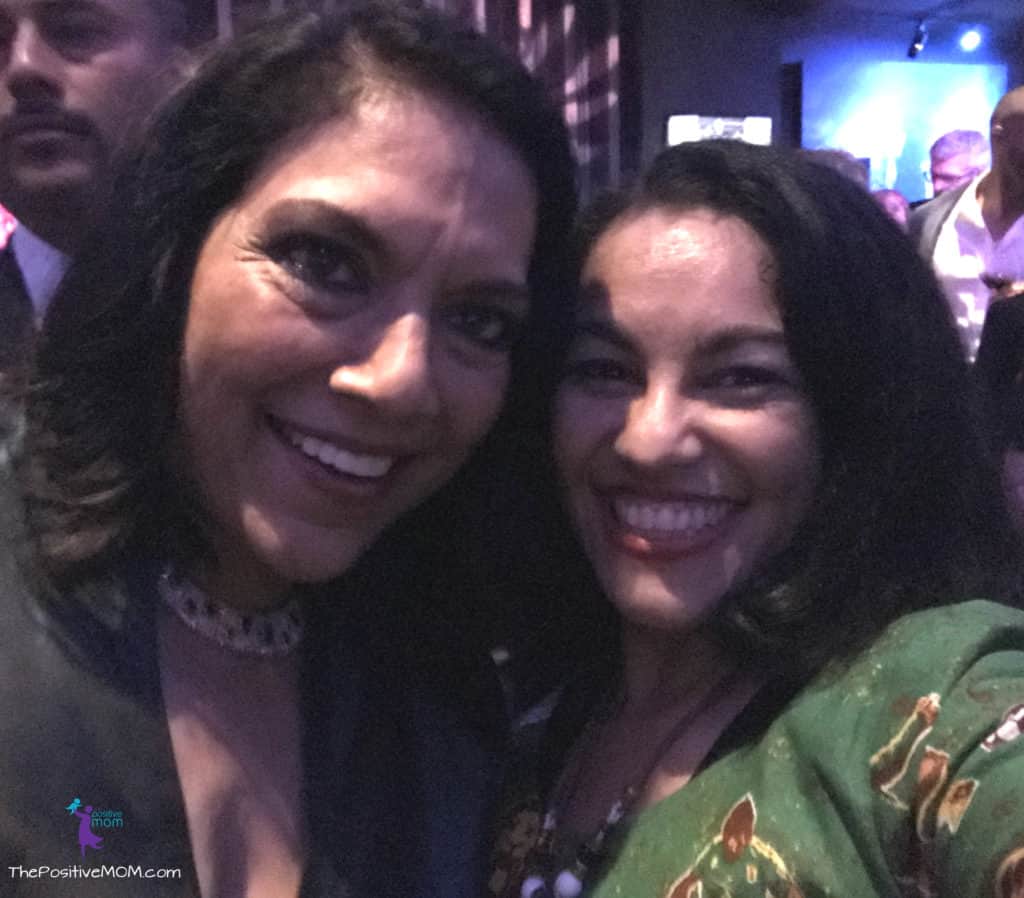 It was extra special because, as a mom, she and I share that our children are included in our work, yet they get to express their individuality and pursue their personal unique dreams.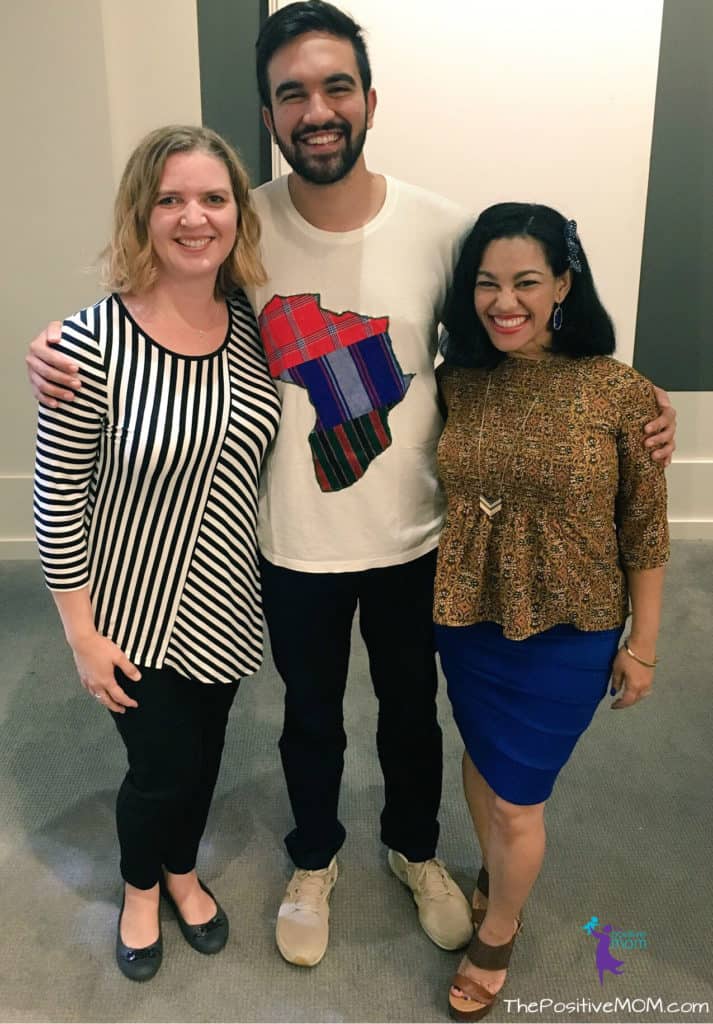 Young Cardamom is Mira Nair's son! He's also very humble and friendly, like his mom. I love that.
And perhaps my favorite thing from seeing the film, reading the Queen Of Katwe book (aff link), and meeting the remarkable cast, the real life inspirations, and this truly gifted filmmaker, is to know what the movie, Disney's Queen Of Katwe, is doing for the community of Katwe, way on the other side of the board:
"We have been doing several things. We ran a green set, an ecological set, which is unheard of there, because plastic is so awful. We turned everything into a recycled sort of heaven. We also worked with the community of Katwe. We called it the Legacy Project while we were shooting, which is all shot in Katwe and the real places to ask what the community needed.

And it was decided with the elders of the community that public toilets were the big thing. We have a project with Disney, to build a whole series of public toilets in Katwe, just a small example. Recently they had just purchased land and a building in Katwe to house permanently the Chess Academy. And then we have a educational fund for all the pioneers in the film, to university.

And that's a very complicated and very excellent endeavor, because, like in the film, like in life, education is the cornerstone. And in Kampala, it's a big emphasis. People knock on your door every day for school fees, because, whatever it is, you must go to school. The education of our kids is vital. And lastly our film school, Maisha Film Labs , which is now become a community interdisciplinary school for the community. We are building the last phase of the physical school, hopefully with Disney's help, which creates an open-air community theater and audio visual library. There are no libraries. There are no books. So that is what I'm appealing for. Because it is impossible for us to have done this thing and made this film and not care about what happens in the future, because the whole film, as much as it is about the present, it is about the future of our kids."
I've been living in the United States for fifteen years and, probably because of my children's passport situation, I hadn't done much considering of the other side of the board until recently. I think Queen Of Katwe is a story of joy, of hope, and of love, but it is also a gateway to escape our everyday life and focus on what's going on in the lives of others who have different realities.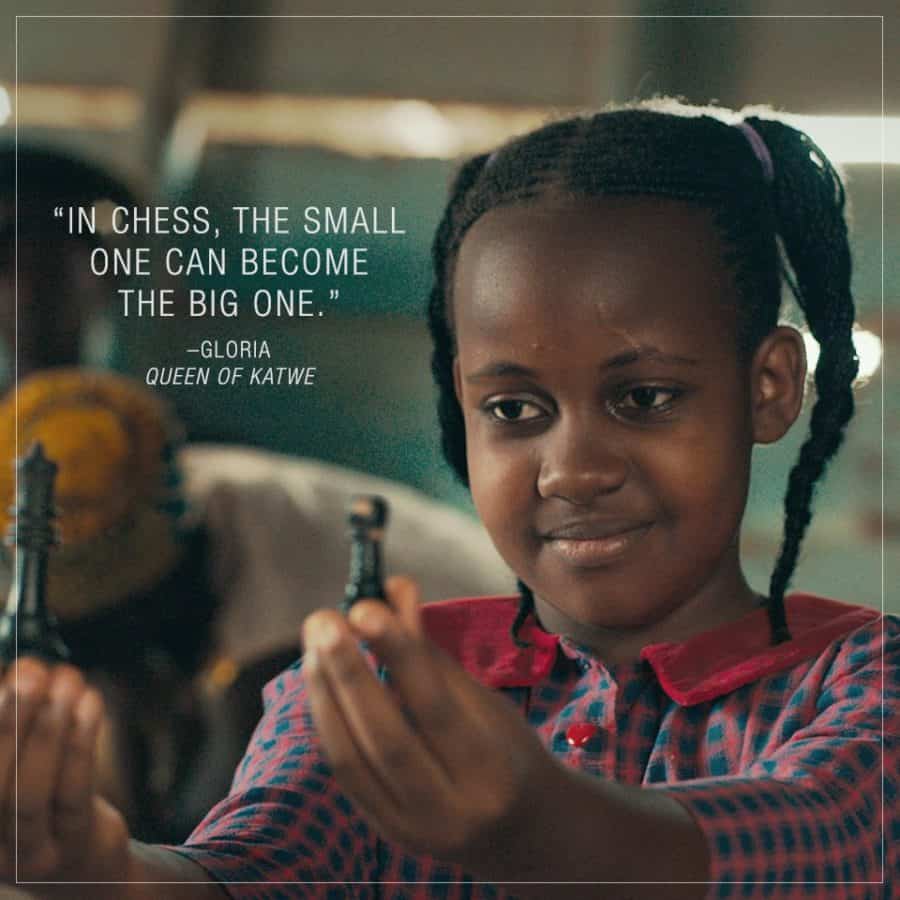 And one thing we can all learn from Queen Of Katwe is promotion: "In chess, the little one can become the big one." Gloria teaches us a wise lesson in the film. And that got my mind spinning, because in order to do that, that little pawn who can only move one step at a time, has to patiently and persistently move to the other side of the board to be able to be queen. It's only when we consider the other side of the board that we can become our best Selves.
What does "consider the other side of the board" mean to you? Share it with us in the comments, and watch Queen Of Katwe at a theater near you 9/30!!! Starring David Oyelowo and Lupita Nyong'o, and newcomers from Katwe and Kibuli, it's the most inspiring film you'll watch this year.
You can learn more about "Queen Of Katwe" by going to the Queen Of Katwe Website, following "Queen Of Katwe" on Facebook, Twitter, and Instagram, as well as following the amazing #QueenOfKatweEvent bloggers all across your favorite social channels.
[ela]
PS- Group photo by Carol Jones / All Mommy Wants. "Queen Of Katwe" photos courtesy of Disney.