Yesterday was a day of much turmoil and prayers, because my website was down for several hours. I'm so grateful it is all resolved, and I want to make sure you read my review of Queen Of Katwe, because it is my favorite movie, based on a favorite true story.
The Disney-hosted #QueenOfKatweEvent was a once-in-a-lifetime opportunity for me, because besides walking the red carpet and watching the film with the stars, filmmakers, and real-life inspirations, I also had the privilege to meet them and interview them. It was a very special time and for that, I am so grateful.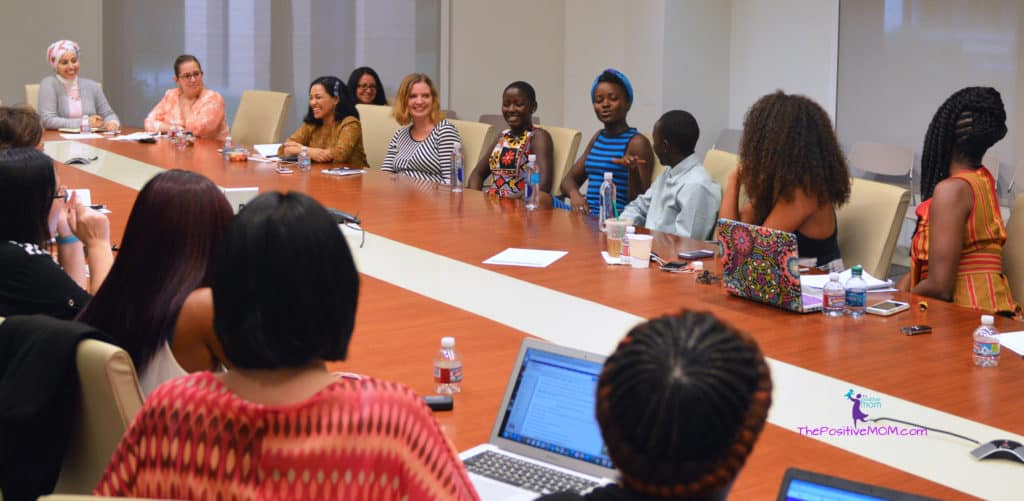 Lupita Nyong'o, Madina Nalwanga, and Martin Kabanza entered the room together as we clapped. They laughed and chatted playfully, and the chemistry between them was contagious, and they tell us they had a great working relationship.
This was a short interview because Lupita was headed to The Ellen Show, but it was so heartwarming that she was in tears, and so were we.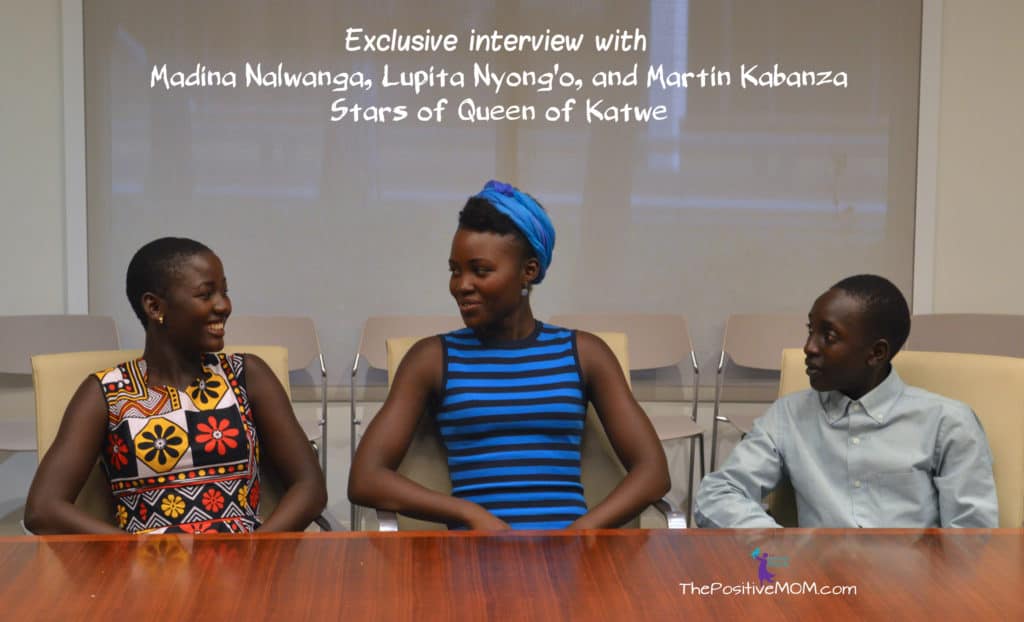 "We had a lot of fun playing a family." Says Nyong'o, known worldwide for her Oscar®-winning performance in "12 Years a Slave," and roles in "Star Wars: A Force Awakens" and "The Jungle Book."
She plays Nakku Harriet, a widow who had lost her daughter, Juliet, shortly after her husband died. She was left with four surviving children and no money or resources.
Director Mira Nair claims that Lupita and Harriet possess the same strength and beauty. The actress broke down in tears after reading just 10 pages of the script! I don't blame her. I think we can all relate to Harriet as mom, and can learn from her courage.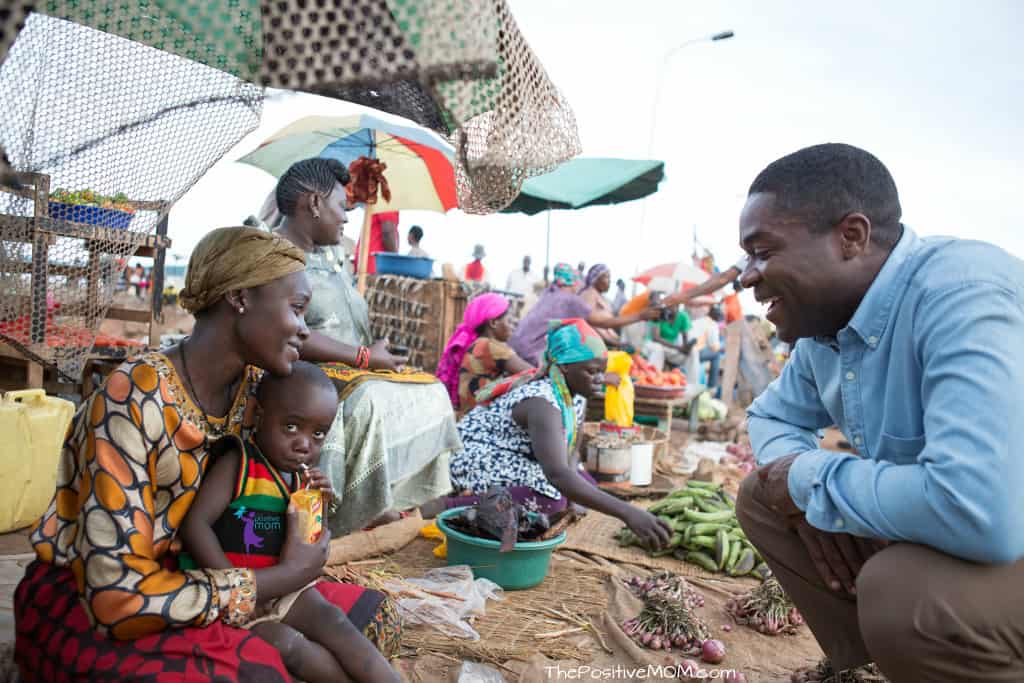 Madina Nalwanga plays Phiona, Harriet's daughter, and the chess prodigy that inspired the Queen Of Katwe story, from ESPN Magazine to Crothers' book to the Disney film.
"I walked into a rehearsal workshop and she just said: Hi mom! I gave her a big hug!" Says Nyong'o of her onscreen daughter. "They still call me mama." She declares proudly, after Martin says the sweet word.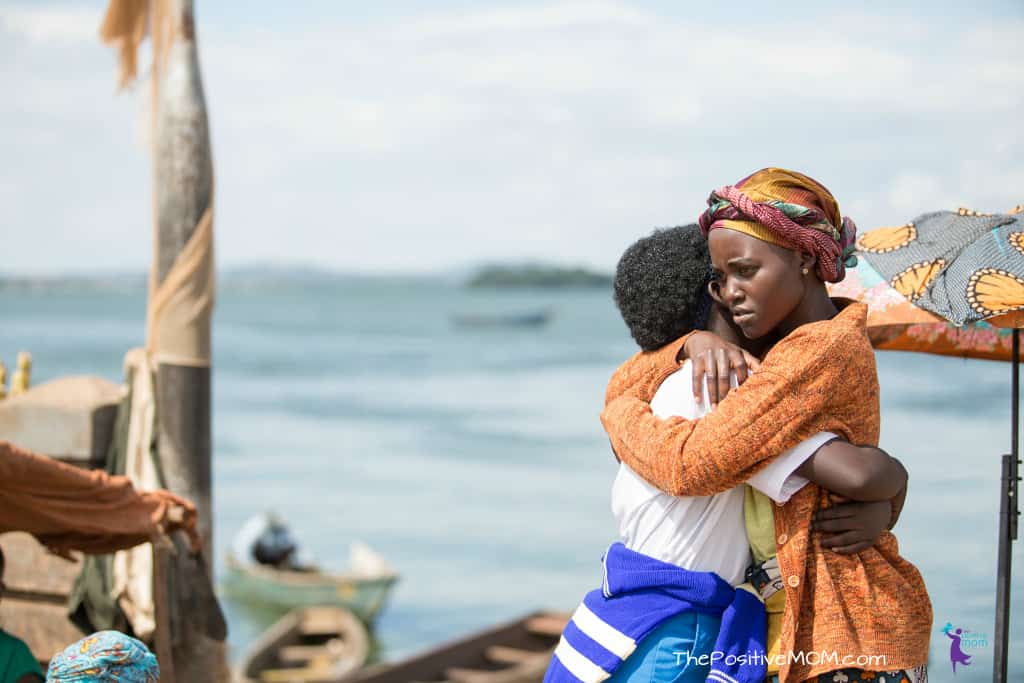 A very loud and prolonged "awwwwww" follows her remarks.
It was surprising to see an Academy Award-winning actress playing opposite newcomers, especially Ugandan locals who lived in the slum, and how she seems to want mentor them, but it was their respect and love for her that melted my heart.
"She really helped me so much. That's why I still call her mom, because ever since I was young, I left my mom because she wanted me to go to school. I've never had someone else or anyone else that I've ever called 'mom' since I was four up to last year, so she was the first one to be called mom, and it was so nice for me to call her mom," said Madina.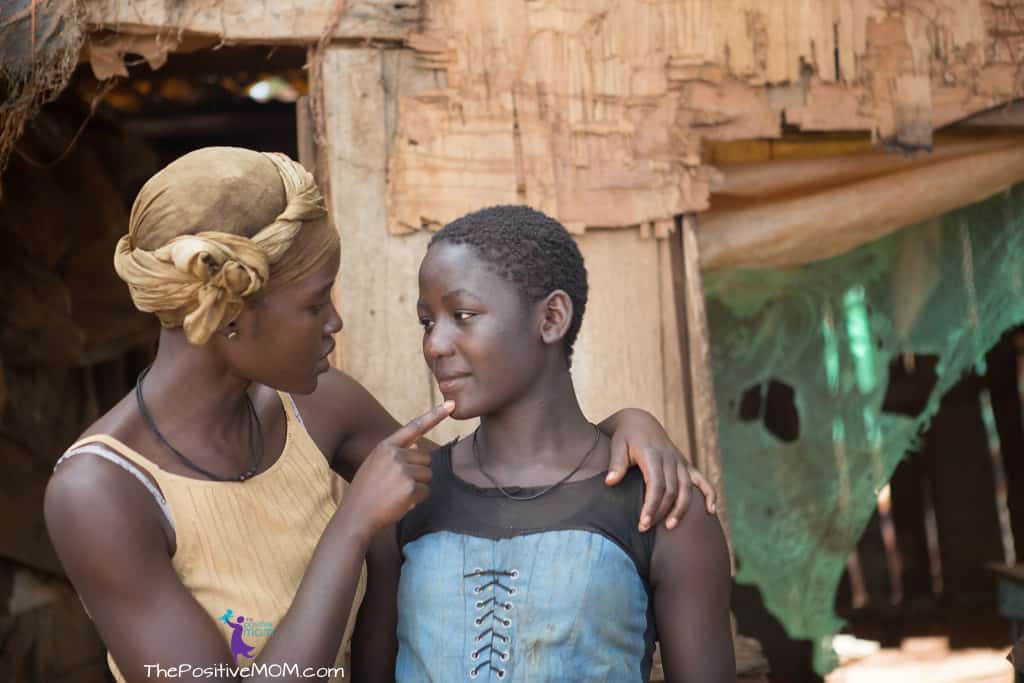 There was not a dry eye in the room.
Madina's life was similar to Phiona's and dancing was her way out. Later that day, she was dancing her way through the Queen Of Katwe Red Carpet and we danced all night at the after party. You can see some of her moves in the movie and in the #1 Spice video. (aff link)
The love and joy these kids exude is infectious. And so authentic you can feel it.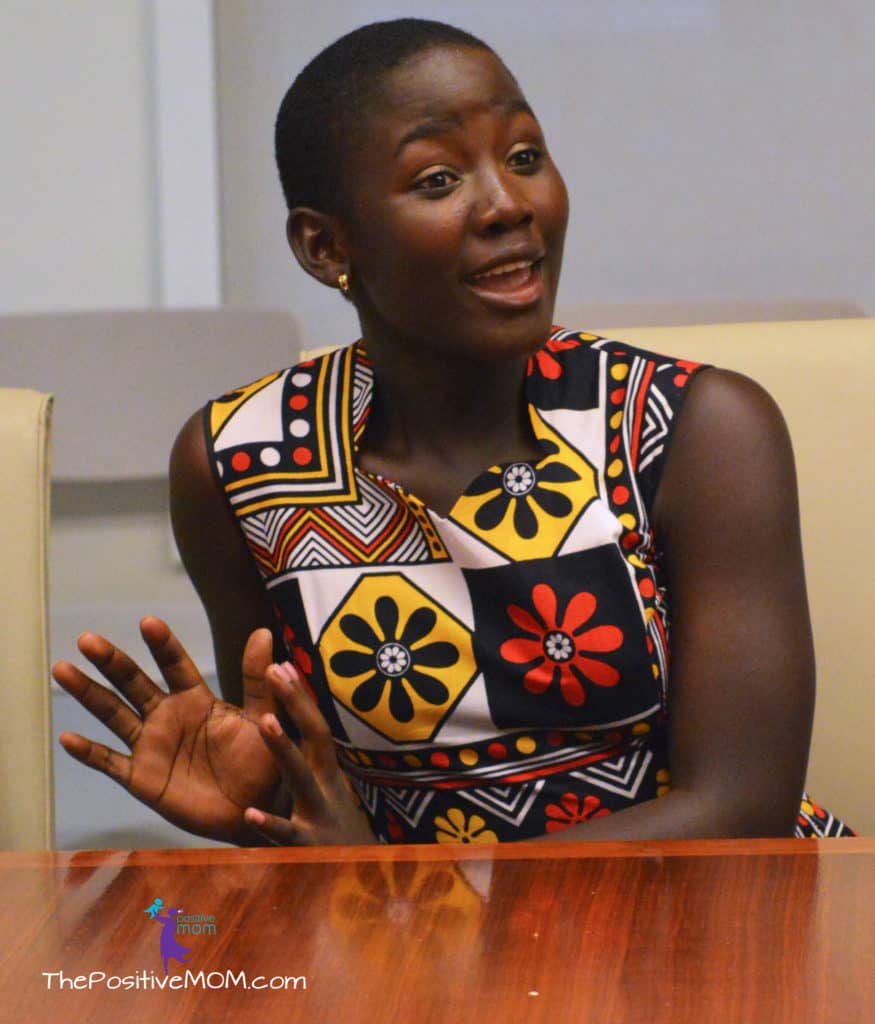 "It was my first time acting. I never knew anything about acting, but she taught us how to get into character." Says Madina in a sweet, shy yet enthusiastic voice. "I really used to copy her and I named myself 'copycat.' She really helped me in some of the hard scenes that are really hard because I could not really cry because you'll never find dancers sad."
It was so humbling to hear Madina say these words, yet I could relate in many levels. Your strength does not come from your circumstances, it comes from your mindset. It is all about how you see yourself – and Madina saw herself as a dancer, as someone who models greatness. Martin confessed looking to Lupita's example to be able to cry when something devastating was happening, too!
This got me thinking about the positive influence of a mother figure. In Western psychology, you always hear about the benefits of maternal identification, and how the motherly bond shapes body image, eating attitudes, and self-esteem.
Studies reveal that a girl's relationship with mom strongly influences her sense of self-value and self-image, the nature and quality of her future relationship skills, as well as her mental health.
A mom's love is also influential in a boy's identity. It can influence his mental health, his school performance, his tendency to engage in risky behaviors, and eventually, his ability to achieve success in life both in personal relationships and in his chosen career.
I about lost it when Martin said this about Lupita:
"It was really nice for me to meet her and she was amazing for me and when I called 'mom' for the first time, she replied to me, and I got touched inside my heart. I was raised by my grandparents. My mother left me when I was three months, it my first time to say mom in my mouth."
Lupita cried.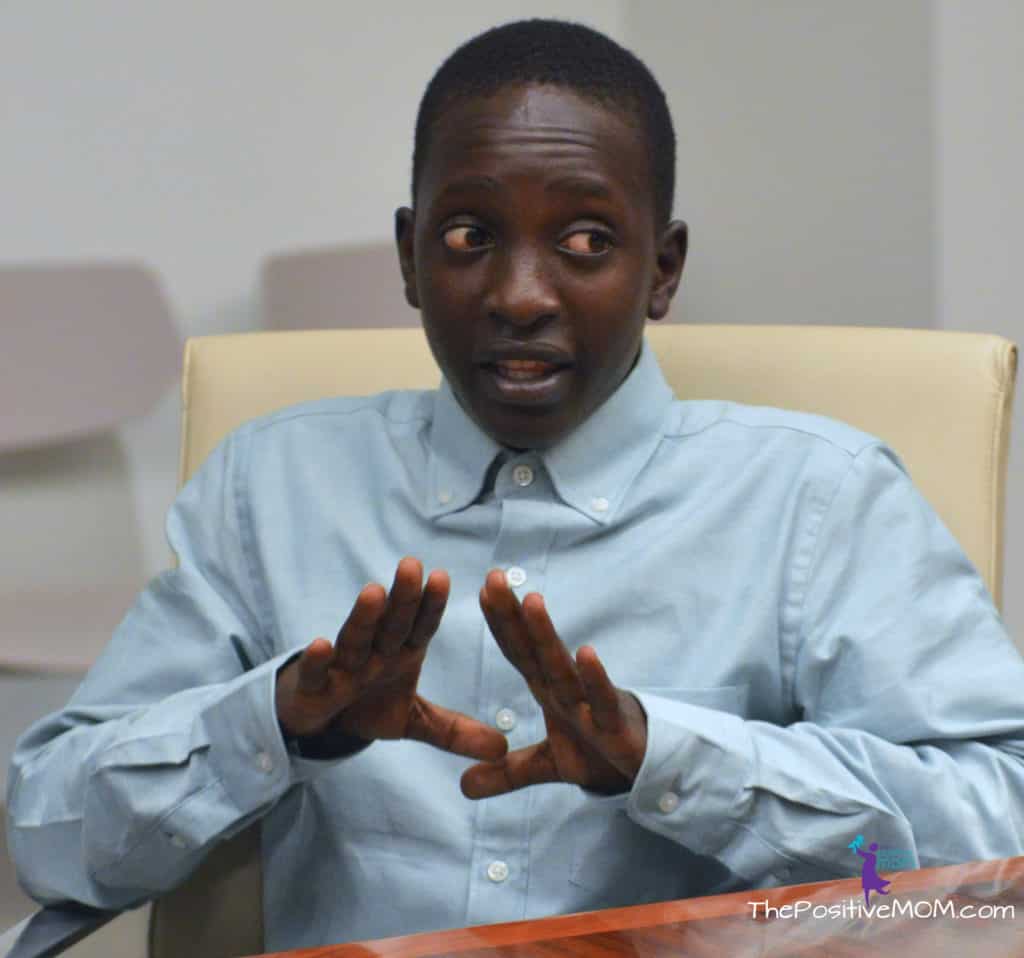 And it was a special moment in which I was reassured that, the positive influence of a strong mother figure is not established by biology, but through nurturing. When I looked a these poised, talented, confident kids who embodied social competence, I could tell that they had been nurtured by mother figures that, just like Lupita, offered their guidance, love, and support – from letting them know not to eat the chicken because they would have to shoot the scene multiple times, to exhibiting empathy in those moments in on the set when it was needed:
"We were about to shoot the eviction scene and I was sitting in our tent, and these two were very quiet and quite pensive, and I asked them how they felt. And they both mentioned how this was their life. They both experienced evictions in their past and, and I remember being really moved at how the artifice was reflecting a real life in Phiona, but also in both of them and that they were having this chance to tell their story, to bring it to a larger audience that would understand the challenges of poverty; but also the triumph of people who live through it, and the fact that poverty is not one's definition. And that they were going to have this chance to put that experience of their past into very good and immediate use in the scene were about to shoot. I come from a background of privilege so I was very humbled in that moment. Because, here I am playing the mother and being the shepherdess of these two going through this experience and yet, I was learning so much from them."
She described this scene as the most touching for her. Even though I had screened Queen Of Katwe twice before the interview, I experienced this scene differently after I felt the power and intensity in her words. So will you.
This is what makes this movie extraordinary and a must-watch. It's also why I declared it as my favorite. While it's true that all fiction has some truth in it, this truth masterfully adapted to 124 minutes on the big screen. I am really excited about this FRIDAY (September 30) because you will be able to see what I'm raving about for yourself.
Lupita Nyong'o was a mother figure for baby Ivan, who plays baby Richard, Harriet's youngest son. He didn't speak any English, so she learned the native language, Luganda, from Madina and Martin.
"The first time he was given to me, he went right back to the person who gave him to me, because he didn't trust me and I couldn't have a conversation with him. I realized that Luganda was going to really be my lifesaver and so I got to work learning Luganda. I would ask all the time how to say things and write them down and I needed to say very basic things to this boy like: Do you need to pee? Are you hungry? Stop doing that. Keep quiet. Yeah, so it came in very, very handy and I loved learning it."
Oh the things we need to learn as moms and mother figures to help our kids on their journey!
I believe every mom must watch "Queen Of Katwe" because, whether your daughter is four like Madina, or fifteen, like I was when I moved away from the slum and to the "big city," or eighteen because she's going to college, you will relate to the tug-of-war in your heart between your desire for her to grow, be autonomous, and follow her dream, and the fear of what will happen, who she will become, and whether you get to keep or kiss your bond with her goodbye. Just thinking about it makes my stomach turn.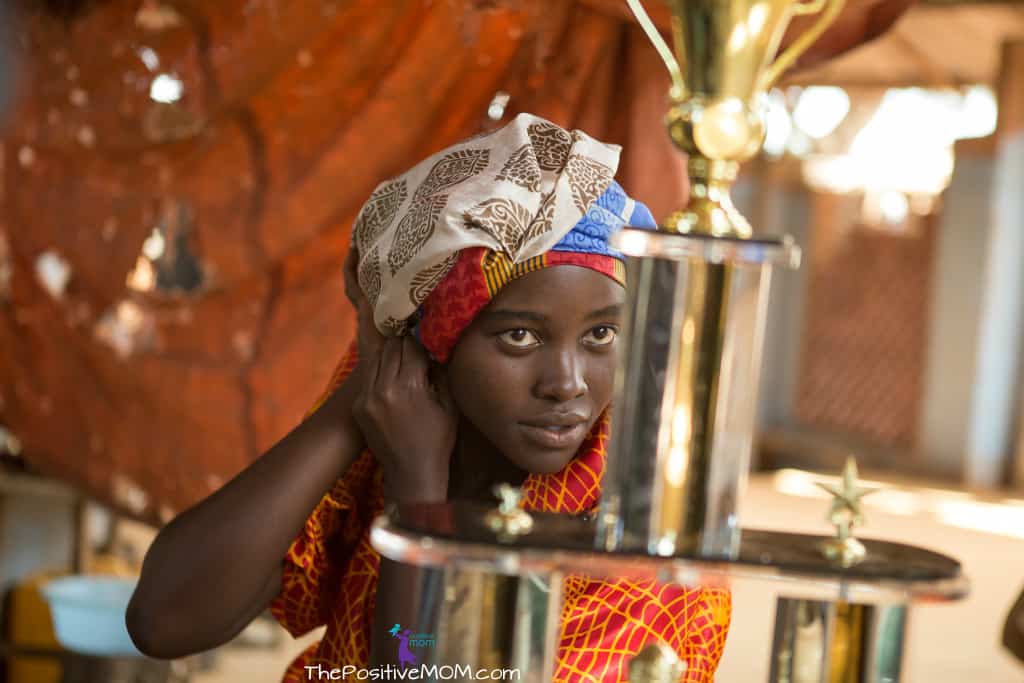 And that's what a positive mom or a strong mother figure does best, she makes decisions based on love, and not on fear, even when the fear is consuming her. It's an universal struggle most, if not all, moms can feel at one point or another. It is through those moments that our daughters learn about connection, separation, and trust… and we are supposed to teach them, when we sometimes feel clueless about what we should do. Am I alone in this?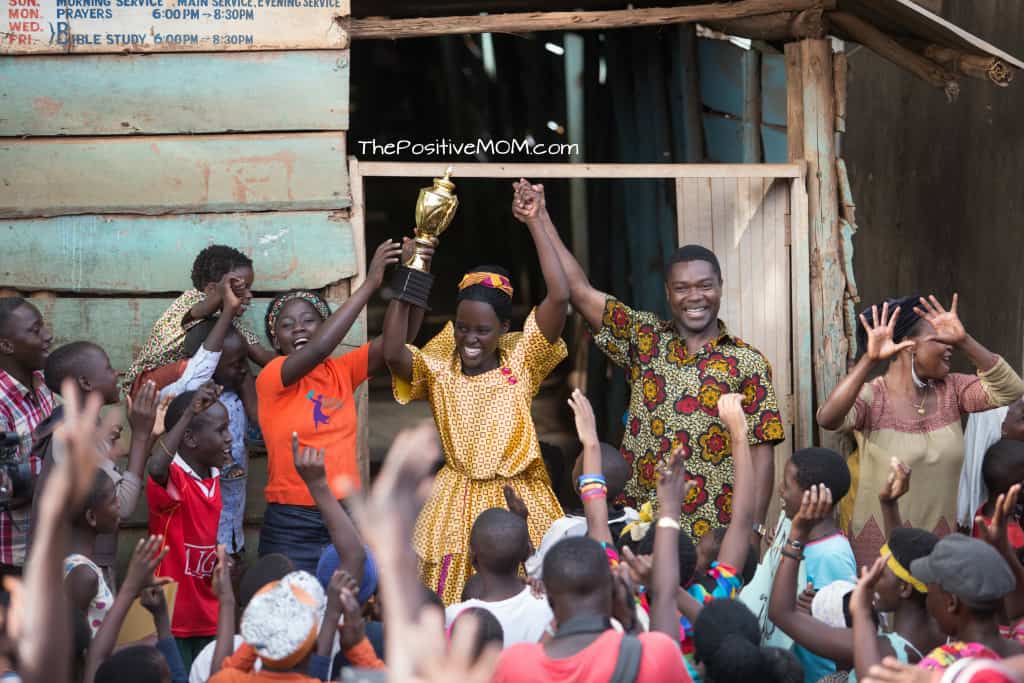 But ultimately, just like Lupita said, we probably learn as much or even more than they do. And that's the plus side of being a positive mom or positive mother figure: with each love choice you make, you feel proud you're doing the best you can and you feel closer to being your best Self.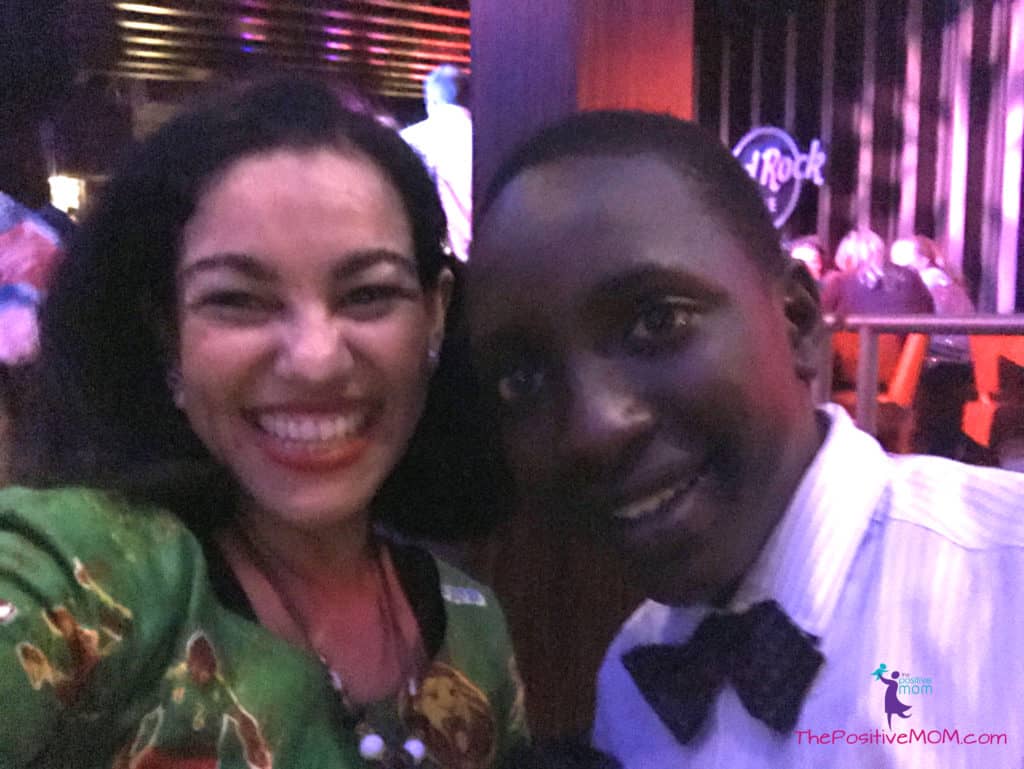 And positive father figures are not overrated. When Martin was asked about his favorite scene (besides the one where he's eating chicken) he said:
"My favorite part in the movie was seeing David running around doing the cat and dog scene, because in my life I've never had someone who has time for me, who has time for all of us. So I respected him, and his time and I enjoyed watching what he was doing for us and it was so amazing to see him jumping over the bed, collapsing…"
I really wished the interview would have lasted all day, I tell you. We were laughing, crying, and learning so much from these wise young souls.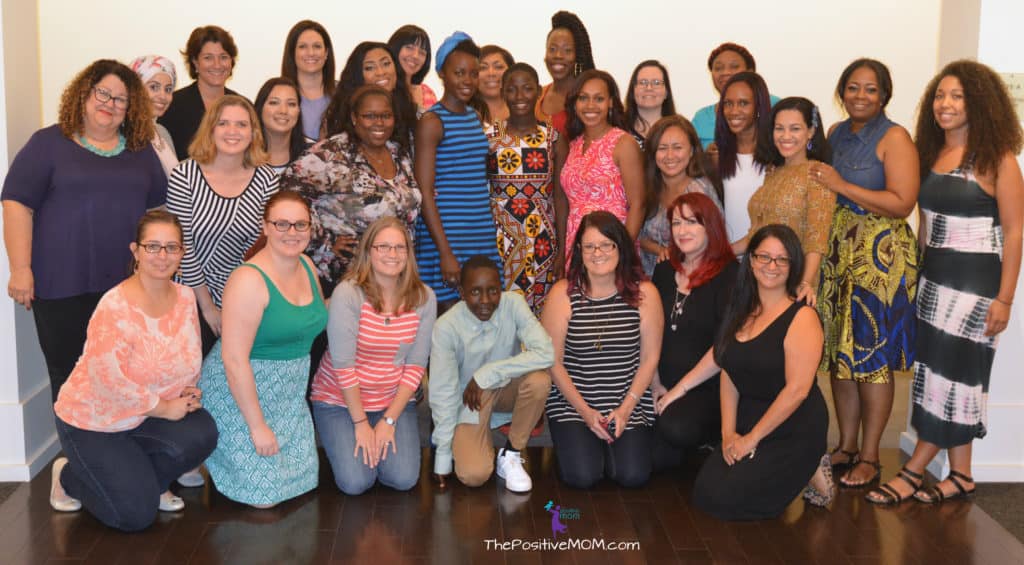 There are a couple of strong scenes in the movie that some parents would deem too intense for their kids, but I think those are the type of realities we need to all open our eyes to, and in fact, those are Martin's and Madina's top favorites, because they can relate. What parents shelter kids from in privileged countries, is the reality of impoverished children around the world. As a mom, you will certainly know which two scenes these are… without me having to spoil it for you. And I can't wait to hear your feedback!
"Queen of Katwe," is the story of Phiona Mutesi, a girl who sold corn in the streets of Katwe, a slum in Kampala, Uganda, and whose destiny was sealed when Robert Katende introduced her to the game of chess.
Presented by Disney, in association with ESPN Films, starring Golden Globe® nominee David Oyelowo, Oscar® winner Lupita Nyong'o and introducing Madina Nalwanga. Masterfully directed by Mira Nair from a screenplay by William Wheeler,"Queen of Katwe" is produced by Lydia Dean Pilcher, p.g.a., and John B. Carls, p.g.a., with Will Weiske and Troy Buder serving as executive producers.
You can learn more about "Queen Of Katwe" by going to the Queen Of Katwe Website, following "Queen Of Katwe" on Facebook, Twitter, and Instagram, as well as following the amazing #QueenOfKatweEvent bloggers all across your favorite social channels.
Who is a positive mother figure in your life? Share in the comments below and tell me what you loved most from my interview with Lupita Nyong'o, Madina Nalwanga, and Martin Kabanza of "Queen Of Katwe." I'm excited for you to see the movie and enjoy the work of these impressive newcomers!
[ela]
PS- Group photo by Carol Jones / All Mommy Wants. "Queen Of Katwe" photos courtesy of Disney.