After I got back from D23 Expo in California, I've been getting so many questions about what D23 Expo is, how it compares to other conventions, and what to expect from "the Ultimate Disney Fan Event." I am going to answer all those questions, but be forewarned that you'll be hooked on the D23 Expo magic even before you finish reading my post.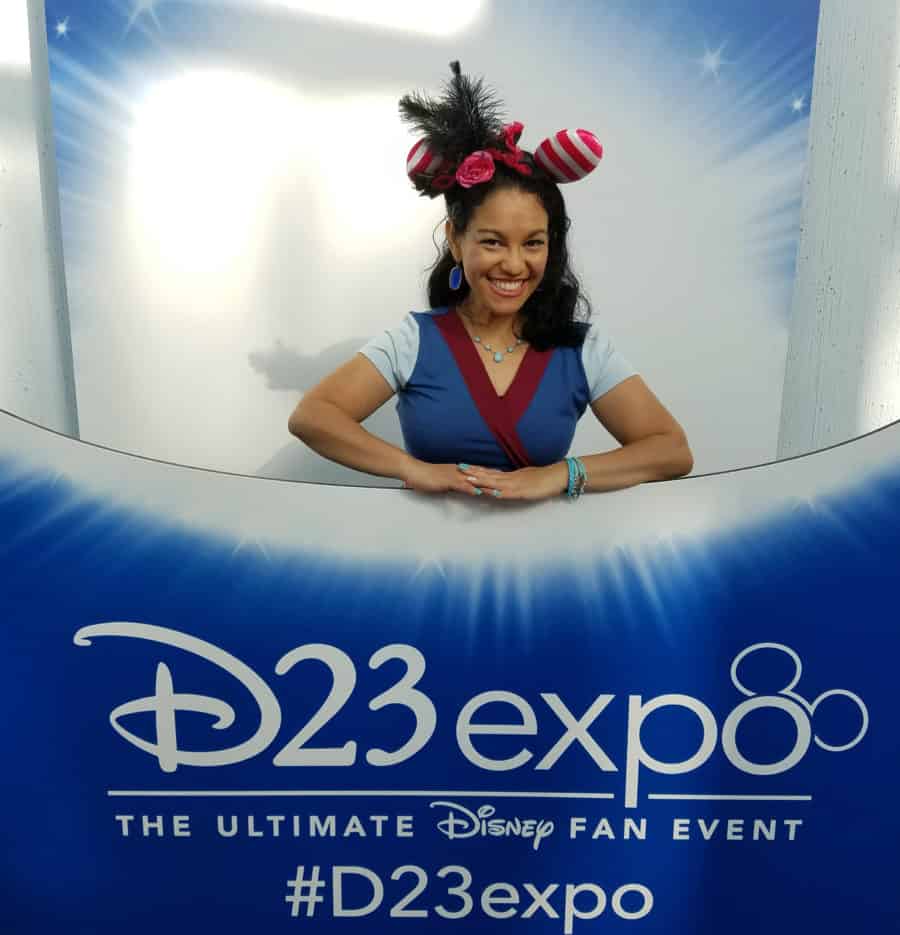 D23 Expo was a like nothing I've ever lived before and, as a Disney fan, I don't think anything will ever top this experience. It's EVERYTHING DISNEY – a wonder you cannot describe, something you just feel in the air… like a sort of invisible – and highly contagious – pixie dust.
What is the D23 Expo?
I had the amazing honor to interview Michael Vargo, Vice President of D23 and the Walt Disney Archives to learn more about D23 Expo and share it with you. D23 is Disney's Official Fan Club. The name is from Disney ("D") and the year the Company was founded, 1923 ("23"). D23 is a year-round fan club that unlocks the magic of The Walt Disney Company by offering unprecedented access to all things Disney—past, present, and future.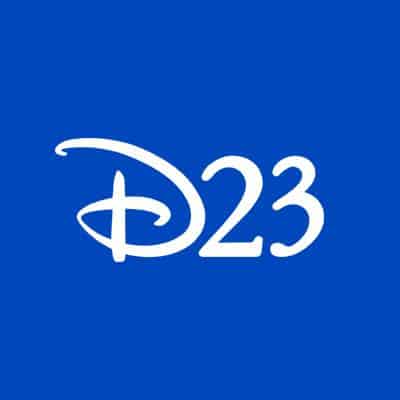 D23 includes:
Three levels of membership (Gold, Gold Family, and complimentary General Membership
The stunning quarterly Disney twenty-three publication.
The D23 Website, which features member only access to breaking news, exclusive celebrity interviews, treasures from the Walt Disney Archives, behind-the-scenes previews of new movies and theme park attractions, and more!
One-of-a-kind experiences and events; from tours of The Walt Disney Studios lot to screenings and member mixers across the country.
And, naturally, the D23 Expo, which is the greatest gathering of all things Disney under one roof at the Anaheim Convention Center, with screenings, celebrities, exhibits, presentations, and much more!
D23 Expo is open to both D23 Members and non-members; D23 Members receive a discount on tickets and D23 Gold and Gold Family Members receive priority access to select panels, among other benefits.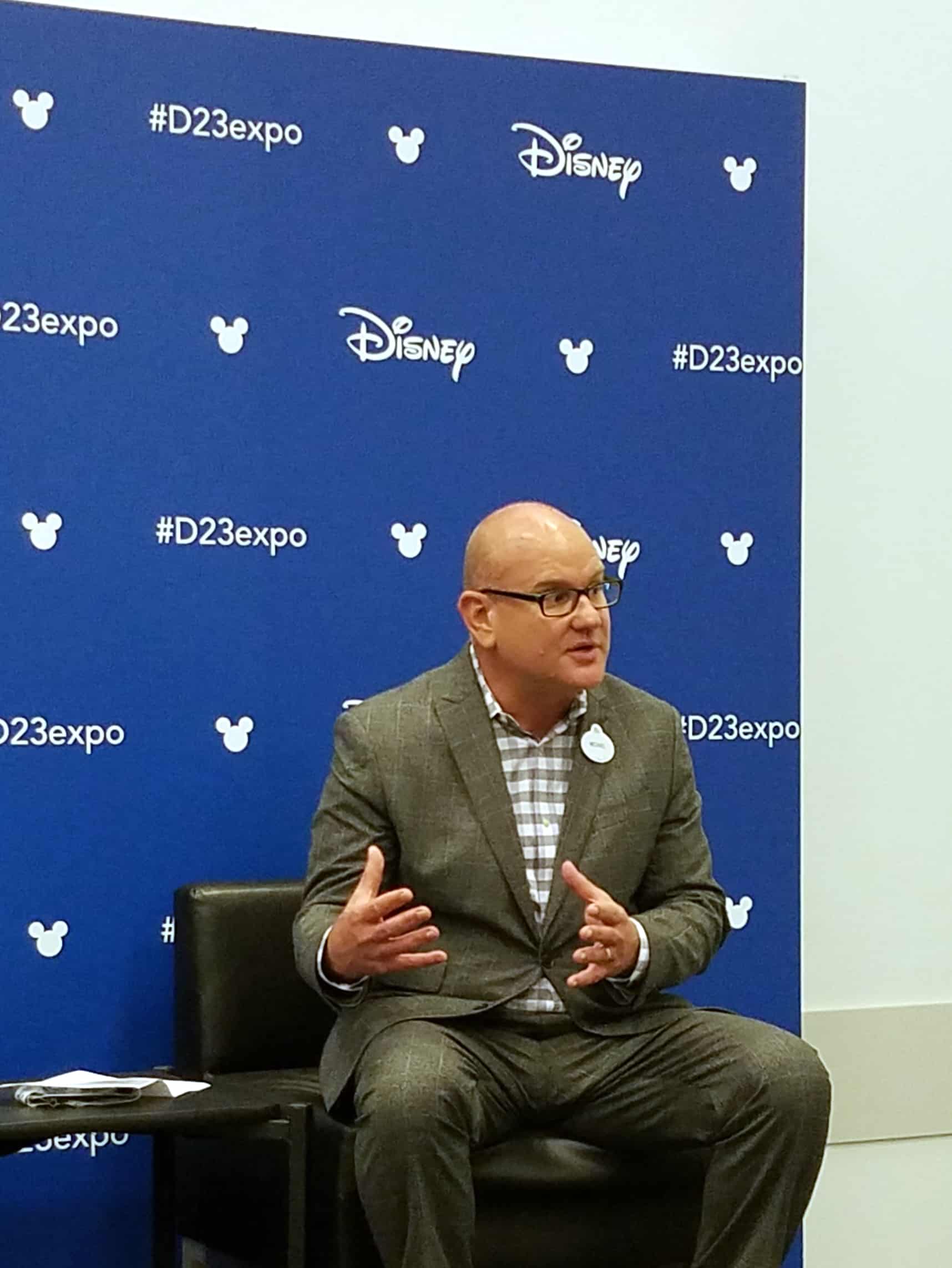 Though this was my first D23 Expo, this was the fifth installment of D23 Expo. Previous D23 Expos were held in 2009, 2011, 2013, and 2015. Michael Vargo told us that they literally start planning the next D23 Expo the next day after one closes. Fingers crossed that they are already planning 2019. There is a D23 Expo in Japan, as well, which was announced at San Diego Comic Con to take place in February of 2018.
How does D23 Expo compare to other conventions?
If you are a Disney, Marvel, Star Wars, or Pixar fan, then D23 Expo is THE convention for you. While it's true that there could be some Marvel and Star Wars reveals at other conventions, Disney will always save the best, most exclusive, and hottest announcements and experiences for their devoted fans.
Disney Fans are royalty at D23 Expo, and there is exclusive merchandise, plus, there is nothing like sharing these experiences and opportunities with your sisterhood – Disney fans just like you. This year, D23 Expo gathered Disney fans from all 50 states and 33 countries.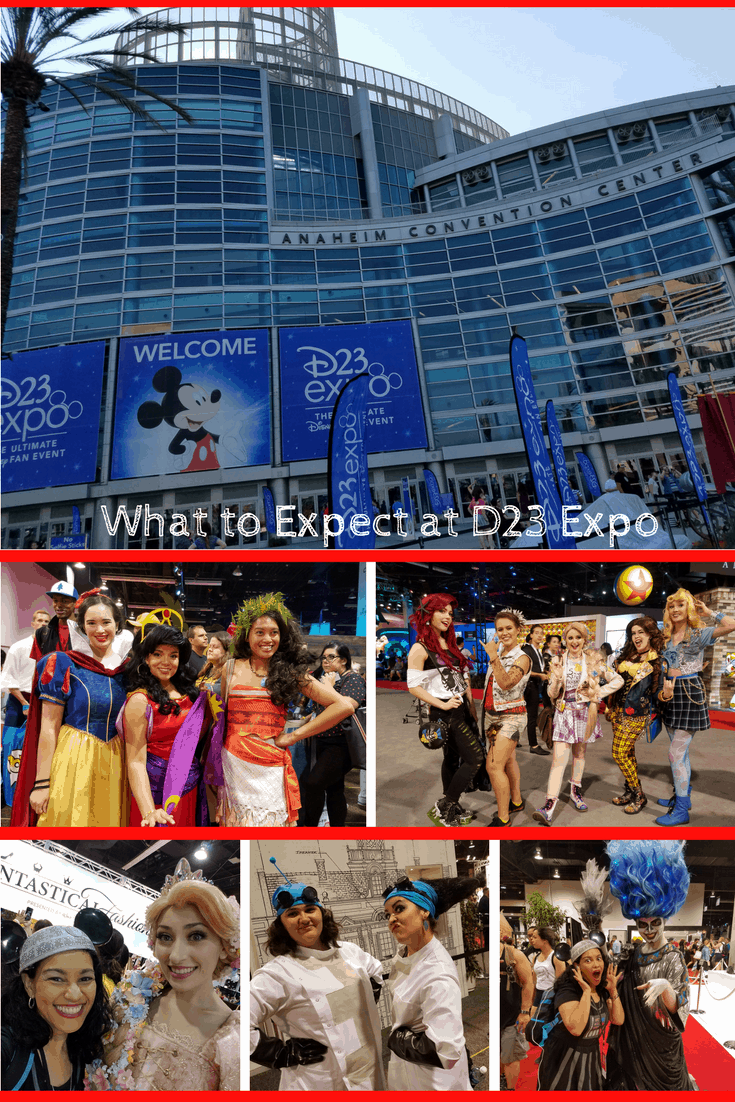 There's a lot of Disneybounding and Cosplay like you would expect. The costumes are incredible and the different variations are so creative and impressive. There is a contest called Mousquerade in which you can compete for best costume! I went Disneybounding each day but tried to keep it to a comfy level.
What to expect at D23 Expo
D23 Expo offers unique shopping experiences, gaming, dozens of presentations, experiential pavilions, star-studded concerts, and much more! I have been covering several panels I attended, but I want you to know there is so much more!
1- You can expect LEGENDARY D23 Expo Moments
While D23 Expo organizers don't encourage lines overnight, many D23 Expo fans do line up the night before main events so they can get access. The long lines are worth it.
And while each panel is tailored to what you are interested in, the highlight of the D23 Expo is the once-in-a-lifetime Disney Legends Awards Ceremony.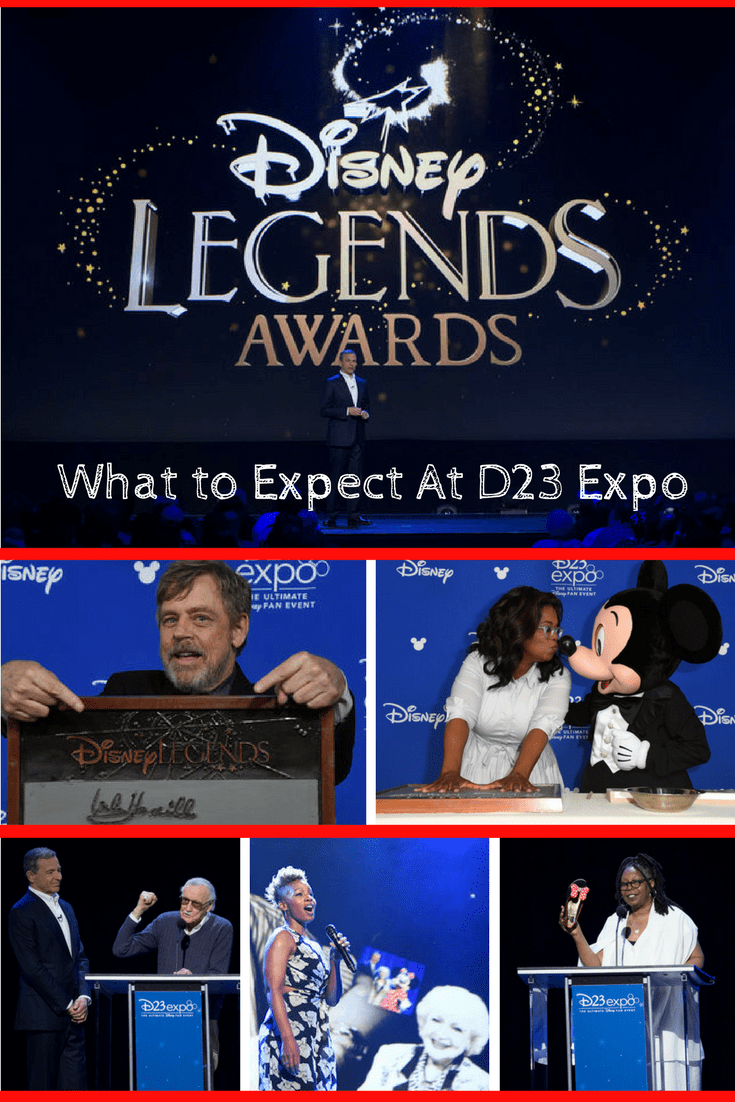 The 2017 Disney
Legends
Award honorees (listed alphabetically) are: Carrie Fisher (Film), Clyde "Gerry" Geronimi (Animation), Whoopi Goldberg (Film & Television), Manuel Gonzales (Publishing), Mark Hamill (Film), Wayne Jackson (Imagineering), Jack Kirby (Publishing),
Stan
Lee
(Film & Publishing), Garry Marshall (Film & Television), Julie Taymor (Theatrical) and
Oprah
Winfrey (Film & Television).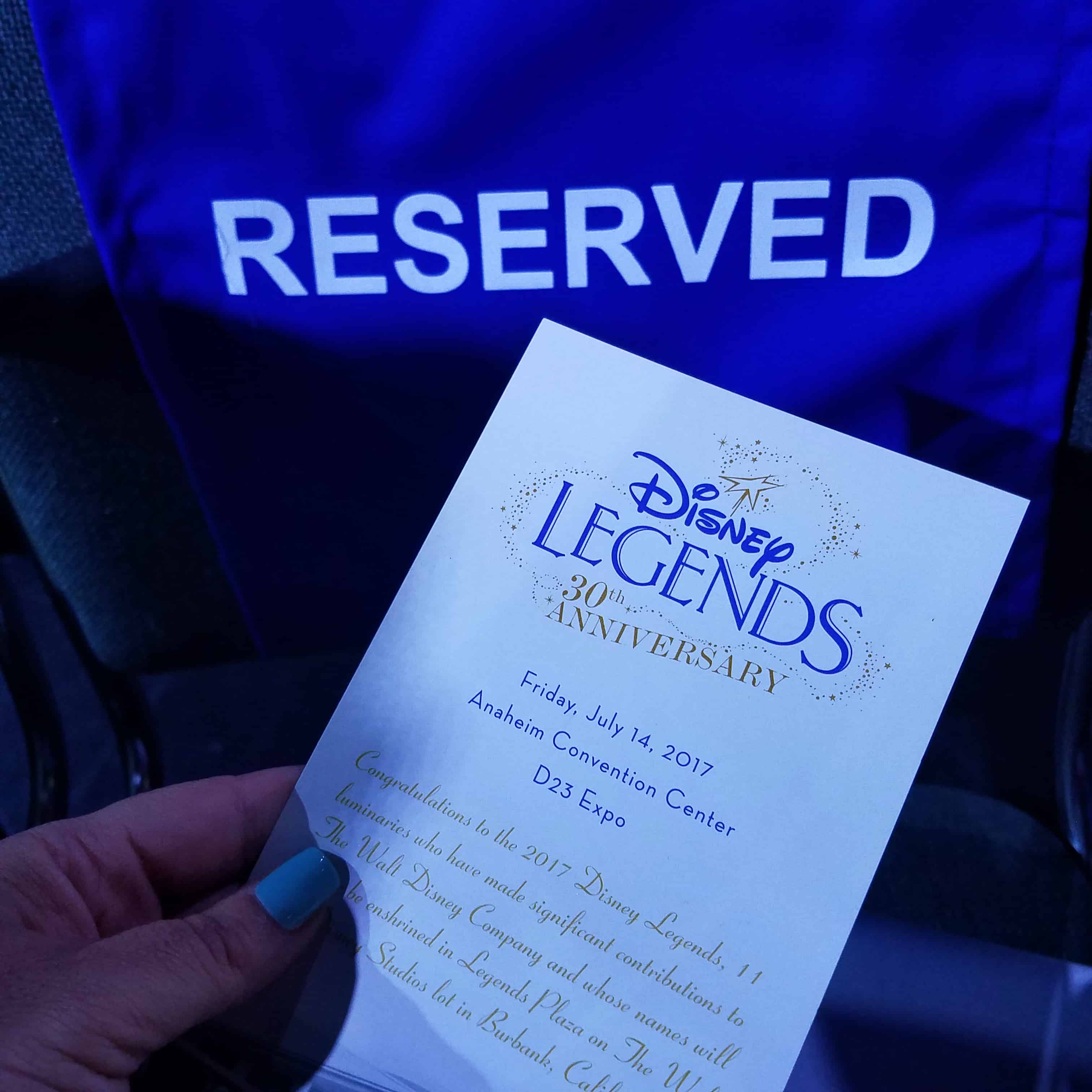 This year marks the 30th anniversary of the Disney
Legends
Awards. The first Disney
Legend
was Fred MacMurray (The Shaggy Dog, The Absent-Minded Professor, The Happiest Millionaire), who was honored in 1987.
I cannot begin to tell you how much I cried during this event and how incredible it is to be in the same room with the legends. From hearing Oprah, Whoopi, and Stan Lee talk about their humble beginnings to the Carrie Fisher tribute, this was a moment I will never forget.
2- You Can Expect Special D23 Expo Surprises:
You will see a lot in the program and will read exclusives and press releases online about what and who you will see at the D23 Expo, but there will always be more than you can imagine.
One thing you can always expect from Disney is the WOW factor in everything they do.
Recording devices and cameras are rarely permitted in these special presentations, so make sure you take notes, sit back, and enjoy the moment.
3- You Can Expect D23 Expo to be MASSIVE!
This year there were three main venues for presentations: Hall D23 (6,800 seats), D23 Expo Arena (3,600 seats), and Stage 28 (1,600 seats).
Besides the fact that the D23 Expo took up 961,228 square feet of the Anaheim Convention Center including show floor pavilions, presentations, and exhibition spaces, there were more than 161 presentations, panels, concerts, demonstrations, meet-and-greets, and sneak peeks will take place during this amazing Disney fan event.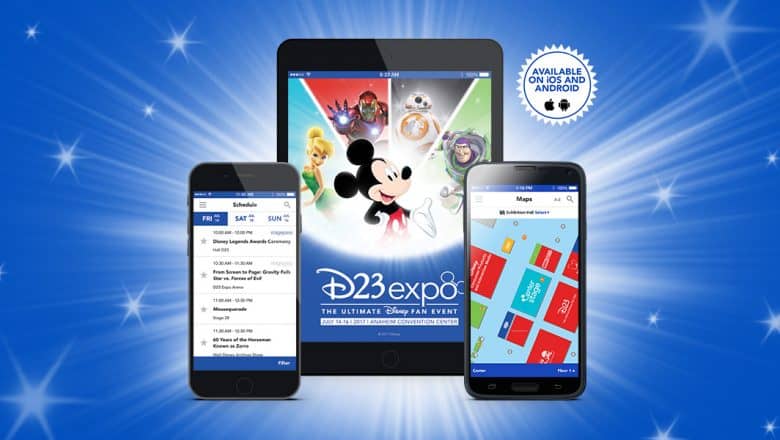 It's tough to decide what to attend and what to miss! I was looking at all the panels on the D23 Expo app and the D23 Expo website, and I was overwhelmed, so I'm happy I was part of the Disney Bloggers group and the schedule. I suggest that you plan carefully and ahead of time so you can do most of what you wish to do, and to keep an open mind because spontaneous adventures are always the most fun!
There is free Wi-Fi provided and concession stands where you can eat, bring snacks, get bottled water, take your vitamins, bring extra phone chargers, and wear comfy shoes and you're all covered.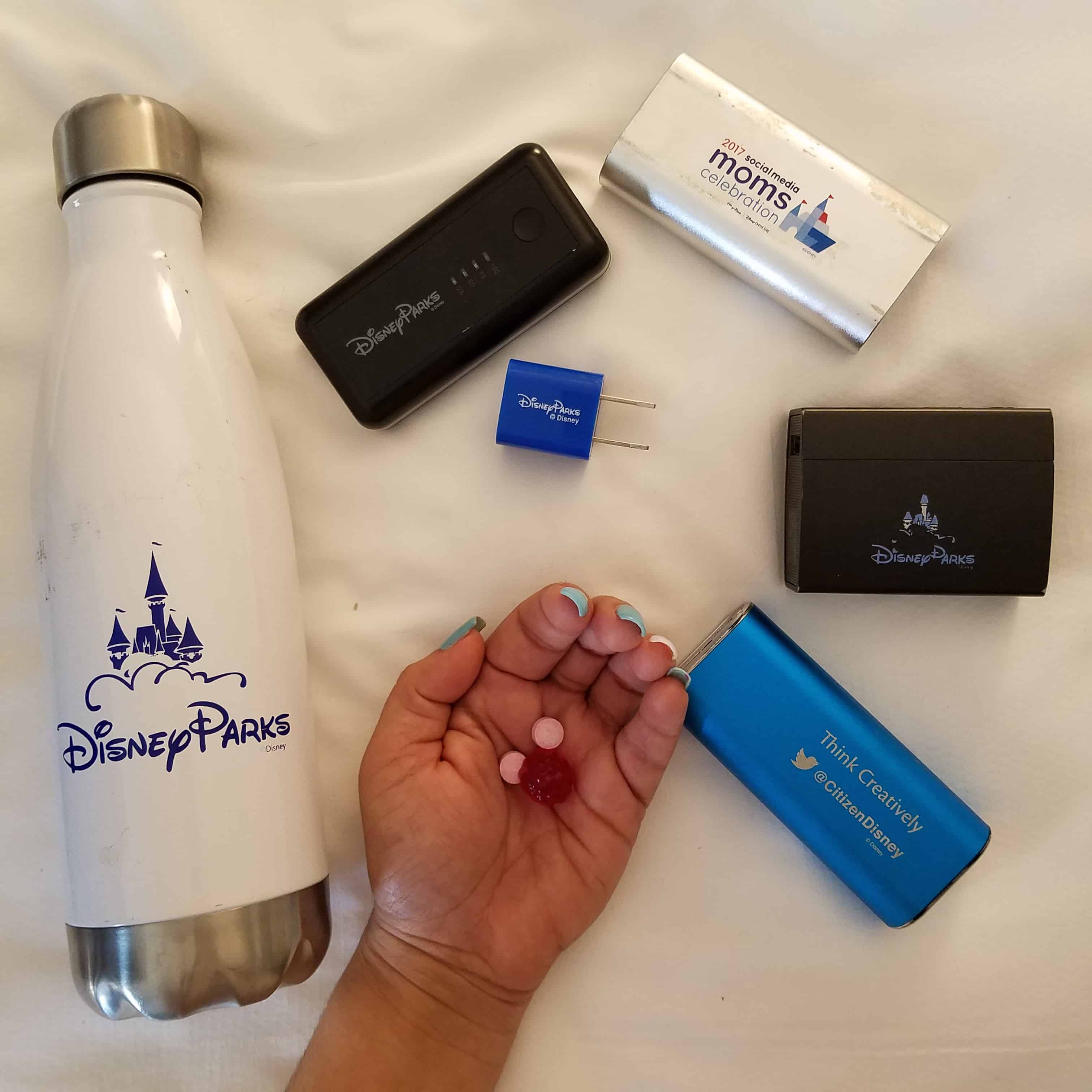 Michael Vargo told us that each year, both the D23 Expo space and the D23 Expo experience increase in size and that they carefully listen to the fans' feedback to make sure their satisfaction is guaranteed. There was a Guest Services desk in the lobby for questions, plus the D23 Expo staff.
I asked him which type of feedback he reads first, and he said they do the positive first, and the ones revealing room for improvement next, to then end on a positive note again. I love that and I always suggest this because when you create something remarkable, it's easy to focus on one thing that went a different way than you expected and dismiss the greatness of what you put together.
4- You Can Expect Lots of D23 Exclusive Merchandise
This year, there were more than 800 products making their debut at the D23 Expo in the Disney Dream Store, Disney Store, and Mickey's of Glendale. There are lines to access these stores, because of the exclusivity and limited edition items.
There are also 61 vendors in the D23 Expo Emporium from fine art dealers and toy makers to travel agencies and Disney fan sites.
I brought home some collectibles and the girls are thrilled. Okay, I admit it, I'm one of the girls! LOL
5- You Can Expect Lots Of Celebrities!
This year, nearly 100 stars from ABC, Freeform, Disney Channel, Disney XD, and Disney Junior made appearances at D23 Expo 2017, including stars from Once Upon a Time, The Fosters, Shadowhunters, black-ish, Descendants 2, General Hospital, Fresh Off the Boat, American Housewife, Elena of Avalor, and Tangled: The Series.
I had the pleasure to interview stars from the upcoming Avengers: Infinity War and the producers of Disney XD's DuckTales, as well as to see stars like from the upcoming Disney, Marvel, and Lucasfilm live action movies, as well as stars and filmmakers for the upcoming Pixar and Walt Disney Animation films.
The Walt Disney Company Chairman and CEO Bob Iger, Mark Hamill, Wayne Jackson, Stan Lee, Julie Taymor, Oprah Winfrey. Freeform stars: Isaiah Mustafa, Hayden Byerly, Kyle Harris,
Ritesh Rajan, and Damon Dayoub. John Lasseter, Lesley Ann Warren, Karen Dotrice. Nolan Gould and Aubrey Anderson-Emmons from Modern Family, Daniel Dimaggio from American Housewife, Logan Pepper, Miles Brown, and Marsai Martin from Black-ish, Hudson Yang, Forrest Wheeler, and Ian Chen from Fresh Off the Boat, and Kyla Kenedy and Mason Cook from Speechless.
Jodi Benson (Ariel), Paige O'Hara (Belle), Anika Noni Rose (Tiana), Auli'i Cravalho (Moana), animators Amy Smeed and Kira Lehtomaki. Aimee Carrero and Lou Diamond Phillips from Elena of Avalor. Colin O'Donoghue, producers Edward Kitsis and Adam Horowitz from Once Upon A Time. DuckTales stars Ben Schwartz (Dewey), Kate Micucci (Webby Vanderquack), Beck Bennett (Launchpad McQuack), Toks Olagundoye (Mrs. Beakley), and producers Matt Youngberg and Francisco Angones.
Disney legends Richard Sherman and Floyd Norman, producer Don Hahn, director Rob Minkoff, animators Tony Bancroft and Mark Henn, Hollywood records artist Jordan Fisher. Tangled: The Series stars Mandy Moore (Rapunzel), Zachary Levi (Eugene), Eden Espinosa (Cassandra), Jeremy Jordan (Varian), and producers Chris Sonnenburg and Ben Balistreri.
Hercules directors John Musker and Ron Clements, animators Eric Goldberg and Ken Duncan, Susan Egan (Megara) and Tate Donovan (Hercules). Imagineering legends Marty Sklar and Tony Baxter.
Something that would have been amazing for me to see was the D23 Expo parade, which was Michael Vargo's idea come to life. It was a twice-daily street party with fun live music, entertaining dancers, and celebrities like Stan Lee, the Descendants 2 casts, Mandy Moore and Zac Levi (from Tangled), Once Upon a Time's "Hook" (Colin O'Donoghue), and my new friend Mark Hamill (he did "like" my tweets!).
6- You Can Expect Lots of Exclusive Displays
Hundreds of iconic and never-before-seen items were displayed in Walt Disney Archives Presents––A Pirate's Life for Me: Disney's Rascals, Scoundrels and Really Bad Eggs. We had a private tour with Becky, who was in charge of the 12,000-square-foot exhibit, and we were fascinated with the unproduced artwork, attraction vehicles, Audio-Animatronics® figures, and props and set pieces from the film franchise. My favorite was the Black Pearl and Captain Hook's costume from Once Upon A Time.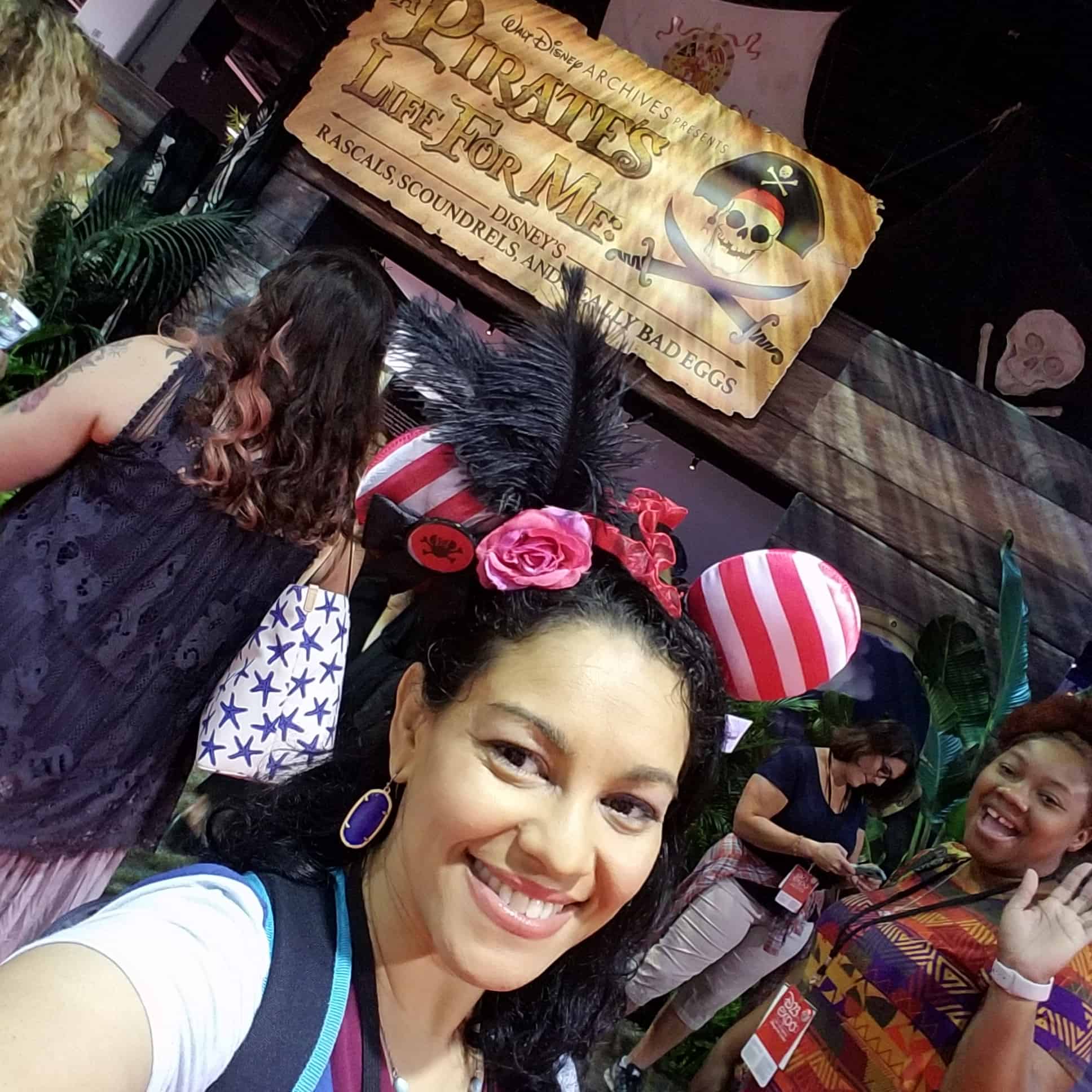 Another amazing showcase was the Walt Disney Parks and Resorts exclusive look at the new Star Wars-themed lands (now named Galaxy's Edge) currently under development for Disneyland Park and Disney's Hollywood Studios. Showcasing models, artwork, media, and a fully detailed model of the overall vision, the pavilion will bring the galaxy far, far away to the Anaheim Convention Center.
7- You Can Expect Lots of Disney Music
Sunday was all about Disney music. We attended a wonderful presentation of The Lion King where there was not a dry eye in the room. We met the filmmakers, the voice of Pumba, and others, and got to see Whoopi Goldberg reminisce in her role as Shenzi the hyena. There were laughs and tears in the room and the Circle of Life performance left everyone in awe.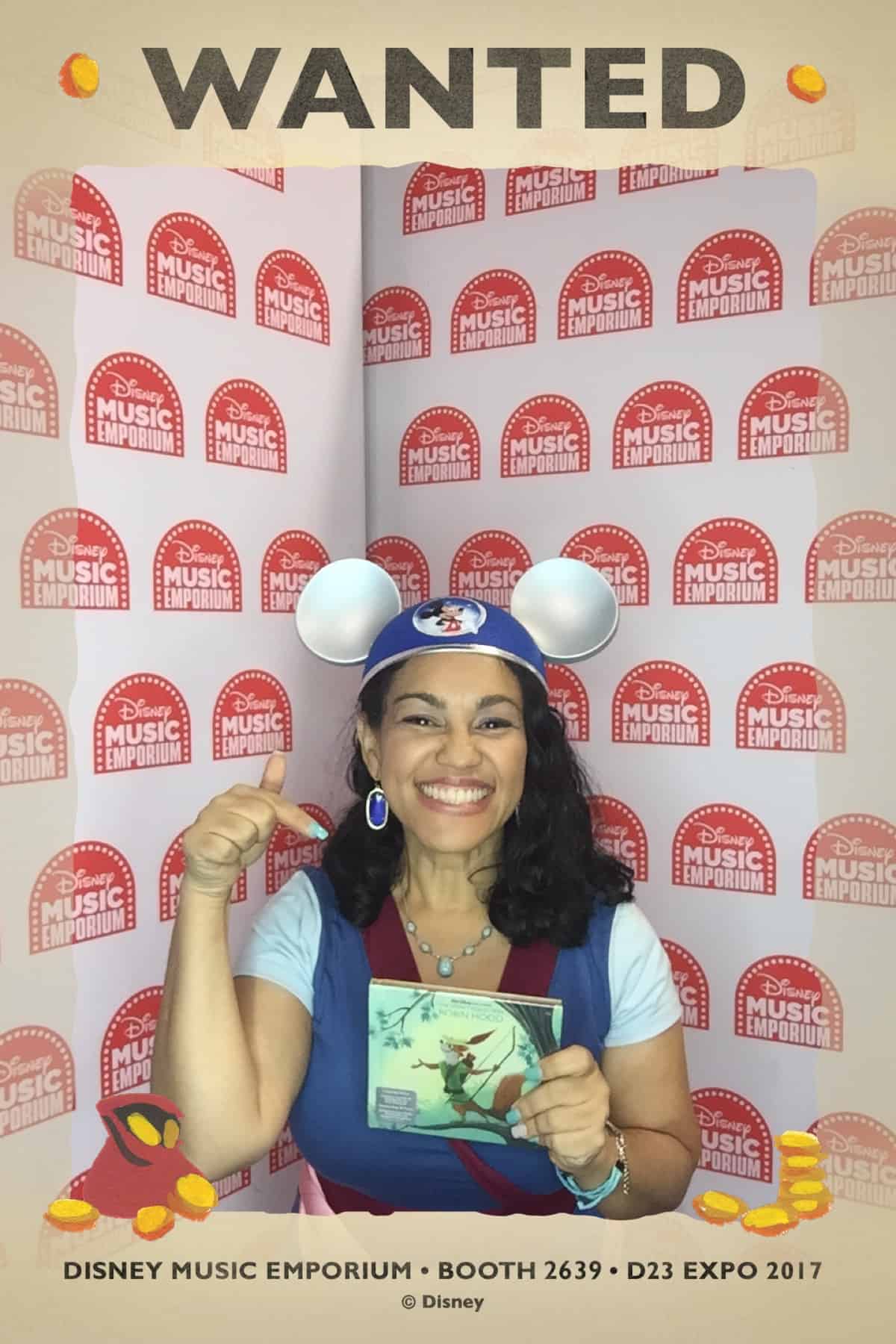 Then we headed to the Disney Music Emporium where we received some treats and we admired the amazing music collection available for D23 Expo attendees. Almost everything was sold out, so you want to tackle your shopping on day 1!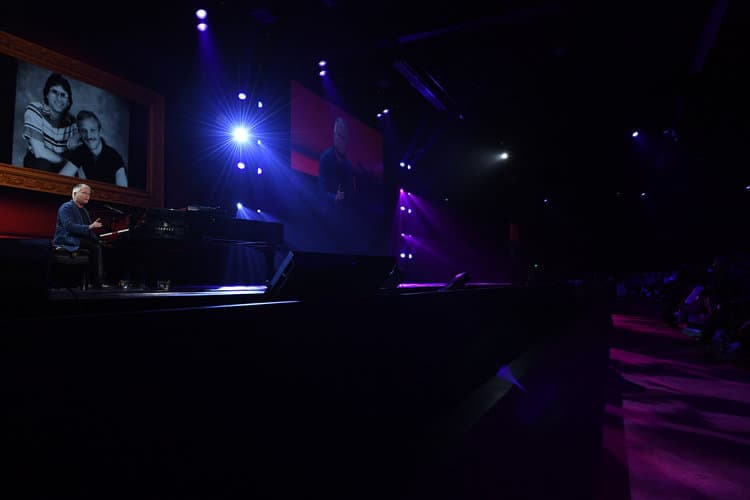 The last event I attended on Sunday to close D23 Expo was the Alan Menken concert. It was surreal to say the least. We enjoyed the music of our beloved Disney films, but also a touching autobiography, as well as a tribute to Howard Elliott Ashman that got me sobbing all throughout. Oh… and when The Colors of The Wind was playing, I was a mess!!!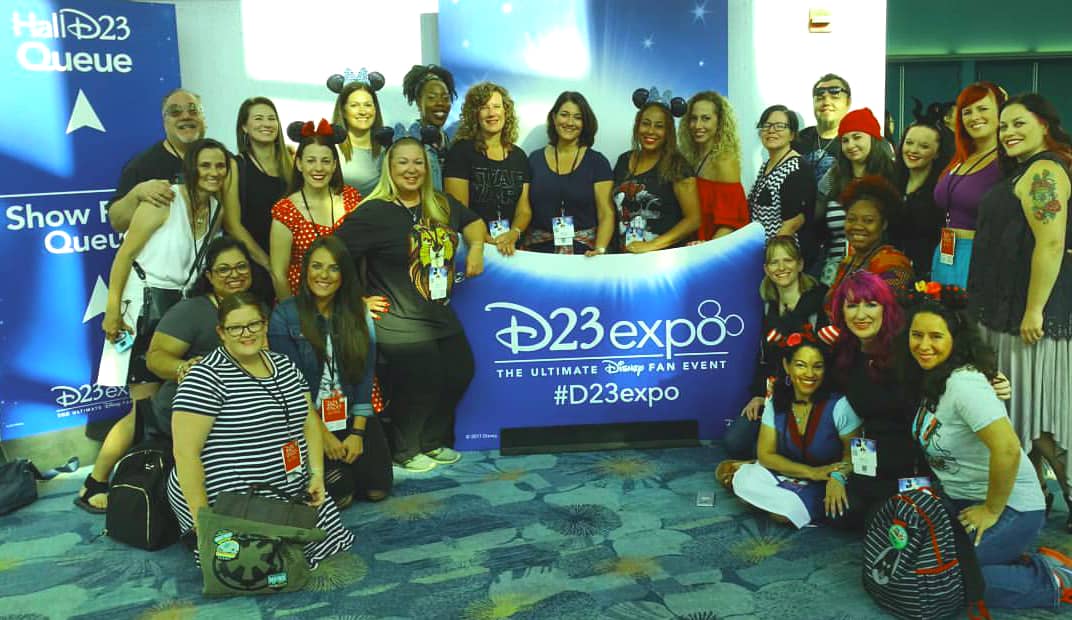 Everyone was amazed and then, at closing, they were on their feet when we learned that Menken will be collaborating with Lin-Manuel Miranda on the live action film for the Little Mermaid!!!
What would you like to see at D23 Expo? Stay tuned for all things D23 Expo as I share my adventures with you, and be sure to follow using #D23Expo #DuckTales #SummerofHeroes #Disneyland and #TheLionKing.
You can also visit D23.com and learn about the D23 Expo here and follow @DisneyD23 on Twitter, Facebook,Pinterest, Instagram, and YouTube.
Other D23 Expo Recaps and Updates:
Join me at D23 – The Ultimate Disney Fan Event!
Pixar and Walt Disney Animation Studios Film Announcements
Disney, Marvel Studios & Lucasfilm Live Action Movie Announcements
Upcoming Walt Disney Parks and Resorts Attractions and Experiences
D23 Expo Recap: My Exclusive Interview with the DuckTales Producers
D23 Expo Recap: Fun Facts and Surprises From THE LION KING Panel
D23 Expo Recap: Meeting Mantis & Nebula
Finding Your Place In The Galaxy
The Most Powerful Life Lessons From The Lion King

© Elayna Fernández ~ The Positive MOM
Be sure to Subscribe to blog post updates, so you never miss a thing!