I finally started vlogging and, unlike my inner bully wanted me to believe, it has been a quite painless experience (except for the part in which I had dental work, but that was necessary, vlog or no vlog). You can watch my videos here or by going to ThePositiveMom TV. Whoa… it feels surreal to say that almost fearlessly.
Since I've already shared the mindset principles of successful vloggers that allowed me to finally take the plunge, today, I'm going to share all the tips I've learned from doing video and tools I'm using to make the journey easier. This is a checklist of everything you need to know to get started on YouTube for your mompreneur business… the rest we will learn as we go.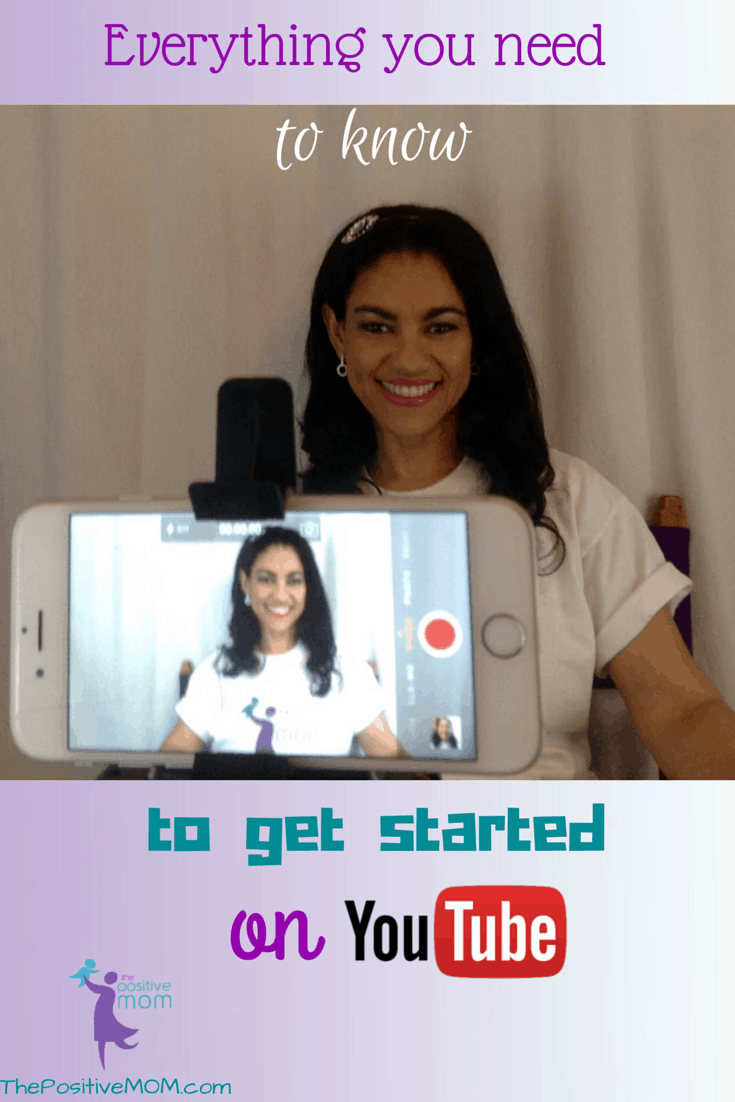 Get Started With Your YouTube Channel

Determine Your Strategy. I have a reputation about this: I always say "the why always determines the what." This means that the strategy always comes first. Once you know where you are going, you can successfully build a road map to get there. Knowing what exactly you want to achieve will give you clarity to know what the name of your channel will be, what description to write on your about tab, and what to say on your channel trailer video. This means that your visitors will get in one instant what you're all about, too.

Creating Your YouTube channel. This is the easiest part, since all you need is a Google Account. You may already have one at Gmail, although I recommend using Google Apps for Work if you are serious about creating a cohesive brand. Once you have your account, head over to YouTube.com/create-channel and it's done.

Your YouTube Channel Branding and Design. YouTube allows for amazing opportunities for branding. Here's a mini checklist for you: add a channel icon or logo, upload channel art (you can hire a professional to do this or get started with a free banner you can design at Canva.com), add your contact links, so you can mirror your color scheme and design you already have going in your online presence. I also took advantage of the channel sections and featured channels area to highlight what is important for my audience to see.
[Tweet "Learn everything you need to know to get started as a YouTube #vlogger"]
What You Need To Get Your Videos Done!
Lights. The point of video is for people to see you, so I set up a video studio on a budget with a set of fluorescent photo lights, umbrellas, 3 muslin backdrops, a support stand, and a carrying case (so I can use this on the go, too). I chose this studio set because I didn't want any distractions on the background and I can use it for photo shoots and a variety of other projects.
Camera. I use my Apple iPhone and it works great. I can upload my video in just a few clicks, too. To keep it steady, I ordered a Tripod and a Smartphone Holder and Adapter to keep it in place. It's the easiest set up in the world and it works wonders.
Action. I just had to use this as #3. Yep, I'm a dork. And that's why I purchased a Director's Chair. It looks cool and it's purple, and the truth is that I needed to stay still and have a good, comfortable posture – and it's high, which helps my 4'9″ tiny body lol so this is the ideal tool for me. Make sure what you choose is comfortable, fun, and reflects your personality, too.
Almost Effortless Video Editing
I am currently in the "I won't touch iMovie until I am comfortable with the other stuff" phase of video editing. Using the YouTube video editor has been really an empowering experience for me, because it turned something massively intimidating into something I enjoy doing. Here's all I do:

I upload my video from my iPhone to YouTube and go to the Creator Studio to access the video editor. Can't find it? Type https://www.youtube.com/editor on your browser. You're welcome!

I drag and drop my 3 second intro, then the video, then a picture I created to avoid the black screen or "no fly zone" at the end of the video. I was ambitious enough to add a transition in between these three elements, and to add "text" in the way of a lower-third to the portion in which I'm speaking. LOL And a little note here – I stressed over the intro for months… literally… and it actually turned out to be the easiest thing EVER! I got it on Fiverr for $5.50!) .

I give the video a good title, description, and tags (AKA Metadata) and upload a custom thumbnail to make it look professional – of course… the faces I make on camera are just crazy, so it is extremely necessary to replace them. YouTube also has this thing called "Upload Defaults" that allows you to save time when doing all the SEO work, because that can take a while. Oh… and don't forget a little thing called monetization!
Getting The Vlogger Look Right
Confession time. I got all my video equipment when I was pregnant and my goal was to start after she was born. There was one issue, though: I was self-conscious about how I looked. The post-pregnancy weight, the hormonal dark spots on my face, the leaking (we gotta be real here lol).
As women, how we look is not vanity, it's a real concern because we want to show our best face to our audience. However, we will never look perfect and we must forsake these thoughts. It's not about the weight, or hair, or makeup – it's about the message and the potential good it can do in the world. I simplified the "what am I going to wear?" conundrum by wearing a simple white t-shirt with my logo. If you look at billionaires like Mark Zuckerberg, or the late Steve Jobs, they keep it simple… they use their time to focus on their brilliance, not their outfits. I want to be like them when I grow up.
And as far as hair and make up… I do my best. I'm not a beauty or fashion vlogger, so I do what I can to look professional, because, to be honest, all I want to do is motivate moms to be the best mom and mompreneur they can be. Flawless hair and make up is not my gift… and that's just fine.
Promoting Your YouTube Videos
I have gotten a few views and I know for a fact they're not from my mom and dad…YAY! Here is what I am doing right now and will continue to do consistently to spread the word:
Encouraging my viewers and subscribers to share their comments (which will be displayed upon approval), because I want to

interact and engage

my community of moms.
Sharing a direct link to it across all of my

social media

networks.
I embedded my YouTube videos on a video page I built and a playlist on the homepage. Views and watch time count when viewers watch embedded videos.
Monitoring YouTube Analytics to find out how people are responding to my content, how they found my channel, what videos they are watching, and how often. This feature is free!
Asking people to

subscribe

at the end of my video. I also plan to use annotations towards the beginning and end. All in its own due timing.
Using a

watermark

for my channel (annotations don't work on mobile, but the watermark allows them to subscribe with a click).
Continuing to use accurate and enticing

Metadata

to get found easily on a search, provide relevant links and extra information, and help people understand what each video is about (

interesting fact:

there is a limit of 100 tags on YouTube… so cool!).
Continue to upload videos

consistently

. Right now, I am filming a video at a time, because it feels more natural to me, but if you so prefer, YouTube has a programming calendar so you can specify a publishing date when you upload multiple videos at a time.
I am excited to be on YouTube and know that my message has the potential to be in front of the largest online viewing audience in the world's largest video sharing site. And what makes YouTube even better is the level of engagement – a whopping 50%!
These are just the basics, yet the basics are ENOUGH. Do you have any tips for vlogging, making videos, or succeeding on YouTube? Share them with us in the comment section below!
[ela]