When I shared the ABCs of Positive Parenting, many of you asked me to make a printable so you could frame it, laminate it, or display it on your fridge. Well, guess what? I listened… and I went to work and created a companion for our day to day journey to be the Positive Mom we aspire and strive to be.
So now you can PIN the ABCs of being a Positive Mom below and download HERE – and you don't need to sign up or subscribe (although you can if you want to he he – wink).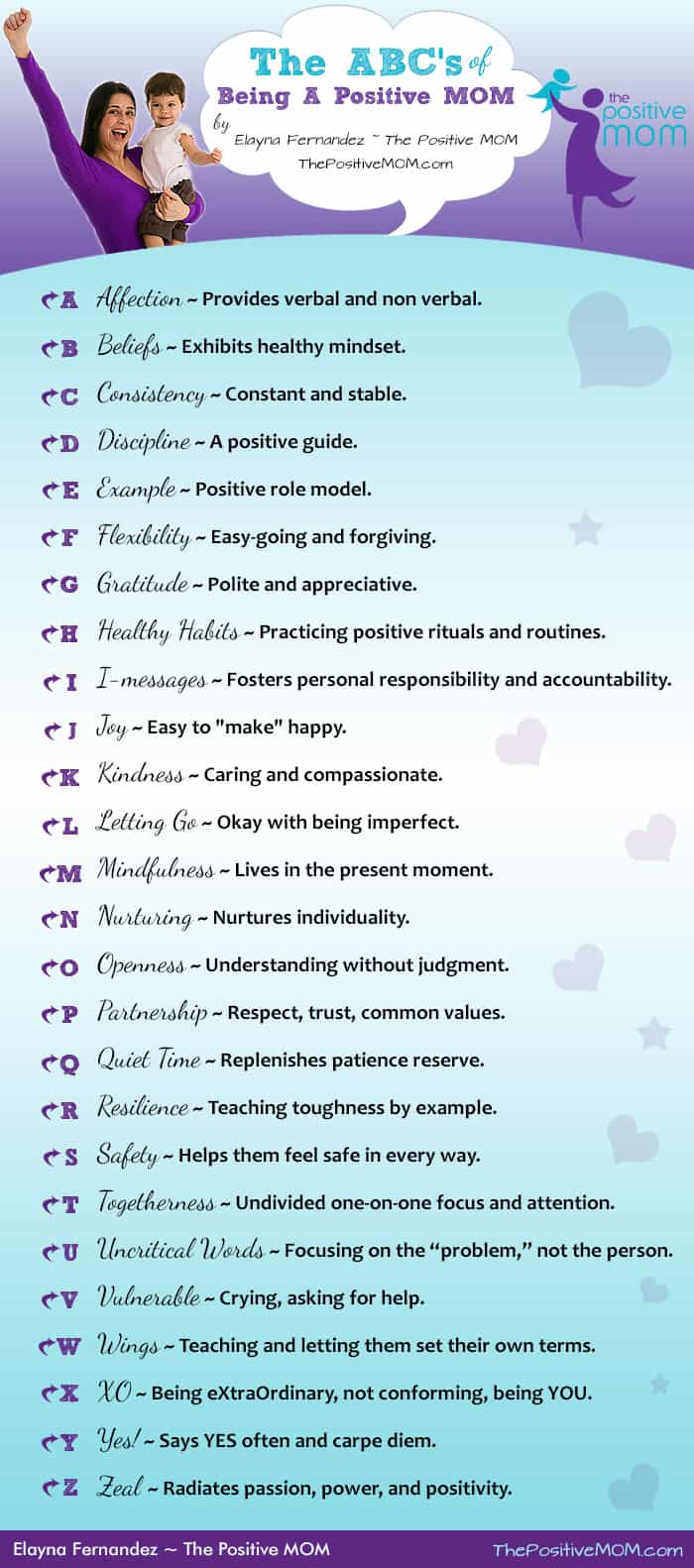 And here's a slightly longer version that gives context to the printable and pin above.

Affection ~ You cannot possibly say "I love you" too much!

Beliefs ~ Practice healthy beliefs that serve both of you and the greater good.

Consistency ~ Let your YES be your YES and your NO be your NO.

Discipline ~ Teach them we are "punished by our sins" and not for them.

Example ~ "BE the change you want to see in your child!"

Flexibility ~ Extend patience, compassion, and forgiveness as needed.

Gratitude ~ Thank your children. Thank other people. Thank God. Be beyond polite and really mean it.

Healthy Habits ~ If you want your children to do or be something, do it or be it first…and consistently.

I-messages ~ Practice the art of personal responsibility and own up to our feelings, beliefs, thoughts, and actions.

Joy ~ The best gift you can ever give the ones you love is a happier you.

Kindness ~ A positive parent is supportive and makes others feel important, cared for, and appreciated.

Letting Go ~ Let go of aspiring for perfection, in both yourself and others.

Mindfulness ~ Live in the present moment, loving what is, without judgement.

Nurturing ~ Learn about them as individuals and nurture who they are.

Openness ~ Honest two-way communication, without judgment, to learn and to understand.

Partnership ~ Respect, trust, common values, defined roles, clear expectations, impeccable communication.

Quiet Time ~ Replenish your patience reserve. You cannot share what you don't have!

Resilience ~ Teaching life skills: tough times don't last, but tough people do!

Safety ~ Learn effective ways to help children feel safe physically, mentally, and emotionally.

Togetherness ~ To a child, love spells T-I-M-E. Give them your undivided one-on-one focus and attention.

Uncritical Words ~ Focus on the "problem," not the person; on progress, not results; forward, not backwards.

Vulnerable ~ It's okay to cry, to admit you don't have it all together, and to seek guidance or ask for help.

Wings ~ Teach principles to help them thrive, find joy and success, and let them set their own terms.

XO ~ Be eXtraOrdinary. Do not conform to what others think, feel, or believe you ought to do.

Yes! ~ Say YES more often, say yes to their dreams, and carpe diem … they'll only have one childhood.

Zeal~ Learn to radiate passion, power, and positivity. Be a source of love and light… and leave a legacy!
Enjoy your free printable. Do you find it useful? What are your thoughts? I love hearing from you and learning from you. I look forward to your feedback in the comment box below. I am so grateful!
[ela]