Breakups can be devastating and can take a toll on your self-confidence and even your mental health. It's really hard to manage all the emotions that come with a breakup because besides having to deal with all the conflict, drama, arguments and toxicity, breakups are triggering. There are so many wounds that get poked and so many destructive intrusive thoughts that invade our mind.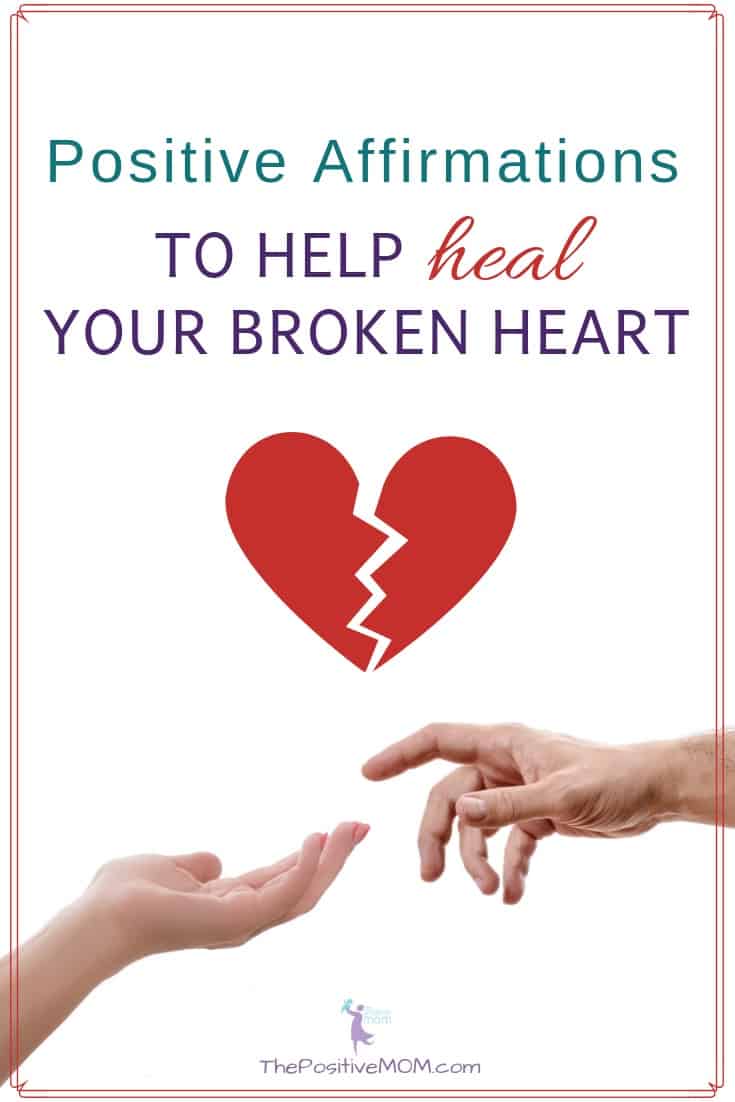 If you are suffering from a broken heart, the world may seem like it's crumbling around you, and you can (and you must) build yourself up. That's what I am doing and inviting you to do. I have been dealing with so much pain and confusion and I'm using all the tools I have at my disposal to stay positive through the heartache.
One of the ways I am recovering from breakup and betrayal is by using positive affirmations. Positive Affirmations are phrases or declarations we say out loud on a daily basis and as many times as it feels right to train our thinking. Positive Affirmations can serve as little reminders that can help you go through the day with more ease and peace, and they also have the power to help rewire your brain to create a long term positive change that can help you heal your broken heart after a breakup or divorce.
The intense grief you experience at the end of a relationship is real, but it is necessary to remember that your thoughts can help or hinder our ability to heal. It is harder to move forward after a breakup or betrayal when you forget yourself and your worth. The feeling of worthlessness has been creeping up on me more often than I'd even like to admit, but instead of shaming myself for my anxiety and self-defeating thoughts, I resolve to do something about it.
Positive Affirmations can help you get over a breakup because they help refocus your thinking. Thoughts and feelings of anger, hate, resentment, sadness, regret, self-blame, and will naturally come, so by choosing your thoughts wisely and deliberately, you are taking charge of your life, mastering your feelings, and slowly reframing this experience.
S-L-O-W-L-Y is such an important word here. I cannot tell you how many nights I haven't been able to sleep and the days ran together like a giant ugly cry, feeling broken, ruined, unlovable, hopeless, and lost. Then I upgraded to crying myself to sleep, and though I'm better now, I have random crying spells and I start thinking thoughts that add suffering to my pain.
It's perfectly normal for you to not fully believe the Positive Affirmations as you recite them at first. Heartbreaks crush you inside out, but in time, these positive mantras will be ingrained in your subconscious mind and move you from grief to peace. I can't say I'm quite there yet, but I've used Positive Affirmations to heal and move on from excruciating pain before and I know they work and I can feel them working now!
If you're going through the torture of breakup or divorce, read these positive affirmations right now to help heal your broken heart!
Positive Affirmations To Help Heal Your Broken Heart After Breakup or Betrayal
I am a being of love
I am loved and lovable
I forgive myself
I forgive my ex
I have power over my own life
My wounds are healing
I am deserving of love
I am releasing the past
I am learning to trust myself
There is something better waiting for me
I am whole on my own
I matter
I am excited about this new beginning
I am capable of loving again
I am learning to love myself unconditionally
It is getting easier day by day
I am enough
I have a lot to offer
I am becoming stronger
Everything is unfolding as it is supposed to
I honor the love I shared
I can find happiness in any situation
I am grateful for the lessons
I am excited to start my new life
I choose happiness, health, and harmony
I enjoy spending time with myself
I am free to be the best version of me
I am likable, lovable, and worthy of love
I am finding peace
I am allowing myself to feel joy, laugh, and smile
I am working on me, for me
I am allowing myself to feel all my emotions
My heart is opening up to new possibilities
I am capable of trusting again
I attract positive and healthy relationships
This is just a small part of my story
I am learning to trust the process
I know I have worth and value
I am healing more and more every day
I am allowing myself to let go
I am an attractive person
I will open my heart when I am ready
I give all relationships my all
I am loved
As you recite these simple Positive Affirmations, your suffering will start to fade. It's tempting to try to rush the healing process, but you must allow yourself to feel your pain as you keep taking steps to help you recover from the trauma of betrayal and the sorrow of breaking up.
Don't get discouraged if you still feel sadness or rage, or if you find yourself wondering how to get over the agony you're feeling, or even feel hopeless that you ever will.The negative thoughts and negative self-talk won't magically dissipate, but as you pay attention to your thinking and say these Positive Affirmations, you can find increased peace and acceptance to soothe your sorrow.
Another benefit of incorporating Positive Affirmations into your daily routine is that you're investing time and effort in your mental health and sanity, which sends a message to your subconscious mind that you are worth it, and that is the real truth.
I encourage you to tap into the healing power of Positive Affirmations to recover from a failed relationship, regain a positive self-image, and help repair the emotional damage the betrayal caused you. May they help you feel bold, fierce and powerful again!
Do you know any Positive Affirmations for getting over a breakup and healing a broken heart? Share your favorite Positive Affirmations in the comments below!
[ela]