Whether we are ending a friendship, a marriage, or a business partnership, the end of a relationship hurts regardless of why it happened, and even if it's a mutual decision. I think when the reason for the breakup is betrayal, the devastation in your heart can be traumatic.
The initial shock of how I've been deceived, betrayed, and mistreated has been slowly wearing off, but the heartache remains and my wounds are wide open.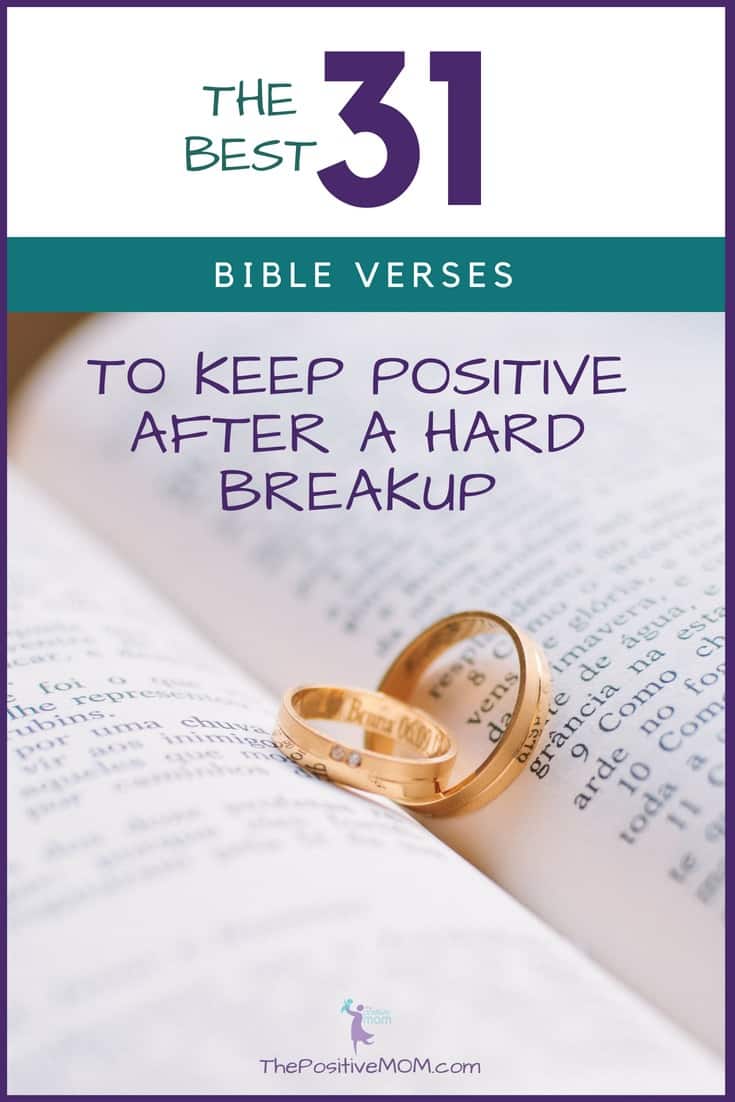 I am doing all I can to stay positive during this trial and I want to share some Bible verses about breaking up from the King James Version (KJV) that have guided me through this new journey I'm slowly stumbling through.
The Best 31 Bible Verses To Keep Positive After A Hard Breakup
Even though I appreciate the important people in my life telling me I'm strong and I will be okay, the pain just doesn't stop. I want to believe them, and maybe part of me does believe them, but it is when I read the Scriptures that I find encouragement I can cling to to calm the emotional storm inside of me.
If you're going through a horrible breakup, a divorce, or any other affliction, I invite you to read and repeat the following scripture verses to comfort your broken heart and strengthen you during these troubled times, even if you aren't religious.
Psalm 18:30 ~ Protection

As for God, his way is perfect: the word of the Lord is tried: he is a buckler to all those that trust in him.
Protection comes through trusting that, even when it hurts, the breakup is right for you. My motto: rejection is protection; rejection is redirection.
Romans 12:19 ~ Letting go

Dearly beloved, avenge not yourselves, but rather give place unto wrath: for it is written, Vengeance is mine; I will repay, saith the Lord.
Letting go of any desire for revenge, to get even, or to see the other person suffer will help us heal and move forward from the misery that comes with a breakup.
Mark 5:34 ~ Wholeness

And he said unto her, Daughter, thy faith hath made thee whole; go in peace , and be whole of thy plague.
I know in my heart that I am whole without my ex, but it requires a lot of faith to fully embrace a new season without the one you thought was your other half.
Isaiah 43:2 ~ Safety

Psalm 46:10 ~ Serenity

Be still, and know that I am God: I will be exalted among the heathen, I will be exalted in the earth.
Praying, meditating, and connecting with our inner wisdom can help us find God in this emotional mess we're in.
Joshua 1:9 ~ Companionship

Have not I commanded thee? Be strong and of a good courage; be not afraid, neither be thou dismayed: for the Lord thy God is with thee whithersoever thou goest.
The grief and suffering of being betrayed by someone you loved and trusted is compounded by how lonely you feel in this time of mourning. You are not alone. I am not alone. We are not alone.
Psalm 147:3 ~ Healing

He healeth the broken in heart, and bindeth up their wounds.
Sometimes it's really hard to believe that I will recover from this sorrow, but God is faithful to keep His promises and I know it will happen in perfect timing.
John 16:33 ~ Overcoming

These things I have spoken unto you, that in me ye might have peace. In the world ye shall have tribulation: but be of good cheer; I have overcome the world.
It's normal to feel weak and defeated but relying on who He is, rather than in who I am, helps me stay positive and have hope amidst adversity.
1 Peter 5:7 ~ Release

Casting all your care upon him; for he careth for you.
As humans, it's hard to release control, so we worry, intervene, and try to fix things. Just like the disciples cast their heavy fishing nets to the vast ocean, when we cast our troubles to God, we are blessed.
Matthew 5:4 ~ Comfort

Blessed are they that mourn : for they shall be comforted.
In all honesty, it doesn't feel very blessed to go from anger, to anguish, to anxiety, but you will gradually start to see the light even in your darkest hour.
Romans 8:28 ~ Purpose
And we know that all things work together for good to them that love God, to them who are the called according to his purpose.
As a Student of Pain, I've found that our suffering is part of our calling. As we embrace this truth, the lessons will unfold and bring meaning and purpose to what feels like an unnecessary and unfair burden.
Psalm 34:19 ~ Deliverance

Many are the afflictions of the righteous: but the Lord delivereth him out of them all.
As we draw near to God, He will rescue us from the depths of our personal hell. I gotta add that this won't happen by magic and as we put in consistent effort, the situation won't necessarily change, but our perspective will.
Isaiah 41:10 ~ Strength

Fear thou not; for I am with thee: be not dismayed; for I am thy God: I will strengthen thee; yea, I will help thee; yea, I will uphold thee with the right hand of my righteousness.
This breakup has been so distressing, demoralizing, and depressing that I thought I wouldn't be able to survive it, that I wasn't going to be able to handle it. I am… and no matter how unbearable the pain may seem right now, you will be endowed with strength so you can conquer and triumph over it.
1 Corinthians 13:4-8 ~ Love

Charity suffereth long, and is kind ; charity envieth not; charity vaunteth not itself, is not puffed up, Doth not behave itself unseemly , seeketh not her own , is not easily provoked , thinketh no evil; Rejoiceth not in iniquity , but rejoiceth in the truth ; Beareth all things, believeth all things, hopeth all things, endureth all things. Charity never faileth : but whether there be prophecies, they shall fail; whether there be tongues, they shall cease; whether there be knowledge, it shall vanish away.
Breakups are sometimes a reminder that we look for love in the wrong places. This breakup is giving me the sacred opportunity to feel God's love for me and to practice intense self-love in the forms of self-compassion, self-care, and self-acceptance. Remember that not everything you lose is a loss and that as we release the old, the new can come in.
1 Thessalonians 5:18 ~ Gratitude

In every thing give thanks: for this is the will of God in Christ Jesus concerning you.
Because there's opposition in everything, there is always at least something positive that comes out of something we perceive as negative. When your heart is aching it can take a long time to dig deep to find it, but I guarantee you it's there. As you give thanks, you will find more and more to be grateful for.
Deuteronomy 31:6 ~ Aid

Be strong and of a good courage, fear not, nor be afraid of them: for the Lord thy God, he it is that doth go with thee; he will not fail thee, nor forsake thee.
The #1 fear we experience after breakup or divorce is the frantic fear of being alone. When you're dealing with this sense of emptiness, you may try what I do: I tell myself it's even more terrifying to stay with someone that makes you feel alone. Faith can dissipate your uncertainty and summon the Heavenly Help you need.
1 Samuel 1:10 ~ Permission

And she was in bitterness of soul, and prayed unto the Lord, and wept sore.
As recorded in the Bible, it is natural to go through a wide range of emotions during a painful situation, and it's the same for a breakup, especially if betrayal is the culprit. Give yourself permission to cry, mourn, and to fully feel and express all the grief, sorrow, rage, and any and all emotions you may be feeling – it is a powerful way to heal.

Psalm 27:14 ~ Patience

Wait on the Lord: be of good courage, and he shall strengthen thine heart: wait, I say, on the Lord.
Waiting takes courage. Especially when you don't know how long you'll have to wait, but trusting in God means also trusting in His timing and in His way of delivering on His promise.
Psalm 30:5 ~ Joy
For his anger endureth but a moment; in his favour is life: weeping may endure for a night, but joy cometh in the morning.
One of the great advantages of crying and allowing your humanity to show is that you also welcome the emotions you desire, like joy! It is possible to feel joy even during a breakup and all the setbacks of today are preparing you for the comeback you've been praying for.
Philippians 4:13 ~ Power

I can do all things through Christ which strengtheneth me.
I always say "BE Positive and You'll BE Powerful" and positivity comes from faith. As you focus on that which you pray for and have faith it is possible, you will have the power to co-create it in your life. All things are possible for you through Him.
Matthew 11:28 ~ Rest

Come unto me, all ye that labour and are heavy laden, and I will give you rest .
Rest is a precious commodity and breakups cause us to lose sleep, but we can feel a sense of rest as we pray and trust that we are not alone in this traumatic ordeal.
John 14:27 ~ Peace

Peace I leave with you, my peace I give unto you: not as the world giveth, give I unto you. Let not your heart be troubled, neither let it be afraid.
Someone asked me how I can smile – or even function – with all the pain and emotional energy I'm processing these days. When you partake of the Lord's peace, you will feel the assurance that everything will certainly work out.
Psalm 55:22 ~ Support

Cast thy burden upon the Lord, and he shall sustain thee: he shall never suffer the righteous to be moved.
One of the hurtful byproducts of breakup or divorce is the disappointment that comes from someone whose support you want to either step out or take "your ex's side." For me, personally, the letdown has been how some people in my life seem to value my marriage more than they value my happiness, while others have acted in invalidating ways because fail to see or understand the wreckage in my soul. Know that when no one seems to be on your side, the Lord is – no matter what.
Isaiah 40:31 ~ Vigor

But they that wait upon the Lord shall renew their strength; they shall mount up with wings as eagles; they shall run, and not be weary; and they shall walk, and not faint.
I am on a journey to take better care of my body and love it back during this transition. The toxicity in a relationship and along the breakup process can drain you and debilitate you, but you can slowly regain energy and confidence to move forward.
Proverbs 3:5-6 ~ Direction

Trust in the Lord with all thine heart; and lean not unto thine own understanding .
In all thy ways acknowledge him, and he shall direct thy paths .
Doubt reigns during a time of breakup or divorce. Trusting with all our heart can seem a daunting task when it seems our ability to trust is as broken as our heart. But trust we must! Direction and discernment are priceless gifts during this time of contention and confusion because it could be so easy to make a choice we could regret. It's okay to give yourself time to trust others, but trust in the Lord now… today.

Psalm 46:1 ~ Help

God is our refuge and strength, a very present help in trouble.
God's help will show up in little and grandiose ways, and many will recognize His Hand in hindsight, but you can train yourself to see the little miracles He is manifesting in your life each day, and how He is actively making things easier for you.
Revelations 21:4 ~ Restoration
And God shall wipe away all tears from their eyes; and there shall be no more death , neither sorrow, nor crying, neither shall there be any more pain: for the former things are passed away.
Some days it's harder to imagine that I'll be over this heartache and brokenness, but I remind myself of my favorite Bible story in which everything that Job lost was restored tenfold, including his joy. Hold on to the hope of that promise and create a vision of what life will look like when restoration comes, as unbelievable as it may be right now.
Psalm 9:9 ~ Refuge

The Lord also will be a refuge for the oppressed, a refuge in times of trouble.
The trauma of betrayal can make it seem as if we are trapped or stuck and there's nowhere to go, but prayer can become our shelter when we feel no one is safe enough for us.
John 8:32 ~ Freedom

And ye shall know the truth , and the truth shall make you free.
Some truths are so gut-wrenching that we almost wish we didn't find out, but even those hard truths are essential to healing because they provide safety, connection, and freedom. It is only through truth that intimacy can flourish and that trust can be rebuilt. This breakup is providing the gifts of truth, enlightenment, and awareness at the highest level I've experienced and thought it is beating me up, it is also liberating me in a massive way, and I am grateful for that.
Luke 6:27-28 ~ Forgiveness

But I say unto you which hear, Love your enemies, do good to them which hate you,
Bless them that curse you, and pray for them which despitefully use you.
I have written about how I still love my ex and I will always love my ex. It is possible to love someone without allowing them to hurt you or condoning their betrayal. Forgiveness is a process that requires love for self and compassion for the other.
Forgiveness can be a long process, but we can do a loving / forgiving thing each day to get us closer to our goal, because giving up the hope of a better past is the sure way to have a better present and build a better future.
Proverbs 3:15-16 ~ Worth

She is more precious than rubies: and all the things thou canst desire are not to be compared unto her.
One of the most shameful practices during a breakup caused by betrayal or a divorce caused by infidelity is the compulsion to compare ourselves with the affair partner or whomever is object of our ex's lust and desire.

When we have been disrespected and mistreated, we are almost blinded to our worth and value. I have to remind myself each day, several times a day, that it is how God sees me that matters and to declare myself beautiful, valuable, and worthy of love, respect, and care. You are too – don't forget it.
Breaking up can be a heart-wrenching experience, filled with anger, hurt, fear, loneliness, struggle, and despair. When I feel like it's the end of the world, I keep affirming the truths in these Bible verses to lift my spirits, give me hope, and help me see the positive side of this ugly pain I'm feeling.
Which Scripture verse speaks most to you? Share your own favorite Bible verse about breaking up, suffering, and betrayal in the comment area below!
[ela]