The last weekend of June I went on a road trip to San Antonio and test drove an extraordinary vehicle. You may be thinking "you go on A LOT of trips, woman!" and you are correct. I love travel and adventure and I designed a life that incorporates a lot of that, of course. It is so empowering that we can create our lives from an inspired vision by getting clear about what we want. Yet there is one thing that we are all familiar with even when we know we can be powerful creators: fear gets in the way.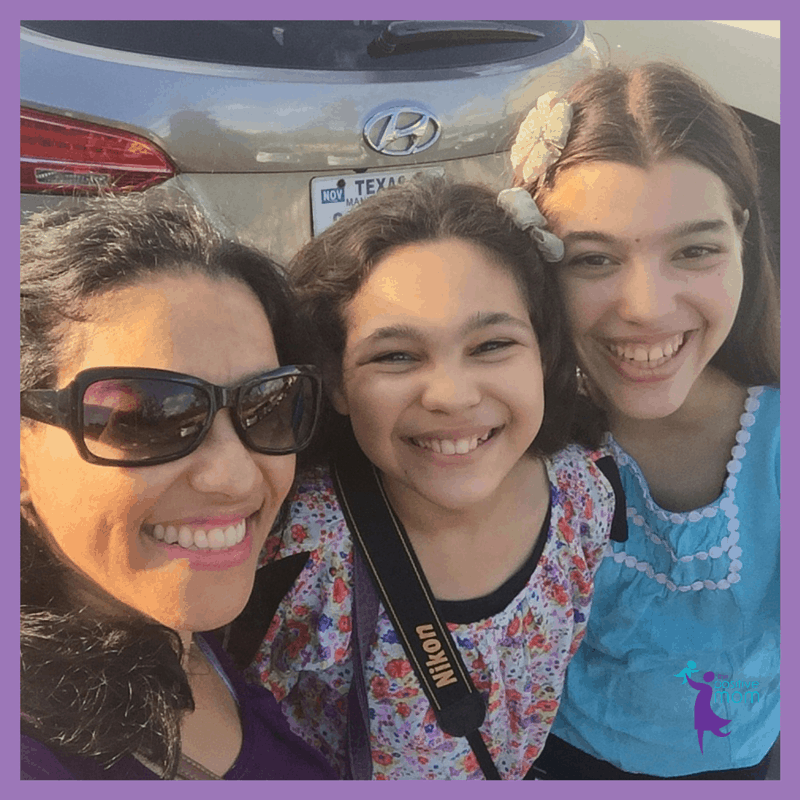 There are three powerful reasons why this trip was going to be A BIG DEAL (and why I'm sharing my experience with you) plus three lessons I want to share. As usual, let's start with WHY 🙂
Elisha, Elyssa, and I were on our own for the first time since the baby arrived. Our family was just the three of us for so long, and nowadays it's really rare for us to get girl time together.
We were going to be attending SeaWorld AdventureCon AND speaking/teaching about book publishing.
I was going to be driving!!! Ever since Taylor Bare and I married, he's been doing all the driving. We've driven from Dallas to Florida, Vegas, California… and by "we" I mean my part consisted of adorning the passenger seat and keeping the actual driver awake 🙂
Now if you have been following me for a while, you know of my car fears and traumas. If you are a brand new reader – welcome! Please subscribe! – I can assure you this was not an easy decision to make, because although I know I am a safe driver and San Antonio is not outrageously far, I had gotten used to the new comfort zone.
There was no other option: DH had work on Saturday AND Monday, plus a church talk on Sunday and there is no way I was going to miss one of the most important blogger events of the year for me. They say "where there's a will, there is a way" so I said "I will" when I could have said "no way!"
I really love this quote:
Courage is not the absence of fear, but the conquest of it.
And how do you conquer fear? I've written about overcoming fears before and I absolutely believe that it comes down to our power to make choices. We must choose to focus on where we are going and not on our fear.
[Tweet "Focus where you are going, not on your fear! #motivationformoms"]
I know it's easier said and written than done, and I also know that no matter how much we know, we all need a little extra motivation in motherhood and mompreneurship. Life can seem scary. What may seem part of someone else's routine could be terrifying for you. I have come to terms with that.
I used to be try really hard to seem like I was Ms. Independent, and do everything on my own, without support, but a big lesson in my life, LESSON #1 of this post, is that it's okay to ask for help!
And that's what I did. I reached out to my friends @DriveShopUSA and given that I was going to need extra assurance for my viaje, they offered to let me test drive the 2015 Hyundai Santa Fe Sport FWD 2.OT with the ultimate package.
When you voice your concerns, you take power away from your fear. And when you ask the right person, they can help you dissipate some of the fear, or even provide tips, tools, or even high-level pampering that will do just that.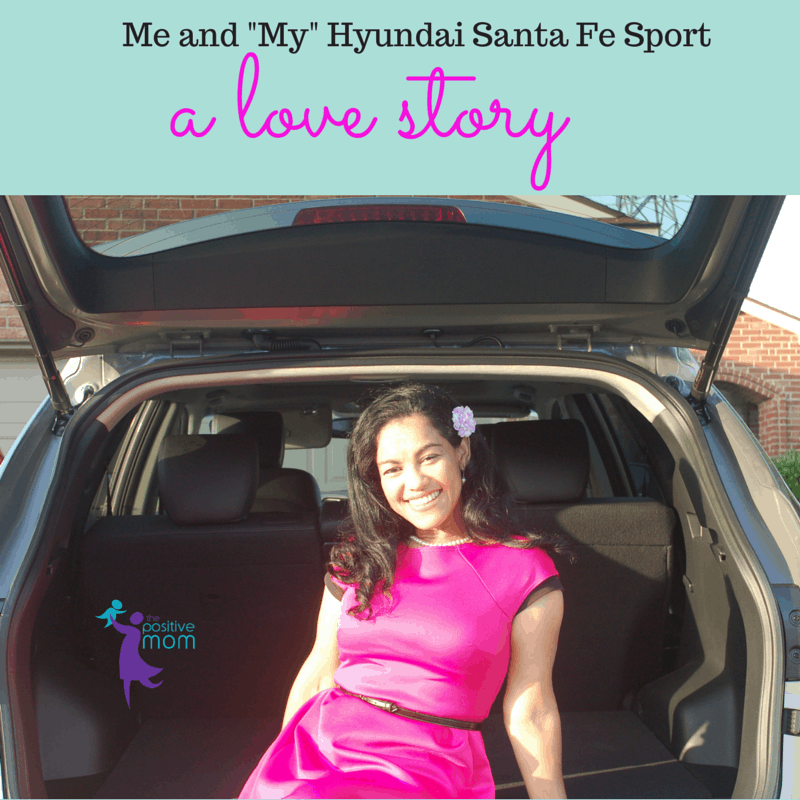 As I thought about driving a new car, my nerves soon turned into excitement. And that's LESSON #2: you choose the meaning! Sometimes we think we are nervous and afraid, when we're really just thrilled for what's coming – it feels the same! It happens to me every time I am about to hit publish on a very vulnerable post I wrote, to click upload on a video, or to come out and speak on stage. I am committed to serving moms and that's what's exciting…the butterflies are real, but so is my passion to empower, equip, and encourage moms.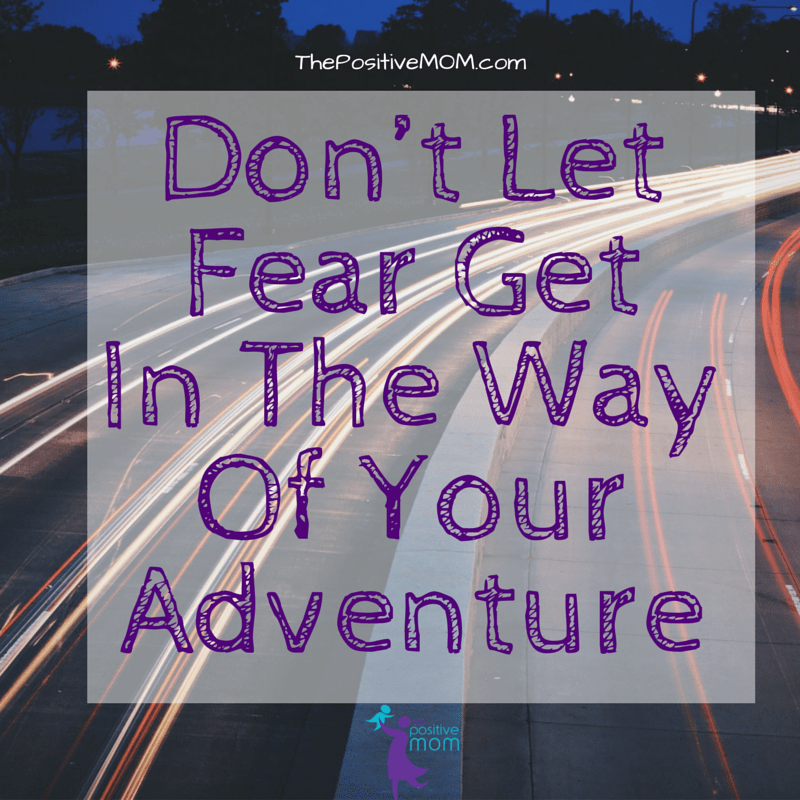 When Tuesday (delivery day) came around, the doorbell rang and I started my Periscope broadcast on the spot! I assure you this car is quite photogenic but prettier in person and I was instantly attracted. The Santa Fe Sport is beautiful from the inside out: it looks sporty on the outside and luxurious on the inside. Little Pigeon got in the driver's seat as soon as the doors were opened.
As my very own vehicle specialist performed his informational walk-through, I kept falling in love with this vehicle because of her wonderful features (yeah, my cars are female! LOL).
I'm no car expert (I think you guessed that), and won't be bragging about the horsepower, but I'll tell you this: I love the Santa Fe Sport and it fits my lifestyle and my personality. I need to feel safe, to experience a sense of freedom, and to know that my family has the room they need to enjoy the journey.
I can't believe I'm going to say this, but here it goes: I enjoyed driving! And that's where LESSON #3 comes in: knowing EXACTLY what you need to ease your worries can make life easier. This one comes in three layers:
Know what scares you.
Because of the impact of the car accident that left me in an 8-day coma, much of my trauma has to do with fear of crashing. The Santa Fe Sport has a feature called the driver's side blind-spot mirror that gave me a huge boost of confidence because I am always insecure when changing lanes. My car was like my buddy, monitoring the road for me, even though there was nothing but a bunch of electronics and audio book cases on my passenger's seat. The trunk had a humongous amount of room, but a girl likes to keep her stuff handy and close to her. At least I do.
Know your weaknesses.
The incredible navigation system (displayed on an 8" touchscreen) helped me with my being directionally challenged. I am in shock that I didn't get lost even once in a week. Seriously. I felt like I wanted to send out a press-release about it. I am all for learning… I love learning probably as much as I love breathing, but there are just some things I know would take forever and I'd rather partner with someone who (or in this case, something that) is strong where I am weak… and we could make an awesome team and rule the world.
No, really, I did another scope when my GPS turned into a Knight in Shining Armor (my navigational systems are all male lol) and actually told me I was running out of gas, then offered to find the closest gas station for me. I just thought that was the sweetest thing and had to share it with the world, so we did a broadcast while filling up.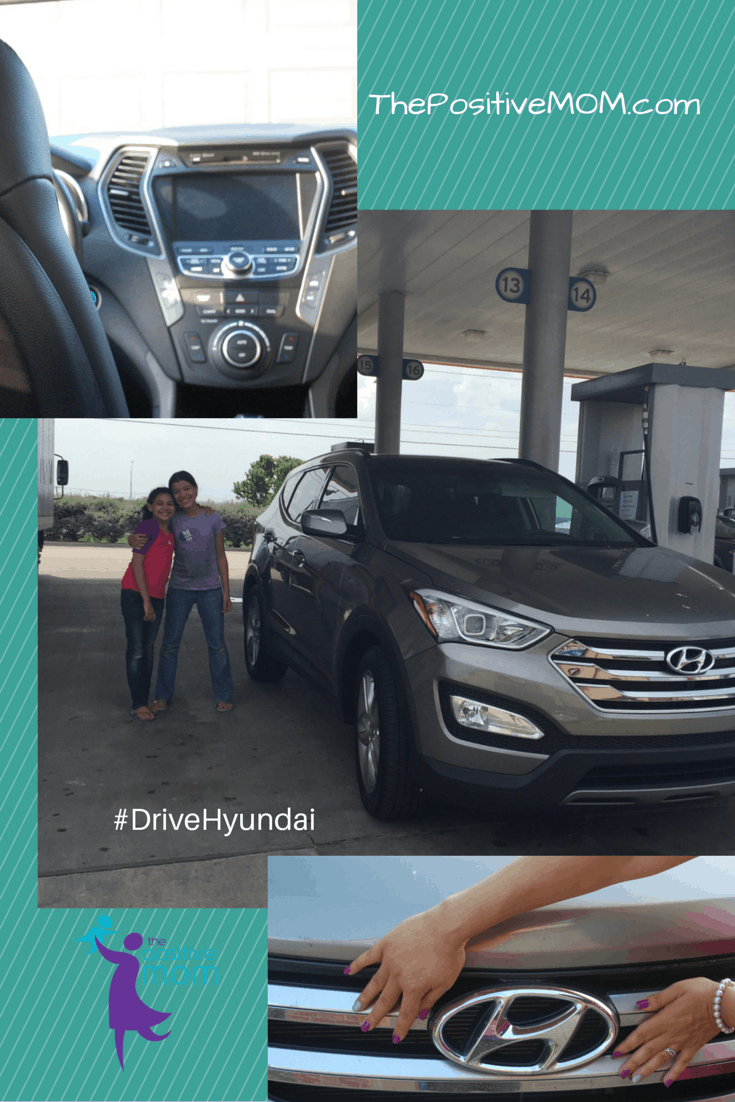 And speaking of "falling short…" LOL When I learned how to drive about 10 years ago, I had to use a phone book below me and one behind me to reach the pedal and the brakes. LOL The Hyundai Santa Fe wasn't too big for me to maneuver, and the adjustable seats and steering wheel (up, down, in, and out) made it so my legs even reached perfectly (with room to spare) – that was refreshing!
Know What You Know.
The first two steps are the easiest. We often know our fears and our weaknesses, but fail to recognize what we already know, what we have already achieved and how far we've come. I knew I hadn't driven the Santa Fe Sport before, yet, it wasn't my first time driving. I have driven a lot, for a long time now.
Why do we fail to give ourselves credit and beat ourselves up so much? I'd love to hear your take on that and promise to retake the topic at a different time, because I can digress.
[Tweet "Give yourself credit and stop beating yourself up! #motivationformoms"]
So if you do the math, the car came in on Tuesday and the conference started Friday. I took those few days to get to know my Santa Fe Sport and to spend some time with her doing what I knew to do… with grace.
I first took her to the Yoga studio for a mami-daughter date with Elyssa.
Then I took her around my neighborhood and introduced her to the spa where I get my nails done.
We drove around the city Fort Worth, when I went to teach with the Sister Missionaries of my church (who totally dug the life-saving ability to heat /cool the seats ).
I took my husband on a date to the Dallas Summer Musicals and watched Dirty Dancing. He drove it a little bit and was sad to give it back. The remote keyless entry and the panoramic sunroof blew his mind.
I went to a video shoot 90 minutes away from home each way and got to use the USB and power outlets in my journey. Will share deets later about the new Women Leadership community I'm featured in.
Before our official SeaWorld escapade, my Santa Fe Sport and I lived many adventures. The girls and I made many memories at our favorite San Antonio parks and did not want them to end. They wouldn't stop talking about the reclining back seats and the built-in retractable sun screens. They really got a kick out of that.
I was off to the Rocks Digital Conference where I was a speaker, when my Hyundai friend was picked up. We had an emotional goodbye earlier that morning. I miss her.. but the luxury and the lessons will stay with me. And, who knows? Maybe we'll reunite.
The Santa Fe Sport was dubbed the "Small Family Car of The Year" and I can see why…because I only scratched the surface. You can learn for yourself about our version at Hyundai.
What do you think of my experience with the Santa Fe Sport? Can you relate to these lessons in your life? Do you let fear get in the way of what you want? I'd love to hear from you in the comment section below.
[ela]