It was 3 a.m. when we arrived home, and I was so exhausted I literally went directly into my bedroom, jumped in bed, and passed out. The drive from San Antonio was about 6 hours, and although Taylor Bare drove the whole time, I was struggling to keep awake and "entertain him" with my sleepy (probably delirious) chatter.
I was thinking how tough it is to fit in a spontaneous trip when there are so many demands, obligations, and stresses in a parent's life. It seems crazy to drive 12 hours in a single day to go somewhere, but sometimes you just need a change of scenery. And the thing is that, there never seems to be a good time to just get out: you can't seem to justify the expense, there are so many things on the to-do list that "just can't wait," or you don't have enough energy, and would rather sleep – if you could, that is.
I hear you. I woke up on Monday sore and disoriented. Little Pige caught a cold playing with friends last week and, as a result, we haven't been able to sleep well, and then, what do you know? I caught it from her. I didn't really get out of bed on Sunday, so that means there were dishes topping both sinks, a mess with toys, and teddy bears all over the house, and diapers and laundry to wash. I had writing work due, a podcast interview in the AM, and needed to provide feedback on assignments a couple of my mentees had completed over the weekend.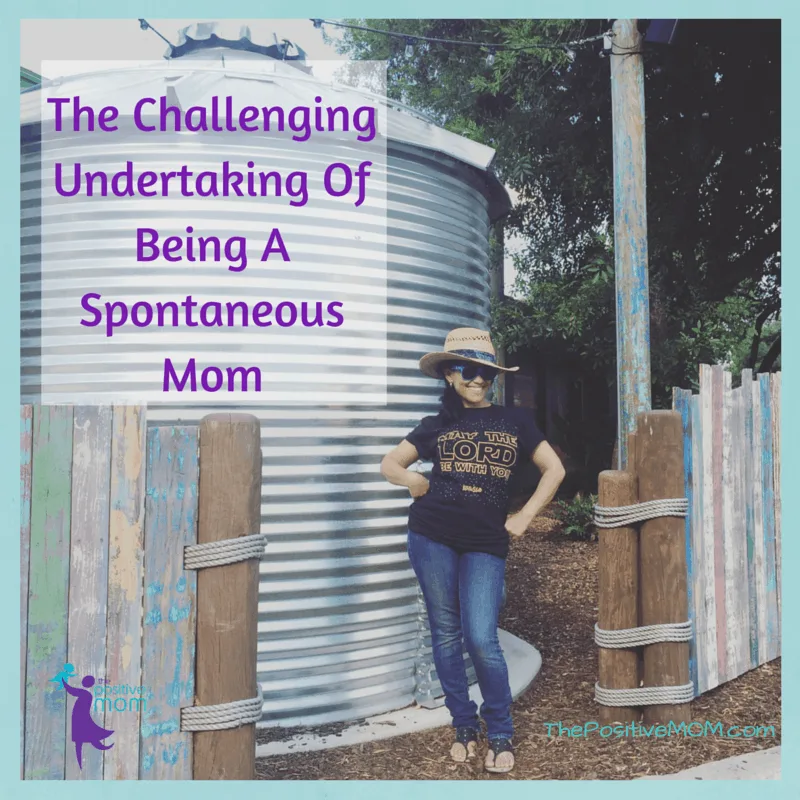 And you know what? I decided to be a spontaneous mom anyway. Taylor Bare had been working for about a month with only Sundays off, which is our Sabbath, and it was Labor Day, too. He really wanted to get out and explore. And the girls are always up to it.
It's as if Jane Austen is inside my head saying:
"Why not seize the pleasure at once? — How often is happiness destroyed by preparation, foolish preparation!"
Is it just me? I often tend to wait for "the right time," or strive to "be ready." I feel much better when I look back and remember the days I needed an itinerary, and needed everything to be according to schedule or to plan.
I love the balance between looking ahead, where you want to be, and looking behind to see how far you've come.
Monday was definitely not the greatest day to go to on an adventure. But, you know what, that is exactly why we had to go. Because plans can be a source of personal achievement, but too much planning without a little flexibility can certainly turn into an invitation to disappointment… and what is worse, regret.
Do you find that you often want to postpone life on the account of doing dishes, laundry, and work?
Sure, the mundane is part of life, but when asked, the significant people in my life never say "the best thing about mom is how she always has a clean kitchen", or that "she is obsessed with not having dirty laundry." They talk about spending time together, making memories, and feeling loved.
I decided to attack the day as an adventure and to remind myself that some of the most thrilling experiences are decided on impulse, not months in advance. We got in the car and the girls had no idea where we were going, yet having a feeling it was going to be great either way.
Spontaneous mom tip #1 ~ Always keep it a surprise until the very last minute. I am the queen of surprises. It can be the littlest thing or the biggest thing, from watching a movie as a family, stargaze while laying on the trampoline, picking a $1 item at the store, driving to Florida, or going on an 8-day Cruise. I've found that "surprises" help children be more grateful, because it teaches them not to take these things for granted.
Spontaneous mom tip #2 ~ Let the kids do the packing and preparing. If they are little, make up a packing list you can always use, including a few packing tips. Packing builds momentum and exciting, and it helps them be part of the process, too.
On the car, I told the girls I needed to finish some work, so while I did that, they could enjoy the scenery and enjoy the glorious creations of God. It was a gorgeous day and we were all grateful to be out of the house, and they played games and ate snacks.
Spontaneous mom tip #3 ~ Bring multi-way multi-device chargers for your electronics if you're going to do work in the car, and use your hot spot to connect to the Internet. I found that I got more done on that drive than I would have at home with Little Pige clinging on my leg or answering the girls questions. I've had to develop a "zone out" skill so I can ignore the noise they make, and it pays off!
We really had a nice drive and everyone really enjoyed it. Yes, I admit I have come up with ways to make it work, because kids don't just automatically love road trips, and I, like most moms, I suppose, don't necessarily enjoy my cute little piggies complaining in the back seat "all the way home."
Spontaneous mom tip #4 ~ Make the trip comfortable by bringing neck pillows and blankets for everyone. You can have a set you keep in the trunk so you don't have to pack these items. As far as food prep (because spontaneity causes hunger for some reason), I am known for baking potatoes in advance, buying sandwich ingredients, and plenty of fruit, and water in advance. We don't eat fast food, and eating out can get very expensive. Eating healthy on the road is possible!
You can keep a tackle box, as many shower caddies as you have kids, and reusable drinking bottles, to "serve" small healthy dry snacks and water or juice. These reusable containers and you can feel "safer" deciding on going on an adventure – and they're Earth-friendly. Oh… and speaking of safe! Keeping an emergency road trip safety first aid kit is a must.
One of the things that I think can make any outing boring or a bonding fail is the excessive use of electronic games and movies. There are so many ways to enjoy each other's company – and that must be the objective of any family adventure.
Spontaneous mom tip #5 ~ Encourage them to make up games they can play with each other so the trip is more fun and can serve as an opportunity to bond. I went on YouTube and found a Disney Soundtrack playlist they could sing along to, and then we played a game of "Request and Dedication," in which they made a ring sound, I "answered the phone" and they asked me to search a song they wanted to dedicate to a loved one and why. I loved that one so much. It was very sweet and very fun!
Spontaneous mom tip #6 ~ You can turn your car into a school on wheels. Well, kinda. They can play the alphabet game (looking for words on signs in alphabetical sequence), the license plate game (to help them memorize all 50 States), or you can bring audio books or audio programs on CD like I usually do, because it is a captive audience, and I prefer it to regular on-the-road radio programming.
Spontaneous mom tip #7 ~ We have a small car and a not-so-small-family, so packing light is the way to go, because you don't want to feel crammed and can have room in case there's a cool find. A plastic shoe rack over the seat of the car can store your most needed items, a cereal container can serve as a small portable trashcan, and air fresheners can be used to keep the mess and undesirable "fragrances" to a minimum.
They say that you can always make money, but can't always make memories. Making memories can happen in the most unlikely of places, and when you least expect it if you are open.
Taylor Bare and I knew all along that our destination was SeaWorld, and we had a grand time there, and I count it as homeschool field trip because we all learned so much about the penguins and other amazing animals.
Since it was a week-day and the Summer is pretty much officially over, the park closed at 5 and we decided that it was a good day to go for a river walk. It was a delightful experience that ended going out to eat pasta at a local San Antonio restaurant.
"You don't know when to stop!" were my firstborn's words, jumping with her sister in excitement and gratitude. Would I have lived this moment had I stayed home buried in dishes, laundry, and computer work? I don't think so. Spontaneous motherhood is way more rewarding than the meticulously planned kind.
Spontaneous mom tip #8 ~ Take lots of silly pictures together: unplanned, unbridled, un-posed! I once had my poor daughter take a gazillion pictures of me because my arm "didn't look good" and I wasted all this time instead of loving my arm and enjoying our vacation. Never again. Lesson learned. It doesn't matter if it's a bad hair day… it's a day to remember! Plus not everything needs to end up on Instagram (of course, the SeaWorld shots are so shareable because, well, the animals are cute, the rides are thrilling, and the shows are fascinating).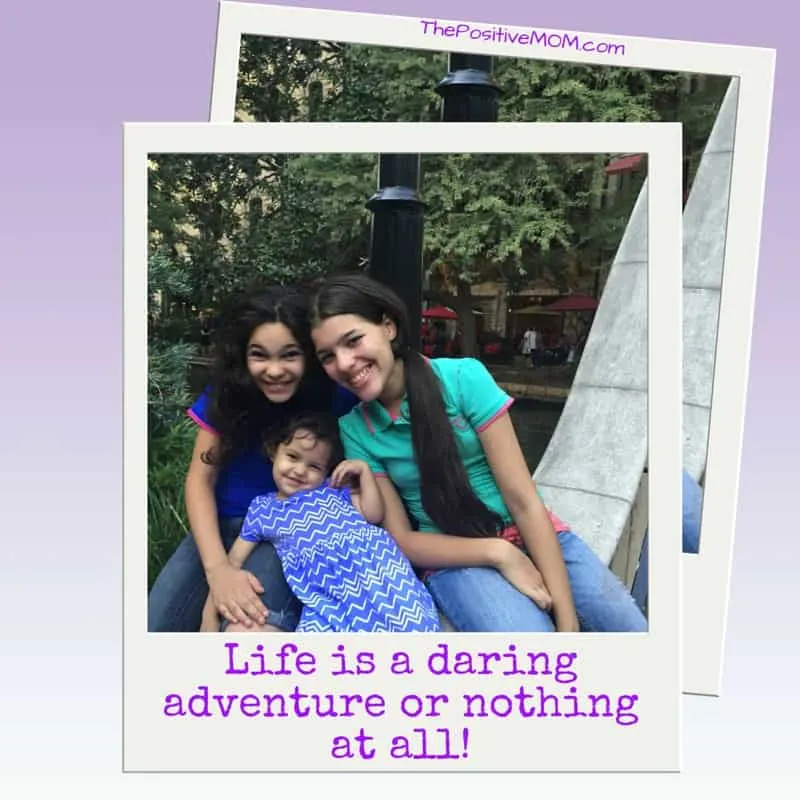 I woke up the next day (well, a few hours later) feeling sore, head spinning, and a lot of chores, tasks, and activities to tackle, but I was so full of memories and the love and gratitude of my family for the gift that is my presence to them, that it was worth it.
Helen Keller said "life is a daring adventure or nothing at all." The more I take on the challenging undertaking of being a spontaneous mom, the more I stop thinking about reasons why "I can't" and start seeing it as one of the best things I can do for my kids and myself. It's not about neglecting responsibilities, but embracing a new kind – the kind that my kids (and yours) most crave: undivided attention, adventure, and exploration.
Consistency is good. And so is freedom. As I think of our pictures on the state line welcome signs, the rocks and shells we've collected, the people we've met, and the teachable moments along the way, I'm more willing to dare live in the present moment and allow the unexpected to happen. Children are great teachers – oh how precious they are.
Are you a spontaneous mom? Share your tips to be more spontaneous as a mom with us, because we all need more JOY, BALANCE, and SUCCESS in motherhood and mompreneurship. Huggie hug!
[ela]