One of the most treasured memories of my childhood was meeting my paternal grandmother. To our humble family, it was difficult to travel 6 hours using public transportation, leaving behind duties and chores, to walk for hours, and climb mud up to our knees to a remote destination.
Mama Lidia was as beautiful as a little handmade doll, her sweet face and rough hands, reflected the long hours of hard work on the farm to support her family. In her eyes I could feel how much wisdom she had accumulated, and how much pain it had cost her to do so. In her embrace, I could feel the unconditional love that she instantly offered me.
After completing the formalities, my grandmother invited us to "make chocolate." Her enthusiasm seemed strange, since I had no idea what that meant to her. In Dominican Republic hot chocolate is a family tradition that is enjoyed with love (even in climates of over 100 degrees F).
Mama Lidia led us to the cacao trees, scattered throughout her land, hiding in the shadow of more majestic and lush trees as if they underestimated the treasure of their fruit. There we learned how chocolate is made:
ears of the cacao tree are collected and seeds and pulp are removed to ferment for several days
cacao beans are washed and dried in the sun
the best beans are selected for roasting and grinding
the powder can be used as is or can be made in paste form
you add milk , cinnamon, nutmeg, sugar cane to taste, and cook until a boil.
The lessons we learn from our grandparents indelibly mark the course of our destiny. In a special way, my grandmother taught me that things taste sweeter when we recognize their origin and the effort required to obtain them, and when enjoyed in the company of loved ones.
The anticipation, and the hard – yet enjoyable – journey to prepare chocolate made ​​this one of the richest experiences of my life.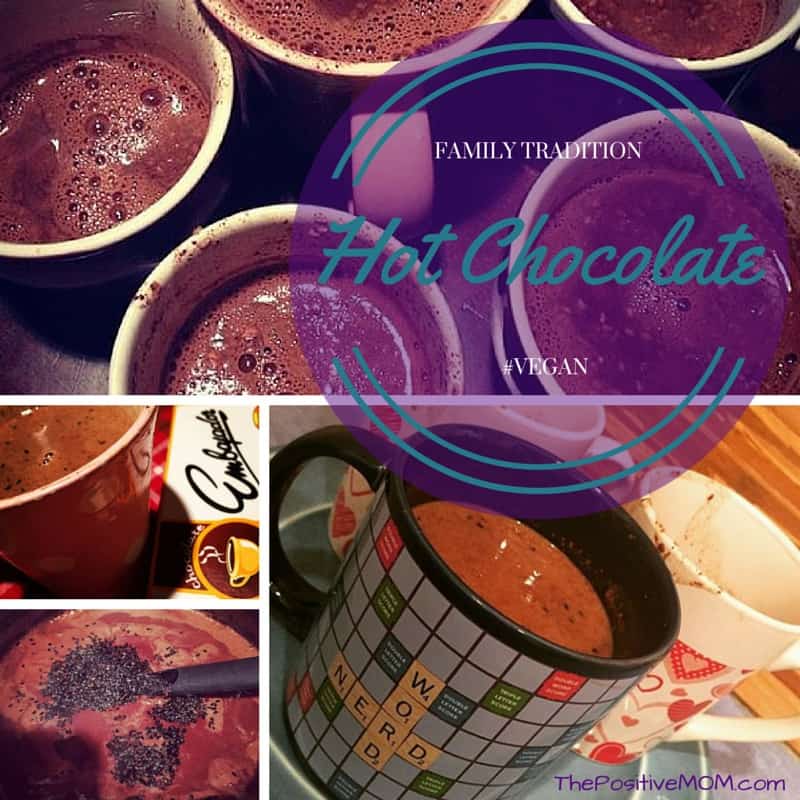 Decades after this experience, living in another country and with my own daughters to educate, I decided to honor the memory of my grandmother by continuing her tradition of hot chocolate in the family.
Vegan Hot Chocolate Recipe
Two cups of nondairy milk (we use coconut milk or almond milk)
Half filled cup cocoa powder or a vegan chocolate bar
Brown sugar to taste
One teaspoon of Cinnamon
Half a teaspoon of Nutmeg
Half a teaspoon of Ground Ginger
Half a teaspoon of Clove
A pinch of cayenne pepper or chili powder
In a small saucepan, bring milk to a simmer over low or medium heat. Add the cocoa powder or grated bar, sugar, and spices, constantly and vigorously whisking until completely blended and bring to a boil. Adding black sesame seeds or grounded roasted peanuts makes it even more delicious! Serve hot to the family, and fully enjoy!
In my family we drink hot chocolate sitting all together, we ask for a blessing on the chocolate with a prayer, and then we enjoy conversation, as did my grandmother in the small time I had the opportunity to be with her.
Believe it or not, in a changing world with competing priorities, with endless options and responsibilities, we can impact our family members in the short time we spend with them.
Family traditions can be kept alive by adapting to our environment, our lifestyle, and the demands of modern life. The hot chocolate recipe has changed, but the bonds that are formed through loving words, lessons of courage, and ears willing to listen never change.
What is your favorite family tradition? I'd love to hear your story!
[ela]