When I officially started blogging back in 2004 (yup, that was a LONG time ago!), I was the only one in over 100 mile radius and people looked at me like I was weird [well, they still do… because I really am weird lol]. Nowadays, it seems that everyone and their cousins have a blog, so it isn't enough to simply have a blog to get the results you want.
When people see my list of achievements, awards, media appearances, or the list of brands I've partnered with, they often call me "lucky," but if that's the case, I definitely didn't get lucky by luck. Some others, congratulate me on all my hard work, and yes, I've worked hard, but one can work hard in the wrong things and not see the kind of progress you want to see.
How about those that attribute my success to my being "smart" or "cute" or having "the cutest family?" – I appreciate these compliments when genuine, but they can be very damaging. I don't tell my kids they are smart or cute, and I personally cringe with the word "pretty," but that's a topic for another time. My IQ or my physical appearance has nothing to do with my success, and neither does my personality. Then – what is the secret sauce?
To achieve credibility, visibility, and profitability with your content marketing, and getting your message out into the world effectively through social media requires a killer content strategy that focuses on results.
Despite what you may have heard, content strategy is really not rocket science.Your content strategy doesn't have to be scary. You jot it down in just a few minutes and get started so you can track, tweak, and evaluate your course as you go.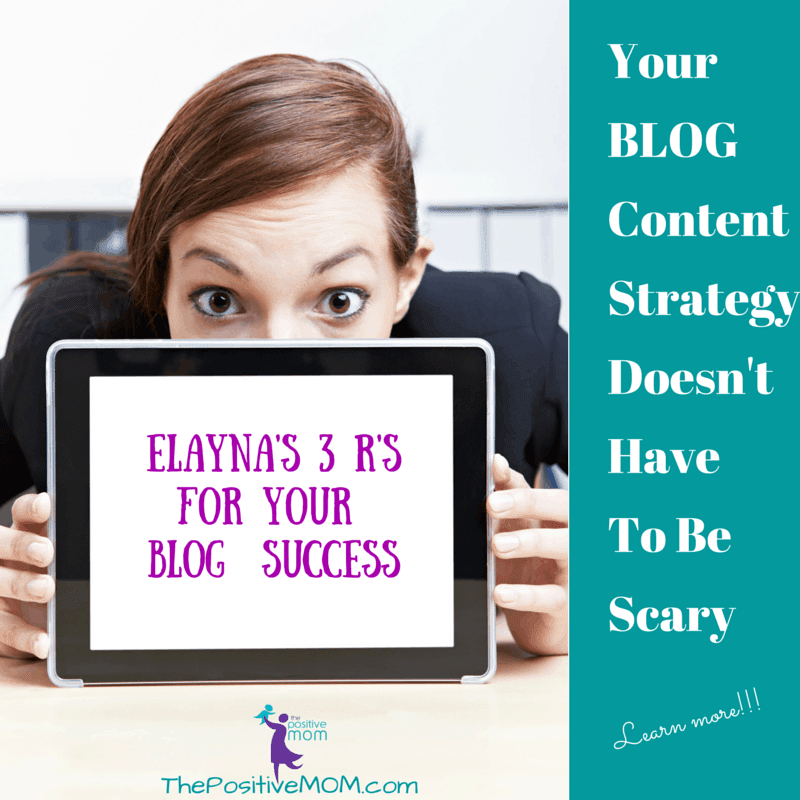 I came up with 3 steps that will help you avoid procrastination, overwhelm, and wasting your time when writing content for your blog and promoting it through your social channels.
Elayna's 3 R's of Social Content Strategy

RESULTS ~ When you are going somewhere and need aid from your navigation system, you must first tell it where you are going. It will only works the way you want it to when you provide it with the exact destination. The same is true for your blog, and that's why you must start by outlining what results you expect to get.
If you blog for business, your results may be expressed in a dollar amount, or a specific number of page views, subscribers, or shares. If you blog to promote a product or service, your results may refer to the outcomes in terms of the marketing goals as expressed in your marketing plan, such as increasing brand awareness, providing customer service, handling objections, research/getting to know your audience in a more intimate way, or boosting sales by a certain percentage.
Why do you blog? What is the specific reason you want to share your content?
What's in it for you? What do you wish to get out of blogging?
What's in it for your audience? What do you wish to provide to them with your blog?

ROADMAP ~ Once you know where you are going, you can get a quality notion of how you will get there. Trace your path from start to finish – what are the steps that will get you there?
"Would you tell me, please, which way I ought to go from here?"
"That depends a good deal on where you want to get to."
"I don't much care where –"
"Then it doesn't matter which way you go."
― Lewis Carroll, Alice in Wonderland
You will take a different path and approach depending on your destination. Your content strategy (on blog posts, online PR and publications, and social network engagements) will be directed to achieve your goals. Your general roadmap can initially look like this:
Define a detailed persona that fits your ideal readers
Determine the SEO keywords you will target
Decide where you will distribute your blog content
Locate a few strategic avenues to promote your blog content
Commit to a consistent

blog schedule

through a precise editorial calendar

ROI ~ I always say that having a bad strategy is better than having no strategy at all. You don't want to forever wander aimlessly through the blogosphere, but once you are on your way, you will always get closer when you have defined how you will measure success.
Make sure to establish tangible and quantifiable markers that tell you when you are on the right track to the results you desire. Beware of measuring your social success in likes on social networks or the number of comments on your blog. While this is certainly an indication of going in the right direction (a mile marker, if you will), it may not match the final destination.
A truly successful strategy is about conversion and conversation, not clicks, so make sure you are tracking the metrics and goals that matter most to your business
Once you have outlined your 3 R's, you want to make sure the topics in your editorial calendar are developed in a way that:
reflects your voice.

Be authentic and stand for something – your audience will notice your passion.

your audience can understand.

Your reader must be able to relate to you in order to engage, share, and be moved to action.

is search engine optimized.

You want to get found on Google and other major search engines.
See? Content strategy is simple. Follow these easy steps and you will go from scared to excited.
Want even better news? When you get started in the right direction, you will start to see wonderful results almost immediately! Remember what Henry David Thoreau said:
"If one advances confidently in the direction of his dreams, and endeavors to live the life which he has imagined, he will meet with a success unexpected in common hours."
When we are unhappy with our results, we usually blame or compare ourselves. We think, oh "I don't have what it takes" or "I don't have what she has." What you don't have is a strategy, and that's what she has, even if she doesn't know or even call it that.
Need help coming up with your strategy? Let's connect and I can guide you! <3
It's your turn to chime in! What is your blogging strategy, content strategy, or social strategy? I would love to know the steps you have taken to bring you blogging success. You're awesome!
Elayna is a homeschool educator, single mom of 4, founder of the Positive MOM Community, award-winning Storyteller, Story Strategist, and Student of Pain. She's a bestselling author, internationally acclaimed keynote speaker, and 3x TEDx speaker. To receive a gift from Elayna, click HERE.

Want to support the Positive MOM blog?
The mission of the Positive MOM blog is to help moms break trauma cycles, find peace, and feel emotionally whole, so they can practice supportive parenting and create a positive and healthy environment for their children. If you found Elayna's content valuable, please consider donating a love offering to enable her to keep creating content and helping more moms worldwide. Donate HERE.