For many people, the holiday season is a time for giving thanks and appreciating all that we have. The Bible is full of verses about gratitude, appreciation, and giving thanks, every single day of our lives. In this blog post, I will explore some of my favorite Bible verses about Thanksgiving.
These top Bible verses are sure to inspire you to reflect on all the blessings, miracles, and tender mercies that our Heavenly Father bestows in our life on a daily basis.
Gratitude is an important aspect of motherhood because we go through so many trials of various kinds in our everyday life. Gratitude will not make these painful challenges go away, but it does help us keep a brighter perspective and remind us of God's grace and great power.
What Does God Say About Gratitude?
In the Bible, we can clearly see that gratitude is as an attitude that should permeate every aspect of a believer's life. In 1 Thessalonians 5:18, we read: "give thanks in all circumstances; for this is the will of God in Christ Jesus for you."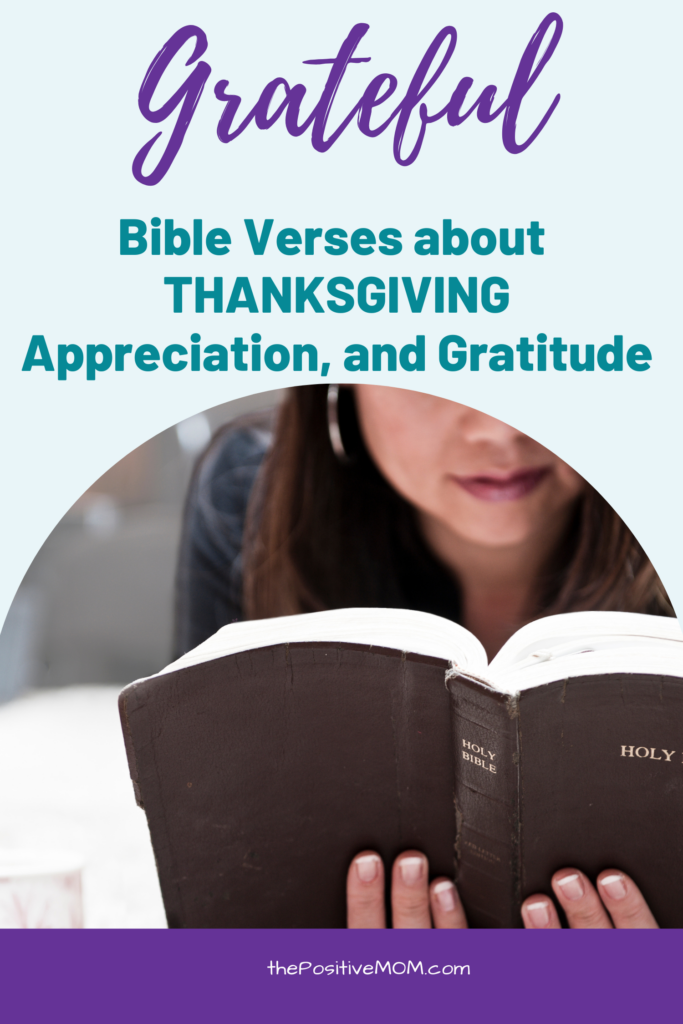 Even in difficult times, we can find things to be grateful for, knowing that God is using those challenges to shape and mold us. This doesn't mean that we deny, dismiss, or deflect our pain, but that we make room for all emotions.
When we experience trials and hardships, it can be tempting to focus only on what we don't have or what we wish was different.
However, these Bible verses about appreciation and gratitude help us recognize and appreciate the gifts and blessings that God has given us. It also allows us to trust in His sovereignty and faithfulness, knowing that He has a plan for our lives (Jeremiah 29:11).
Cultivating an attitude of gratitude is not only pleasing to God, but it also has many benefits for our own well-being. Taking time each day to thank God for His provisions can bring joy and contentment. So let us remember to give thanks always, both in good times and bad. (Psalm 107:1)
Gratitude IN Hard Times
And it's not that we give thanks FOR hard times, it's that we give thanks IN hard times. As the Apostle Paul tells us that it is "in all circumstances," not "for all circumstances."
It means that we cultivate a grateful heart. Although we recognize the difficulties and heartbreaks we go through, our heart trusts we can overcome them.
Jesus wept, Jesus asked for the bitter cup to be removed, Jesus felt anger at the temple, AND Jesus was grateful. We don't need to choose gratitude instead of pain – we can simply choose to feel both.
Let's explore verses from both the Old Testament and the New Testament that prove to us that as His holy people, we must acknowledge the glory of God and His wonderful deeds.
Bible Verses About Appreciation
These verses teach us to appreciate God's goodness in our lives.
Philippians 4:8
"Finally, brothers and sisters, whatever is true, whatever is noble, whatever is right, whatever is pure, whatever is lovely, whatever is admirable—if anything is excellent or praiseworthy—think about such things."
Colossians 3:15-17
"Let the peace of Christ rule in your hearts, since as members of one body you were called to peace. And be thankful. Let the message of Christ dwell among you richly as you teach and admonish one another with all wisdom through psalms, hymns, and songs from the Spirit, singing to God with gratitude in your hearts. And whatever you do, whether in word or deed, do it all in the name of the Lord Jesus, giving thanks to God the Father through him."
1 Thessalonians 5:18
"Give thanks in all circumstances; for this is God's will for you in Christ Jesus."
Ephesians 5:20
"Giving thanks always and for everything to God the Father in the name of our Lord Jesus Christ,"
Psalm 100:4-5
"Enter his gates with thanksgiving and his courts with praise; give thanks to him and praise his name. For the LORD is good and his love endures forever; his faithfulness continues through all generations."
Bible Verses About Gratitude
These Bible verses about appreciation and gratitude teach us that faith in the Word of Christ as we endure pain leads to gratitude.
Philippians 4:6-7
"Do not be anxious about anything, but in everything by prayer and supplication with thanksgiving let your requests be made known to God. And the peace of God, which surpasses all understanding, will guard your hearts and your minds in Christ Jesus."
1 Chronicles 16:34
"Give thanks to the Lord, for he is good! His love endures forever."
Psalm 100:4
"Enter his gates with thanksgiving and his courts with praise; give thanks to him and praise his name."
Psalm 107:1
"Give thanks to the Lord, for he is good! His love endures forever."
Bible Verses for Thanksgiving
These Bible verses and stories teach us that we must express gratitude to our Lord God Almighty with a heart of gratitude.
Deuteronomy 8:10
"When you have eaten and are full, then you shall bless the Lord your God for the good land he has given you."
Hebrews 12:28-29
"Therefore let us be grateful for receiving a kingdom that cannot be shaken, and thus let us offer to God acceptable worship, with reverence and awe, for our God is a consuming fire."
Luke 17:11-19
"On the way to Jerusalem Jesus was going through the region between Samaria and Galilee. As he entered a village, ten lepers approached him. Keeping their distance, they called out, saying, "Jesus, Master, have mercy on us." When he saw them he said to them, "Go and show yourselves to the priests." And as they went they were cleansed. Then one of them, when he saw that he was healed, turned back, praising God with a loud voice; and he fell on his face at Jesus' feet, giving him thanks. Now he was a Samaritan. Then Jesus answered, "Were not ten made clean? But the other nine, where are they? Was none of them found to return and give praise to God except this foreigner?" Then he said to him, "Get up and go on your way; your faith has made you well.""
James 1:17-18
"Every good gift and every perfect gift is from above, coming down from the Father of lights with whom there is no variation or shadow due to change. Of his own will he brought us forth by the word of truth, that we should be a kind of first fruits of his creatures."
Examples of Gratitude in the Bible
It's important to instill in our children an appreciation for the blessings they have. One way to do this is by teaching them about gratitude as portrayed in the Bible.
We find one example in 1 Chronicles 16, where the Israelites give thanks for God's provision during a time of famine.
Another example is in Psalm 28, where David expresses gratitude for being delivered from his enemies. We see Jesus also giving thanks, as in Luke 10:21 when he says "I thank you, Father, Lord of heaven and earth."
Teaching our children gratitude
By learning about these examples of gratitude in the Bible, children can better understand the importance of being thankful for all that they have, all they experience, and all that they are.
One important thing I would like to point out is that we must teach them that this happens by way of the people in their lives, those who have come before them, and by the grace of God.
As Ephesians 5:20 reminds us, we should "give thanks always and for everything to God the Father in the name of our Lord Jesus Christ." Teaching our children to do so will set them on a path toward gratefulness throughout their lives.
One of the ways we do this in our home is by offering a prayer of thanks before each meal (yes, even snacks), even when we are in public.
There are many joyful songs we can sing with a thankful heart to declare His Power and wonderful works. You can make up your own songs of praise, even if they may sound silly. The littles really love spiritual songs when we sing them just for them.
Get Started Practicing Gratitude
You can start practicing gratitude daily by taking some time each day to think about the things you're thankful for.
You can also keep a gratitude journal, where you write down a few things you're grateful for each day. This is a great way to reflect on all the good things in your life, and it can be especially helpful on days when you're feeling down.
Another idea is to write thank-you notes as a family to people who have done something nice for you, just to express your gratitude for their friendship, or say "Thank God you are alive."
Whatever style of gratitude you choose to practice, the important thing is to make it a part of your daily routine. As you do, you'll find that your outlook on life becomes more positive and optimistic. So I invite you to start today, and see how gratitude can change your life for the better!
What thanksgiving scriptures and thanksgiving Bible verses do you love? Share your favorite Bible verses about appreciation and gratitude with us in the comments below.