I recently taught an intensive, hands-on 4-hour workshop in Fort Worth, Texas, focused on Search Engine Optimization, titled "How To Leverage SEO to Increase Your Traffic, Your Influence, and Your Profits."
If you are a mompreneur, blogger, influencer, or content creator and you want to drive more traffic to your blog, increase page views on your website, and maximize your earnings, you must use the power of SEO to your advantage.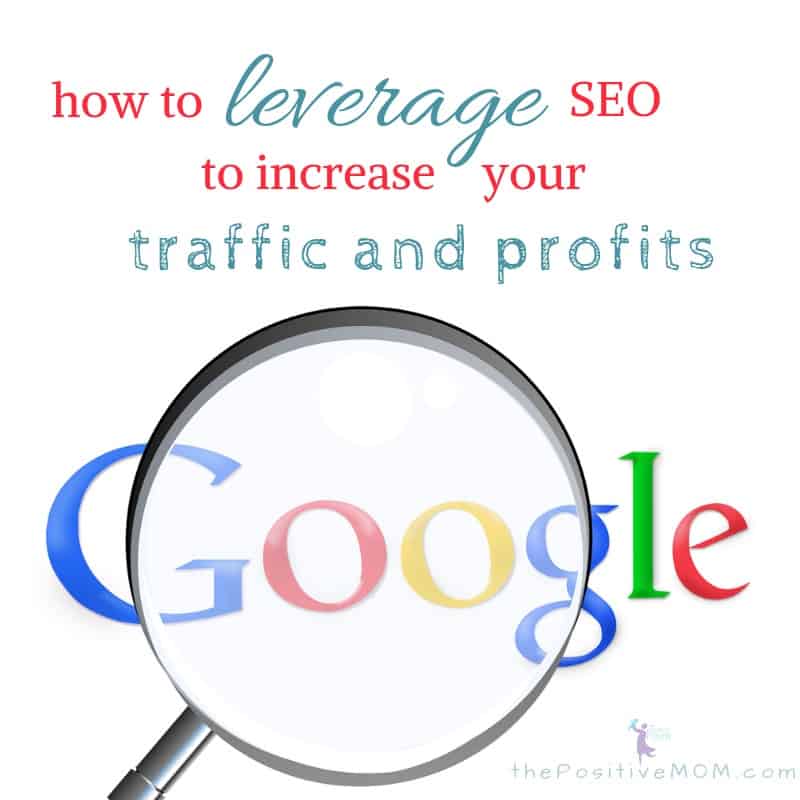 SEO helps you attract the right visitors to your blog or website, because when you optimize your pages for search engines, they better understand who you are, what you do and who you do it for, and the topics you share about. I really love using SEO, teaching SEO, and working on my clients' SEO.
SEO 101 – Search Engine Optimization Basics
Search Engine Optimization is the process of creating content and engaging in activities that help web pages show up as listings on search engine results pages (SERPs).
All major search engines (Google, Yahoo!, Bing) rank web pages based on what they consider to be most relevant, helpful, and current to search engine users.
When you Google something, chances are you don't go past the first page or even look past the first few search engine listings. The first page of Google results alone is responsible for at least 75% of clicks, and the more you optimize your blog or website, the more chances you will have to be found by users.
There are two ways to optimize your blog to rank higher and get traffic from organic listings on the major search engines: On-page SEO and Off-page SEO.

On-Page SEO is when you optimizing your blog posts and other web pages by adding keywords and key phrases to the content and the HTML source. It's what your blog post communicates to the search engine.

Off-Page SEO is when you optimize your blog posts and other web pages to be read, enjoyed, and shared by others. It's what other people say on other sites about your blog post online.
You could safely say that SEO is all about quality content and enthusiastic engagement and that everything you do online when it comes to your blog can impact your SEO results.
The Evolution of SEO
SEO has really evolved since I started my blog and my web marketing business in 2004. There were 10 blue links below the fold in our search results and you clicked on one of those results to get information.
Having searchable web content was the only way to get found, but today, search results have expanded dramatically and keep expanding everyday.
With the addition of a 4th paid Google ad, a map pack with local results, a "People Also Ask" section, instant answers for searcher's questions, image results, video results, featured snippets, and many other features, organic clicks are decreasing and the visitor's user experience has become a top priority.
Because search engines want to deliver quality and relevant results, you must create a content strategy that focuses on humans (searchers, readers) first, and search engines (algorithm) second.
How to Research Keywords for Your SEO Strategy
Many mom bloggers that have come to my workshops or that join my group trainings have confessed that they considered their SEO strategy installing the YOAST SEO plugin and getting a green light.
YOAST SEO simply provides a checklist to help with on-page SEO, but keyword research tells you what topics people care about, what questions they want answers to, and what problems they intend to solve.

Who are you writing this content for and why? The two most important elements in writing are audience and purpose. The clearer you are about what your reader wants and needs, the more engaging, compelling, and useful your content will be.

Make a list of topics, answers, and solutions that are considered interesting, helpful and relevant by your audience, and assign them to each of your 3 blog categories. You can get topic ideas by exploring Google Trends, Answer The Public, and Google Alerts.

Choose keywords for each of your topics. Think like your reader and about what types of words and phrases would a member of your reader community type into the Google search bar and use what you find on Google results to verify your reader's intent.
Short, generic keywords are usually called "head terms" and longer key phrases containing 3 or more words are called "long-tail keywords."

Use a Keyword Tool. The Google AdWords Keyword Planner can help measure the effectiveness of your head terms and generic keywords (you'll need to set up a Google AdWords account, but it's free and you don't necessarily need to create an ad to use it). You will also be provided with an extensive list of similar keywords, as well as their search volume, and their difficulty.
Search Volume is an estimate of how many people search for a particular keyword or key phrase each month.
Competition gives you a score to indicate how difficult it would be to rank for the keyword or key phrase in question.
The best keywords and key phrases have high search volume and low competition, because you want to create content that your readers are already searching for and that content is more likely to be found using keywords that have less competition.

Create SEO-Focused Content. Now that you know what topics most matter to your core audience and what keywords to use, you can now create an editorial calendar and start creating quality long-form content that will help you rank higher on the search engines.
Content length impacts search engine rankings and conversions, so always aim to really serve your readers with each post. Some say the best performing posts and articles are about 2000 words.
After you have done keyword research with your audience in mind, then you will be able to make the most of your On-Page-SEO efforts (using YOAST SEO) and your Off-Page-SEO is off to a better start!
All your new content ideas must spring from your audience, topic, and keyword research, so you can start publishing well-written, comprehensive, and evergreen content (the kind that does not lose its relevance over time).
Optimize Your Blog Posts For Search Engine Result Pages
Everyone raves about YOAST SEO because it helps remind you to use your focus keyword or key phrase in your blog posts or pages:
On your page title (the one that will be displayed on your blog)
On your SEO tittle (the one that will show on the SERPs).
On your slug (the part of your URL that goes after your domain name). Separate words with hyphens and remove words like "a" and "the".
Organically throughout the post (ideally within the first 50 words and the first paragraph).
On headings (H1-H6). These help create a clear structure for readers who love to scan!
In your meta description (this won't help you rank, but can increase your

CTR

(click-through rate).
Naturally in the ALT text ant title of at least one of your images. I recommend including your keyword on the file name, too, and don't forget that JPG and PNG are the best formats.
YOAST SEO also reminds you to include an external link and internal link on your post or page and assesses the health of your keyword density (the number of times your keyword appears as a ratio or percentage of the overall word count).
When it comes to external linking, make sure you are aiming for high authority sites for your niche topics.
Internally linking between posts on your blog (deep linking) is a wonderful way to highlight your keywords as anchor text so these get noticed by the search engines.
Using related but not synonymous keywords and phrases can help avoid keyword stuffing (forcing keywords where they don't belong). This list is called Latent Semantic Indexing (LSI).
To find related search terms on Google, you can simply type tilde symbol (~) before your search term.
Optimize Your Blog's User Experience
In order to really leverage SEO, you must create a pleasant website experience. User experience refers to everything about how your website looks, feels, and functions. You want to create a positive experience that creates trust, evokes positive reactions, and inspires your visitors to share your blog with others.
Search Engines are paying attention to the sentiment of your site: the emotions people feel when they visit your blog and what they tell others about their experience there. Search Engines are looking at reviews, because it's not just about content, but context!

Website speed. Your site load time matters! Search Engines prioritize fast-performing sites, so test your site HERE, HERE, and HERE and make sure to implement a WordPress caching plugin that caches database queries and minifies code, and to resize images on your site.

Mobile friendly. Your website must be optimized for mobile use. Make sure you test it for mobile usability because the users that access your blog on smartphones, tablets, and other handheld devices grows exponentially each day.

Secure URLs. Search Engines favor secure URLs because they are safer and website users have a more positive experience when the website is loaded securely and is fully encrypted.
Installing website analytics software like Google Analytics will help you understand your traffic sources and to identify which keywords your blog is already getting found for, as well as what content is really resonating with your readers, so you can adjust your content strategy accordingly; however, you can also gauge user experience by studying how long your visitors spend on your site and whether they are bouncing or browsing.
Optimize Your Backlinks Strategy
Even if you write amazing content, backlinks are essential to harness the power of SEO. Backlinks continue to be an essential ranking signal.
A backlink is when someone other than yourself links to your blog or site. Not all backlinks are equal: the best quality links are those with high credibility, reputation, authority, and domain strength (aged domains).
The more backlinks you get and and the higher quality those links are, the better your content will rank and the more organic traffic you will receive to your website.
Of course, the first step of your backlink strategy is to WOW your readers with content they will naturally decide to link to. This has been my main way of getting backlinks. In addition, I've partnered with brands to create sponsored content and they've ended up showcasing my content on their own websites, blog posts, news letters, and social channels.
A popular way to get backlinks is to guest post on a top ranking site and request a link back throughout the content or the byline. You can also contribute your expertise by being interviewed about a topic you are passionate about or allow others to feature your story on a prominent site.
One of the biggest mistakes people make with backlink building is engaging in black hat SEO methods (they spam comment other blogs or sites, pay for cheap SEO services that create thousands of spammy wiki or bookmark pages, etc.) Use only white hat SEO tactics like the ones I shared above.
Important Questions To Ask Yourself When It Comes To SEO
Now let me ask you a few questions to get some housekeeping items out of the way:
Do you have an SEO-friendly WordPress theme and a reliable hosting company?
Do you have sharing capability for your content?
Have you created and validate profiles for your site in both Google Webmaster Tools and Bing Webmaster Tools?
Have you claimed your local listing in Google My Business?
Do you frequently add fresh content to your blog or add fresh content on your pages?
This is just a beginner's guide to SEO and there is so much to learn when it comes to getting your posts ranked and read. Let's talk if you're interested in more!
What steps do you need to take in order to improve your search engine rankings? Share your SEO tips and questions below!

© Elayna Fernández ~ The Positive MOM
Be sure to Subscribe to blog post updates, so you never miss a thing!