I recently had a conversation with an aspiring author about the book she wants to write. I am so excited to help her shape her story and package her knowledge, her experience, and her expertise in a book, and she's thrilled to have my coaching and self-publishing help.
What was interesting to me is how surprised she was when I declared "Your book will be a bestseller!" She had never even contemplated this possibility!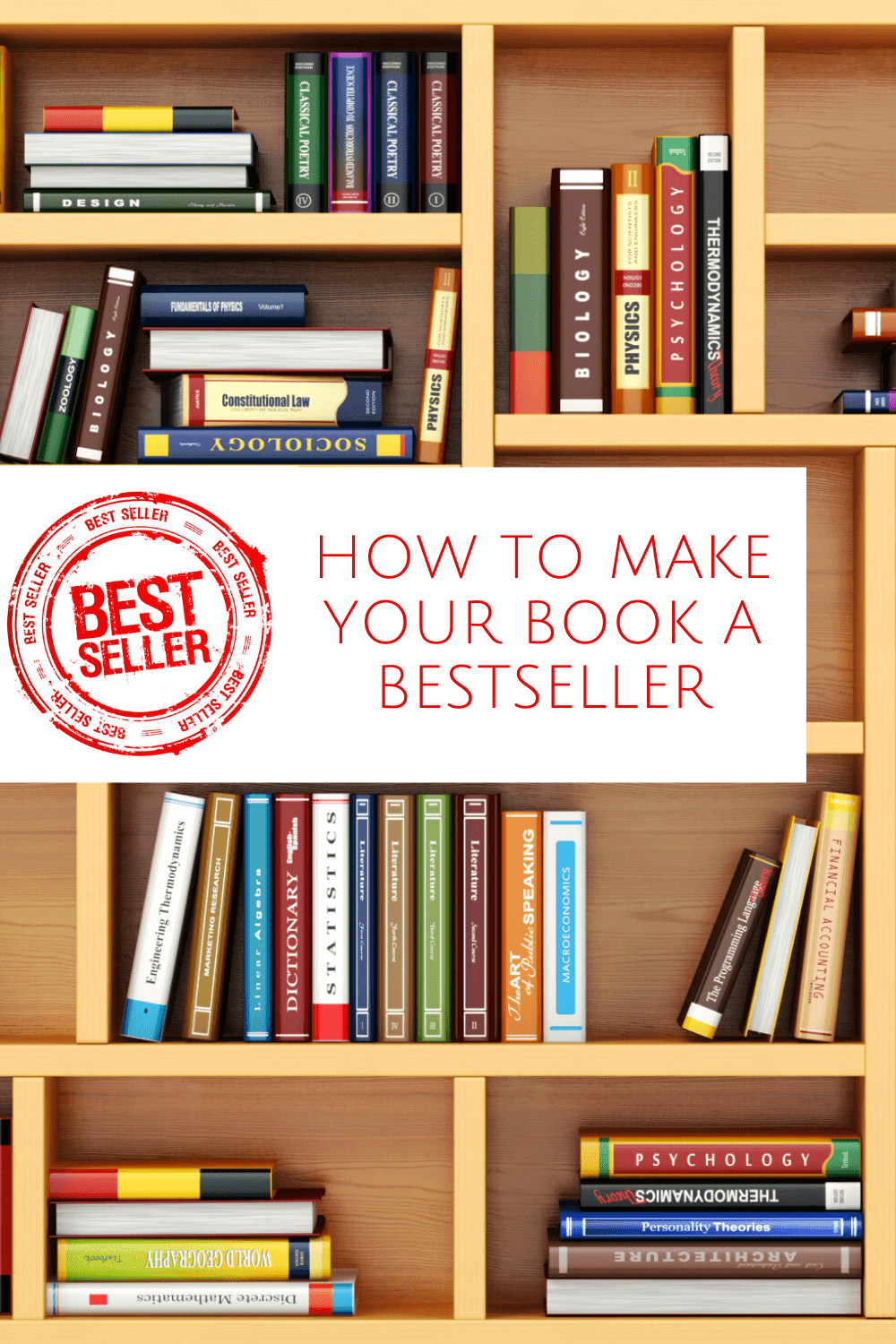 Have you thought about writing a book? Do you know you can become a bestselling author? I can help you!
How to make your book a bestseller
Let's go through some not-so-obvious steps you must take before you start writing, to make your book a bestseller.
Before you write your book

Set the intention. I believe that everything is created twice, so before you can become a bestselling author, you must resolve that your book will be a bestseller. You've got to believe with all your might before you see this bold goal manifested.

Visualize. Write down your big vision for your book in great detail and then spend a few minutes each day seeing it play out in your mind. Imagine what your readers are saying and the transformations and breakthroughs that have been made possible by your book worldwide.

Find a mentor. Invest in the guidance, wisdom, and expertise of someone you respect, trust, and admire. A mentor can deepen your understanding of what you already knew and teach you what you didn't know you needed to know. This decision alone will save you the sanity, time, energy, and money!

Map it out. I created a powerful mapping tool that I use with my book coaching and self-publishing clients to assure we produce a high-quality book. As Stephen Covey would say, you must "begin with the end in mind." Whether you are publishing with a hybrid or traditional book publisher or self-publishing your book, you've got to have a book proposal or business plan that sells your book!

Craft your brand. In my opinion, the number one mistake entrepreneurs make is that they market first and brand later. Make sure you get clear on what you stand for and communicate it clearly through words, images, and the whole customer experience.

Give first. Being charitable is not just about giving back, it's about giving first. I am a huge believer in the Law of Circulation and that's why I seek opportunities to serve, why I pay tithing, and why I practice what I call "generosity marketing."
As you write your book
Once you have a catchy title, a compelling subtitle, and an attractive book cover, you can start telling others you're the author of your upcoming book and take even more steps to make your book a bestseller.

Create content. Having a powerful content strategy is essential to making your book a bestseller. Writing search engine optimized blog posts, making videos, and posting on the social platforms where your ideal readers hang out is a great way to start positioning yourself as a trusted leader in your field.

Build a list. When you craft a complimentary product to offer in exchange for your web visitors and followers' e-mail address, you can keep them on a list and can send them promotional messages. Of course, it is essential to provide constant massive value to keep them engaged.

Speak. You can either host your own event or pitch to speak at others' events, whether live or virtual, so you can serve your audience and meet strategic partners that can support your book launch. As you continue to be genuinely helpful to others, you can build strong partnerships with them. I've had the honor to share the stage with some of my most admired mentors and that has been a great privilege!

Teach. As you write your book, it is helpful to teach your content (if you have not yet done so) and get feedback from your ideal students. Teaching a course on your book's subject matter can provide key language that will make the book more successful, as well as greater perspective.

Mastermind. Being part of a community of entrepreneurs can keep you energized throughout the bumpy road of book writing. While these professionals do not have to be book experts, the conversations you have with them can spark ideas you can ponder about, and perhaps even study with your book coach and book publisher for consideration. If you do talk with bestselling authors, you can ask them about their tips and strategies, so you can model their success.

Ask for endorsements. As soon as your manuscript is finished, you want to have potential reviewers ready to read it and endorse it. Having a credible expert write the foreword of your book and having known personalities praise your book contents will do wonders for your own credibility as an author. Remember to have a signed NDA (nondisclosure agreement) on file before you send any electronic files or galley copies.

Reframe rejection. As you start sharing your book title, book subtitle, book cover, book proposal, or book idea with others, you will be met by a wide range of opinions. Remember what I always say: rejection is redirection. Every time you get a NO, it means you are being redirected to the Next Opportunity, so you can get inspired, encouraged, and excited to go on!
Before you launch your book

Set an official launch date. When you set a launch date, you can channel all your marketing efforts to get a lot of sales within a certain period of time to make your book a bestseller. Give yourself plenty of time to launch, so that you can market to your potential readers and your promotional partners can market to their audiences, as well.

Create a book trailer. As a movie fan, I get really excited when a new trailer comes out. Trailers are designed to highlight the best parts of the movie to create engagement, excitement, and interest. You can do this with your book, as well. If done well, a book trailer is going to help generate buzz around your book, especially since it can be shared all over the web.

Get publicity. Writing and distributing a press release about the book launch is a great way to get eyes on the book because it positions it as a newsworthy event. You can pitch magazines and virtual publications, podcasts, and traditional radio shows, as well as live streams and traditional television shows, so you can get interviewed in niche-specific outlets on or around the day of your book launch. If the idea of getting on camera terrifies you, hire a media trainer to help you get past this fear – it will be well worth it.

Book landing page. When you provide all the information pertinent to the book in one single place, it becomes easier for your readers to buy your book, because a confused person won't take action. You'll want to direct book buyers exactly where you want them to purchase the book, stack great bonuses from affiliate partners to make the offer irresistible, and collect your buyers' email addresses so you can offer ongoing support.

Schedule book signings. Call your nearby bookstores and schedule a book signing so you can have people in your community come to support you, and you can even get in front of store goers who have never heard from you. When we had a book signing for Elisha and Elyssa for their book, I Love ME!, many local publications, both online and offline, announced the event at no cost, too. There's so much free marketing you can benefit from when you're proactive.

Ask your readers for support. When you publish a high-quality book, your readers want to help you, but sometimes they don't know just how. Ask them to share your book with their friends and relatives, to post about it on the social media platforms they frequent, and to write a review with their honest thoughts.
Your book can be a bestseller!
These marketing strategies will help you make your book a best seller. As you become a successful published author, you can easily, effectively, and expeditiously increase your credibility, visibility, and profitability.
Do you want to become a bestselling author? I believe you can! Share your thoughts in the comments below – and if you want to write a book, publish it, and make it a bestseller, let's talk!
Elayna is a homeschool educator, single mom of 4, founder of the Positive MOM Community, award-winning Storyteller, Story Strategist, and Student of Pain. She's a bestselling author, internationally acclaimed keynote speaker, and 3x TEDx speaker. To receive a gift from Elayna, click HERE.

Want to support the Positive MOM blog?
The mission of the Positive MOM blog is to help moms break trauma cycles, find peace, and feel emotionally whole, so they can practice supportive parenting and create a positive and healthy environment for their children. If you found Elayna's content valuable, please consider donating a love offering to enable her to keep creating content and helping more moms worldwide. Donate HERE.