So picture this: your WordPress blog or website suddenly becomes visible to thousands of people in your ideal audience. Maybe your blog post or video went viral, or you had a speaking engagement or media appearance that made people aware of your place on the web. Perhaps a brand you worked with really loved your coverage and boosted your post to their (substantially larger) audience that includes a truck load of targeted and ideal readers and potential clients of yours.
So I never actually say "truck load" in a regular conversation, but it seems like an appropriate phrase to illustrate just how crucial it is to have a capture tool on your website so you can actually keep those visitors engaged. An e-mail address capture tool, that is. You know with my life story, I wouldn't be promoting kidnap in any way!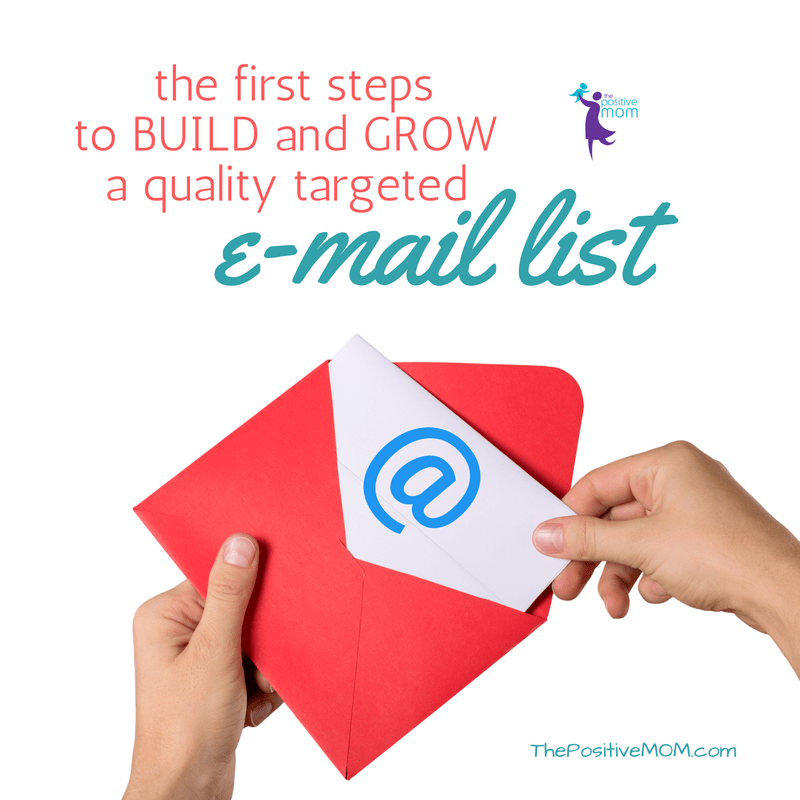 It may seem obvious, but it's really not. The first steps to build and grow a quality targeted e-mail list must happen before you start your lead generation attack plan (attracting people to your site).
A spike in your analytics could mean a growth on steady traffic (which will translate in achieving your overall goals) if you have created a system to make sure they will come back around – and that you can remind them to come back.
One of my mentors, Jay Conrad Levinson, the creator of Guerrilla Marketing, taught me that it takes twenty-seven (27) exposures to convert anyone – whether to a sale or to a philosophy. In order to impact someone, you must "touch them" consistently and often, and using e-mail is a great way of doing that in an intentional way.
You can build an e-mail list by offering the opportunity to subscribe to your blog posts (so they can get an e-mail message inviting them to read each time you post), an opportunity to join an e-mail list about a particular topic or to a particular newsletter, or an opportunity to subscribe to your YouTube channel and to follow you on social media.
When I speak at conferences or chat with clients online, I often get asked: "What is the best way to build my e-mail list?" There's no hack, shortcut, or magic bullet, but developing a purposeful lead capture system can make a huge difference, because it allows you to add value to your fans and subscribers with your content.
3 Critical Elements To Build Your List E-mail With Your Website
To be successful at list-building, you will need a lead capture system on your website that has these three essential elements: a visible opt-in box, a compelling offer, and an autoresponder strategy.
Visible Opt-in Box
An opt-in box is an area of your web pages where you ask your visitors to voluntarily enter their name and e-mail address so they can receive e-mails from you about a specific topic or set of topics they are interested in. It could also be a subscribe button that allows them to get e-mail notifications every time you publish a blog post.
In either case, you want to place the opt-in box or subscribe button in a visible place (the upper right of your website, the very top center, or a pop-up window) and have a clear and strong call to action and simple and easy instructions.
A Compelling Offer
Your opt-in or subscribe area must include an irresistible offer that tells your web visitors that getting more e-mails in their overloaded inbox will be worth it. You craft this offer by creating content that they want and need, while highlighting your expertise.
You must create an attractive image that represents the free gift and write copy or create a video that tells them exactly how they will benefit from the content they will receive. Here's where you can make sure your list is focused, because when your free opt-in content is reader-centered, you will assure that you are making a connection and audience will be joining the list to get access to the content.
Autoresponder Strategy
In addition to setting up your opt-in box or subscribe system, you will need to create a series of pages and e-mail messages, so once your new friend says "Yes! I want to hear from you. Send me e-mail, please!", she can be guided through the download process, or even receive this content gradually in several installments.
I'm sure you've experienced this before: you request access to a free PDF (e-book, report, or white paper) or free audio or free video and you are taken to a thank you page, receive an e-mail so you can confirm that you do want to receive e-mail from the sender (this is called double opt-in and it is a best practice I recommend). Then you receive your free download, and start getting frequent communication in the form of a newsletter or relevant other updates.
Or you could offer an e-course that may include text, video, or a little bit of both, which is delivered over a period of time.
No matter how you decide to package your knowledge, your experience, and expertise, your content must educate them, inspire them, or entertain them, and that positions you as an expert in your field. However, I do think staying a way from giving away items that need shipping or have a cost per unit, so you can use your website and e-mail marketing system to automate the entire process. I would also recommend to never give your time away for free.
Let me know if you want guidance in choosing or setting up your e-mail marketing solution. I use Constant Contact and I am also a partner with them, because it is affordable and offers a great deal of features and support. Plus, they're always innovating.
What do I need to get started building my list?
The answer to this frequently asked question is actually quite simple: you need pen and paper to write down your ideas to get clear, and a friend or coach with the knowledge, experience, and perspective to brainstorm with, to support you, and keep you accountable. Start with these prompts:
The visual elements of your branding (brand name, brand colors, brand fonts, and your branded logo).
Your legal company name and mailing address (this is required by the FTC). If you run a home-based business, it is smart to invest in a postal box. This was a sanity-saving strategy for me when I was a single mom.
An accurate and detailed description of your target audience, preferably identified as individual profiles.
Your desired tone. How would you like your information to sound: casual, playful, empowering, technical, inspirational, humorous…? The more authentic you are, the more connected you and your audience will be.
A passionate description of what you do (like an elevator pitch, but better!) and WHY you do it.
The URL (Uniform Resource Locator, which is web address in geek language) you want them to go to.
A meaningful title and subtitle for your free download.
Your branded signature or closing.
Marketing copy highlighting the questions you answer in your free offer and the struggles you address, as well as the top three (3) benefits to the reader.
The number of points you cover and what they are. Psychology has proven that odd numbers (3, 5, 7) are more powerful in marketing.
A graphic to represent your free download (such as a DVD image, spiral book, video screenshot…) and a download or subscribe button.
The specific single action you want them to take after receiving your free download (such as registering for a course or buying a product or service).
The name, last name, and e-mail address on the "from" field of outgoing messages – and where they would reply to.
The contact that will receive a notification when someone fills out the free download request.
The actual file(s) they will download: PDF, audio, video, etc.
Copy and visuals for the thank you, confirmation, and download pages, as well as each e-mail that will go out.
The type of content you will be sharing after the download process is over, as well as the frequency of communication.
… and more!
As you can see, the first steps to build and grow list of quality targeted subscribers requires a lot of planning and a bit of work, but you don't have to do it all at once, or alone! I'd love to be your mentoring partner!
I remember my first free download back in the days I built my websites using Macromedia Dreamweaver on HTML. It was called "Marketing Suicide" and subtitled "The 10 Most Lethal Mistakes You Must Avoid In Your Web Marketing."
The purpose of my strategy was to educate readers as to what makes "marketing success possible," to position myself as a resource if they were ready to move forward, and to establish who I was a good fit for and why so I could either attract or repel the reader. I didn't just want a collection of e-mail addresses, I wanted a community of people who value my expertise and the way I deliver it so we could build wonderful projects together and continue to expand our business relationship.
Do you have a free download on your blog or website? As you go through your website or blog, assess whether your strategy could be taken up a notch and what your next move will be. Share your thoughts with us in the comment area below!
[ela]